With the NBA's regular season set to tip off on Dec. 22, let's take a look at where each team in the Atlantic Division stands. We'll break down what's to like and dislike, a lineup to watch and a reasonable range for them to finish in the standings.
Boston Celtics
WHAT TO LIKE: WINGS WIN RINGS
Boston's youthful duo of Jayson Tatum and Jaylen Brown comfortably ranks in the top-three of wing tandems in the NBA. Both players took leaps last season: Tatum as an off-the-dribble threat from deep, and Brown processing things a little bit faster offensively as a maybe-kinda-slightly overqualified close-out attacker.
Both provide tremendous defensive value, though they accomplish this in different ways. Brown's unique blend of quickness and strength allows him to take on-ball duties across a multitude of positions, while Tatum may be the best off-ball defender in the league. Between stunt-and-recover sequences and "splitting the difference" while his teammates rotate, Tatum seems to be at two (sometimes three) places at once.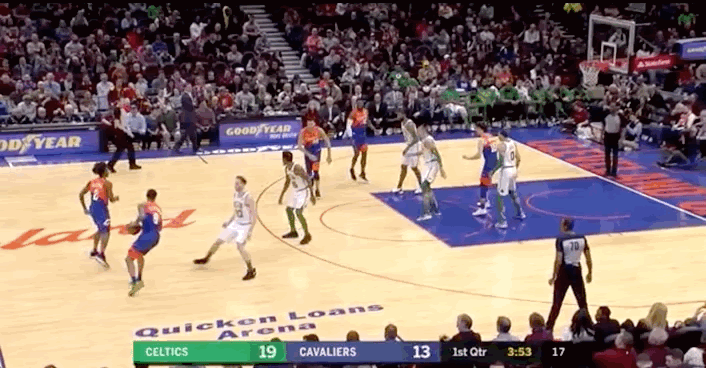 As long as those two players are healthy for Boston, you can expect them to compete at the top of the conference.
OTHER LIKES
- I like the bench this year. Daniel Theis or newcomer Tristan Thompson will be screen-and-sealing for the second unit. Jeff Teague will eventually settle into a second-unit role; I trust him generating offense (read: treading water while one of the wings sit) more than Brad Wanamaker, and I liked Wanamaker as a spark plug. Playing Teague and Marcus Smart together will give the second unit some legitimate juice, and it quietly serves as a failsafe against Smart having to (read: wanting to) do literally everything.
- Boston's defense is gonna be goooooooood, buddy.
WHAT TO DISLIKE: KEMBA'S KNEE
At his best, Walker is one of the most dynamic point guards in the league. He's a slithery somethin' in high pick-and-roll, equipped with an elite pull-up, a filthy stepback and a downright silly handle package to get him wherever he needs to go. Despite being Boston's second-best player (or third-best depending on who you ask), you could tell the Miami Heat had him at the top of their defensive gameplan in last year's Eastern Conference Finals.
Sadly and scarily, Walker wasn't at his best for most of last season. He's been dealing with lingering knee issues and is slated to miss the beginning of the season after receiving a stem-cell injection back in October. Walker's status may not matter much during the regular season, but his on-ball creation is the ceiling raiser needed for the Celtics to make their first Finals appearance since the Big Three Era.
OTHER DISLIKES
- Boston simultaneously improved their center depth and still didn't address their size issue. On paper, two teams could really expose that in a playoff series -- Milwaukee and Philadelphia -- with a real emphasis on the Bucks. You don't just need a wall against Giannis Antetokounmpo; you generally need a big wall -- or at least someone that can at least pretend to mirror Giannis in the half-court in addition to a regular-sized wall.
- Someone's going to have to explain the Payton Pritchard pick to me like I'm 5 years old.
- Going back to the bigs, I kinda feel sorry for Robert Williams. He's already Boston's most explosive vertical threat and has flashed enough other stuff -- hello, passing -- to warrant an extended look. He may still get those opportunities in this wacky regular season, but it doesn't seem like he has a real path to being more than the third center. I wonder if he'll end up being a movable piece if the Celtics go wing-hunting on the trade market.
LINEUP TO WATCH: Walker-Smart-Brown-Tatum-Thompson
When healthy, this is probably the lineup that the Celtics will use to close games. It's a unit with a ton of switchability, and enough IQ and cohesiveness to "scram" Walker out of mismatches when they pop up. Offensively, all but Thompson can run a pick-and-roll in a pinch and have the chops to win in isolation. Walker and Tatum can dance; Brown can bully his way to the rim; Smart can post up smaller guards if opponents try to cross-match in that way. Thompson is there to pry them free, or clean up the glass after misses.
Good luck.
BEST CASE: Top Seed
You can bank on Boston's defense being elite, and the offense is already good off the strength of the Tatum-Brown duo. If Tatum's upward trajectory continues -- let's say he makes a real effort to get to the free-throw line and/or ADDS A FREAKING FLOATER -- there's darkhorse scoring champion potential.
WORST CASE: 5th Seed

A world exists in which Walker is never himself, Tatum and Smart see a little bit of shooting regression from last season, and Brown still looks out of his depth making more complex decisions with the ball in his hands. Again, Boston's defense projects to be too good for a massive slip in the standings, but there is some variance if the offense underperforms.
Brooklyn Nets

WHAT TO LIKE: OFFENSIVE STAR POWER
Good luck defending the Brooklyn Nets at the end of games.
Half-court scoring is the most important skill in (playoff) basketball, and the Nets will have that in spades behind the Kyrie Irving-Kevin Durant duo. Irving is an absolute wizard with the ball in his hands, a true three-level scorer who can turn a picture of a lemon into an actual pitcher of lemonade.
We don't know what this version of Durant is going to look like athletically, but at his core, he's a seven-footer with an impossible-to-block jumper. If all else fails, Durant can get the ball on the block and toss in fadeaways over either shoulder -- or just go to his Dirk impersonation.
OTHER LIKES
- I wrote about it not too long ago, but the Bruce Brown acquisition was a solid one. It's going to be fun watching him hound dudes. Somebody has to.
- How many shooting trios are you taking over Kyrie/Joe Harris/KD? Is there a shooting trio you take over that? Brooklyn's offensive rating is going to be absurd when those three are in together. It wouldn't be a shock to see them break into some of the post-split action that Golden State made popular.
WHAT TO DISLIKE: DEFENSE. ALL OF IT.
Whew, buddy, the defensive personnel does #not #seem #great for this team.
The Nets ranked 10th in defensive rating last season (109.2), though you can attribute a not-insignificant portion of that number to Kyrie not being available for most of it. Before going further, it's fair to note that Kyrie is not the only problem, but in terms of the eye and numbers, one can't ignore how much of a problem he could be on that end.
Kyrie appeared in just 20 games last season. In those games, while he was on the court, the Nets' defensive rating sky-rocketed to 113.1. With him off the floor, that number fell to 106.4, a mark on par with the fourth-place Celtics (106.5). He's had positive spurts during his career as a defender, but on balance, Kyrie has fallen short at the point of attack. Screen navigation was a problem earlier in his career; recovery and angles are still an issue for him now: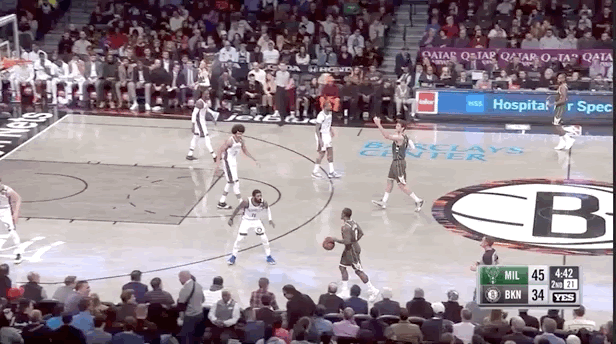 You live with that result -- an Eric Bledsoe middy is a fine endpoint -- but you can see the issues with Kyrie's stance, the angle he takes after Brook Lopez flips the screen, and the comically bad effort through it all.
The Nets just don't have many horses on the perimeter. Spencer Dinwiddie, Harris and Caris LeVert are (very) far from being stoppers. Brown and Tyler Johnson are solid options in their own right, but neither are wing-sized, which would be problematic against a team like the Celtics in a playoff series. Beyond that, playing Brown or Johnson substantial minutes would mean taking a more talented player off the floor to add some juice defensively. There's nothing foreign about balancing lineups, but I'm not sure how much the needle is being moved.
Even the frontcourt has some question marks. DeAndre Jordan was surprisingly fine last season, but shouldn't be relied on as an anchor. Jarrett Allen is a better player on balance, but he remains a liability on the interior because of his lack of strength. It hurts him against beefier 5s on the block and on the glass. We've seen Durant (and to a much lesser extent, Jeff Green) operate as clean-up options at the 4. That's just asking a lot of Durant coming off that injury, and relying on Green for consistent production has always been a faulty premise, his strong stint in Houston notwithstanding.
OTHER DISLIKES
- On the wing front, I did find it a bit odd that Garrett Temple was let loose. His option (roughly $5 million) wasn't pricey, and he provides a brand of team/off-ball defense this team will need. If nothing else, he could've been a calming presence for a locker room that could end up needing one.
LINEUP TO WATCH: Irving-Dinwiddie-Harris-Durant-Green
Multiple ball-handlers, shooting everywhere, length and mobility in the frontcourt. There will be some kinks to workout, but the Nets could get funky against smaller teams at the end of games.
BEST CASE: 3rd Seed
While Brooklyn's defensive rating improved mightily with Kyrie off the floor, the offense took just as much of a hit. Getting him back, adding an All-World scorer in Durant and having Dinwiddie/Harris/LeVert fill the gaps could be overwhelming to deal with. Scoring points is still the name of the game at the end of the day, and the Nets should be able to do that in bunches.
WORST CASE: Play-In Tournament
I'm mostly trying to do these previews with a built-in "assume everyone is relatively healthy" caveat, but you just can't do that with this Nets team. Kyrie, Durant and LeVert all have injury histories worth monitoring. The roster is imbalanced, there's a new coaching staff in place and the top of the East is just strong, man.
New York Knicks

WHAT TO LIKE: YOUNG (But Flawed) TALENT
Uhhh. Well. Let's see.
The Knicks do have an interesting stable of young talent, headlined by the shot-spiking stylings of Mitchell Robinson. He dunks everything in sight, and attempts to block everything in sight. At a bare minimum, he's incredibly fun to watch. With the Knicks having many young ball handlers, having a vertical threat with his explosiveness and catch radius is a nice safety blanket to have.
RJ Barrett was mostly bad as a rookie last year, but there was so much out of his control. There is a nice blend of size, ball-handling, sneaky-fine passing chops and downhill aggression to be excited about, assuming you aren't dead inside from watching this team. Obi Toppin is talented, even if the fit deserves some questions.
The point guard carousel should be interesting to watch. New York Daily News reporter Kristian Winfield wrote a phenomenal feature on Dennis Smith Jr. and the measures he's taking to fix his jumper. I just can't quit Frank Ntilikina, a near-elite point-of-attack defender with some pick-and-roll passing chops and not much else.
OTHER LIKES
- Adding Austin Rivers and Alec Burks for little money were solid signings. Both guys can generate their own shot and have some off-ball value, allowing either of them to play with or off of Barrett.
- For whatever it's worth, the Knicks have been pretty clear about keeping their books relatively clear for the next year or two. They didn't cash in any chips during the Russell Westbrook sweepstakes, the type of short-sighted gamble they absolutely would've made a half-decade ago. That's progress, at least.
WHAT TO DISLIKE: ABSOLUTELY...
Well, everything else, really.
The Knicks have decent young talent, decent vets and a clear book. All of those things are okay in a vacuum for a team in a rebuild. The issue is that there seems to be little to no cohesion as to how these things are tying in together.
Barrett needs on-ball reps, but how is he going to be meaningfully better without more spacing than the Knicks have given him, particularly in the frontcourt? Toppin will see his best days at the 4; why is Randle blocking him? Are we really going to see a Randle-Robinson frontcourt for substantial minutes again? Because if so, you're going to see a lot of possessions that look like this: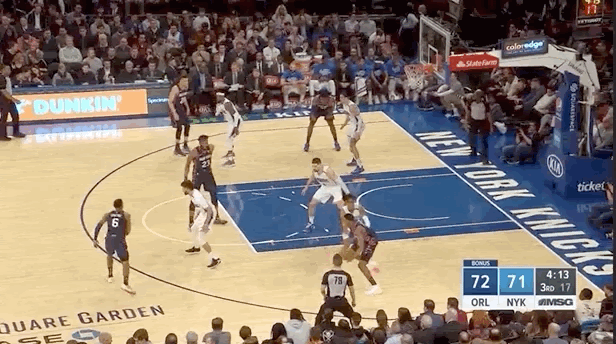 Is Elfrid Payton, owner of the league's most WTF triple-double stretch in recent memory, really the best you could do in terms of a veteran point guard for a team that needs some real direction?
I understand and agree with adding vets that contenders may be willing to trade for as a rebuilding plan. It worked last year with the Marcus Morris trade. But at a certain point, the Knicks have to do a better job of adding vets that can make life easier for the players whom they actually plan on investing in.
OTHER DISLIKES
- Kevin Knox is bad, man. I'm sorry. Just don't see it.
- They really hired Tom Thibodeau for this roster, huh? This should be good. I would bet money that Michael Kidd-Gilchrist is going to be closing games at some point.
- Every non-CAA agency in existence, apparently.
LINEUP TO WATCH: Rivers-Barrett-Bullock-Toppin-Robinson
It may be a little light on perimeter defense, but this (or swapping out Bullock's spot for Immanuel Quickley, and running with a Quickley-Rivers-Barrett trio) may be the most balanced unit to accentuate the Knicks' young guys.
BEST CASE: Bottom of the East, but trending upwards
This is going to be a bad team. There are guys who can pass, guys who can shoot, guys who can get isolation buckets and guys who can defend. There aren't many on the roster who provide two or more of these skills at once, and surely not enough to form a bunch of cohesive units.
The best-case scenario is the Knicks realizing this early on, making some roster-balancing moves (please get Randle the heck outta there), and giving their fans a steady dose of Barrett/Robinson/Toppin lineups so they can grow together. Landing a high pick in next year's mega-class could set them up for (some semblance of) glory later.
WORST CASE: Bottom of the East, Thibs Thibs-ing
I somewhat joked about it earlier, but Thibodeau is coming in to set the culture and coach the young pups up. Play hard, establish good habits, ICE pick-and-rolls, etc. That means there's a high probability of him relying on vets. One of those vets is Michael Kidd-Gilchrist, who will be best used at the 4 (where Toppin plays) or even the 5 (where Mitchell plays). There may be times he can play the 3 (where Barrett will likely play), which, well, I think you see where I'm going with this.
There's also the meme-that-isn't-a-meme about giving his starters major minutes. I just... I worry about this team.
Philadelphia 76ers

WHAT TO LIKE: COMPETENCE IN THE FRONT OFFICE
Finally, the front office prioritized shooting!
The Sixers traded for Danny Green and Seth Curry in separate deals. They drafted Isaiah Joe and Tyrese Maxey; the latter had a poor shooting season in college, but has the form and a pre-college sample worth believing in moving forward.
It's hard not to be excited about what this means for Ben Simmons and Joel Embiid. Having spacers, real ones, will make Embiid post-ups even more difficult to defend. There's still room for growth for Embiid as a passer out of double teams, but those doubles may not come as frequently if he's flanked by Curry and Green on the perimeter.
Simmons now has two partners that can fill slots along the arc in transition. Nobody generated more threes as a passer than Simmons did last season; adding a couple of elite relocators should only make Philly's transition attack more deadly. In the half-court, expect Simmons and Curry to hook up in ball screens or handoff actions. Curry is especially adept in Chicago action, where he's able to use his shooting gravity to generate looks for himself or others.
OTHER LIKES
- Let's set the scene: the Sixers are up two with 9.8 seconds left. Opposing team calls timeout. They break the huddle, and the Sixers send out Maxey, Matisse Thybulle, Green, Simmons and Embiid for one final stop. Good. Freaking. Luck.
- Adding Curry (and Maxey) means there's going to be less responsibility on Shake Milton's plate. He was miscast as a primary ball-handler in Philly's desperate attempt to find someone to run the offense. Milton as a combo guard off the bench is a lot more appealing.
- Forty-eight minutes of Embiid and Dwight Howard is going to lead to a lot of techs and scuffles. But seriously, Howard was legit good last year as a backup. He started playoff games last year! Whenever Embiid sits or misses a game, having Howard step in is a luxury that the Sixers haven't had in a backup center -- an actual one, not the is-he-or-isn't-he nature of the Al Horford experiment -- in quite some time.
WHAT TO DISLIKE: HIGH-LEVEL HALF-COURT CREATION
The Sixers did well to address their shooting and perimeter creation issues this offseason. It's fine to acknowledge that, while also not conflating that with them solving those issues. Curry will help, but he shouldn't be tasked as a closer on a team with title aspirations. Philly does feel a shooter short still, particularly on the wing.
And honestly, none of this will matter much if Embiid or Simmons -- preferably both! -- don't answer their half-court woes. Simmons has to shoot or commit to life as a roll man late in games. It has to be one or the other. Lurking around the dunker spot can only go so far. He has the entire regular season to find comfort in one or both of those areas before the games count.
Embiid has to process the floor more quickly. Even with the spacing issues he's dealt with in the past, doubles shouldn't fluster him the way that they do. At the very least, the complaint should be "the Sixers can't capitalize after Embiid gets doubled," not that Embiid is still struggling to pick them apart with regularity.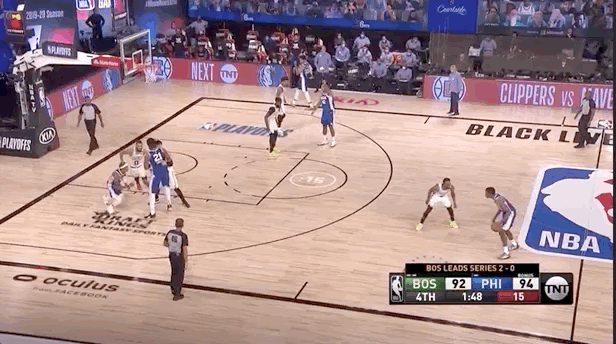 OTHER DISLIKES
- It could be a case of overthinking things on my end, but I'm a little worried about how Doc Rivers is going to handle this rotation. Even with the added spacing, there's probably going to be a need for staggering with Embiid and Simmons. We'll just have to see how things Shake out.
LINEUP TO WATCH: Curry-Green-Harris-Simmons-Embiid
Whether this ends up being the starting lineup remains to be seen, but we're likely to see this group together quite a bit. Two elite defenders in Simmons and Embiid, an ace team defender in Green, and two defenders in Curry and Harris that try hard enough to not be liabilities. The options are endless on the other end, particularly in two-man sets with Curry and Simmons. Fun group, versatile group, dangerous group.
BEST CASE: 2nd Seed
For the first time in what feels like forever, the Sixers have 1) shooting and 2) a good backup center that was acquired to be a backup center.
Elite defense, two high-level offensive hubs (albeit in different ways) and complementary shooting is the recipe for a major bounce-back season.
WORST CASE: 7th Seed
Of course, that's if the Sixers can stay healthy. If we get the usual dose of Embiid rest days or annoying injuries, the waters could be troubled relatively quickly.
Toronto Raptors
WHAT TO LIKE: DEFENSIVE VERSATILITY

This defense is going to be absurd. A year after ranking second in defensive rating (104.7), most of the crew returns.
Kyle Lowry and Fred VanVleet make life difficult for opposing backcourts. OG Anunoby can defend just about anyone you ask him to; ditto for Pascal Siakam. Newbie Aron Baynes is a stout post defender and is sound positionally at the rim. If that's your starting five, you can basically guarantee a top-five finish for this group in terms of defensive rating.
OTHER LIKES
- There are so many candidates for the nightly "how did he score 17 in 14 minutes?" award. Norman Powell, Malachi Flynn, DeAndre' Bembry. We'll get a random spurt from Chris Boucher against a bad pick-and-roll defense, too. It'll be delightful.
- I am irrationally excited for the Bembry Era in Toronto, so much so that I just called it the Bembry Era without a hint of irony.
- With a short turnaround and more miles on Lowry's legs, Toronto may actually have to let Siakam run more pick-and-rolls. The floor should be reasonably spread; let the young man cook. INVERT THOSE SUCKERS.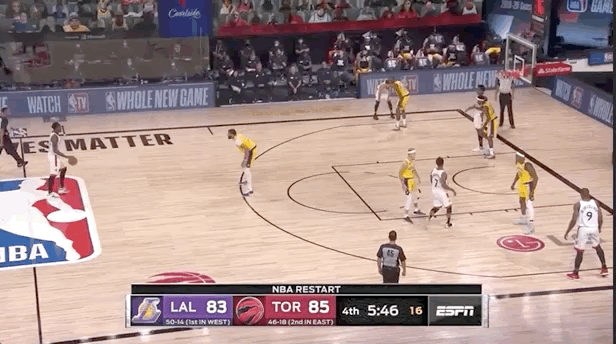 WHAT TO DISLIKE: FRONTCOURT SPACING

Though I liked the Baynes signing, especially for his price point, losing Marc Gasol and Serge Ibaka will hurt. Both provided legitimate close-out-on-him spacing at the 5 spot. Baynes is a fine shooter above the break, but he's still defended like a player teams are okay with shooting. He'll need another big year to force those coverages to change.
Honestly, how Baynes replaces Gasol may be the most important storyline of Toronto's season. They're going to operate in a lot of the same ways, particularly in the high post as Lowry jitterbugs around. The gap in shooting and passing will need to be minimal for the half-court offense to work.
OTHER DISLIKES
- It's less a dislike and more of a mild concern: do we have any confidence in Norm Powell repeating what he did last year? Because if not, the bench shooting could be an issue unless Matt Thomas earns a consistent role in the rotation.
- Honestly, the back-up 2 spot just feels up in the air. Terence Davis looked like a steal for the first half of last season, then disappeared by the time games actually mattered. There's also no telling how available he'll be due to some off-the-court issues.
LINEUP TO WATCH: Lowry-VanVleet-Bembry-Anunoby-Siakam
Give. Me. All. Of. The. Chaos.
The four-man grouping of Lowry/VanVleet/Anunoby/Siakam had a plus-7.9 net rating in over 600 minutes together last season. The fifth in that group will be match-up or who-has-it-going-tonight dependent. I'm interested to see what Bembry looks like with that group; he's an event-creator on both ends that could provide a spark on a random Tuesday.
BEST CASE: 3rd Seed
With a quick turnaround like this, continuity and coaching could be key. If so, the Raptors will have a leg up on just about every team in the league. Nick Nurse is a mastermind, and a Lowry team hasn't underwhelmed in a regular season since... well, has a Lowry team underwhelmed in a regular season?
Even if there's some slight age-related regression, Lowry will be a boss. There should be some internal growth from Siakam and Anunoby. Top three isn't out of the question for this group.
WORST CASE: 6th Seed
It would take myriad injuries for this group to really slide in the standings.
Wait, what's that? They dealt with myriad injuries last season and ended up as the second seed?
Ah. Well.
The top of the conference is stronger. I could see the center rotation being worse, especially if Baynes' three-point shot doesn't fully come together. Toronto just has too much synergy not to believe in.
Check back on Wednesday for Nekias' preview of the Central Division.