The Boston Celtics are on fire.
They own the NBA's second-longest active winning streak, with their fifth consecutive W coming against the Los Angeles Lakers on Thursday night. In a season mired with roster instability -- due to COVID complications, injuries, transactions or otherwise -- the Celtics seem to be catching a bit of a rhythm.
Jayson Tatum is the ring leader, which is fitting since he's dealt with adversity of his own. He's still dealing with the long-term effects of COVID, recently revealing that he has to use an inhaler before games.
This season has been a struggle for him, but the on-court results speak for themselves. He's averaging career-highs in points (25.6), rebounds (7.1), and assists (4.2), while providing his usual brand of solid on-ball, elite off-ball defense.
If you want a clean look at where and how Tatum has gotten better, look no further than his outing against the Lakers on Thursday.
It may feel weird to point to this particular game. Not only did Tatum drop an underwhelming 14-5-5, but his running mate Jaylen Brown also stole the show with a 40-point masterpiece on 17-of-20 shooting to boot. But amid Brown's spectacular night, I found myself captivated by Tatum doing the little things. It's within those margins that Tatum is nearing the NBA's toughest leap: going from star to bonafide, no-questions-asked superstar.
MARCHING TO AN EARLIER BEAT
Let's start with this seemingly mundane possession near the end of the first quarter. The Celtics set up one of their common early offense actions. Tatum receives a screen around the free-throw line before lifting above the break to receive a pass. Luke Kornet, the stretch-adjacent big that set the initial screen, "chases" Tatum to trigger a high pick-and-roll.
Tatum comes off the screen to his level. He takes two dribbles into the space afforded to him by proxy of the Lakers' drop scheme. With Montrezl Harrell backpedaling, Tatum is left with a pair of obvious choices: he can stop on a dime for a pull-up jumper, or attack Harrell while he's off-balance and get to the rim.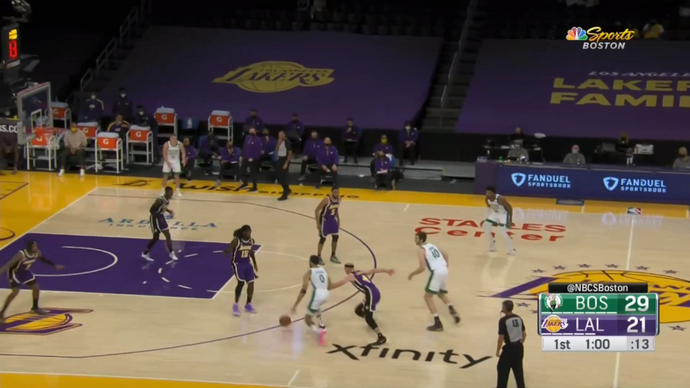 He chooses a third, tossing an in-and-out on his second dribble before smoothly flowing into an off-hand, live-dribble skip to the opposite corner.
This possession ultimately leads to nothing, but look at the advantage Tatum creates. Halting his dribble and making it a two-handed pass would've allowed for an easier close-out from Dennis Schroder. That's the difference between a possession stalling and Payton Pritchard being able to attack baseline and get a reasonable look at the rim.
The hidden treasure of this play is Tatum waiting for Schroder to drop to the paint as the low man before starting his attack. You can quibble about how ideal that is, but the fact that he's identifying the third (Tatum's defender and the screen defender would be the first two) is a sign of progress.
To that point, Tatum just isn't a LeBron James, James Harden, Luka Doncic-style manipulator. He's on the other end of the spectrum: a star force that leverages his scoring ability to create passing windows. The former style of star is easier to build around -- it's why all three of those guys are their own offense, and are more equipped for floor-raising. That doesn't mean the other way isn't effective.
Working from that school of thought still requires a certain level of skill and processing speed to be successful. As Tatum has expanded his game further out -- a not-so-insignificant difference from the Carmelo-esque mid-post prospect we saw at Duke -- he's been able to force defenses into longer, tougher decisions. Brad Stevens also deserves credit for allowing Tatum to attack with higher ball screens to maximize space.
Tatum is mapping the floor better, which is why we've seen an uptick of corner skips from him. And he isn't just mapping the floor better, he's capitalizing on those openings earlier. Per PBP Stats, Tatum has assisted on 29 corner threes this season. He assisted on 24 all of last season.
Of course, all of his passing flashes aren't boring. Putting defenses in threatening positions can lead to some pretty fun reactive dimes.
The behind-the-back lay-down was freaking gorgeous. But again, I'm impressed with the process. After the initial screen, Tatum recognizes that Kyle Kuzma is trying to ICE him -- meaning Kuzma is positioning himself in a way to force Tatum towards the sideline.
So, Tatum gets funky. He sets Kuzma up with an in-and-out and spin, gets Kuzma on his hip, then draws the eyes of three different defenders before dropping the dime.
WORKING THE MIDDLE
Tatum's passing is starting to complement his scoring; that's obviously a good thing. The encouraging, yet scary part of Tatum's evolution is that there's low-hanging fruit for him to improve as a scorer.
We know what he provides as a shooter at this point. He's elite off the catch, and he's able to self-create from beyond the arc. Drop coverage is pretty much unplayable against Tatum when he has it going. Even in isolation settings, he's able to side-step to his left or right to create a lightly or flat-out uncontested shot whenever he wants to.
The finishing is coming along. Though his share of shots at the rim are down from last season, he's been much better at converting at the rim, per Basketball-Reference. He's gotten a little craftier at the rim, doing a better job of absorbing contact and generating cleaner windows for himself.
The true wildcard for Tatum is this shot right here.
Tatum's floater, or lack thereof, is something that has been touched on in this space before. It's odd that a player with Tatum's touch has had such inconsistent results with the shot throughout his career. That lack of consistency has made him a little easier to gameplan for in pick-and-roll: run him off the line, hang back at the rim and watch him get antsy.
There have been fewer instances of Tatum looking uncomfortable. Per Synergy, Tatum has converted a shade under 41 percent of his runners on 71 attempts. That's a modest figure, but a massive improvement from last season (30.2 percent on 86 attempts).
This incremental improvement has led to some of the best basketball Tatum has ever played (30-9-4 over the last five games). As he becomes a more well-rounded scorer, defenders will have more things to think about. With Tatum getting better at taking advantage of those pick-your-poison scenarios as passer, it's only a matter of time before defenses run out of ways to slow him down.