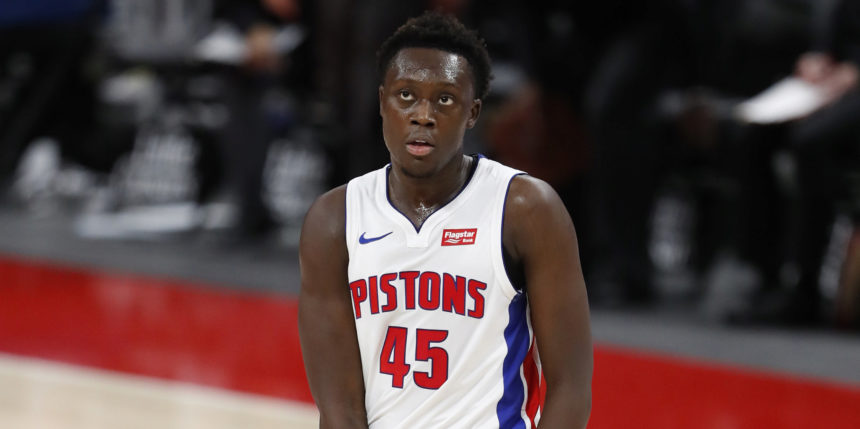 Pistons moving on from Sekou Doumbouya is a head-scratcher
The Brooklyn Nets and Detroit Pistons struck a peculiar deal on Friday.
No, it's not because it was a "salary dump," one of the most common maneuvers made by regretful front offices in the NBA. Rather, it was peculiar because the team that moves on from a player on a bloated salary rarely wins these kind of deals.
In this trade, the Nets were able to save $47 million in salary and luxury-tax penalties by sending out DeAndre Jordan and four future second-round picks to Detroit. That's a heck of a move by Brooklyn general manager Sean Marks considering Jordan, who was making approximately $10 million annually, didn't appear in a single playoff game for the team. Sure, Marks had to attach draft capital to entice another team to take on his contract, but it ended up being more than worth it.
That's because the Pistons traded Sekou Doumbouya and Jahlil Okafor in the process. Apparently, Detroit's front office feels that a quartet of late selections will be more valuable than its No. 15 overall pick from two years ago.
Okafor's expendability is understandable with a crowded frontcourt and his journeyman nature over the last few years. Doumbouya, however, was not a player to include in this type of deal, particularly when the talent they got in exchange was immediately bought out.
Sure, his role with the Pistons would have been non-existent or scaled back further with the addition of Cade Cunningham in this past summer's draft. That said, as a team in asset-accumulation mode, wouldn't it serve them best to try to continue developing Doumbouya behind-the-scenes and get him back into the rotation? He's shown signs of upside before and, guys, he's not even of legal drinking age yet in the United States! You can never have enough wings in today's NBA.
It's not like Detroit was paying him a ton of money, either, nor would he hold the organization back. He seemed to have a great attitude despite seeing sporadic minutes from game-to-game. Why rashly move on from Doumbouya in this kind of manner when you're not getting anything of substance in return, now or later? (Unless one of those second-rounders hits or leads to a bigger deal — then we can revisit this and have a laugh).
Understanding that the writing was on the wall, it feels like there was a better way to handle this. Truthfully, with all due respect to Pistons general manager Troy Weaver, it appears to be a situation where a player left over from a previous regime drew the short end of the stick and didn't fit into the current team's vision. It's tenable to say that Doumbouya hasn't lived up to expectations to this point, and maybe that was to blame for his jettisoning out of Detroit, but the team didn't give him a whole lot of room for error in the first place, either.
If Brooklyn decides to keep Doumbouya around the team or mature his game with its G League affiliate — the Long Island Nets — who knows how much that could pay off? And let's be real — the Nets probably didn't expect to get back a young player with untapped potential in a transaction like this.
Should the Pistons have mailed it in on their first-rounder from two seasons ago? As a team embarking on a rebuild, you should want as many young, talented players as you can possibly get your hands on, and depth is never a bad thing. It's surprising that they gave up on a raw, 20-year-old prospect at this stage.
At his age, Doumbouya could take a number of years before he gets a consistent opportunity. He almost certainly won't be a part of the Nets' rotation from the jump. However, it's tough to think of a better way to pass that time than learning from the greats of the game and veterans that are currently on this Brooklyn roster.
Doumbouya has shown promise in spurts. He's fast and furious, and has the athleticism. It's all about putting everything together with his physical frame. There's no guarantee that he'll pan out, but why move on now before finding out?
Marks and the Nets made a low-risk, high-reward decision to bring him in, while the Pistons may have lost out on a prospect who hasn't even scratched the surface of what he can be.