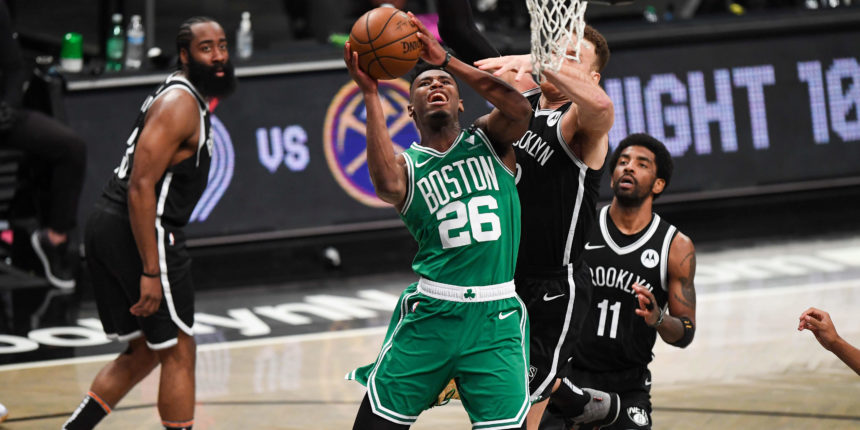 Aaron Nesmith is ready for whatever else the Celtics throw at him
Aaron Nesmith's rookie season didn't end the way he wanted.
Downed at the hands of the star-studded Brooklyn Nets in five games, the Boston Celtics were a first-round exit, leading to a number of organizational changes this offseason. But nine days after the team was eliminated from contention, the 21-year-old made sure that his summer got off to an uplifting start – buying a new car for his mother, Erine.
He got the idea during the Celtics' game against the Chicago Bulls at the United Center on Jan. 25, while taking a quick walk on the sidelines.
"It was when we had no fans, and there was a Kia on the floor," Nesmith told BasketballNews.com in a phone interview. "I remember I checked out of the game, and I was walking to the designated area they had for us where we could take our masks off. And they had the white version of the Kia Sorrento there. I think that is a really nice car. It was the model that my mom likes."
Nesmith's mother had been driving the same vehicle for the past 15 years, so Aaron decided to buy her that same Kia Sorrento he laid eyes on, but in Crystal Beige. Setting up the surprise wasn't too difficult, especially since he was able to get his father, Bernie, in on the fun.
By the time Kia brought the car to the family's hometown of Charleston, SC, Aaron had it all planned out. After grabbing a bite to eat, he dropped her off at home, while he and his dad secretly went to the dealership to get a decorative bow. Bernie returned to the house early and told Erine that Aaron was going to meet them to go to dinner, and when Aaron pulled up, she went outside and saw that there was a brand new car in the driveway.
"It was a dream come true," Nesmith said. "Growing up and wanting to play basketball, every kid also wants to do something special for their parents. Everything that my mom's done for me, she doesn't really get any gifts... It's really awesome. To see her smile puts a smile on my face."
This is awesome. Celtics rookie Aaron Nesmith surprised his mom with a new car 🙏 @aaronnesmith24 | @NBCSCelticspic.twitter.com/5ZM7giLRyC

— Dime (@DimeUPROXX) June 11, 2021
Nesmith felt indebted to her. An early-riser, Aaron woke up at 6 a.m. to work out when he was in high school, and this continued when he was going through the pre-draft process less than a year ago. Erine would always roll out of bed 45 minutes earlier, just so that he could eat a homemade breakfast instead of a bowl of cereal.
"She's always on me about taking my vitamins and making sure I eat healthy," Nesmith said. "She's always on me to try to help me be the best person that I can be, and same goes for my brother (Eddie) with academics and what he wants to achieve, so I just wanted to be able to give back to the effort that she puts in for her boys."
The Nesmiths are a family that values higher education. Eddie just finished studying Molecular and Cellular Biology at Harvard University, while Aaron majored in Human and Organizational Development at Vanderbilt, a program focusing on business and marketing. Growing up, however, Aaron had a passion for math.
"It was always a direct answer – you either get it right or you get it wrong – so I always kinda liked math for that," Nesmith said. "There was no room for interpretation (laughs)."
The 2020-21 NBA season, on the other hand, was very open to interpretation – especially for a rookie class that was thrown into the fire instead of going through the usual months of preparation with a summer league and proper preseason. Nesmith joined a Celtics team that would go on to battle setback after setback.
"When the season started, Coach Brad Stevens told us to be ready to hit curveballs. Because the way the season was set up, anything could happen," Nesmith said. "For my rookie class, we had to hit a couple curveballs before even making it to the NBA. The draft got pushed back twice, two separate days, we didn't have a normal pre-draft process... From the get-go with this NBA journey, it was pretty much hitting curveballs.
"I was pretty much ready for anything that could be thrown at me. My team individually, we got hit pretty hard by COVID and had a almost a week stretch where we had only seven players available. So really, just waking up and expecting anything, [it was about] being ready for that... Whenever I work out early in the morning, it's so that when my name is called, I'm ready and I'm not caught off guard. [I was] just pretty much waiting for my name to be called."
Going into Year 2, Nesmith has had more curveballs hurled at him – initially in the form of former Celtics president Danny Ainge's dismissal and the subsequent promotion of his first-year head coach, Stevens, assuming Ainge's position.
"I mean, I definitely didn't see it coming," Nesmith said. "But I think it was great for Brad Stevens and his journey going forward. He's a great basketball mind. I think the Boston Celtics are in great hands with him moving up into the position that he took.
"I owe [Danny] a lot. He believed in me, and he picked me in last year's draft, so I'll be forever grateful for that. Even after the last game, he came to me and congratulated me on the season and the turnaround that I had from the beginning to the end. So I thank him for believing in me, even in the beginning where I had a rough start and he continued to believe in me, continued to give me advice even 'til when it started to turn around for me."
Stevens' promotion meant a vacancy at head coach, and in turn led to the hiring of Brooklyn Nets associate head coach and longtime assistant Ime Udoka. Though the conversations have been brief, Nesmith has gotten to know him, and learned that Udoka lived in Charleston at one point of his life.
"[He's a] players coach. He seems like he's a big development guy, really cares for his guys," Nesmith said of Udoka. "He wants to win. He's out there coaching with Team USA because he loves developing guys and he loves being around high-level basketball players. So, I'm excited to get to work with him just 'cause you can see how much he loves the game."
In addition, since Kemba Walker was dealt to the Oklahoma City Thunder, Nesmith will have some new teammates in Boston. Budding big man Moses Brown is coming to town along with veteran forward Al Horford, a Celtics fan favorite who will be back for his second stint with the franchise.
"(Laughs) Mhm, that's what I've heard," Nesmith said. "I'm excited to meet him... I watched him growing up some, but the thing that I think will help me the most is just being able to watch how he conducts himself and the way that he approaches the game mentally more than anything. He's been in the NBA for so long. He seems like he's a really good leader, so I'm really excited to be able to work with him."
This was another good game from Aaron Nesmith. He's figuring things out. He hit three triples, but this was my favorite play. Nesmith misses from deep in the corner. Then watch him bust back to make sure Zach LaVine doesn't get an easy layup. This is part of how he'll earn time. pic.twitter.com/d7WSc3L7hH

— Keith Smith (@KeithSmithNBA) January 26, 2021
Making up for lost time, Nesmith is excited to be playing for the Celtics in the NBA Summer League in Las Vegas in a few weeks. He sees it as an opportunity to keep his individual momentum from last year going, and a chance to expand on some of the work he's put in over this current offseason.
"To be able to play five-on-five again, in a game setting, bringing out the competitive juices – I just love playing and winning," Nesmith said. "Even though it's not a ring ring, we still get a tournament and we still have to declare the winner at the end, so now that's the current objective: to win that."
When asked to evaluate his rookie year, Nesmith considered himself "definitely happy." He is grateful that he had the opportunity to compete against Jayson Tatum, Jaylen Brown, Marcus Smart and the high-level players the Celtics had, and credits all the veterans who were on the team for their advice and passing knowledge onto him.
"I'm ready to do it again," an eager Nesmith said of his upcoming second season. "The thing that sticks with me the most [from my rookie year] is just how much you have to give 110% every day, mentally and physically – 'cause everybody's really good at this game. Everybody works to perfect their craft, so how hard can you outwork the person next to you or in the room that you can't see?
"So every day, you've got to go in and give it your all. Even on an off-night – we play so many games – you still have to get up just like everybody else does, tie your shoes just like everybody else does and go out there and play as hard as you can. Or else, you're not gonna win."
Nesmith quickly learned to expect the unexpected at the pro level, with "the roller coaster of playing and not playing" acting as his most difficult adjustment. On the court, his role with the Celtics was much different than it was with the Commodores, too.
A standout at Vanderbilt, Nesmith led the team in scoring (23.0 points per game) his sophomore year prior to a season-ending foot injury. He touched the ball a ton, and put it in the bucket with ease, notably with his scorching 52.2% clip from deep on over eight attempts per game. The 'Dores depended on him to be their primary team leader in many different facets.
When he got to the pros, that was no longer the case. Coming off the bench in a much-reduced role than what he was used to in Nashville, Nesmith had to find other ways to make an impact for his new squad – going hard on the defensive end, diving for loose balls, making hustle plays – when the starters needed an extra push. And in those times where he was on the floor with Tatum and Brown, he picked up on their tendencies.
"It definitely helps that they're on my side. I would rather be playing with them than against them," Nesmith said. "They were our best scorers last year, and you've got to be able to play off of them and off the ball [and] learn where their spots are. If Jayson and Jaylen shoot a pretty good percentage in *this* area, if they have the ball, you probably don't want to shoot it [there]. For me, that's how I was able to get a lot of my offensive rebounds, based on where they were on the floor and if they had the ball, and whatever dribble combinations they were putting together.
"Just doing whatever the team needs to win. Basketball's a team sport, so you have to put the team first. Playing in the NBA and playing with such a talented team, everything that I did at Vandy is not what I need to do here on the Boston Celtics. I have to be able to adapt and change my game in order to help my team win games."
Luckily for him and the Celtics, Nesmith has the instincts and a natural motor to help him do those things. At an early age, his father instilled an outwork-everybody attitude that Aaron still carries with him on the floor and in life.
Nesmith put those qualities to use in arguably his signature performance as a rook. In the midst of a four-loss-in-six-game stretch, Boston came out flat in front of its home fans on April 30 against the San Antonio Spurs. The C's trailed 77-48 at halftime, and even plummeted into a 32-point hole... but the guys in green did not fold. In fact, Nesmith was a catalyst to one of the most unlikely comebacks of the year (and the third-largest in league history).
He scored all 16 of his points in the second half and overtime, knocking down clutch threes, ball-hawking for easy opportunities inside and helping Tatum's 60-point night come in a victory. Nesmith admits that the moment was a proud one for him. He legitimately affected the outcome of the game and played 30 minutes that night.
And the day before, in a win at Charlotte, Nesmith became the first Celtics rookie since Paul Pierce to record 15 points, 3 steals and 3 blocks in a single game.
"It was just part of the journey. That's not the last thing I want my name next to, either," Nesmith said. "So I'll chalk that up, put that up next to some of my other awards I've gotten and just keep moving forward, and try to get some more... an NBA championship, first and foremost. And then hopefully a couple years down the line also be able to make the All-Star game, and everything that comes with that as well."
Reflecting on his own pre-draft process happening so recently, Nesmith said it's crazy to think about the next class entering the league in just six days.
"It really did fly by; I think about it all the time," Nesmith said. "I got to Boston on November 19, I left in early June after we lost to the Nets, and that's at least seven months. Those seven months flew by like they were two."
Falling to the Nets in the opening round of the postseason left a bad taste in Boston's mouth, but Nesmith believes that experience will prove to be a positive one heading into the 2021-22 campaign.
"We learned a little bit more about resilience and having to really fight and win it on the defensive end, especially against a team like the Brooklyn Nets, who have so much offensive firepower," Nesmith said. "It's pretty tough to keep up with a team on that offensive level. But if we can buckle down on the defensive side and we can limit those options – we're also a very potent offensive team – that'll take care of itself. I think we learned that our identity going forward needs to be a defensive-minded team. Because even in years past, if you look at the Boston Celtics before I joined the team, they were pretty much a top-five, top-seven defense in the NBA, and it served them well in the postseason. So I think we got away from that a little bit last year, and going back to that next year will serve us greatly."
For Nesmith and the Celtics, the slate is now clean.
"We got a new coach, new systems to learn, new guys to play with. And with the old guys, it's just fun being around them, fun competing with them every day," Nesmith said. "I'm excited to take what we learned from last year playing in the first round of the playoffs, taking that into next season and putting it to use throughout the regular season, and then making a deep postseason run as far as we can. For me, I'm excited to expand my role, get a more consistent role with my team,and be able to help my team win games any way I can."