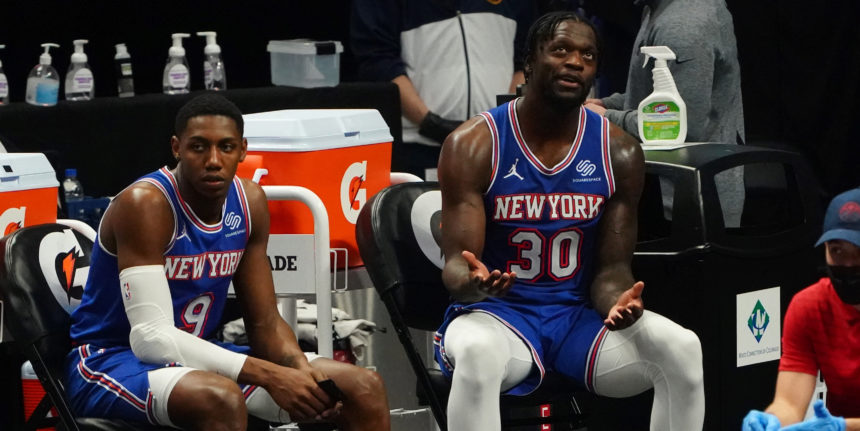 Which NBA teams have cap room this offseason, and should they use it?
Sometimes, it feels like the reality of possessing cap space does not line up with the rainbows-and-unicorns world of possibilities that some people imagine.
Fans can daydream about their favorite franchise hunting for a star because they have enough cap space to offer a max contract. But even if their team is capped out, many fans still spend hours on their online trade machine of choice until the result pops up with a green "Success!" and they've cracked the financial code on a title-winning maneuver.
If every NBA team can still wheel-and-deal, what's the benefit to having cap space, especially with a free-agency class generally viewed as mediocre?
It helps a lot – and often in unsuspecting ways. Take a look at the Oklahoma City Thunder, who have absorbed undesirable contract after undesirable contract to help add to their war chest of draft picks. Or the Brooklyn Nets, who kept their books clean enough to eventually pull off the James Harden blockbuster. Same with the Atlanta Hawks, who picked up some key depth pieces in 2020 free agency en route to the Eastern Conference Finals.
Teams get rewarded for being smart with their money. This offseason, eight teams will have an easy path to meaningful cap space while the rest would have to jump through more hoops. These squads range from playoff hopefuls to aggressive rebuilders. Who should capitalize with a spending spree or headliner trade, and who should wait for the longer-term future?
Let's break down each team's situation, using cap numbers provided by Basketball Reference.
Charlotte Hornets – Possible Cap Space: approx. $27.4 million
This estimate means the Hornets let Devonte' Graham and Malik Monk hit restricted free agency. They'll also have Cody Zeller, Bismack Biyombo and Nick Richards as unrestricted free agents – notably, all bigs. Graham is probably the most coveted of the five, and if the Hornets re-sign him, they'd have a pretty nice guard rotation between Graham, LaMelo Ball and Terry Rozier.
Charlotte barely missed out on the postseason, and that was with a rookie leading the way and clear improvement areas inside. They can absolutely make the necessary depth moves (Richaun Holmes?) to get close to playoff contention, and they have the No. 11 overall pick to help as well. Outside of Gordon Hayward's $120 million contract, Charlotte isn't tied down to too many deals right now.
Should they spend? Yes.
Miami Heat – Possible Cap Space: approx. $34.5 million
The Heat would currently be over the cap, but that's before making a decision on team options for Goran Dragic ($19 million) and Andre Iguodala ($15 million). Those should probably be declined, and if they also ditch Omer Yurtseven's non-guaranteed deal, that suddenly gives Miami a ton of space.
However, the Heat would also have just five players on the team. They have to make re-signing decisions on Victor Oladipo, Duncan Robinson (RFA), Kendrick Nunn (RFA), Trevor Ariza, Nemanja Bjelica, Dewayne Dedmon, Udonis Haslem and the aforementioned players (Dragic, Iguodala and Yurtseven).
Miami is in a tough position. The Heat should be increasing their threat level as a playoff team, but first they simply have to worry about keeping the roster intact.
Should they spend? Yes.
Memphis Grizzlies – Possible Cap Space: approx. $24 million
The Grizzlies are in fantastic financial standing. With this estimate including Justise Winslow's $13 million team option being declined, only two players (Jonas Valanciunas and Dillon Brooks) will be making eight figures. Memphis will have 13 players, plus the No. 17 and No. 51 overall draft picks, at its disposal.
At the same time, the Grizzlies have been on the doorstep of the playoffs in two consecutive seasons, despite boasting one of the youngest rosters in the Association. There's no need to make a move simply to make a move. Everything should be purposefully built around Ja Morant and Jaren Jackson Jr. – even if that means politely passing on splurging this summer.
Should they spend? Probably not.
Toronto Raptors – Possible Cap Space: approx. $22 million
Perhaps the single biggest offseason decision, outside of some superstar player options, is Kyle Lowry's unrestricted free agency. Does the face of the Raptors make sense on an expensive contract as he approaches age-35? Or do the Raptors sign-and-trade him and take that gut punch? They also have to think about paying restricted free agent Gary Trent Jr.
Toronto can get to about $22 million in room prior to those decisions by renouncing Rodney Hood and Aron Baynes. Considering they're still very much a win-now team with long-term commitments to Pascal Siakam, Fred VanVleet and OG Anunoby, I think the franchise should pay up to keep both Lowry and Trent Jr. It's unlikely they can match that short-term value with another move.
Should they spend? Yes – to re-sign their own talent.
Dallas Mavericks – Possible Cap Space: approx. $20.5 million
This is not a hot take by any means, but Luka Doncic desperately needs help on both sides of the ball. Dallas has to make something happen after a pretty tumultuous start to the offseason. They get some space with Tim Hardaway Jr. and J.J. Redick hitting free agency.
While $20 million is not a max slot, it can assuredly net a secondary scorer or prominent 3-and-D player who can take some pressue off of Dallas' franchise cornerstone. The Mavericks should feel the most pressure to spend of any team here. Every season that they underwhelm, the "Free Luka" chants will get louder.
Should they spend? PLEASE Yes.
Oklahoma City Thunder – Possible Cap Space: approx. $38 million
Even with Kemba Walker getting $36 million next season, the Thunder are free and clear in cap contexts because their second-largest contract will be the approximately $6 million given to the No. 6 overall pick in the 2021 NBA Draft. That's simply amazing.
OKC should continue to lean on its staple move: taking on bad contracts paired with picks or prospects. The full-scale rebuild is still in effect, though pieces are quickly coming together. There's no need to get sidetracked with spending money when everything is going according to plan. With 11 current players and six picks in the 2021 NBA Draft (three first-rounders and three second-rounders), the roster will fill itself out.
Should they spend? No – except to take on contracts for young talent.
San Antonio Spurs – Possible Cap Space: approx. $48 million
San Antonio is at a crossroads unlike any other team. Veterans DeMar DeRozan, Patty Mills and Rudy Gay are unrestricted free agents, and the oldest player currently under contract is now 27-year-old Derrick White. After hanging on the fringes of contention since Kawhi Leonard departed, this feels like a real reset for the Spurs, who now have the youngest roster in the entire NBA.
They should keep things that way. The Western Conference is as loaded as ever and even play-in spots will be a battle. Dejounte Murray, Keldon Johnson and Devin Vassell lead an intruiging young core that still appears well away from the playoffs.
San Antonio has been winning for decades, but they should not shell out larger deals to keep the team afloat when they can focus on developing something bigger long-term.
Should they spend? No.
New York Knicks – Possible Cap Space: approx. $50 million
New York's playoff berth was the biggest surprise of the season, so many people are forgetting that this was supposed to be a youth-focused team. But now that the postseason is the expectation, there's no turning back, and the Knicks have the potential to build out a deep roster without sacrificing young talent.
Assuming New York picks up Julius Randle's team option, they still have a ton of room to add better-fitting parts around Randle, R.J. Barrett, Mitchell Robinson and Immanuel Quickley. The franchise can choose to retain or bypass unrestricted free agents Derrick Rose, Taj Gibson, Nerlens Noel, Elfrid Payton or Alec Burks. They will also be the easiest financial facilitator for any blockbuster trades.
Obviously, they shouldn't get reckless, and unless the perfect storm comes, they shouldn't part with their youth. But otherwise, go crazy, Leon Rose and Scott Perry.
Should they spend? Yes.