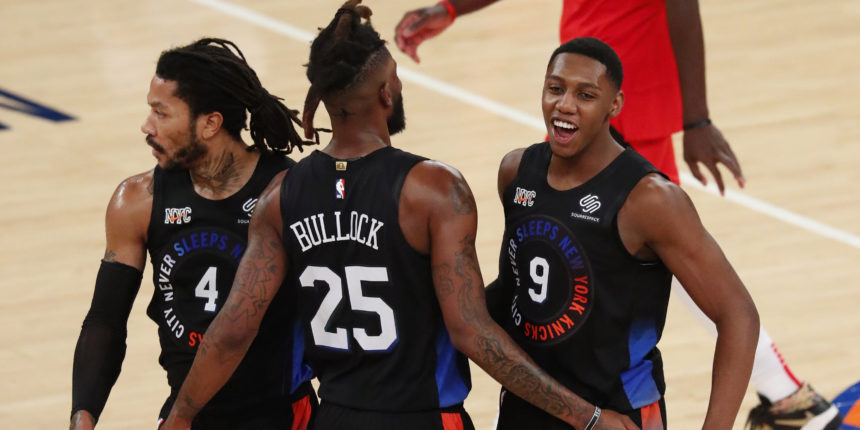 NBA Roundtable: Which team/player surprised you most this year?
Now that the 2020-21 NBA regular season is over, it's time to look back at some of the biggest surprises from this past year. With the shortened offseason, the condensed schedule, the health-and-safety protocols, the rash of injuries and the MLB-style series to limit travel, there's no question that this was a strange campaign. But now that we got through it, we asked our BasketballNews.com writers:
Which player or team surprised you most this season?
Alex Kennedy: I was so wrong about the New York Knicks. This team nearly doubled their win total despite playing 10 fewer games due to the condensed schedule. One year ago, imagine if you told someone, "The Knicks will bring back largely the same team and earn homecourt advantage in the 2021 playoffs." You would've sounded insane. Julius Randle went from being a solid starter to a legit star, averaging career-highs in points (24.1), rebounds (10.2), assists (6.0), steals (0.9), made threes (2.3), three-point percentage (41.1%), free-throw percentage (81.1%) and more. Immanuel Quickley, Derrick Rose, Alec Burks and Nerlens Noel exceeded expectations too. Their turnaround still blows my mind, and they're positioned to have a really bright future too.
Chris Sheridan: This will not be a popular answer, but Russell Westbrook brought the Washington Wizards back from the dead. These guys were 0-5, 11-18, 14-35 at various stages of the season. And now, they are the eighth seed in the playoffs (with 120-1 odds to emerge from the East). They may be entering the postseason with more momentum than any team in the East.
Ethan Fuller: I mean... it's the Knicks and everyone in the organization. Julius Randle has gone from a contractual hindrance to an All-NBA player. Derrick Rose is quietly having one of his best post-Bulls seasons ever. I ridiculed the decision to hire Tom Thibodeau, but he is rightfully a leading candidate for Coach of the Year. And New York might be the best defensive team in basketball. Who on Earth could have seen any of this coming?
Spencer Davies: Since everybody is going to (rightfully) answer this question with the New York Knicks as their positive surprise, I'm going to go in a different direction. To be honest, it doesn't feel like the Dallas Mavericks should be the fifth seed in the Western Conference. Kristaps Porzingis is back and healthy with postseason-terrorizer Luka Doncic, but it just doesn't seem as if this group reached its full potential -- at least during the regular season. Though we have to factor in how much the league's healthy-and-safety protocols for COVID truly affected things, it seems as if there has been a bit of a lull in terms of their sense of urgency. Don't get me wrong, certain players have starred in their roles such as Dorian Finney-Smith, Jalen Brunson and Josh Richardson, and they stole homecourt from the Los Angeles Clippers with their Game-1 win. But it's the carousel at the five that has me concerned at the moment, along with Luka's temper with costly techs.
Moke Hamilton: The Toronto Raptors, for sure. Their terrible season could be partially explained by having to effectively play an entire campaign on the road, and I think we all underestimated how much of an impact not going home to Canada would play on the mental health of the players. I'm sure that was a factor, but I still would have expected better than 27 wins, especially coming off of their 2019-20 season, when they finished an impressive 53-19.
Sharon Brown: The Knicks. Tom Thibodeau got the players to buy in, Julius Randle has been playing out of his mind, and the team has a nice mix of veterans and young players.