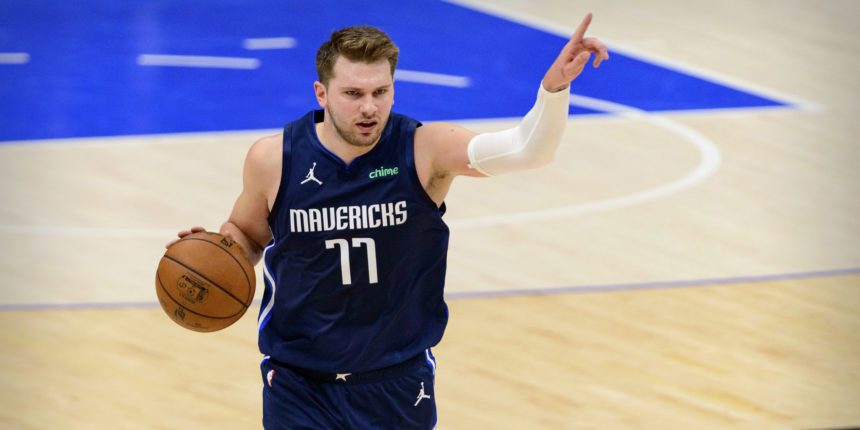 For Dallas, building around Luka Doncic is only going to get harder
James Harden himself can tell you — three times over — that tomorrow is promised to no man.
The Brooklyn Nets star has seen a hamstring issue put the future of his 2020 postseason in doubt. In 2018, a 3-2 series lead couldn't save him from the Golden State Warriors, and since the 2012, he hasn't come close enough to the NBA Finals to even sniff it.
We all just knew that the Oklahoma City Thunder would be back. I covered those 2012 NBA Finals against Miami, and I witnessed Dwyane Wade tell Kevin Durant just that after the Heat won in five games.
So much for that.
Indeed, tomorrow is promised to no man.
Not to Harden and not to anybody — not even Luka Doncic.
We're prisoners of the moment. Shackled by our short-term memories and our reliance on the victors to recall history, the first-round matchup between Doncic and the Los Angeles Clippers will ultimately shrivel up and wither away, disintegrating into our subconscious in the same way those Thunder did.
After his Herculean performances and dismantling of one of the league's most-feared perimeter defensive duos, it feels inevitable that we'll eventually live in a world that belongs to Luka. He averaged 35.7 points, 7.9 rebounds and 10.3 assists per game on 49% shooting from the field, including 40.8% from three-point territory.
Even in a loss, those numbers are unreal. And if the Mavericks are smart, they'll take two things away from their disappointing seven-game fallout to the Clippers.
First, Luka Doncic will rule the NBA. He's far too special of a player not to. All that remains to be seen is how soon until it happens and whether he'll be in Dallas when he does.
And second is that patience is for suckers. With just a little more help and a little more something, Doncic and the Mavericks could've defeated the Clippers and had an opportunity to make a run through a postseason in which they wouldn't have had to worry about LeBron James, Anthony Davis, Steph Curry, Damian Lillard or Jamal Murray.
It's been all too easy for everyone to just assume that opportunity will come knocking again. History has shown us that Lady Luck isn't really monogamous.
"I'm still a young player, so I'm fine with our team building through the draft and not actively trying to win a championship for another three years… I've got time…"
Said no great player ever.
At 18 years old, Kobe Bryant wanted all the smoke. At the same age, LeBron James came to either kick some ass, or at least toss bricks until his arms were tired.
In the league, opportunity knocks but every so often. And it sure feels like Cuban and the Mavericks weren't home to answer the door. Imagine winning three road games in a playoff series and still losing. Preposterous. But here we are.
Now, as the Mavericks try to figure out what to do next, one thing is for certain — by virtue of the expiration of Doncic's rookie contract, it will only get more difficult to build around him from here on out.
Doncic, who is still playing under his rookie deal, earned just over $8 million this past season. He'll earn about $10 million next season before the first year of what will likely be a $200 million maximum extension from the Mavs kicks in.
Thenceforth, it will be difficult for Dallas to manufacture or maintain significant salary cap space given the $100 million owed to Kristaps Porzingis over the next three years and the potential re-signing of Tim Hardaway Jr. this summer.
The point is: it's usually easier to find a competent supporting cast to put around a player while they're playing on their rookie deal. In that respect, time is nearly up in Dallas. Next season is the last one in which they'll have him at an affordable rate. That seems particularly relevant in the case of Hardaway, whose stock has risen as he heads toward free agency.
A nice final piece on a team that has some established stars and in need of a third or fourth scorer, he'll fit the bill for someone, but he might not be what the doctor ordered in Dallas. Not right now, anyway. Paying him market value considering his strong season and productive (albeit brief) stint in the playoffs could put the Mavs in the precarious predicament of having too many high-paid players who, together, can't win you a playoff series.
In the NBA, the trick to managing cap space and utilizing it to build out a contender is to maximize it while your superstars and anchors are on favorable contracts. The Warriors would've never had the cap space to sign Durant if Curry hadn't signed a four-year, $44 million contract that kicked in after the expiration of his rookie deal.
So Dallas suddenly finds itself with a dilemma. Should it seek to maintain cap flexibility? Or commit to a three-man core of Doncic, Porzingis and Hardaway? Would it fare better in the star-studded free agency class of 2022? The market and ownership group is one that players are attracted to, afterall, and the Mavs, for the most part, are considered a model of intelligent management.
With Doncic, it shouldn't be too difficult to get a player or two to take Mark Cuban's dollars, but he'll need to have money to offer. Re-signing Hardaway and keeping Porzingis don't advance that cause.
Truly turning the corner in the NBA — going from a 45-win team to a 55-win contender — is the hardest part of the job. That takes all kinds of strokes of genius. And sadly for Dallas, aside from drafting Doncic himself, it hasn't had too many of those in recent memory.
The answer to the Mavs' Doncic dilemma is to find a way to convince Portland to trade Damian Lillard to Dallas. Bradley Beal would also be an obvious win. The problem is there are 28 other teams in the NBA that regard those two to be the answers to their prayers, and the Mavs don't exactly have a treasure trove of assets to offer in any potential trade.
Needless to say, Dallas shouldn't take Luka's greatness for granted and assume that he'll be content with seeing his historically great performances go up in smoke because the front office is only capable of bringing in subpar players to flank him in the Wild Wild West.
Life comes at your fast. Luka is already approaching the end of his rookie contract and has as many playoff series wins as he does NBA Finals MVPs — zero. It's a shame considering what he's already proven to be capable of on an individual level.
All things considered, Doncic is doing incredibly well for a player whose only finished his junior year, but the Mavs now only have one season left to bolster his support staff before his extension kicks in.
From that point, it will only get more difficult — especially with the money due to the fairly unremarkable Porzingis and a re-signed Hardaway.
Dirk Nowitzki patiently waited for 13 years. He only wore one jersey for the entirety of his career, but Dallas shouldn't rest on its laurels and assume that Doncic has the patience or wherewithal to wait his turn. He's talented enough to jump the line.
A big offseason awaits, and Cuban and his front office is on the clock. Time's a ticking, and if they don't do something significant to push the team forward, Dallas may ultimately get left behind.