Quite indecisive, he'd often commit a cardinal sin.
Ever the defensive unit, he'd streak up the floor off of a turnover, ball in hand. Teammates flanking.
Quite indecisive, he was. He'd take flight before figuring out what came next.
Feed Joakim Noah for the flush? Kick it out to Kyle Korver for the three? Finish it myself?
The court was Derrick Rose's oyster. Why think when you can fly?
Zion Williamson gives us those same feels.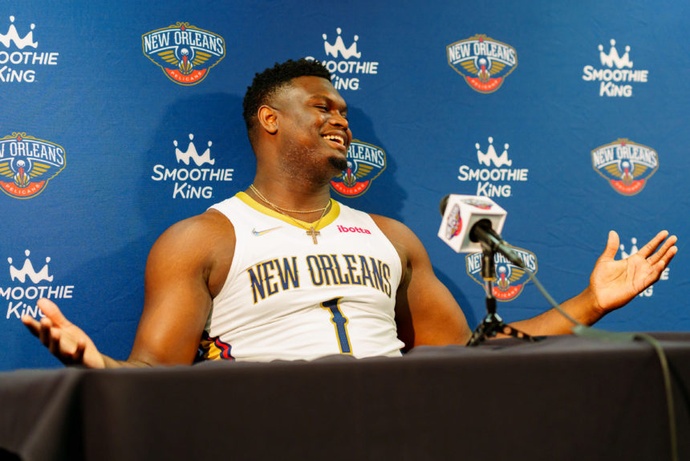 Even as Rose has enjoyed quite the renaissance, we can only look back at who he was and wonder what may have been. The youngest MVP in league history, after suffering a fair share of early-career injuries, Rose has valiantly scratched and clawed his way back toward the top of the NBA's relevancy mountain.
Still, he remains this generation's finest example of what could've been.
All the talent in the world can't save you if your body isn't on your side. Health is the universal equalizer; it makes superheroes mere mortals, and grounds the ability to defy gravity.
Indeed, NBA history is littered with examples of players whose promise was undercut by their mortality. Aside from Rose and the obvious additions of Grant Hill and Penny Hardaway, we can cite Greg Oden and Brandon Roy. Yao Ming.
As a basketball-viewing public, our hope is that those with the promise to become all-time greats have that opportunity. And within the class of those we call greats, there are plenty of others who have shaken off their early bouts with injuries and put them so far behind that you can't even see them in a rearview mirror.
Nobody remembers that Ben Simmons and Joel Embiid each missed what should've been their rookie seasons. Ditto for Blake Griffin. Many others were able to overcome early trips to the infirmary and become all-world performers. The hope for the New Orleans Pelicans is that this will eventually be true for Zion.
So yeah, while he can fly, as Williamson enters his third year, we are still yet to find out whether he can do something much more important — stay healthy.
Missing all but 24 games in his rookie year, Zion put up jaw-dropping numbers in his sophomore season.
He played in 61 of the Pelicans' 72 games and became the first player in NBA history to score as many as 27 points per contest while shooting at least 60% from the field (he made 61.1% of his shots). Additional on-ball repetitions helped him dish out 3.7 assists per game to go along with 7.2 rebounds, and all things considered, for a 20-year-old, those numbers are downright terrifying. It's scary to ponder about just how dominant Zion could be.
As a pro player, Zion is able to bend opposing defenses to his will, but it's his blinding combination of size, athleticism and agility that allow him to be who he is.
It's no secret that, on the developmental curve, big men tend to take a little longer to reach their peaks. Teenagers often find themselves going from playing against other teens in college to being pounded on by grown men 10 years their senior in the league. The neophyte's challenge is to take his body's development seriously and chisel himself. He needs to harden his body and become conditioned to the rigors of an 82-game season, plus the playoffs on top of that.
To this point, New York's Mitchell Robinson has had similar issues with nagging injuries and missing games. Robinson has responded by putting on 60 pounds of muscle since being drafted in 2018.
Now, it's Zion's turn to rid himself of the injury bug.
In many instances, as players' bodies adapt, they break. Just — as was the case in Zion's situation — not literally.
On Sept. 27, Pelicans executive vice president of basketball operations David Griffin revealed that Williamson had undergone surgery to repair a fractured fifth metatarsal in his right foot.
The recent news comes two years after Zion previously underwent surgery to repair a torn right meniscus just prior to New Orleans beginning regular-season competition in Oct. 2019.
And that surgical procedure came less than 10 months after Williamson famously suffered a Grade 1 right knee sprain after breaking his shoe in the opening minute of Duke's Feb. 2019 contest against North Carolina.
Two years ago today, Zion broke his shoe 🤯

📽ï¸: @ESPN pic.twitter.com/FnnmGXKB0b

— FanDuel (@FanDuel) February 20, 2021
And before then? Zion had some injury issues, as well.
While not uncommon for a growing player with his size and weight, one of the benefits of landing in a professional setting is access to world-class trainers and facilities. No matter how much promise a player has, they'll only go as far as their body allows them. That's why the Pelicans have done all they can to protect a player with such potential.
So, despite those facts, Griffin's revelation on Sept. 27 was quite noteworthy. Still, the Pels' EVP was optimistic that Williamson would be ready for the team's season opener, so it was easy enough to consider Zion's latest procedure as just another blip on the radar.
Until today.
On Thursday, Griffin provided an update on Williamson. According to NOLA's executive vice president, doctors have reviewed scans on Williamson's foot and have cleared him for the "next step" in his rehabilitation. Still, there is no "fixed timeline" for his return, with Williamson scheduled to be reevaluated in approximately two weeks.
Said differently, Zion will now certainly begin yet another season on the shelf. He will miss at least the first five games of the 2021-22 season, and considering how cautious the Pelicans have been with him, the team will likely want him to get at least a few practices under his belt before returning to game action.
Those practice sessions will help with his timing and conditioning, both of which will need some work.
As we collectively sit back and wonder whether the likes of Trae Young, Ja Morant and RJ Barrett will take the next step in their respective careers, we have the same question about Zion.
Unfortunately for him, though, the hurdle he hasn't yet cleared is far more important than his ability to defy gravity or break defenses. Right now, the more pertinent question is whether he can stay healthy long enough for him to have the opportunity to fulfill his mighty potential.
For most of the NBA's superstars, the leap forward into superstardom happens during their third season. Zion, perhaps appropriately, cleared that hurdle earlier than most.
Clearly, though, there's still some work to be done.
And as he enters his third season in New Orleans with yet another ailment keeping him on the shelf, it's time we, at the very least, begin to get a tad bit concerned.