It wasn't long ago that Ja Morant was the talk of the town, and rightfully so. The Memphis Grizzlies guard commanded the basketball world's attention in his playoff debut with his jaw-dropping athleticism, indellible fearlessness and flawless float game, as well as an affinity for the bright lights in crunch time.
On the other hand, that same Grizzlies team also features Jaren Jackson Jr., a highly-talented, versatile gunner and lengthy defensive threat who just couldn't seem to get his feet wet in his first postseason series. Now, it's important to note that Jackson missed all but 11 games in the regular season; still, he never truly regained his form in the first-round series against the Utah Jazz. He couldn't find much of a rhythm on either end, making just 28.6% of his threes and recording at least four fouls in every contest. In fact, Jackson committed five fouls in seven of his last 17 games.
So in the short time he spent on the court in 2021, there seemed to be a regression for Jackson as a shooter and defender. However, we have to remember that this is a 21-year-old with plenty of potential and swagger who can absolutely bounce back in the future, especially with a normal offseason ahead.
But isn't it interesting that Morant snatched the eyes of everybody watching, while Jackson, who has an additional year of experience under his belt, floundered throughout the first round? Such an incredible contrast between these two young players within the walls of the same franchise begs a question in a broader respect: Do guards and wings develop quicker than bigs?
The rising talents who have burst onto the scene in the playoffs are Morant, Trae Young, Donovan Mitchell, Luka Doncic and Jayson Tatum. Glance at the top picks in those drafts from the last four years and pick out the power forwards and centers who are even remotely close to their level. It's tough to do, isn't it?
That doesn't mean that the big men can't get to that point. Hell, look at what Joel Embiid and Nikola Jokic are doing in their fifth and sixth years. It just took them a little longer to get there -- particularly Jokic, the 2021 NBA MVP. And if we're going to talk about Jokic, we've got to bring up Deandre Ayton's impact on the Phoenix Suns' playoff run to this point, and the job he's done in stifling the Serbian jack-of-all-trades in their series thus far.
Ayton was the No. 1 pick in 2018, constantly compared to Doncic because of where he was selected, and he always will be due to the magnetism of Luka's presence and the incredible skill set that comes with it. Yet as Ayton carries this burden throughout his career, it is his team that's left standing among seven others, and it is his progression in Year 3 that has been the perfect ingredient to add to the Suns' impeccable mixture.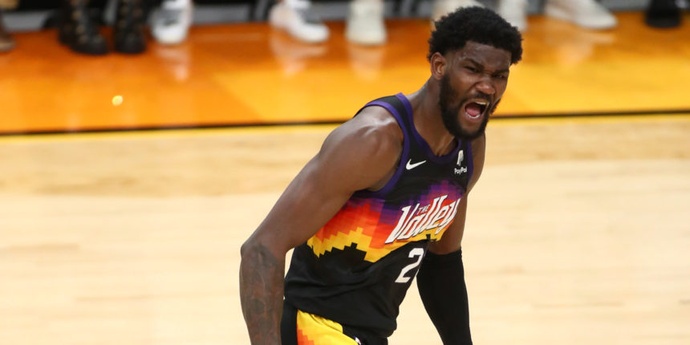 Cody Toppert, who's currently on Penny Hardaway's coaching staff with the Memphis Tigers, was previously the director of player development and an assistant coach with the Suns. Toppert worked hands-on with Ayton during his rookie season, and he was instrumental in the growth of Devin Booker and Mikal Bridges.
As Ayton continues to thrive in his role to the tune of over 16 points and 10 rebounds per game on 75.3% shooting from the field, Toppert shared his thoughts on the Bahamian big man's maturation.
"I think a couple things that we're seeing with Deandre is him understanding that defense is consecutive effort and offense is consecutive action," Toppert told BasketballNews.com in a phone interview. "He's doing a great job of getting much more aware of the go-straight-to-the-ball-screen, go-straight-to-the-ball-screen. Whereas maybe his rookie year, Book would have to wait on him to get in the action and kinda direct him. He's now naturally flowing towards the action.
"And then on the defensive side of the ball, it's multiple efforts. What you're seeing is him understand when he's a weakside defender, he's rotating to protect the rim; but on a secondary kick-out, he's getting there also for a secondary rim-protection opportunity and closing with a defensive rebound. Or [when] he's in pick-and-roll coverage and then on a kick-out, he's rotating to protect the rim with verticality and then cleaning up with the defensive rebound. So that consecutive-effort mentality on defense is something that can be a separator."
On offense, Toppert sees Ayton gearing towards the rim after screens, showing great concentration on the catch off the roll with two hands and finishing with either dunks or a soft touch. He refers to Game 1 of the series vs. Denver, when Ayton hustled for two offensive rebounds on the same possession and got a hook shot to go down in a game that the Suns trailed by five with less than two minutes until halftime.
In that same game, Toppert observed two more things from Ayton. The first was him staying out of foul trouble, which is instrumental to the 22-year-old keeping a rhythm. The second was his ability to match Denver's physicality without being emotionally or physically reactionary (i.e. committing a frustration foul).
"To me, the talent has always been there," Toppert said. "Deandre's always been a sponge, he's always been a great kid and he's always wanted to do right and do well. And so now what he's seeing is a little bit of success, and his confidence is just soaring... The sky's the limit."