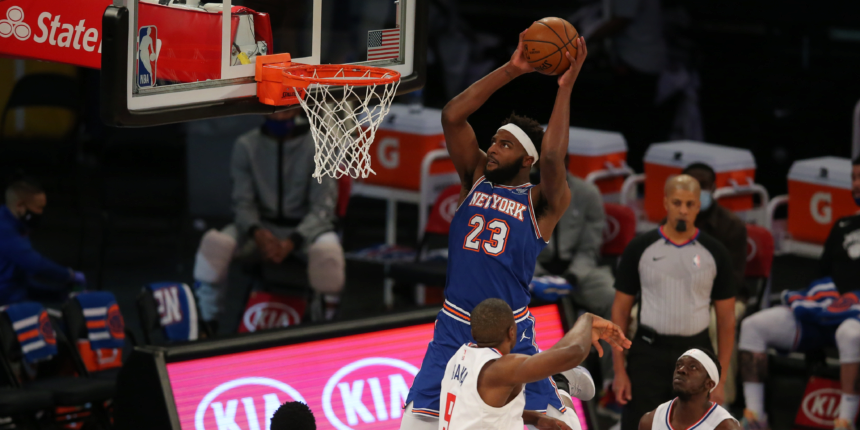 It's been three years, and Mitchell Robinson still has a lot to prove
It's been three years and it still feels like we barely know Mitchell Robinson.
His athleticism has been off the charts since Day Zero. Nimble-footed, at his size, his timing and defensive instincts helped him make an immediate impact. His presence was felt from the moment he checked into an NBA game.
Selected by the New York Knicks with the 36th overall pick of the 2018 NBA Draft, Robinson quickly made a name for himself. Although a footnote at a time, he wound up being the only thing of substance the Knicks got for trading Carmelo Anthony to the Oklahoma City Thunder. Along with Kristaps Porzingis, the pair of big men quickly became the pride of Madison Square Garden.
But three years later, if it feels like we still don't know much about Robinson, it's because we don't.
To this point, he's been less of a star and more like a shooting star — gone in an instant.
And when he met with reporters as the Knicks prepared to begin training camp, he was upbeat. Noticeably more muscular, Robinson looked nothing like the scrawny kid that was drafted by the team a few years ago.
"Yeah," Robinson answered matter-of-factly when asked if he's been hitting the weights. Smiling and flexing for the camera, he didn't mince any words.
"See? I think I'm stronger," he said while flexing. "I've been in the weight room like crazy... I feel like it's gonna increase my game. I ain't gonna be getting pushed around like that [anymore]."
Asked on Thursday if he's stronger this year, Mitchell Robinson flexes for the cameras: pic.twitter.com/zrZ7d0U9SN

— Ian Begley (@IanBegley) September 30, 2021
Hopefully, for the Knicks, it'll make a difference when it counts. Gaining 60 pounds since he was a rookie, his body's come a long way. The same can't be said of his game.
In just the 12th game of his NBA career — at just 20 years old — Robinson recorded 9 blocked shots against the Orlando Magic. He hasn't accomplished such a feat since, and in a nutshell, that's been the story of his career.
In the end, he just might be the most interesting man in New York basketball. Or, at the very least, the most unknown quantity.
The Knicks, in Julius Randle, know themselves to have a budding All-Star who's ascending, while RJ Barrett is coming into his own with a credible shot at becoming an All-Star himself. There are tons of positive things to say about the likes of Kemba Walker, Derrick Rose and Alec Burks.
But if the Knicks are truly to make something of themselves and continue to ascend in the Eastern Conference — if they'll ever have a chance to challenge the likes of the Atlanta Hawks and Chicago Bulls, much less the Milwaukee Bucks and Brooklyn Nets — they'll need Robinson to make good on his promise.
Whether he can will depend on when he's able to get back on the court, if he can stay on it and what he's able to do with the time he's given. Especially as the team's promising young players — including Obi Toppin — fight for minutes.
In the NBA, great general managers are able to tell the future. Rookies are handed bags of money simply based on when they're selected in their draft, while rookie extensions are often handed out because of a belief that a still-toiling youngster will one day have the opportunity to become great.
As he enters the 2021-22 season on the shelf, Robinson has had the benefit of neither — by virtue of being a second-round pick in 2018 and accepting a three-year deal from the Knicks, his $4.7 million in career earnings will trail the second-year $5.4 million salary of Toppin, a sophomore.
Although Robinson's abilities can't be denied, the Knicks' front office decided it wouldn't bid against itself, and has opted to take a patient approach with respect to a potential extension.
It certainly is the prudent course of action, but for New York, it comes with significant risk. Teams that are in acquisition mode — ones that believe themselves to have solid building blocks and a want to ascend — cannot afford to lose players like Robinson. But at some point, the reward must be earned, and whether due to his own fault or that of the organization around him, Robinson is still trying to put it all together.
To this point, the big man has missed about 28% of his career games, which is alarming. And while the majority of those missed contests came as a result of two injuries that Robinson sustained last season, the fact remains that even in the contests he's played, he hasn't been able to stay on the floor long enough to maximize his impact potential.
As head coach, David Fizdale made questionable decisions with his rotation and substitution patterns, but Robinson's lack of defensive discipline and poor decision-making — two things that veteran Taj Gibson has been in the 23-year-old's ear about — are completely within his own control.
Even in the games in which he's played, Robinson hasn't been able to stay on the court. Over the course of his three-year career, he's averaged 4.9 fouls per 36 minutes, though that number has trended downward since he was a rookie. Still, he's played as many as 35 minutes in a single game only five times in three seasons. For a player who seems capable of anchoring a defense and providing finishing potential, that's unacceptable.
Fortunately, for both Robinson and the Knicks, there's plenty of time left to arrange a long-term marriage, and in Robinson's case, to prove he's deserving of the proposal.
Along with point guards, it's often difficult for young big men to find their footing in the NBA. In many instances, the bigs tend to be late-bloomers.
Perhaps Robinson is.
Presumably sharing the floor with Walker, Robinson will be playing alongside an attack guard who should, in theory, make the game much easier for him. Already among the league's more efficient players, though, the challenge for the fourth-year center will be to become more effective outside of the paint. Randle, Barrett and Walker each already pursue a fair amount of their scoring opportunities on the interior, so there needs to be at least some threat of floor-spacing from the 5-man.
With Mitchell Robinson, there are a lot of "ifs," and general manager Scott Perry's challenge is to determine how much the answers to the many questions are worth.
At a certain point, potential needs to yield results. Three years since being drafted, there's still quite a bit for Robinson to prove.
He'll have his chance, and both Robinson's bank account and Tom Thibodeau's Knicks hope he's able to take full advantage of it.