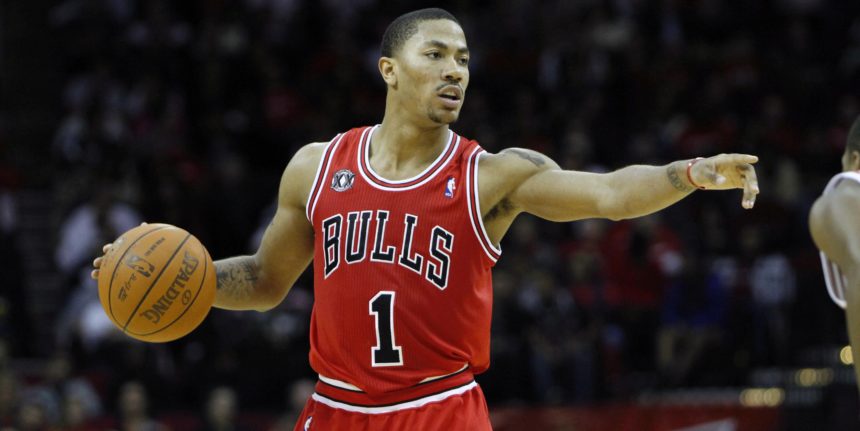 Is Derrick Rose a future Hall-of-Famer? The case for and against
Since the NBA MVP award was introduced following the 1955-56 season, there have been 34 different players to earn the honor. Of those 34 MVP winners, 26 have been inducted into the Naismith Memorial Basketball Hall of Fame. The only ones who haven't been selected to the Hall of Fame are either still active or not yet eligible (Dirk Nowitzki).
Of the eight guys not yet inducted, seven of them are presumptive locks. There's no doubt that LeBron James, Kevin Durant, Stephen Curry, Russell Westbrook, James Harden, Giannis Antetokounmpo, and Nowitzki will receive the call and be named among the game's immortal when their times come.
But that leaves us with one remaining player: Derrick Rose. Is Rose a future Hall-of-Famer?
Rose is one of the most polarizing players of the last 20 years. At his peak, Rose was certainly one of the game's best. While there's debate in hindsight about whether he was deserving of the 2011 NBA MVP – the vote would likely look much different today – there is no question that Rose was on a path of ascension toward becoming one of the NBA's best. He dominated games with his mind-blowing athleticism, and his high-flying dunks looked out of this world for a player his size. He was the key cog on the Bulls at the start of the 2010s. Chicago became a contender for the first time since Michael Jordan retired, mostly because of how good Rose was at such a young age.
There's certainly a case for Rose to be in the Hall of Fame, but there's also a case against him being enshrined with the greatest players of all-time. Let's break down both.
THE CASE FOR ROSE'S INDUCTION
Rose was a player who undeniably changed basketball. He brought back an era of uber-athletic point guards, and showed that it was possible to be a successful team with the best player being 6-foot-3 and lightning fast. Rose was able to accomplish so much at such a young age.
In 2011, he became the youngest NBA MVP in league history at just 22 years old. This is where the argument that Rose belongs stems from.
Is it really right to keep out a guy who was considered to have the best season in the league at just 22 years old? Especially when there had to be an amendment to the NBA's collective bargaining agreement to fairly compensate a young player who's that good, that quickly (known as "the Derrick Rose Rule")?
No one should be making the argument that Rose was ever the best player on the planet; he wasn't (and if you're making this argument, you're foolish). But he certainly belonged in the league's top-five.
In Rose's first four seasons in the NBA, he averaged 21.0 points, 6.8 assists, and 3.8 rebounds per game. And because he's still playing, he could continue to bolster his case. For example, if he added a late-career championship or two to his resume (like Dwight Howard last year), that could help him.
THE CASE AGAINST ROSE'S INDUCTION
Just because Rose won the MVP award doesn't automatically make him a Hall-of-Fame player. Just because everyone that won the award before him is a Hall-of-Famer, and every player that has won it after him will be in the Hall of Fame, does not mean that he belongs, too. There's almost always an exception to every rule, and it seems as if Rose is the exception to this one.
Rose's flame burned so bright at its brightest, but it also burned out so quickly. Yes, injuries are the reason for that, but that doesn't mean he gets a pass for peaking at 22 years old and never returning to form. Rose does have that MVP award, and is a three-time All-Star, but he also doesn't have much playoff success to speak of to date.
What Rose has been able to do in the latter stages of his career makes for a great revitalization story. Rose has been a useful player on mediocre teams in Minnesota and Detroit, and this year's surprise New York squad. All this has happened after Rose was cast aside and essentially out of the league following a stint in Cleveland and being cut by the Utah Jazz after a trade in 2018. He's finished in the top-10 of NBA Sixth Man of the Year voting in each of the last three seasons, but that's not something that's ever said about guys that belong in the Hall of Fame. (This year, he received a first-place vote for MVP and it turned out to be the fan ballot; Rose has always had an enormous, passionate fanbase).
Keep him mind, it's the Basketball Hall of Fame, not the NBA Hall of Fame. If Rose had some Olympic gold medals or an NCAA Championship on his resume, that would help his case. Instead, his two Team USA medals came during the FIBA World Cup, and while he played for the National Championship as a freshman at Memphis, the Tigers lost, and that entire season was later vacated by the NCAA after an investigation found that Rose's SAT scores were invalidated.
The truest indicator that Rose doesn't belong in the Hall of Fame is that if his first four NBA seasons are removed from his stat line, he looks just like a good-not-great player. From 2014 until now, Rose has averaged 16.5 points per game on 45% shooting to go along with 3.0 rebounds and 4.4 assists, while being a liability on the defensive end of the floor. That's hardly a stat line that deserves to be enshrined amongst the game's greats.
THE VERDICT
Ultimately, what Rose was able to do for his hometown team as a youngster was a story that you'd expect on the big screen. But that early stretch of his career isn't great enough to justify how short it was. Had Rose gone two or three more great years before injuries got in the way, this would be a different conversation, but ultimately that's the reality of the situation.
Basketball Reference has a Hall-of-Fame-Probability tool that takes each player's stats, awards and achievements into consideration, and it tends to be pretty accurate when determining a player's Hall-of-Fame likelihood. It currently gives Rose an 11.9% chance to become a Hall of Famer, and that feels right.