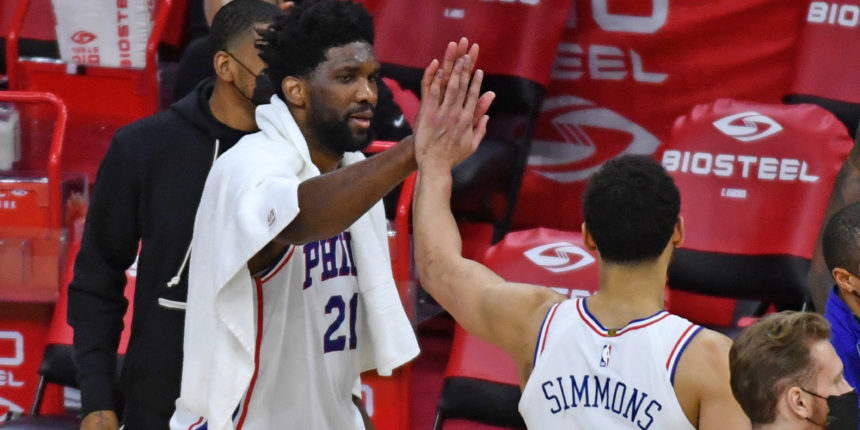 Ben Simmons drama clouds Sixers' outlook for 2021-22 season
The Philadelphia 76ers are stuck in the middle of their own drama, and it could continue into the 2021-22 regular season.
Philadelphia is fed up with 2016 No. 1 overall pick Ben Simmons' lack of development as a scorer. When Simmons passed up a wide-open dunk under the basket against the Atlanta Hawks in the Eastern Conference Semifinals, Joel Embiid and head coach Doc Rivers threw him under the bus for his timidity in game-changing situations. Simmons and the Sixers certainly seem destined for an eventual breakup, which would probably be best for both sides. (UPDATE: Simmons' reportedly informed the Sixers that he wants out and that he intends to skip training camp while he waits for a trade).
Philadelphia needs to further allocate resources to help Embiid become even more of a two-way monster. Simmons should hope to land in a situation where he's valued as the face of the franchise and where he can be properly utilized within a system. If Simmons were to land in a place where he can play a similar role to Giannis Antetokounmpo in Milwaukee, maybe he could eventually reach the ceiling many expected coming out of LSU.
Whether Simmons sticks around in Philadelphia or is traded elsewhere, the 76ers are poised to be among the elite teams in the Eastern Conference thanks to Embiid's emergence as one of the best centers in the NBA. Last season, Embiid averaged 28.5 points, 10.6 rebounds, 2.8 assists and 1.4 blocks per game with an outstanding 63.6% True Shooting percentage. Ranking No. 4 in my 2021 NBA unicorn rankings, Embiid's unique two-way takeover ability makes him special.
The window is still wide open for the Sixers to figure out how to take the leap from consistent playoff team to NBA Finals contender. Embiid recently signed a four-year max extension with Philadelphia, and Sixers GM Daryl Morey will need to construct the perfect roster around the dominant center during that time.
Before Morey took over last offseason, former Sixers GM Elton Brand signed Simmons to a rookie-scale max extension and Tobias Harris to a five-year max extension. Coughing up that much money to that duo and locking them in as Embiid's sidekicks was a huge gamble. Before arriving in Philadelphia, Harris had been shipped around in multiple trades, playing for five teams in eight seasons. While he's a solid scorer and an average defender, he has yet to make an All-Star appearance.
Back to Simmons, his seeming reluctance to expand his shooting profile has put the Sixers in this tough position. Philadelphia is being stingy in trade negotiations involving Simmons because they know he's the key to reeling in a true 1B to Embiid's 1A (and they understandably want to get as much back as possible for the Defensive Player of the Year runner-up).
The Sixers' front office will be paying close attention to the Portland Trail Blazers and Washington Wizards. Will Damian Lillard and Bradley Beal end up staying put past the 2021-22 season? Right now, it's anyone's guess. Holding onto Simmons for a few more months is worth it if Morey has a shot at landing Lillard or Beal, even if training camp will be awkward. Depending on what happens moving forward, perhaps the Blazers or Wizards would be interested in a package consisting of Simmons and some young prospects (like Tyrese Maxey and Matisse Thybulle).
Even if Simmons is eventually traded for picks and prospects, the Sixers can still make a championship push with Embiid, Harris and a plethora of floor-spacing shooters surrounding them. Currently, here's how the Sixers' rotation looks entering the 2021-22 season:
Starters: Ben Simmons, Seth Curry, Danny Green, Tobias Harris, Joel Embiid
Bench: Tyrese Maxey, Shake Milton, Furkan Korkmaz, Matisse Thybulle, Georges Niang, Andre Drummond
With a loaded rotation, Philadelphia should still slot in as a top-four seed in the Eastern Conference standings. However, teams like the Miami Heat, Atlanta Hawks, Boston Celtics and Chicago Bulls are right on their heels. Sleeping on the Sixers is a dangerous game to play, though. There's a reason they finished as the No. 1 seed last season. With Embiid showing no signs of slowing down, the Sixers will continue to be a perennial powerhouse who always have a shot to make a deep playoff run.
However, the cloud that is the Simmons situation will continue to hang over this organization until a resolution is reached.
Regardless of what happens with Simmons, Philadelphia should still hover around the 50-win mark. But at some point, it's possible that this situation could shift from awkward to toxic. That's certainly a risk that Morey and his staff must consider as they weigh their options.
If there's no movement on the Lillard or Beal front, Philly's best bet may be lowering their outrageous asking price for Simmons (reportedly four future first-round picks and an All-Star player) and finding an immediate resolution. Imagine how good the Sixers could be if they dealt Simmons to Sacramento (for Buddy Hield) or San Antonio (for Dejounte Murray) or Minnesota (for D'Angelo Russell)? There's some package out there that would create a win-win for both parties, potentially making Embiid's life easier around the basket by adding a score-first floor-spacer and giving Simmons a fresh start.
It was a rather quiet offseason in the City of Brotherly Love outside of this ongoing Simmons drama. Bringing Drummond and Niang aboard helps fortify the frontcourt depth behind Embiid. Re-signing Green and Korkmaz to multi-year deals provides much-needed three-point shooting. Maxey (who looked terrific in Summer League action) and Thybulle should take big steps forward in their development.
Everyone will be watching to see what unfolds in Philly. Until a resolution is reached between the Sixers' front office and Simmons, this roster's floor and ceiling remain murky.