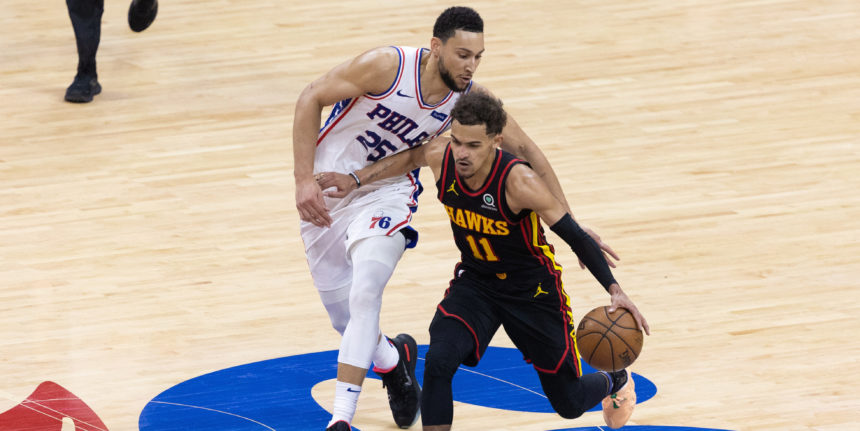 Ben Simmons deserves criticism, but not to be thrown under the bus by 76ers
There's got to be a line in the sand here when it comes to the Ben Simmons ordeal.
Did he perform up to par on the offensive end in a winner-take-all Game 7? No. Does he deserve the criticism he is receiving? Yes... if it were strictly coming from fans and media alike. But teammates and coaches? The buck's got to stop before it gets there.
"I mean, I'll be honest. I thought the turning point was when we — I don't know how to say it — but I thought the turning point was just we had an open shot and we made one free throw and we missed the other and then they came down and scored," Joel Embiid said following the loss.
"We didn't get a good possession on the other end and Trae came back and he made a three and then from there down four, it's on me. I turned the ball over and tried to make something happen from the perimeter. But I thought that was the turning point."
Embiid is referring to Simmons' head-scratching decision to pass the ball off to Matisse Thybulle with 3:30 left in a two-point game instead of dunking or laying the ball up. Simmons backed down Danilo Gallinari, had the baseline, rose up and then decided to give it up to Thybulle. Only Trae Young was left in the paint, with John Collins at the top of the key. Instead of tying the game up with a point-blanker, the Sixers had to settle for a split pair at the free-throw line from Thybulle.
"I just assumed Gallo was coming over my back," Simmons said. "And then Collins moved out, so I thought we just had a wide-open dunk."
A play that kills momentum without question, Simmons does need to do some introspection in his own right. The Aussie point guard attempted zero shots in the fourth quarter for the fourth consecutive playoff game, and he took three total fourth-quarter attempts in the entire series. That deserves criticism, and needs to be addressed moving forward. The good news is that Simmons is a 24-year-old Defensive Player of the Year candidate and a three-time All-Star. The bad news is we're asking the same questions every year about his aggressiveness and whether he's the right on-court fit aside Embiid.
But the way that Embiid and Philadelphia's first-year head coach Doc Rivers have discussed the matter is not helpful. Rivers was asked directly about whether Simmons can be the point guard for a championship team.
"I don't know the answer to that question right now," Rivers responded.
So... that's not exactly a way to instill confidence in a player that's clearly lacking it. Not to mention that neither Rivers, nor Embiid took much of the responsibility for the role they played in not getting the job done. In any book, it goes down like this: You win as a team, you lose as a team.
For Rivers, he could reflect on how he could've done a better job in Game 1 instead of leaving Danny Green on Trae Island, or maybe the fact that he could've tightened up the rotation in a win-or-go-home Game 7 (and yes, there was foul trouble, but all bets are off at that point). Having the guys come out of the locker room in quarters three and four with focus for half of this series would've helped, too.
Regarding Embiid, there's not too much you can go at him for, as he played on a bum knee all series and most of the postseason. He did give it his all. However, if you're going to play injured and tough it out, there will be critics when you don't get the job done.
Dominating the way that he did in the first three games of the series, it was odd to see Embiid completely out of sorts for a Game 4 in which Philadelphia had in its grasp. Groundhog Day happened in Game 5 as well, as the Sixers never really knew how to play with a lead in back-to-back games. And if you really want to take ownership of what cost the team in Game 7, how about the big man's carelessness with the basketball? He had eight turnovers, one of which was getting ripped by Gallinari after an attempted spin move when Philly was down four with 49 seconds left in the contest. When that fastbreak happened, it was curtains for the Sixers.
Can the majority of the blame be placed on Simmons for his shortcomings? Absolutely. But to pin all of it on one person is not doing anybody any favors. Especially, on the record, in a public setting. One, for Simmons, who will in all likelihood be traded this summer; Embiid said it was a "tricky question" when somebody asked if he'd like the team to run it back next year. And two, for Daryl Morey and Elton Brand, who lose leverage in any deal for the 24-year-old, whose value is at its lowest in quite some time.
Hell, if you're a general manager on a team looking for an up-and-coming talent that isn't even close to hitting his prime yet, sign right up. Does Simmons need to put in work and change his attitude on the court? Duh. If he doesn't, then he's going to turn into a specialist. Call it crazy, but there's a ton of time for him to grow still. You already know he's got ridiculous passing chops, he's a matchup nightmare for anybody defensively and he's nearly impossible to handle in transition. Buying "low" in this case would be a great move. Failures can lead to successes. In Simmons' case, it's all in his head. Who knows what a summer away and a fresh start could do for him? He can be a studly primary playmaker elsewhere.
He doesn't need to take jumpers or threes to be effective offensively. He does need to attack the hole and learn to be okay with taking a hit instead of being allergic to the rim. The free throws need a major fix, as well. (Perhaps a dominant shooting hand-switch is in order? Just a suggestion.)
Emotions are running high. It's been years since Kawhi Leonard dashed the Sixers' hopes of getting to the Finals by hitting a heavily contested, ball-bouncing game-winner over the outstretched arms of Embiid. After a disappointing season and getting swept in the Bubble, the Sixers failed to reach the Eastern Conference Finals once again, and they haven't been there in two decades.
There doesn't need to be a colossal roster overhaul. The Sixers did that by bringing in veterans who can stretch the floor and defend, and they even brought in a new coach. A retooling of sorts, beginning with Simmons, appears to be the starting point.
And after Sunday night's comments, that would be the best for everybody.