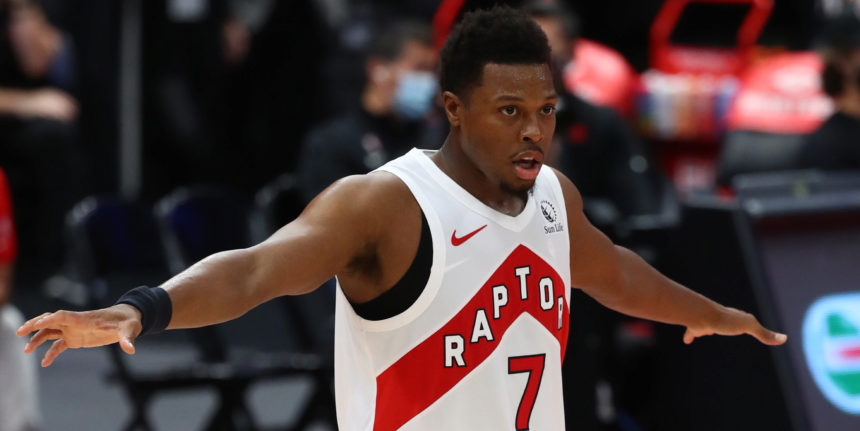 Betting Notebook: Is Kyle Lowry at 300-1 worth an NBA MVP wager?
MONTVALE, N.J. – The rest stop on the Garden State Parkway was almost completely empty early Sunday morning as a man and a dog pulled up in a Toyota Camry with $20 and an idea.
Why not take a chance on the possibility that a $20 bill could become $6,000 by the time June arrives, if Kyle Lowry can become the NBA's Most Valuable Player next season?
Improbable, yes. Impossible? No.
Heck, the dog liked the idea, so we did it.
And with that premise, the sinkhole that is the legalized U.S. sports gambling market claimed another $20, this one going to BetMGM, which currently has 66 players listed with MVP odds for the upcoming season, with Luka Doncic of the Dallas Mavericks the 4-1 (+400) favorite.
Nobody outside of the Lowry household has probably used his name and the phrase MVP together in the same sentence in the three-and-a-half weeks since the Toronto Raptors executed a sign-and-trade with Miami that sent Lowry to the Heat for Goran Dragic and Precious Achiuwa.
Lowry, 35, is about to enter his 17th NBA season and will be playing for his fourth team. He is coming off a lost season of sorts in which the Raptors were forced to play their home games in Tampa, Fla. And Lowry played in only 46 contests because of a back injury and several games in which he was rested. His spectacular moments were few and far between, but he did have a 37-point, 11-assist output in his final game of the regular season on May 2 against the Los Angeles Lakers.
Pat Riley and Erick Spoelstra have brought him in to replace the tandem of Dragic and Kendrick Nunn that handled the point-guard duties for the Heat over the past two seasons. The thinking is that despite his advanced age, Lowry still has plenty in the tank. He was not all that bad last season, shooting 39.6% from three-point range while averaging 17.2 points (down from a career-high 22.4 points in 2016-17) and 7.3 assists.
For Lowry to even sniff the MVP discussion, a bunch of things would need to happen:
• The Heat would need to seriously outperform expectations (their over/under win total is 48.5);
• Lowry would need to become a 20-point scorer for just the third time in his career while also outscoring teammate Jimmy Butler, who has averaged 20.0 or more points in six of the past eight seasons;
• He also would need to be among the top-three in assists and assist-to-turnover ratio, while also being among the league leaders in steals because MVP candidates always have their success quantified statistically;
• A series of unfortunate events would take out all of the other top MVP contenders, sort of like what happened last year when Nikola Jokic was the last man standing.
Again, all of these things happening together are unlikely. But at 300-1, and with only $20 wagered, we file this one under the "nothing ventured, nothing gained" department. And with that, let's have a look at the other player-award future markets, and where $20 flier bets might bring some extra anticipation as we count down the longest month… the one that snakes along before training camps open.
Other odds at BetMGM.com:
MOST VALUABLE PLAYER: Listed behind Doncic are Joel Embiid and Kevin Durant at +700, Giannis Antetokounmpo at +800, Steph Curry at +900, Damian Lillard at +1100, LeBron James at +1400 and Trae Young and Jokic at +1600. Intriguing prices include James Harden at +2500, Julius Randle at +6600 and Zach LaVine at +8000.
DEFENSIVE PLAYER OF THE YEAR: Rudy Gobert is co-favored at +350 along with Ben Simmons, who is still a member of the Philadelphia 76ers and might actually win this award if he comes back to Philly and simply gives up on the idea of being anything other than a distributor and a dunker (especially when open) on the offensive end. Gobert has won the award in three of the past four years, so we are due for a perimeter player to take this one, as Giannis Antetokounmpo did two years ago and Kawhi Leonard did in 2014-15 and 2015-16 before Draymond Green won the award the following season. With that in mind, interesting prices are available on Jrue Holiday (+2000), Jimmy Butler (+4000) and Robert Covington (100-1).
ROOKIE OF THE YEAR: Cade Cunningham of the Detroit Pistons is favored at +250, and we should all remember that a team's win-loss record typically impacts voting on this particular award less than all others. So this will be a stat-based race, which may or may not work in Cunningham's favor due to his workload, which should be heavy. The same goes for No. 2 pick Jalen Green of the Houston Rockets (+300), as nobody else had odds lower than 7-1 at this point. A player from outside the top-three in the draft has not won Rookie of the Year since Malcolm Brogdon (No. 36) in 2017, and before that it was Michael Carter-Williams in 2014. If it is to happen this year, might it be Chris Duarte of the Indiana Pacers? Despite being a rookie, he is much older (24) than his draft classmates – the same age as Brogdon during his rookie year. He is on the board at +3500, and undrafted center Jock Landale of the San Antonio Spurs (who Patty Mills was raving about last week) is 125-1.
SIXTH MAN OF THE YEAR: Incumbent Jordan Clarkson is the +500 favorite ahead of his Utah Jazz teammate Joe Ingles (+1200). The newest Brooklyn Net, Patty Mills, is at +100 along with Kevin Huerter of the Atlanta Hawks. This is a guessing-game category to a large degree if you take into consideration that aside from Lou Williams in 2017 and 2018, nobody has won this award in back-to-back years since Detlef Schrempf did it in 1991 and 1992. Dragic is +1400 in his new home city of Toronto (for now), and Alex Caruso is +3000 with the Chicago Bulls. Thaddeus Young (San Antonio) and Kelly Olynyk (Detroit) are +6600 with their new teams, and Dwight Howard of the Lakers is in a group of players at 100-1.
COACH OF THE YEAR: This award will go to someone who outperforms expectations, so is it out of line to suggest that Tom Thidodeau of the New York Knicks (priced at +2500) is a serious contender to become the first coach to win this award in consecutive seasons since Hubie Brown (who shared the award with Gregg Popovich In 2003 and then won it outright in 2004)? The books have set the Knicks' over/under at just 41.2, which basically is setting them up to be a .500 team after they finished fourth in the East last season, 10 games over .500 at 41-31. Steve Nash of Brooklyn (+850) is the favorite, just ahead of Miami's Erik Spoelstra (+900). Jahmal Mosley of Orlando has the longest odds (+8000).
MOST IMPROVED PLAYER: Shai Gilgeous-Alexander of Oklahoma City is co-favored (+700 along with Zion Williamson), perhaps because he is just about the only NBA-caliber player suiting up for the Thunder in the upcoming season. Intriguing long-odds players include BasketballNews.com favorite OG Anonudy (+6600) and Seth Curry at +8000.
STAT LEADERS: Bradley Beal (+275) is favored to lead the league in scoring. Clint Capela (+125) is the favorite in rebounding, while James Harden (+120) is tops for assists and Steph Curry (+125) is expected to make the most three-pointers (of course).