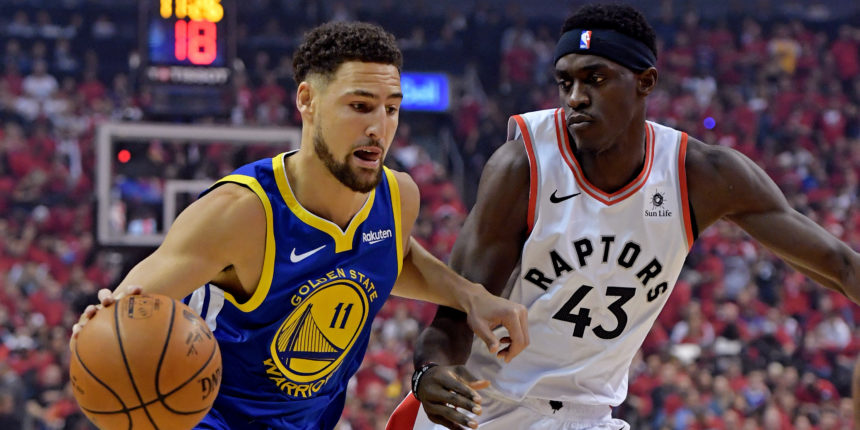 Roundtable: Which NBA player will have a major bounce-back season?
As the 2021-22 NBA season approaches, our writers are sharing some takes about the upcoming campaign. We've already had roundtable discussions about our bold predictions, which players we expect to break out, who will be our favorite League-Pass team and more. Today, we asked our writers:
Which NBA player is poised for a major bounce-back season?
Alex Kennedy: Pascal Siakam should absolutely bounce back. Our Nekias Duncan and Jackson Frank recently wrote a terrific piece examining Siakam's game and how he's currently perceived. After playing in the NBA bubble and then in Tampa last season (since the Raptors couldn't play in Canada), Siakam and the whole team will benefit from returning to normalcy in Toronto. He went from earning an All-NBA-Second-Team selection in 2019-20 to being the butt of jokes on social media and reportedly surfacing in trade talks. Last season, Siakam continued to fill the stat sheet (21.4 PPG, 7.2 RPG, 4.5 APG. 1.1 SPG), but he shot just 29.7% from three-point range (after hitting 35.9% from deep in 2019-20 and 36.9% in 2018-19). He'll miss the first month or so of the season after offseason surgery to repair a torn labrum, but once he returns, I believe his three-point percentage will get back to 35% or higher and he'll remind everyone why he was being discussed as one of the best two-way stars in the league not too long ago.
Chris Sheridan: Markelle Fultz was coming around with the Orlando Magic and was finally starting to show some of the promise that made him the No. 1 overall pick before an injury derailed him last season. Orlando may be the worst team in the entire NBA, but that will alleviate some of the pressure and allow Fultz to have a season worthy of consideration for the Most Improved Player award.
Evan Sidery: After having to sit out most of last season due to injury, Jaren Jackson Jr. stands out as a massive bounce-back candidate. Established as the No. 2 option behind Ja Morant in Memphis, JJJ's modern style should allow him to have a big Year 4. Also, entering a contract season, a more motivated JJJ could really make a huge two-way impact.
Spencer Davies: The entire Toronto Raptors squad, really. But specifically, I've got to go with Pascal Siakam. Being back home and having a fresh start will help him return to the player he was before the league shut down in March 2020. It's not like he even had that bad of a season last year; it was more bad luck toward the end of games if you look at the tape (shots rattling in and out, bad bounces, etc.). Spicy P is so capable with the ball in his hands to get others involved. He doesn't need to work with his back to the basket. Get Siakam the rock with forward motion going toward the cup, and he'll have the dribble moves to find his way to the bucket. As for his outside jumper, it's highly doubtful that he'll shoot sub-30% in back-to-back seasons. Defensively, he's still got incredible length and can disrupt spaces next to a lockdown teammate in OG Anunoby. Truthfully, it'll just be exciting to see Siakam break out in transition for an open-floor slam for the first time in over a year at Scotiabank Arena.
Drew Maresca: I'll name two: Klay Thompson and Spencer Dinwiddie. Thompson is easy to predict. The guy hasn't shot below 40.1% in any of his eight seasons of NBA action. Like fine wine, shooting only gets better with age. So long as his knee and Achilles hold up, Klay is due for one hell of a season. Dinwiddie is also returning from injury, only he's returning to a new team in an entirely new role. Dinwiddie projects to be the Wizards' starting point guard on opening night — a role he hasn't owned consistently in his entire career. At his best, Dinwiddie has been good for 20 points and six-plus assists per game. Playing alongside Bradley Beal will probably enable at least those same kinds of stats, if not better. So long as his repaired ACL can sustain the workload, and workout videos from earlier this spring seem to indicate it will, Dinwiddie should return better than ever.
Sharon "Shy" Brown: I'd say Jaren Jackson Jr. He's such a gifted player. Before his knee injury in the NBA bubble, Jackson was a man on a mission. It seems as if he's putting in the work to be stronger. If he can defend without fouling and grab a few more rebounds, he will be a player to watch. Bold prediction: He may even be in the running for Most Improved Player.
Ethan Fuller: Pascal Siakam did regress last season, but he also demonstrated considerable growth in areas you'd like to see out of a No. 1 option. Siakam increased his assist total to a career-high 4.5 per game and maintained a high usage rate while actually decreasing his turnovers. There's enough evidence to suggest that his 29.7% three-point clip was an outlier, as Siakam has historically shot the ball well and made 82.7% of his free throws in 2020-21. He's an above-average defender with plenty of shooters around him, and I fully expect Siakam to take advantage.