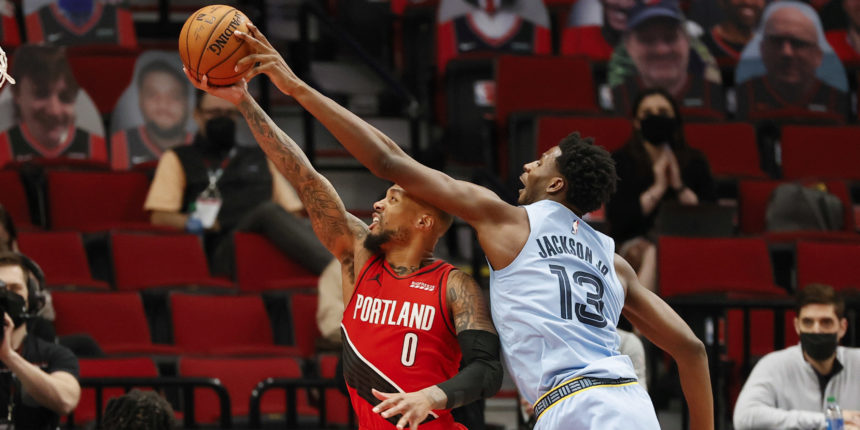 Something To Prove: Jaren Jackson Jr. at center
Jaren Jackson Jr. didn't play last season.
Well, at least it felt that way.
He appeared in just 11 regular-season games last year following his longer-than-expected recovery from a torn meniscus suffered during the 2020 Bubble. Not only was there a natural adjustment period to be had physically, Jackson was thrown into the middle of a playoff push, further complicating matters. The Memphis Grizzlies would eventually beat the San Antonio Spurs and Golden State Warriors in consecutive play-in games to earn the eighth seed. Their reward: taking on the top-seeded Utah Jazz.
There were flashes from the Lanky Fella, but he was ultimately playing catch-up from his late-season debut. Asking a big to find or regain chemistry with players he hadn't gotten real reps with in the middle of a playoff push, then throwing him into the fire against the Jazz – which means dealing with Rudy Gobert on one end and schematic wizardry on the other – is a combination that predictably led to failure.
The Grizzlies are in an interesting spot, having made the playoffs and opting to shuffle the deck a bit around their core. They have their Guy in Ja Morant and plenty of youth with room for growth. But in order for them to make that next step, they won't just need a resurgence from Jackson – they'll likely need a leap. Ideally, that leap leads to him filling more minutes at center.
THE FOUNDATION
Jackson got draft buzz – top-three draft buzz, for that matter – due to his "Unicorn" potential. That phrase is generally overused in prospect discourse; all big people who can shoot and dribble without tripping over themselves are not unicorns (hi, Myles Turner), but it was (and is) hard not to be excited about Jackson.
There are big men who can shoot, and then there are the Karl-Anthony Towns and Jackson type of big men who can shoot. That means with volume, from multiple platforms, and with accuracy. After a modest rookie campaign as a three-point shooter (35.9% on 2.4 attempts), Jackson more than doubled his volume (2.4 to 6.5) while improving his stroke (39.4%).
Again, these weren't just spot-up looks. He operated as the trailer in transition, got busy on pick-and-pops, occasionally came off screens, and flashed the ability to get it off the bounce. Jackson shot poorly last season, but that shot versatility remains. It's wild watching a guy his size be able to set his feet as quickly as he does.
The threat of the shot is what opens up everything else for Jackson. You can't afford to sell out completely, because he has the ball skills necessary to get to the rim. He has a couple of gnarly posters on his resume already, but craft is the way he likes to win. The way he alters his stride length and timing is almost wing-like, which is a scary proposition for a 6-foot-11 man.
Even during last season's stretch, Jackson was able to get to the line more (3.8 attempts) and maintain his at-rim efficiency from the year prior (70.8% inside of three feet). There will be missed shots in the video below, but the process should be the focus here. Look at the way Jackson generates looks for himself.
Jackson presents a unique challenge for defenses when he's upright. He is too stretch-y for fleet-of-foot bigs to deal with, and combines that with the ball skills and quickness necessary to beat those behemoths off the bounce.
You can't afford to stash a wing on him to take away the stretch element of his game; he's good about using his frame to keep those wings away, then using his combination of touch and length to sprinkle in shots over their headtops.
While he can make hay at the 4 – he's had to alongside Jonas Valanciunas, and the combination of Steven Adams and Xavier Tillman will likely necessitate some forward minutes next year – his offensive advantages are maximized at the 5. He's too slithery, and shoots the ball too well for traditional bigs to handle.
Basic spread pick-and-rolls/pops, or popping as part of Double Drag or HORNS double looks become more stress-inducing. When the Grizzlies go to HORNS Flare, a common set in which one of the players at the elbow flies off a flare screen set from the second player, Jackson can be used as the man coming off the flare.
That's Tyus Jones running point on that possession, and Kristaps Porzingis – another uNiCoRn who's best used at the 5 – defending Jackson. Well, "defending" him. The Mavericks are in drop, which allows Jackson to glide into an open triple.
Imagine Ja Morant in place of Jones there, and the decisions that would force a dropping center to cycle through. Drop too far in anticipation of a Morant drive, and Jackson pops free. Track Jackson too aggressively and you'll either give Morant a lane, or you'll open up a pump-and-drive opportunity for Jackson. Get caught in No Man's Land, and you're susceptible to giving up any of those options.
ROOM FOR IMPROVEMENT
Frontcourt-rotation caveat aside, there are some issues within Jackson's control that prevent him from being a full-time 5 – or at least playing it more often.
There's some physical stuff at play. Listed at 242 pounds, Jackson may not technically be light, but he's certainly built that way. As such, heftier centers are able to move him on the block. Powerful wing drivers are able to dislodge him in his backpedal when playing drop coverage. Length only means so much when players are able to get into, and ultimately disrupt, your core.
On a related note: Jackson fouls a lot.
A lot.
A lot.
A large chunk of that boils down to his strength limitations. He struggles to maintain verticality when absorbing a blow, and jostling underneath the rim for rebounds is a problem for him. Add in the fact that he was getting used to NBA basketball again following his recovery, and it's easy to see why he averaged nearly eight fouls per 100 possessions last season.
He also has typical Young-Big-Man stuff working against him. He's handsy when defending drives, and picks up too many swipe-at-the-ball-after-giving-up-a-rebound fouls for my liking. He's fearless as a shot challenger, the hallmark of every great shot-blocker, but he's still working on his discernment.
Pump fakes still get him in the air a good bit, and there are some wild chasedown attempts in his film. I mean, some not-even-on-2K type stuff.
The tools are still there for Jackson to be a very good defender. He has the mobility necessary to switch in a pinch. If nothing else, he's a candidate for to-the-level screen coverage as well as drop, giving him a decent amount of scheme versatility.
As he gets stronger, the hope is that he'll be able to absord contact better, thus challenging rim attempts without fouling as much. Boxing out won't be such a chore: less arm-grabbing, fewer instances of being bumped out of rebounding positioning.
Seriously, a dude with his length and athleticism should not have a career defensive rebound rate of 14.4%, otherwise known as the ninth-highest total of Russell Westbrook's career.
(There's some obvious strategic context to be added, but you get my point. Chris Paul's at 12.9% for his career for crying out loud. At a certain point...)
To survive at the 5, you're going to need to challenge shots effectively. You're going to have to end possessions effectively. You can't do either of those things if you're on the bench with foul trouble.
The Grizzlies need him to be able to shoulder those minutes when presented, especially if they're closing minutes. Jackson's ability to space the floor travels – he's that good of a shooter – but it's more devastating when matched up against opposing 5s. Pulling them away from the paint will make life easier on Morant, and Jackson is a nightmare in his own right.
Jackson being able to play 5 more often won't just maximize the on-court product, it'll unlock team-building avenues for the Grizzlies. Valanciunas and now Adams are quality bigs in their own right, but their value to the roster is in part due to Jackson's limitations. Needing a brute to cover for his deficiencies further hinders the spacing of a team that led the NBA in floaters by a country mile.
Getting the best version of Jackson will help bring out the best in Morant. Bringing out the best in Morant will bring out the best in everyone else. And with so many good basketball players (hey, you should draft those if you can) on the Grizzlies' roster, that could spell trouble for the West moving forward.