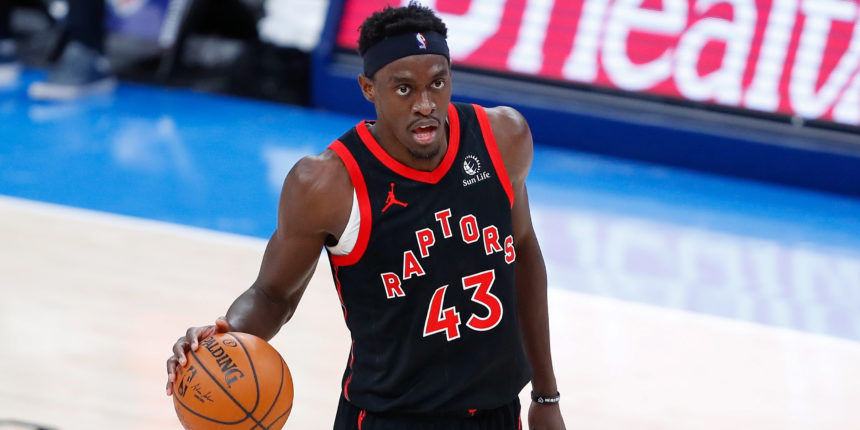 The curious case of Pascal Siakam: What he is, and where he fits
Earlier this week, Bleacher Report's Jake Fischer reported that the Toronto Raptors are gauging the trade market for Pascal Siakam. If available and actively involved in trade discussions, the 2020 All-Star and All-NBA Second Team honoree instantly becomes a significant needle-mover for many teams.
The past year or so – featuring rather abnormal circumstances including the Orlando Bubble and the 2020-21 season, which the Raptors spent in Tampa, Florida (1,300 miles from home) – has clouded much of the analysis surrounding him.
But Siakam is a star. He deservedly earned his 2020 accolades, was the 2B on a well-balanced title team in 2019 and became arguably the best player on a 60-win-pace squad the next season. There should not be mystery around his impact on a championship contender or top-three seed. He is quite good and conducive to high-end winning. The results literally exist to validate these statements.
After Kawhi Leonard's 2019 departure, Siakam expanded his offensive repertoire to try and satisfy elevated duties. Due to the absence of a certified lead ball-handler, the Raptors embraced a creation-by-committee approach, leaning heavily on Siakam, Kyle Lowry and Fred VanVleet, along with Marc Gasol's passing magic (for a year) and OG Anunoby's scoring increase, to fashion a reliable offense.
However, that has still left Siakam in an overextended role, where his relative true shooting (how far above or below league average one's true shooting percentage is) fell from plus-6.8 in 2018-19 to minus-1.1 in 2019-20 and minus-2.5 this season. Unsurprisingly, the discourse resulting from that declining efficiency and poor 2019-20 playoff run (averaging 17.0 points on 46 percent true shooting) was dominated by an indictment of his entire ability rather than merely acknowledging he's unfit as a primary creator, which even the majority of stars are.
The increasingly arduous responsibilities are portrayed through divergent statistics between his 2018-19 and 2020-21 campaigns. His isolation frequency spiked from 9.9% to 15.1% (per Synergy Sports). Only 13 players registered more isolations this season. His rim frequency slipped from 51% to 38% (per Cleaning the Glass). He took 63 pull-up jumpers in 2018-19 and 220 this year (per NBA.com). Just over 43% of his baskets were unassisted in 2018-19, compared to 57.7% in 2020-21 (per NBA.com).
All of this is to underscore that there are easily discernible factors explaining Siakam's efficiency slide and none of them are because of suddenly depreciating skills. His job grew more complex. On a team with a bona fide initiator that could allow for a situation closer resembling 2018-19 while incorporating his self-creation strides, he'd quickly remind everyone why he is such a heralded player.
Siakam is best treated as a selective creator. He's not diverse enough stylistically to routinely commandeer possessions individually, but can attack mismatches of varying sizes. A different team where he's not the headliner of every opponent would invite more favorable matchups. His scoring volume could look similar to the last couple years, just tinkered to better reflect a preferred shot profile yielding higher efficiency.
More regularly, he'd have chances to leverage his slippery handle, quickness, body control and length to target slower bigs in ball-screens/off the bounce as a slasher. Or, he could punish undersized wings with length and interior touch, adept at converting off-balance leaners from distinct angles. These should be components of his scoring, not the bedrock as his context necessitated over the past couple seasons. An upgrade in surrounding offensive talent would enable that.
Broadening the scope of his on-ball equity was a substantial passing leap this year. Siakam is one of the NBA's premier 6-foot-9 or taller facilitators nowadays. He'll elicit help in the post and on drives before threading an assist to a cutter or teammate already stationed on the interior. He's a fulcrum from the elbows. He's a connective passer, transition catalyst and short-roll firestarter.
His decisions are expedient. Offensive inclusion, on and off the ball, is not limited to scoring as an endpoint. A change of scenery that placed him in advantageous situations or eased his production of them would further showcase this malleable playmaking.
The grandest exploit to playing alongside a star-level initiator again would be the revival of Siakam's frenzied, kinetic off-ball game that torched teams during Kawhi's Canadian pitstop. He's a menace attacking tilted defenses following paint pressure from a teammate. Swing the ball his way and draw a closeout; his intersection of wiggle, length and bounding strides will capitalize.
In 2018-19, Toronto had the primary ball-handler, another downhill threat via Lowry and a wise, snappy passer in Gasol. The floor-spacing of Gasol and Serge Ibaka pulled rim protectors away from the basket for the downhill-inclined Siakam.
Advantages were forged independent of him. He was the leading beneficiary of the attention Kawhi and Lowry drew by regularly logging paint touches. He frequented gaps in the defense as an instinctive cutter; the low-post playmaking of Kawhi and Gasol augmented his cutting.
Defenders recovering from help rotations struggle to contain him. He enjoyed vastly more runways of space to apply his physical tools and strike inside. Any actions (inverted pick-and-rolls, handoffs) merging this aptitude of operating in space toward the rim with his budding creation are a prudent strategy to bridge the past and present versions of Siakam.
Raptors personnel over the last couple years have curtailed the ideal balance. A new employer aptly organized to deploy him in space and feature his polished on-ball juice without relying on it is one manner in which Siakam can remind everyone of his All-NBA form.
What has remained steady, however, is Siakam's defensive aptitude. During a 2020-21 campaign curtailed by injuries, COVID-19, and moving parts around him due to those factors, Siakam was still able to put together a strong season on that end.
Consider this: Among 47 players to log at least 2000 minutes last season, Siakam ranked 15th in BBall-Index's D-LEBRON metric (+0.60). Of the 14 players ahead of him, only three -- Giannis Antetokounmpo (+1.98), Jayson Tatum (+0.63), and Nikola Jokic (+0.61) -- logged a higher usage rate.
In short: it's hard to play a lot, have a lot of offensive responsibility, and also provide positive impact on the defensive end.
Then consider that Siakam wasn't just deployed as an on-ball stopper, or just a weakside helper. He didn't just lock-and-trail over screens, nor was he solely operating in a switch scheme.
He did it all.
Head coach Nick Nurse deployed the most versatile defense in the league from a scheme perspective; Siakam had to wear just as many (if not more) hats on the defensive end as he did on the other side of the floor.
Luckily, he was and is equipped for that. The term "rangy" gets thrown around a little too loosely sometimes, but it's an apt moniker for Siakam. When he's operating off the ball, the Raptors have more freedom to get aggressive. They trust that Siakam can cover ground behind the initial action, whether that's providing nail help on a drive or tagging the roller while working as the low man.
Siakam is more comfortable sinking in and flying back out to the perimeter for close-outs. There is some weakside rim protection present, though. He's not a consistent shot blocker, but Siakam's ability to change directions allows him to beat drivers to their spots and alter shot attempts with verticality.
On the ball, Siakam can mirror perimeter players in space. I'd describe his range as 2-through-4, though he can hang with 1s in a pinch. Screen navigation against the twitchiest ball-handlers can be a struggle for Siakam; you don't want him on your Stephs or Dames of the world. His screen navigation in general slipped last season, though the hope is that it bounces back with a lower workload.
Siakam also isn't a powerful defender. That shows itself in traditional post-ups when lined up against beefier matchups. It's also apparent in pick-and-roll when he's asked to drop. Siakam is inconsistent in high-pointing lobs when backpedaling; drivers are also able to get into his body and generate good finishing angles. Those limitations -- I won't call them issues -- lower his value as a small-ball 5 against certain matchups.
The good news: Siakam doesn't have to be perfect in every scheme. The fact that there are so many avenues for success with him is entirely the point.
POTENTIAL LANDING SPOTS
If the question is "how many teams could use a slashing, playmaking 4 who can defend multiple positions and fly around as a help guy?", the answer is some variation of "absolutely." There is not a team in the league that couldn't use Siakam.
What gets tricky is figuring out the price point. It's easy to understand the Raptors being willing to move Siakam for another centerpiece -- think Damian Lillard or Bradley Beal (if you view him that highly). They'd be buyers in this case.
If we're operating under the belief of the Raptors being sellers -- barterers, maybe? -- what would the ideal package look like? Do you go youth movement to add to an OG Anunoby and No. 4 pick core? Do you go 2-for-1 in a deal for win-now pieces? Some combination of the two?
Below is a mix of teams that can use Siakam. More importantly for this excercise, it's a mix of teams that provide different types of packages for the All-Star forward.
GOLDEN STATE WARRIORS
It's no secret that the Warriors want to maximize their title-winning core of Steph Curry, Draymond Green, and Klay Thompson as they begin to age out. Having a pair of lottery picks (No. 7 and No. 14) gives them a pretty simple pathway to getting into rooms for win-now pieces.
Those picks, Andrew Wiggins -- the contract still ain't great, but he showed enough on both ends last year to graduate from the "salary dump/match" class -- and another piece (Jordan Poole, perhaps?) could make the Raptors raise their brows.
PORTLAND TRAIL BLAZERS
Speaking of Lillard, the Blazers have their own trade stuff to sort through. Their superstar wants help, and Siakam certainly could fit as a second option.
The easy piece to send out from the Blazers' side would be CJ McCollum, a bonafide three-level scorer who probably profiles a little better as a number-one option than Siakam does. The issue: factoring in defense (and age, for that matter), McCollum is not more valuable than Siakam is.
The Blazers would need to throw in more, and that's where it gets a little tough. Aside from this year's draft, the Blazers have all of their first-round picks moving forward. Two of them plus a swap could intrigue the Raptors.
Would two of the Anfernee Simons/Nassir Little/Derrick Jones Jr. triumvirate be enough? Would the Blazers even be willing to include Simons at all if they're giving up McCollum and pick capital? It's a tough needle to thread, but it would behoove the Blazers to at least try to thread it.
INDIANA PACERS
Indiana is intriguing in that they best fit the "take-this-$20-bill-for-two-$10s" model in this discussion. They don't have a player as good as Siakam -- love Domantas Sabonis as an engine, but the defense (yes, I'm aware #BadNate had him doing too much this year) is tough to ignore -- but the roster is littered with good players.
What does a Malcolm Brogdon and Myles Turner package for Siakam look like?
What does a Turner and TJ Warren and 13th pick package for Siakam look like? And if the Raptors were able to nab the 13th pick in addition to the pick (No. 4) they already own, does that give them enough ammo to FaceTime the Cavs to discuss the No. 3 pick (read: Evan Mobley)?
I don't know, but it seems like there are a few pathways for these teams to make some magic happen.
ATLANTA HAWKS
While we're discussing consolidation, the Hawks remain a prime candidate to do so. While they may not have a lottery pick to offer like the Warriors or Pacers, they do have lottery talent to dangle. De'Andre Hunter, Onyeka Okongwu, and Cam Reddish all offer differing levels of two-way intrigue.
It's hard to imagine the Raptors could get two of those guys, but they should make the push. Even if it's one -- say, Reddish -- the Hawks still have a nice blend of picks, young talent (John Collins or Kevin Huerter sign-and-trade, anyone?) and veterans (Bogdan Bogdanovic, Danilo Gallinari) to put an intriguing package together.
OTHER FUN SPOTS
How many forwards would pair better alongside Nikola Jokic defensively than Siakam? The list ain't long. At the risk of sounding take-ish: a package headlined by Michael Porter Jr. for Siakam would make sense, especially if you don't believe in the long-term health or defensive growth getting where you ultimately need it to... or both. Even if Denver makes that leap, making salaries match from there would be tough to do.
A similar case can be made for the Suns. If you're not all the way in on Mikal Bridges having hidden potential as an on-ball creator, you can talk yourself into using him as a headliner to get Siakam. But again, salary matching beyond Bridges (extension-eligible this offseason, but the big money wouldn't kick in until next year) would get tough.
If the "get-a-bunch-of-good-players" model intrigues the Raptors more than prospects and picks, the Spurs have plenty of guards and wings. Dejounte Murray, Derrick White, Lonnie Walker, Devin Vassell, Keldon Johnson (more forward than wing, but, you get my drift)... there's a conversation to be had. At that point, I'd imagine the Raptors would have to go with a forward with their No. 4 pick (they've been linked to Scottie Barnes and Jonathan Kuminga, for what it's worth).
The Lakers could offer K- ahahahahahahahahahaha.