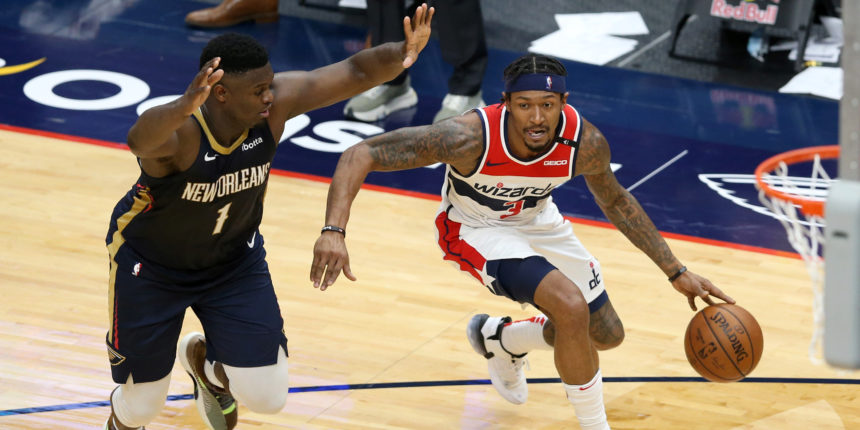 Roundtable: 8 bold predictions for the 2021-22 NBA season
Now that the NBA offseason is winding down and the start of the 2021-22 regular season is right around the corner, it's time to make some predictions. But rather than playing it safe, we asked our writers:
What is your bold prediction for the 2021-22 NBA season?
Alex Kennedy: In October of 2019, Bradley Beal signed a two-year, $72 million extension with the Washington Wizards — much to the chagrin of many executives and fans around the NBA. While people seem to be anxiously awaiting the day that Beal requests a trade from the Wizards, I believe Beal is going to extend in Washington once again. He is eligible to sign an extension this offseason (worth roughly $181.5 million over four years), or he can opt to wait until next summer to re-sign for roughly $235 million over five years. During a recent appearance on my podcast, Jake Fischer of Bleacher Report predicted that Beal will stay in Washington long-term. Beal is close with Spencer Dinwiddie, whom he recruited to Washington, and the Wizards have a solid roster that could exceed expectations this year. This will be Beal's 10th season in Washington, and don't be surprised if he sticks around for more.
Ethan Fuller: I think there's a very real possibility Michael Porter Jr. eclipses 25 points per game and leads the Denver Nuggets in scoring. He seriously ratcheted up the volume last season while maintaining elite shooting efficiency. Per Basketball Reference, Porter Jr. made 83.1% of his at-rim attempts last season and 44.5% of his threes. Those are unreal rates, especially for a second-year forward. With Nikola Jokic warping defenses with his passing and a healthy Jamal Murray returning, the Nuggets will have plenty to throw at defenses, potentially creating even easier looks for Porter Jr.
Spencer Davies: It might not be considered "bold," but with so much love being shown to the Chicago Bulls' offseason, I'll be that guy to throw a wet blanket on things by saying the team won't get out of the first round of the playoffs. Arturas Karnisovas and Marc Eversley certainly did a number both at last year's trade deadline and in this summer's free-agency period to prove to Zach LaVine how serious they are about winning... but will the pieces fit together? Chicago shelled out a lot of dough for DeMar DeRozan, an aggressive scorer and one of the most underrated improved playmakers in the league; however, how will he play when LaVine is commanding the basketball more often than not? Lonzo Ball is essentially going to be the point-man in transition and a spot-up marksman in the corners. More importantly, though, he's likely to be the team's best perimeter defender (next to Patrick Williams, who will have all eyes on him). But who else is going to step up guarding the opposition? Will Alex Caruso get more minutes than Coby White? On paper, the Bulls' rim protection isn't great, nor is the defense on the outside. It'll be interesting to see how that all balances out.
Drew Maresca: One or both of these will happen: Dame Lillard gets moved or Zion Williamson trade chatter heats up. Why? Because both the Trail Blazers and Pelicans will not make the playoffs, and both franchises can't wait much longer to show their stars significant improvement. The Western Conference is deep and, if we're being honest with ourselves, there is only one available playoff spot between the Trail Blazers, Grizzlies and Pelicans. The team(s) that misses the postseason will see rumors fly, and maybe more.
Jesse Blancarte: My bold prediction is that Russell Westbrook will adapt his game significantly in an effort to help the Los Angeles Lakers win the 2022 NBA championship. Westbrook always gives his best effort and, of course, has always worked hard. But now that he's at this stage of his career and surrounded by generational talent, I believe he will lower his usage rate, shoot less frequently and focus on playmaking and creating easy scoring opportunities for his teammates. There will be nights when teammates are injured or struggling where we will see vintage Westbrook, but I think that he will make a true effort to plug himself into this roster.
Evan Sidery: We'll have league-wide parody for every single playoff spot. Sure, that may not seem bold, but when was the last time potentially 25-30 teams in the NBA felt like they had a realistic shot at the playoffs? It's a great time to follow the NBA with so many teams making a run for it.
Moke Hamilton: I think Lonzo Ball makes the All-Star team. It's hard to imagine him not thriving in Chicago. He is surrounded by plenty of talented players, his specific skill set is needed, he has something to prove and Chicago is probably going to be one of the better teams in the Eastern Conference. To this point in his career, Lonzo has not really lived up to the expectations that followed him from UCLA to the NBA. He's still a really good player though, and I wouldn't be surprised to see him make the leap to All-Star-caliber player. He will be facing some stiff competition — Kyle Lowry will probably find himself back in the conversation for one of the reserve spots, as could Kemba Walker — but I guess that's why we call it a bold prediction.
Chris Sheridan: The Miami Heat are going to do what they did two seasons ago and be sneaky good, primarily because they have added a hungry Kyle Lowry but also because they shouldn't have to deal with the same types of interruptions that robbed them of the chance to build chemistry over the course of the 2020-21 regular season. The signing of P.J. Tucker gives them another lockdown defender alongside Bam Adebayo and Jimmy Butler, so they should be a strong defensive unit. Erik Spoelstra's team will not make waves early, but they will be a steady contender.