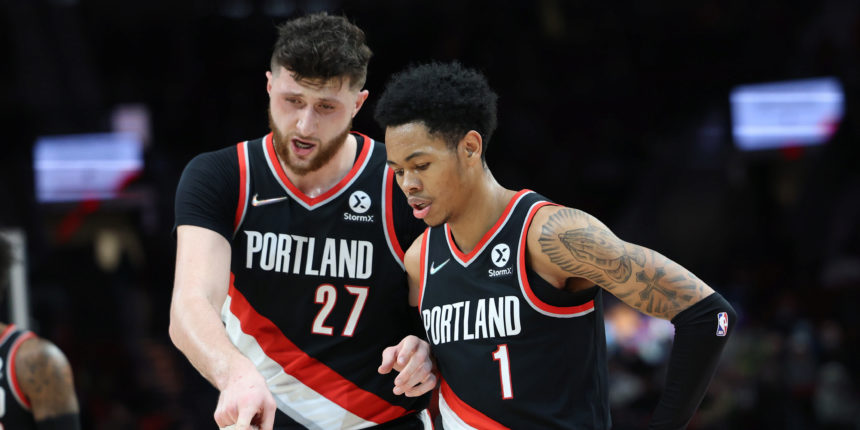 NBA Sour Rankings: Welcoming back the Tank-O-Meter
The NBA Sour Rankings took a month-long hiatus due to the wild world of playing through the peak (on league rosters, at least) of a pandemic. With COVID-induced absences dwindling down, it's back to reassess the state of desperation as we approach the season's halfway mark.
Several presumptive playoff contenders are spiraling, and at this stage of the season, it's reasonable to begin panicking. The league's middle tier is as crowded as ever.
With that being said, we're also going to trot out the Tank-O-Meter this season and update it occasionally over the next few months. The Tank-O-Meter measures how much an NBA franchise should be considering throwing in the towel and embracing its younger players while pursuing a high draft pick. It was called the Cade-O-Meter last year, but with no surefire No. 1 pick yet, it takes on a generic nickname.
You'll get Tank-O-Meter readings for each team in the Sour Rankings, rated 1-10 (10 being a full commit to the tank), plus the usual explanations for why each team has earned its undesirably place on this list.
If you're new to the Sour Rankings, here's a refresher: Unlike the typical "power rankings" that repeat themselves throughout sports media, Sour Rankings are a bizarro-world counter. These rankings highlight the top-10 most frustrating NBA franchises throughout the season, and they will be updated every week to match the twists and turns of the league.
This is not merely a bottom-10 of your typical best-to-worst power rankings. You will see championship contenders and playoff hopefuls mixed in with struggling squads. Teams well under .500 may never touch the Sour Rankings because they are on track with their respective processes. Injuries, drama, transactions and generally underwhelming play will earn you a spot on this list.
The central question is ultimately this: How good should you feel about the direction of each franchise? Let's get going:
10. Los Angeles Lakers (21-20) — Tank-O-Meter rating: 1/10
LeBron James has been an absolute monster for the Lakers over the past month, but the team itself is still 6-7 since we last updated these rankings. Things are looking up, though; L.A. is 5-2 in the past two weeks with the third-ranked offense in the league. Malik Monk has emerged as the scoring weapon the franchise hoped for when they added him this offseason. The Lakers could very easily break out of the Sour Rankings by next week.
And no, in no universe should a team with LeBron James active and dominant as ever consider tanking.
9. Houston Rockets (11-30) — Tank-O-Meter rating: 10/10
Houston is fully invested in a youth movement and has been since the season began, so a Tank-O-Meter rating isn't even necessary. But the sailing hasn't been as smooth as some of the other bottom-feeding NBA franchises.
The recent halftime incidents with Kevin Porter Jr. and Christian Wood both led to one-game suspensions for each. Both are concerning for different reasons; Porter has a history of locker-room altercations, and Wood is a veteran in a leadership role on the team. Nekias Duncan and Steve Jones Jr. had a great discussion about this on last Tuesday's Dunker Spot podcast. This season is as much about building a culture in Houston as it is getting prospects playing time, and that hasn't been easy.
8. Los Angeles Clippers (20-21) — Tank-O-Meter rating: 4/10
Injuries continue to attack the Clippers. Paul George is out at least several weeks with an elbow injury and Isaiah Hartenstein has no timetable on his hurt ankle. L.A. is thus 3-6 since Christmas and 4-9 since the last Sour Rankings, dropping to ninth in the West.
There's a sneaky case to be made for a tank here. Young players like Terance Mann, Amir Coffey and Brandon Boston Jr. continue to flash promise. With George and Kawhi Leonard out for now, the Clippers' ceiling is capped. It's probably still too early for a veteran-heavy roster to be shuffled around, but the situation is worth revisiting around the trade deadline.
7. Indiana Pacers (15-25) — Tank-O-Meter rating: 7/10
CAREER-HIGH ON 18-22 SHOOTING FOR DOMANTAS SABONIS 🪣

42 PTS
6 REB
56.7 FPTS pic.twitter.com/xjCYy7l9YC

— NBA Fantasy (@NBAFantasy) January 9, 2022
Domantas Sabonis dropped a career-high 42 points on the Utah Jazz in the Pacers' Saturday win, and he's been on fire as of late. Indiana, however, had lost six straight games prior to that victory, and continues to flounder with a mediocre offense and below-average defense.
It's been over a month since the initial reports about Indiana embracing a rebuild, but hopefully the front office is still on that track. The Pacers lack upside outside of whatever Sabonis can muster up, even when Caris LeVert and Malcolm Brogdon have their good days. Indiana is 13th in the Eastern Conference with several better teams ahead in the Play-In battle. There's no sense in pushing for a whimper of a postseason exit.
6. Washington Wizards (20-20) — Tank-O-Meter rating: 2/10
Despite sitting at .500, Washington is one of six franchises with bottom-10 offensive and defensive ratings, per Cleaning the Glass. Those other teams are all at least 10 games below .500. The Wizards have gone 5-9 in the past month and are fading fast.
However, unless some roster overhaul occurs at the trade deadline, Washington isn't in a position to tank. The biggest franchise domino is still Bradley Beal's upcoming free agency, and if the organization has any hope of keeping him, it should continue to focus on the playoffs. The Wizards currently sit ninth, but are still only two games out of sixth in the East. There's time to right the ship.
5. Sacramento Kings (16-26) — Tank-O-Meter rating: 4/10
The Kings are on a four-game losing streak, are 3-7 in their last 10, and according to the Philly Voice's Kyle Neubeck, have been open to making De'Aaron Fox and Tyrese Haliburton available in trade talks. Altogether, that signals desperation. Sacramento should shake things up because the defense is still horrendous (ranked 27th) and the offense is disappointing (24th).
Does the state of the Kings really call for another tank though? For a young franchise used to losing, postseason experience — even Play-In exits — might have extra value. But there still is not enough overall talent or cohesion to pull off the appearance of a playoff contender. The rating stays low, for now.
4. Boston Celtics (19-21) — Tank-O-Meter rating: 2/10
Friday's loss to the New York Knicks on an RJ Barrett buzzer-beater underlined a disastrous stretch for the Celtics that included second-half collapses, stalling offense and disappointing results against inferior opponents. Once again, the Jayson Tatum-Jaylen Brown pairing has been called into question by fans, along with Ime Udoka's coaching and the point guard situation. And while I think much of the blame game is misguided, the fact that it exists is a concern in itself.
Boston holds the last Play-In spot, and a postseason appearance should wholeheartedly remain the sole goal. A tank in any form would symbolize a lack of confidence in the current direction, a.k.a. a team led by Tatum and Brown. There is no legitimate reason to be hesitant in rostering what is still one of the best wing duos in basketball, and fortunately, Boston seems to know this.
3. New York Knicks (19-21) — Tank-O-Meter rating: 3/10
The Knicks may have gotten that buzzer-beater win, but it was quickly erased by a resounding 99-75 loss to the same Celtics on Saturday. This team is dreadfully inconsistent, starting at the top with Julius Randle and Barrett, and Immanuel Quickley's growth hasn't dispelled the frustration. As of right now, New York loses the tiebreaker with Boston and is actually out of the postseason entirely.
Like the Celtics, though, a Knicks tank is an admittance that the current franchise direction is an error and that one glorious 2020-21 season was a fluke. New York should not miss out on the Play-In Tournament. They do have an interesting group of young talent, and a high-lottery prospect would surely help. But the lack of star power at the top compared to the previous draft class makes a risky move like that less enticing.
2. Portland Trail Blazers (15-24) — Tank-O-Meter rating: 4/10
The Trail Blazers have a terrible defense that continually costs them games, and have fallen to 12th in the West amidst a chaotic fight (is it a fight?) for postseason spots. Every loss makes fans worry more about the future of Damian Lillard, and Lillard himself remains out with an abdominal injury.
This franchise is in such a weird place. They aren't a destination, and they aren't near true playoff contention. Portland is two games out of top-four lottery odds... which could be the best way of acquiring someone with star upside to join Lillard. But is that the tone Lillard wants to set, and does his will carry the same weight anymore? It's all incredibly confusing for the Tank-O-Meter.
1. Atlanta Hawks (17-22) — Tank-O-Meter rating: 2/10
What a mess things have been in Atlanta. The Hawks are 2-5 in the last two weeks with the worst defense in the NBA. They lost a game in which Trae Young scored 56 points. Atlanta is currently 12th in the East standings. General manager Travis Schlenk even went on record wondering if he should lower expectations for the team. John Collins is reportedly frustrated by his role. Yikes.
The Hawks should be done with their prospect stockpiling. They absolutely need to make a major move at the trade deadline, but going back to the draft for help won't solve the team's problems. Atlanta has loads of young talent from Young, to Kevin Huerter, to Collins, to Onyeka Okongwu, to De'Andre Hunter, to Cam Reddish and more. It's time to turn that back into winning either via trade or growth.