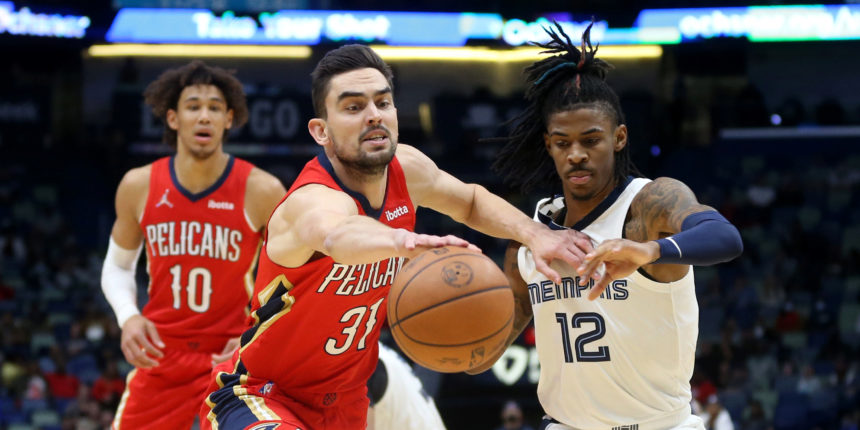 NBA Sour Rankings: Knicks, Grizzlies, Pelicans spiraling
It's hard to maintain your place in the Sour Rankings.
Most teams come and go throughout the season, making spot appearances as they experience a slump or stumble into your run-of-the-mill NBA drama. The New York Knicks are making their first appearance in the Sour Rankings this week, but time will tell if the current underachievement is a blip or a theme.
The true stalwarts, however, are trapped in severe on-court disappointment and off-court turmoil. Our top (or bottom, depending on your point of view) squad holds down the fort for a third consecutive week. That's not an easy feat, and it's not exactly the recognition the franchise wants 14 games into the season.
If you're new to the Sour Rankings, here's a refresher. Unlike the typical "power rankings" that repeat themselves throughout sports media, Sour Rankings are a bizarro-world counter. These rankings highlight the top-10 most frustrating NBA franchises throughout the season, and they will be updated every week to match the twists and turns of the league.
This is not merely a bottom-10 of your typical best-to-worst power rankings. You will see championship contenders and playoff hopefuls mixed in with struggling squads. Teams well-under .500 may never touch the Sour Rankings because they are on track with their respective processes. Injuries, drama, transactions and generally underwhelming play will all be considered.
The central question is ultimately this: How good should you feel about the direction of each franchise? Some teams value wins this season and paths to a title, while others are looking down the road at long-term pieces. Let's get going:
Escaping the Sour Rankings: Four teams broke free this week. The Indiana Pacers and Phoenix Suns are riding serious hot streaks, and have gone a combined 13-2 over the last two weeks. The Pistons may be losing, but Cade Cunningham's 20-point outing against the Rockets and 2021 No. 2 pick Jalen Green should inspire some confidence.
The Hornets also jumped back out after a thrilling 106-102 win against the Golden State Warriors. That alone is a feather in the cap for such a young team.
10. Milwaukee Bucks (6-8)
Honestly, I don't know how to feel about placing Milwaukee in here. Bucks fans shouldn't be panicking; the team is still working its way through injuries to Brook Lopez and George Hill, as well as Khris Middleton's COVID-related absence and Donte DiVincenzo's long-term injury. But Milwaukee is under .500 and has struggled to generate positive momentum in the early season. The Bucks wield an 18th-ranked offense and 22nd-ranked defense. It's just been a slog to start.
(Last week: Unranked)
9. Boston Celtics (6-7)
The Celtics have rather quietly locked down with the league's third-best defensive rating (102.3, per Cleaning the Glass) over the past two weeks. That comes without Jaylen Brown for most of the stretch, and also some missed time between Al Horford and Josh Richardson. The streaky shooting and general offensive inconsistencies are still confounding. But Ime Udoka has overhauled the defense in his first year as head coach, and things seem to be clicking into place relatively early.
(Last week: 3)
8. Houston Rockets (1-12)
Houston remains in about the same place as the past two weeks: a very bad basketball team with some, but not enough (yet) flashes of promise. The Rockets have lost 11 in a row, and it's tough to think about how the agreement to sit John Wall is costing the young players some on-court stability from a veteran.
Alperen Sengun has been a bright spot off the bench. He's 6-of-14 from three-point range to start the year, and recently had a 10-point, 10-rebound, 4-assist performance in Sunday's loss to Phoenix.
(Last week: 9)
7. New York Knicks (7-6)
Tommy Beer has aptly summed up the complete derailment of New York's defense and starting lineup. In general, the team's shooters have hit a massive dry spell. The Knicks are hitting 26.8% of their corner threes. RJ Barrett is 7-for-32 from long range in his last six games. Evan Fournier is 8-for-35 since the start of the month. There's reason to believe in positive regression, but that only takes the Knicks so far with a below-average defense.
(Last week: Unranked)
6. Los Angeles Lakers (8-6)
Anthony Davis kept things pretty real after a 107-83 loss to the Timberwolves last Friday:
"We gotta decide who we want to be. A championship team? That's not us right now," Davis said.
AD ... to AD! 🤯 pic.twitter.com/eSKsNJDv1x

— Los Angeles Lakers (@Lakers) November 14, 2021
L.A. did go 3-1 last week, narrowly beating the Charlotte Hornets, Miami Heat and San Antonio Spurs. Davis himself put up 34 points and 15 rebounds in the most recent victory over San Antonio. We'll see if his words and actions generate some meaningful change over the next week; the Lakers still have a bottom-five offense over the past two weeks.
(Last week: 6)
5. Sacramento Kings (5-8)
We have our first report of a coaching job in jeopardy! Shams Charania of The Athletic reports that Luke Walton could be on the hot seat if the Kings keep adding to their four-game losing streak. In fairness, the current skid includes defeats of five points or less to the Pacers, Suns and Thunder. Sacramento has two very winnable games against the Pistons and Timberwolves coming up. At least for Walton's future, those matchups are becoming inflection points in the season.
(Last week: Unranked)
4. Memphis Grizzlies (6-7)
This might be the greatest free-fall of any NBA team right now. Last week, Memphis lost to the Hornets and Pelicans by 10 and the Suns by 25. Over the last two weeks, the Grizzlies are one of three NBA teams in the bottom-10 of both offensive and defensive ratings (you'll see the other two shortly). Opponents are shooting a league-high 41.3% from deep against the Grizzlies and 51.2% from the corners (?!?!) on the season.
Memphis is also second in transition frequency, but 24th in points per transition play. The team gives up the most points per play in the halfcourt among all its peers. The more I research, the worse it gets...
(Last week: Unranked)
3. Atlanta Hawks (5-9)
We arrive at the worst defensive team in the NBA over the last two weeks, and it just lost one of its better defenders in De'Andre Hunter for two months due to wrist surgery. The Hawks are giving up 118.2 points per 100 possessions since November began, which is far and away the worst mark in the NBA. They also force the fewest turnovers per game.
A 42-point barrage from Trae Young helped Atlanta finally end its six-game losing streak on Sunday against the Bucks.
(Last week: 5)
2. Minnesota Timberwolves (4-8)
Remember that eye-popping Timberwolves defense? Me neither; Minnesota is 27th in defensive rating over the last two weeks. The Wolves randomly crushed the Lakers, but are 1-7 in their past eight games.
From Wolves/Clippers Saturday night:

KAT walks back on defense before Edwards takes a pull-up three 😳#NBATwitter pic.twitter.com/2Miy3dGO3P

— 𝙏𝙖𝙡𝙠𝙞𝙣' 𝙉𝘽𝘼 🗣️ (@_Talkin_NBA) November 15, 2021
Amazingly, they not only get to the line at the third-worst rate in the league, but also give up the most free throws per 100 shots in the entire league. Malik Beasley has a horrendous 43.2% True Shooting percentage. Things are bad. But at least Minnesota got the front office drama out of the way before the season, unlike our No. 1 team.
(Last week: 4)
1. New Orleans Pelicans (2-12)
Jake Fischer of Bleacher Report wrote last week that David Griffin is on the hot seat in New Orleans, and that the Pelicans president of basketball operations got into an altercation with former head coach Alvin Gentry. Zion Williamson is still without a timetable on his injury recovery pathway. The Pelicans are one of the worst teams in the NBA, and are demonstrating little in the way of prospect promise.
And that, folks, is how you lock up the No. 1 spot in the Sour Rankings for a third straight week!
(Last week: 1)