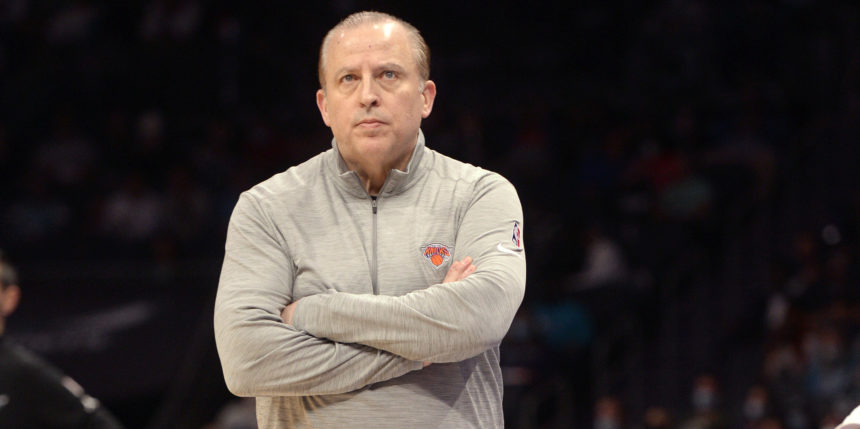 Knicks must take advantage of important three-game home stand
With the New York Knicks down double-digits late in the third quarter, their reserves entered the game and led a spirited comeback. Stop me if you've heard this one before...
Yes, a familiar script played out once again Friday night in Charlotte. And, once again, the movie ended with the Knicks on the losing side.
After the Hornets surged to a 12-point lead in the third quarter against a hapless Knicks starting unit that has been unable to get on the same page, the bench mob propelled New York back. The team eventually took a two-point lead halfway through the fourth, courtesy of a thunderous windmill dunk from high-flying sophomore Obi Toppin. However, Julius Randle replaced Toppin 90 seconds later, and the Knicks would be outscored 13-3 over the final five minutes of regulation.
The Knicks left Charlotte and limped home to New York having lost five of their last seven games. After jumping out of the gates with a 5-1 record, the 'Bockers now find themselves just a game over .500.
Many of the same problems that have plagued the Knicks during their recent swoon reared their ugly heads on Friday night.
Once again, despite a hot start and a great game from Kemba Walker — who scored 26 points — each member of the Knicks starting five posted a negative plus/minus, while the plus/minus of New York's reserves were all positive.
And, again, the Knicks were severely outplayed in the third quarter, as the Hornets poured in 34 points on 14-of-25 (26%) shooting over those 12 minutes.
Remarkably, over the Knicks' past four contests, they have been outscored 123-77 in the third quarter. That's a preposterous 46-point differential.
Of course, much of the poor production can be directly attributed to the starters' struggles. As detailed earlier this week, Walker, Randle, Evan Fournier, RJ Barrett and Mitchell Robinson have the worst cumulative plus/minus among all five-man units in the NBA. After another poor showing in Charlotte, this group is being outscored by 16.7 points per 100 possessions, according to Cleaning the Glass. That's the worst of any qualifying lineup in the league.
In sharp contrast, the bench unit of Derrick Rose, Immanuel Quickley, Taj Gibson, Alec Burks and Toppin is outscoring opponents by a prodigious 27.6 points per 100 possessions.
While Rose continues to play at an extremely high level each night and Toppin brings his unique splash of athleticism and energy, IQ's confidence has surged recently (he's made 10 of his last 20 three-point attempts).
Conversely, Barrett is mired in a nasty slump. Over the Knicks past four games, Barrett is averaging 8.0 points while shooting just 26% from the floor, 16% from downtown and 60% from the charity stripe. He also has more turnovers (9) than assists (6). And for a player that talked earlier this season about establishing himself as an All-NBA defender, Barrett has had several lapses on the defensive end, and doesn't seem to be playing with the same tenacity. Offensively, he's been hesitant to attack the tin, having gone to the free-throw line a total of only five times in four games.
This is a concern because Barrett is at his best when he's playing downhill and getting to the line. In the games in which Barrett has attempted more than five free throws this season, he averages 26.0 points on 58% shooting. Conversely, when RJ has attempted fewer than five free throws, he averages 11.2 points on 33% shooting.
Barrett has not been listed on the injury report, but it wouldn't surprise me if we found out that he is currently dealing with a physical ailment. His body language has been off of late.
Randle has also struggled recently. Over the Knicks' last three losses, Randle is averaging 15.0 points, 6.7 rebounds and 3.0 turnovers while shooting below 37% from the field, below 30% from behind the arc and below 55% from the FT line.
#HoopIdea
Knicks spot their opponents 15 points if the other team agrees to play just the 2nd and 4th quarters

— Tommy Beer (@TommyBeer) November 13, 2021
Thursday after practice, Evan Fournier was asked about coach Tom Thibodeau's angry comments following the team's loss to Milwaukee.
"I mean, sh**, I would be [angry], too. We don't need Tom to get mad at us," Fournier said. "We know we did not play well last game. We're all veterans. We all know what we're capable of doing, and it doesn't feel good when we don't play well."
On opening night, Fournier poured in 32 points and knocked down six triples. Over New York's last four games combined, Fournier has scored a total of 33 points and made four treys. Surprisingly, he hasn't logged a single minute in the fourth quarter in four of New York's last five contests. This is not what Leon Rose and company had in mind when they inked him to a 4-year, $78 million deal over the summer.
Zooming back out to look at the big picture, it's important to note we are only 11 games into an 82-game marathon. Each team played 72 contests last season; the Knicks still have 71 remaining on the schedule over the next five months. And, during the 2020-21 campaign, New York was three games under .500 (5-8) through the first three weeks of the season.
On the flip side of the coin, the reality is the Eastern Conference is much improved and uber-competitive. Last season's conference finalists, the Bucks and Hawks, are currently a combined 10-16. For this reason, next week takes on added importance for New York.
The Knicks play only three times over the next eight days. Each of the three contests is at home, and all are winnable. New York hosts the Pacers (5-8) at Madison Square Garden on Monday, the Magic (3-9) on Wednesday and the Rockets (1-11) on Saturday.
Thibs will be able to get a few quality practices, and this stretch gives the team a much-needed opportunity to reset and re-establish their identity.
Considering what lies ahead, it's almost imperative that the Knicks take care of business next week. Immediately following this three-game stretch, things could get ugly. Next Sunday, they travel to Chicago to play the up-and-coming Bulls on the second night of a back-to-back. The Knicks then play six games against some of the league's top teams (Lakers, Suns, Hawks, Nets, Bulls and Nuggets), before embarking on a three-game road trip, only to return home to host the Bucks and Warriors in the second week of December.
Knicks Notes:
- Speaking with reporters after the game, Thibodeau said Derrick Rose got "nicked up" in Friday's loss but that Rose was cleared to go back in the game late in the fourth quarter. Thibs didn't provide any specifics as to the nature of the injury, but it appeared Rose tweaked his ankle before checking out of the game in the fourth quarter. It's almost impossible to overstate Rose's importance to the Knicks this season, as he's been arguably the team's most consistent and most valuable player thus far. Remarkably, the Knicks have outscored their opponents by 110 points in the 295 minutes Rose has played this season.
- Robinson exited Friday's game in the first half to have his left ankle taped, but returned to the contest. Mitch Rob is shooting a league-leading 82.9% from the floor this season. Nerlens Noel has missed each of the past two games due to a right knee sprain.
- The Knicks committed 19 turnovers vs. the Hornets on Friday, which led to 17 points for Charlotte. "There's no surprise into why you win or why you lose, to me, it's your defense," Thibodeau said. "Initially, the defense was good and the rebounding was good, then the problem became our turnovers."
- According to NBA tracking data, the Knicks allowed 23 wide-open three-point attempts vs. Charlotte (the Hornets only converted seven). On the season, New York is allowing 22.5 wide-open three-point attempts per game, the most in the NBA.
- Hornets point guard LaMelo Ball grabbed 17 rebounds, dished out 9 assists and racked 5 five steals Friday night. That's as many assists and steals as the entire Knicks starting five, and more three rebounds than Randle and Robinson combined.