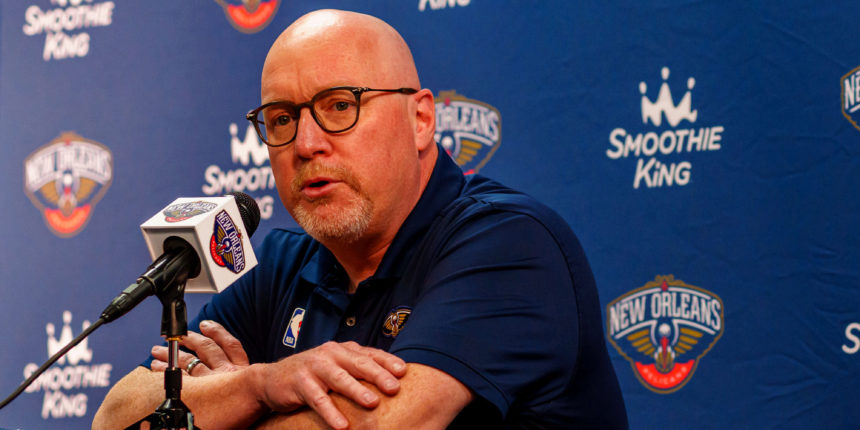 Pelicans exec David Griffin on hot seat after bad start, altercation?
The New Orleans Pelicans are a league-worst 1-11, and turning things around in the near future won't be easy with with Zion Williamson and Brandon Ingram each sidelined due to injuries.
As the team struggles, there is reportedly league-wide speculation that executive vice president of basketball operations David Griffin may be on the hot seat, and it doesn't help that he recently got into an ugly altercation with former Pelicans head coach Alvin Gentry after the Pelicans-Kings game on Oct. 29, according to Jake Fischer of Bleacher Report.
Griffin and Gentry overlapped for one season in New Orleans, and then Griffin fired the head coach. NOLA.com reported that Griffin was telling people around the NBA that he gave Gentry "all the answers to the test, and he still fails." This understandably upset Gentry.
"Griffin approached Gentry in the bowels of Smoothie King Center to offer a warm hello to his former head coach, yet Gentry brushed off his initial efforts as inauthentic," Fischer reported. "From there, according to multiple sources with knowledge of the incident, Griffin denied the findings of the NOLA.com article, particularly his 'answers to the test' line..."
"You must not have given Stan the answers to the test, either!" Gentry shouted, referring to Griffin also firing Stan Van Gundy after just one season as the Pelicans' head coach.
Then, the two men had to be physically separated, per Fischer.
"The aftermath of that event has seemed to ripple around the league, leading to increased whispers about the future of New Orleans without Griffin at the helm of the Pelicans basketball operations," according to Fischer.
Since taking over the Pelicans' front office in April of 2019, Griffin has had a tough time. The team has struggled and there's a sense of urgency to build a playoff team around rising star Zion Williamson.
Earlier this year, Shams Charania, Joe Vardon and William Guillory of The Athletic reported that some of Williamson's family members have "voiced their displeasure with the organization" and that "certain family members want Williamson on another team."
It remains to be seen if the Pelicans can right the ship this season. Ingram has missed six-straight games and it's unclear when he'll be back, and Williamson may not be back for another few weeks.