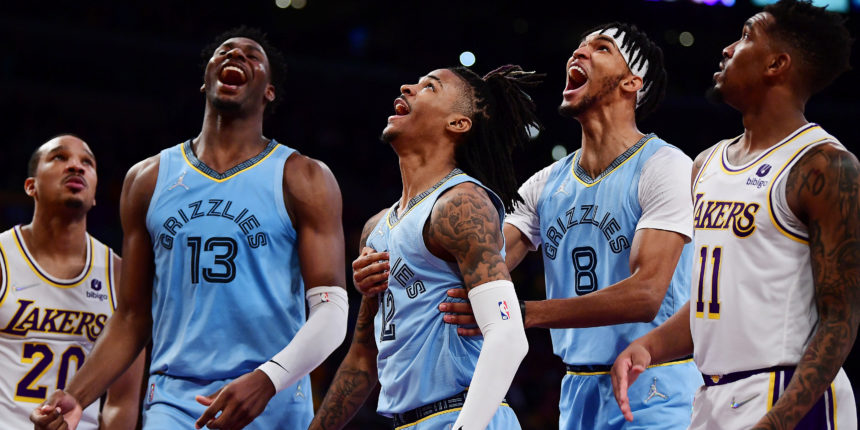 NBA Power Rankings: Grizz sizzling; Raptors, 76ers, Mavs streaking
Tommy Beer is back with his latest version of BasketballNews.com's NBA Power Rankings. To read last week's version, click here.
Ja Morant and his high-flying Memphis Grizzlies, who are riding a nine-game winning streak, leap all the way up to No. 3 in this week's Basketball News Power Rankings.
1. Golden State Warriors (30-9) ↔️ Last Week: 1
The Warriors, who were already one of the best teams in the league, welcomed back one of this generation's best two-way players in Klay Thompson on Sunday night. We'll see if Klay can stay healthy, but he certainly looked solid in the Dubs' victory over the Cleveland Cavaliers, scoring 17 points in 20 minutes. Cool factoid on Thompson: He had been sidelined for 941 days before suiting up Sunday and scoring 17 points. The only player in NBA history to miss more time due to injury and score more points in his first game back was Bill Walton (20 points in 1982) after missing 962 days. (Editor's Note: Etan Thomas spoke with Mark Jackson about Thompson's return recently.)
2. Phoenix Suns (30-9) ↔️ Last Week: 2
After a disappointing rookie season, the Suns declined Jalen Smith's team option of $4.7 million for the 2022-23 season. As a result, Smith, the No. 10 overall pick in the 2020 NBA Draft, will be an unrestricted free agent next summer. Well, after injuries and a Covid outbreak left the team short-handed in late December, Smith stepped in and stepped up, surprisingly averaging 15.8 points (on 55.4% shooting) and 10.2 rebounds over a six-game stretch.
3. Memphis Grizzlies (28-14) ⬆️ Last Week: 6
LeBron on @JaMorant's insane block:
"They got rockets in his calf muscles. It was a spectacular play. Salute." pic.twitter.com/FSkjD6nXZ5

— Ballislife.com (@Ballislife) January 10, 2022
Ja Morant set the internet ablaze when the highlight clip of his block of Avery Bradley went viral, and the Grizzlies notched a franchise-record ninth straight win Sunday night in Los Angeles. "That's probably the best block I've ever seen live. Probably the best block I've ever seen, period," Jaren Jackson Jr. told reporters after the game. "That was crazy. I knew he was going to do it, too, because he always loads up right before." In the two games Memphis played in L.A. over the weekend, Jackson was magnificent, racking up 47 points, 20 rebounds, 11 blocks (!!), 4 steals and 3 treys.
4. Chicago Bulls (26-11) ↔️ Last Week: 4
Thanks to a rare poor shooting night, the Bulls finally had their nine-game winning streak snapped Sunday night in Dallas. Chicago, which leads the NBA in three-point accuracy this season, made only 11 of the 33 triples the team tried vs. the Mavs. No Bulls team has won 10 or more games in a row since Michael Jordan's final season in the Windy City (1997-98).
5. Utah Jazz (28-13) ⬇️ Last Week: 3
The Jazz wrapped up a five-game road trip Monday night with a disappointing loss to the Detroit Pistons. Utah led Detroit by as much as 22 points in the first half, but was outscored 94-62 in the final 30 minutes. It's the Jazz's third straight defeat. They'll look to get back on track when they return home Wednesday to host the Cavs.

6. Miami Heat (25-15) ⬆️ Last Week: 8
Like most other teams in the league, the Heat have been hit hard by injuries and COVID this season, but it hasn't slowed them down. Consider this: Tyler Herro leads the team in total points this season, Caleb Martin leads the team in blocks and the team's three leading rebounders are Dewayne Dedmon, Omer Yurtseven and P.J. Tucker. And yet, Miami is still somehow 10 games over .500 and in third place in the conference. Head coach ​​Erik Spoelstra is doing an excellent job once again.
7. Milwaukee Bucks (26-17) ⬇️ Last Week: 5
After back-to-back defeats in Charlotte, the Bucks have lost 4 of their past 5 games. "You are definitely concerned anytime you lose four out of five," Khris Middleton said after Monday's loss to the Hornets. "And you never want to lose two in a row. You understand what the circumstances are (with players being out) and you never want to use that as an excuse. We understand what we're going through and everybody is going through. But we still have to go out there and compete." Things don't get any easier for the Bucks, as they travel home to take on the Warriors on Thursday night.
8. Brooklyn Nets (25-14) ⬇️ Last Week: 7
The Nets are in the middle of a brutal stretch in which they play four games in five days, and five games in seven days. After beating the San Antonio Spurs on Sunday afternoon, Brooklyn flew across the country to Portland to make up for a contest initially scheduled for Dec. 23 that was postponed because of COVID-19 complications. James Harden was unable to play in Monday's loss to the Blazers due to a hyperextended left knee, but head coach Steve Nash said Harden should be available for Wednesday's game in Chicago.
9. Philadelphia 76ers (23-16) ⬆️ Last Week: 10
Philly is rolling right now. Having won seven straight games, it is the longest winning streak in the Eastern Conference; the Grizz are the only team in the league with a longer streak. Joel Embiid has been the engine driving the Sixer train all season, and during this seven-game stretch, he is doing it all, averaging 32.9 points (on 56% shooting), 10.1 rebounds, 4.7 assists and 1.4 blocks.
10. Cleveland Cavaliers (23-18) ⬇️ Last Week: 9
Darius Garland continues to make his case for the NBA's Most Improved Player award. Over his last eight appearances, Garland is averaging 20.9 points, 6.8 assists, 3.0 boards, 1.1 steals and 2.6 made three-pointers. He also has posted a remarkably impressive +253 plus/minus this season, which is the sixth-best individual +/- in the NBA, one spot ahead of Giannis Antetokounmpo.
11. Charlotte Hornets (22-19) ⬆️ Last Week: 12
After closing out last week with a victory over the defending champs, the Hornets started this week on a high note by defeating the Bucks once again. Terry Rozier poured in 27 points to go along with 7 rebounds, 4 assists, 4 triples and 2 steals in Monday's victory. Over the Hornets' last seven games, Scary Terry is averaging 23.9 points, 4.7 boards, 3.7 assists, and 4.6 triples, while shooting a scorching 51.7% from the field and 50% from downtown (having made 32 of his last 63 three-point attempts).
12. Dallas Mavericks (22-18) ⬆️ Last Week: 15
The Mavs have won six straight, and registered one of their most impressive victories of the season Sunday night vs. the Bulls, ending Chicago's nine-game win streak. The Mavs have missed Luka Doncic and Kristaps Porzingis for stretches this season, but Jalen Brunson has appeared in 39 of Dallas' 40 games this season and played very well. (Coming into Sunday, he led the team in total points and assists in 2021-22.) Brunson has been especially productive this past month, averaging 19.3 points (on 51% shooting), 7.1 assists, 2.9 rebounds and 1.3 made treys over the Mavs' previous 13 contests.
13. Toronto Raptors (20-17) ⬆️ Last Week: 18
The red-hot Raps extended their winning streak to a season-high six games on Sunday with a victory over the New Orleans Pelicans. Fred VanVleet has been playing at a truly elite level as of late. Over his last seven appearances, FVV is averaging 30.6 points, 7.4 assists, 5.0 assists, 2.0 steals, 5.9 (!!) made three-pointers and just 0.9 turnovers, while shooting 46% from downtown and 96.7% from the charity stripe. The Raps are 7-0 in those seven games. VanVleet deserves an All-Star nod this year.
14. Denver Nuggets (20-18) ⬇️ Last Week: 11
The Nuggets are back above .500 after winning 5 of the 7 games they've played since Christmas. It's been Nikola Jokic, of course, who has powered Denver during this recent streak. Over his last eight games, the Joker is averaging a mind-boggling 26.1 points, 17.3 rebounds, and 6.0 assists.
15. Los Angeles Lakers (21-20) ⬇️ Last Week: 13
The Lakers' had won four in a row and 5 of their previous 6 games before getting blown out by the Grizz on Sunday night. However, the loss can't be pinned on LeBron James, who is somehow still playing at an incredibly high level despite turning 37 years old two weeks ago. Over L.A.'s past 11 games, James is averaging 34.2 points, 9.5 rebounds, 6.3 assists, 1.7 steals, 1.5 blocks, and 3.1 triples.
16. Minnesota Timberwolves (20-20) ⬆️ Last Week: 19
Karl-Anthony Towns was dominant in the Wolves 141-123 victory over the Houston Rockets in Sunday night, pouring in a season-high 40 points to go along with 9 rebounds and 7 assists. Last week, the Wolves also received a nice boost from Jarred Vanderbilt, who has averaged 16.0 rebounds (!!), 12.3 points (on 63% shooting), 3.3 assists and 2.0 steals over Minnesota's past three games.
17. Washington Wizards (20-20) ⬇️ Last Week: 14
The Lakers may be questioning their end of August's blockbuster Russell Westbrook trade, but the Wizards have to be delighted with the early returns. On Sunday night, Kentavious Caldwell-Pope scored 14 points, including a clutch three-pointer late in the fourth quarter to lead the Wiz past Orlando; meanwhile, Kyle Kuzma racked up 27 points and a career-high 22 rebounds in the victory. Over Washington's last six games, Kuz is averaging 27.0 points (on 53% shooting) and 13.0 rebounds. The only other player in the league averaging at least 27 points and 11 boards this month is Giannis.
18. Los Angeles Clippers (20-21) ⬇️ Last Week: 16
The Clippers had lost 6 of 8 since losing Paul George to an elbow injury, but L.A. got back on track Sunday with a much-needed victory over the Atlanta Hawks. Clips fans also got some encouraging news via Chris Haynes of Yahoo Sports, who reported late last week that Kawhi Leonard is ahead of schedule in his rehab from his torn right ACL, and there's a "strong possibility" he could return this season.
19. Boston Celtics (20-21) ⬇️ Last Week: 17
After losing last Wednesday to San Antonio and then blowing a 25-point second-half lead to the New York Knicks the following night, it appeared the Celtics were spiraling. However, Boston head coach Ime Udoka challenged his team, and the C's have responded with two consecutive wins, including a revenge win over New York and an overtime victory vs. the Indiana Pacers on Monday night.
20. New York Knicks (20-21) ⬆️ Last Week: 21
30-ball from Barrett 🔥@RjBarrett6 drops 31 PTS to lead the @nyknicks to the huge home win! pic.twitter.com/qkgDGoIldA

— NBA (@NBA) January 11, 2022
The Knicks got a much-needed win over the Spurs on Monday, thanks in large part to RJ Barrett's 31 points, 4 assists and 3 rebounds. It was the fourth time Barrett has scored 30-plus points this season, and New York is undefeated (4-0) in those games, with three of the wins by double-digits. After a nasty midseason slump, it appears Barrett is back on track. Over his last six games, RJ is averaging 23.3 points, 5.2 rebounds, 3.5 assists and 2.3 triples.
21. Atlanta Hawks (17-22) ⬇️ Last Week: 20
The Hawks wrapped up their six-game road trip Sunday with a loss in Los Angeles, finishing just 2-4 on their West Coast swing. Atlanta, now five games under .500, has been one of the league's most disappointing teams this season. Interestingly, according to NBA reporter Marc Stein, the Hawks have emerged as a new "suitor to watch" and potential Sixers trade partner in the Ben Simmons saga.
22. Portland Trail Blazers (16-24) ⬆️ Last Week: 23
Anfernee Simons remained red-hot in the Blazers' victory over the Nets on Monday night, dishing out a career-high 11 assists to go along with 23 points and 6 rebounds. Given an expanded role with Dame Lillard sidelined by an abdominal injury, Simons has played remarkably well. Over Portland's last five games, he is averaging 27.8 points (on 51% shooting), 7.6 assists and 5.0 made treys. He's one of seven players averaging more than 27 points and 5 dimes in January. The other five are Giannis, Trae Young, Joel Embiid, Fred VanVleet, LeBron James and Kevin Durant. Not bad company for the kid to keep.
23. Indiana Pacers (15-26) ⬆️ Last Week: 24
The Pacers have lost 7 of their last 8 games, but Domantas Sabonis has done everything possible to prop up his teammates during this stretch, as he's averaged 23.1 points, 13.8 rebounds, 6.5 assists and 1.1 made three-pointers.
24. Sacramento Kings (16-27) ⬇️ Last Week: 22
Encouragingly, over his last 14 games dating back to Dec. 17, Tyrese Haliburton is averaging 18.4 points, 9.1 assists (vs. just 2.7 turnovers), 1.5 steals and 2.7 made three-pointers while shooting 50.8% from the field, 50.7% from downtown and 84.6% from the free-throw stripe. Discouragingly, over that same stretch, De'Aaron Fox is averaging 19.0 points, 5.2 assists (vs. 2.9 turnovers), 0.9 steals and 0.5 made three-pointers while shooting 43.2% from the floor, 17.9% from downtown and 77.6% from the line. The Kings have lost five straight games.
25. San Antonio Spurs (15-25) ↔️ Last Week: 25
The Spurs are struggling as losers in 7 of their last 8. Yet, one bright spot has been the play of Dejounte Murray. In the four games he's played since returning from COVID protocols, Murray is averaging 23.0 points. 9.5 dimes, 6.8 boards, 1.3 triples and 2.5 steals.
26. Oklahoma City Thunder (13-26) ↔️ Last Week: 26
OKC has lost 6 of its last 7. Shai Gilgeous-Alexander has appeared in 5 of these 7 contests, and although he's put up solid counting stats, he's been highly inefficient offensively. During this current stretch, SGA is attempting a team-high 17.6 shots a night, but is shooting just 33% from the floor and 20.8% from downtown.
27. New Orleans Pelicans (14-26) ↔️ Last Week: 27
Before sitting out Sunday, Josh Hart had been on a two-week tear for the Pels. Over his previous eight games, Hart was averaging 17.8 points (on 53.3% shooting), 9.0 rebounds, 5.3 assists and 1.6 treys. However, New Orleans has lost 4 of its past 5 contests.
28. Detroit Pistons (9-30) ⬆️ Last Week: 29
The Pistons stunned the Jazz on Monday night, beating Utah by double-digits. Rookie sensation ​​Cade Cunningham led the way, scoring a career-high 29 points (on 10-of-17 shooting) and chipping in 6 rebounds, 5 treys, an assist, a block and just 2 turnovers in the 126-116 win.
29. Houston Rockets (11-31) ⬇️ Last Week: 28
After getting blown out by the Sixers Monday night, the Rockets have now lost 11 of their past 12 games. Things don't get any easier for Houston, as they are about to embark on a five-game road trip that concludes with back-to-back games vs. the Jazz and Warriors.
30. Orlando Magic (7-34) ↔️ Last Week: 30
Adrian Wojnarowski of ESPN reported Monday that the Magic had signed president of basketball operations Jeff Weltman and general manager John Hammond to contract extensions that run through the 2025-26 season. Despite Orlando's struggles this year, ownership is "pleased with the direction of the team's rebuild, including the hiring of coach Jamhal Mosley and drafting of first-round picks Franz Wagner, Jalen Suggs and Cole Anthony."