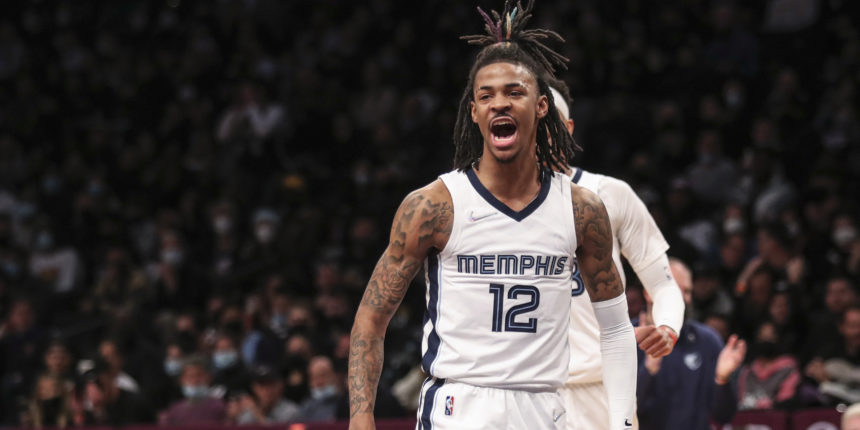 NBA Power Rankings: New Year's Resolutions for each team
Tommy Beer is back with his latest version of BasketballNews.com's NBA Power Rankings. To read last week's version, click here.
I'm going to switch things up a bit for this week's Basketball News Power Rankings. Each team will be ranked as usual, but I'll list a "New Year's Resolution" each club should make for 2022.
1. Golden State Warriors (29-7) ↔️ Last Week: 1
Resolution: Ease Klay Thompson back into action
Thompson — who is working his way back from a torn right Achilles — has reportedly looked "explosive" in practice, and is expected to make his much-anticipated return as soon as Sunday in a home game vs. the Cleveland Cavaliers. Klay will immediately want to prove he's back to the All-Star level we last saw, but we can assume coach Steve Kerr and Co. will significantly limit his minutes early on. The Warriors have a real chance to win another ring if Thompson is healthy for the Dubs' postseason run.
2. Phoenix Suns (28-8) ↔️ Last Week: 2
Resolution: Win the whole damn thing
Not only were the Suns up 2-0 on the Milwaukee Bucks in the NBA Finals last July, but they also won each of the first two games by double-digits. It certainly appeared Phoenix was closing in on its first championship in franchise history. As we know, Giannis Antetokounmpo and his crew won four in a row to break hearts throughout the Valley of the Sun. Still, one could argue that a bitter playoff defeat is a necessary precursor to morphing from a very good team into a great team. The Suns vastly exceeded expectations and took the league by storm last season. This year, anything less than a Larry O'Brien trophy will be a disappointment.
3. Utah Jazz (27-10) ⬆️ Last Week: 4
Resolution: Defend in the postseason
The Jazz have been an offensive juggernaut this season. They are currently averaging 117.0 points per 100 possessions, which leads the league by a country mile (every other team in the league is averaging fewer than 112.6). Utah also ranks just outside the top five in Defensive Efficiency. However, the Jazz were terrific on both ends of the floor during the 2020-21 regular season... before watching the wheels fall off in the playoffs. After allowing just 107.5 points per 100 possessions in 72 games, they put forth a lowly 121.7 Defensive Rating in the postseason and were eliminated by an undermanned Los Angeles Clippers squad. If Utah hopes to advance to the Western Conference Finals for the first time since 2007, it needs to shore up the defensive holes exposed last spring.
4. Chicago Bulls (25-10) ⬆️ Last Week: 6
Resolution: Replicate their first-half success
Monday afternoon, DeMar DeRozan was named the NBA's Player of the Week for the Eastern Conference, rewarding an incredible week that saw the 32-year-old become the first player in NBA history to hit buzzer-beating game-winners on back-to-back nights. Chicago absorbed a lot of criticism from pundits after inking DeRozan to a three-year, $85 million contract as part of a sign-and-trade with San Antonio. Now, general manager Marc Eversley is considered the odds-on favorite to win Executive of the Year after adding DeRozan, Lonzo Ball and Alex Caruso this past offseason. Still, there's a lot of season remaining. Can Chicago keep it up?
5. Milwaukee Bucks (25-14) ↔️ Last Week: 5
Resolution: Repeat
The Bucks have the best player on the planet (Giannis Antetokounmpo is somehow still improving) and have done an excellent job of surrounding him with two stars in Khris Middleton and Jrue Holiday, plus a cast of complementary players who embrace and excel in their roles. They've proven they can win 16 playoff games. They're out to prove they can do it again.
6. Memphis Grizzlies (24-14) ⬆️ Last Week: 8
Resolution: Advance to (at least) the Western Semis
Ja Morant and LeBron James became the third pair of opponents in @NBAHistory to each put up 35+ points, 10+ rebounds, and 6+ threes in a game, as Memphis topped LA in a thriller!@JaMorant: 41 PTS, 10 REB, 6 3PM (career high)@KingJames: 37 PTS, 13 REB, 7 AST, 8 3PM pic.twitter.com/F36oQmUqP3

— NBA (@NBA) December 30, 2021
The Grizzlies haven't made it past the first round of the playoffs since the 2014-15 campaign, when Marc Gasol, Zach Randolph and Mike Conley were grinding out wins in The Grindhouse. In fact, they've won a total of three postseason games in the seven seasons since. Currently seven games over .500 — with Ja Morant developing into a superstar and backcourt mate Desmond Bane in the running for Most Improved Player — this young Memphis team has a chance to take a significant step forward as a franchise in April.
7. Brooklyn Nets (23-12) ⬇️ Last Week: 3
Resolution: Keep the Big Three healthy
Folks may forget just how dominant the Nets looked early in the 2021 postseason. Brooklyn steamrolled the Boston Celtics in the first round and then jumped out to a demanding 2-0 lead vs. Milwaukee, outscoring the Bucks by 53 points (!!) over the first two games in the East semis. However, Kyrie Irving injured his ankle in Game 3, and the rest, as they say, is history. Incredibly, that's the last time we saw Irving on a basketball court. Well, Kyrie is expected to make his season debut on Wednesday against the Indiana Pacers. If the Nets can keep KD, James Harden and Kyrie healthy, in addition to Joe Harris, LaMarcus Aldridge and Paul Millsap, Brooklyn will be an extremely tough out in the playoffs.
8. Miami Heat (23-15) ⬆️ Last Week: 9
Resolution: Keep Herro humming
Tyler Herro was phenomenal as a rookie, especially in the postseason, when he averaged 16.0 points, 5.1 rebounds and 3.7 assists over 21 games as Miami advanced to the NBA Finals. However, as a sophomore, Herro didn't deliver as hoped, shooting just 31.6% from the floor in the playoffs, and the Heat were swept in four games. There were rumors he was on the trade block this past summer. Yet, the sharpshooter from Kentucky is posting career-highs across the board this season (20.0 points, 4.0 assists, 2.7 made triples). Herro could be the X-factor for the Heat once again if they make another playoff run.
9. Cleveland Cavaliers (21-16) ⬇️ Last Week: 7
Resolution: Replace Rubio
The Cavs have been arguably the most pleasant surprise in the NBA this season, and Ricky Rubio's resurgence was a major reason. Rubio averaged 13.1 points, 6.6 assists and 4.1 rebounds before he suffered a season-ending ACL tear in his left knee. The Cavs quickly traded for Rajon Rondo, but the 35-year-old Rondo was averaging just 3.1 points and 3.7 assists per game on 32.4% shooting. While Rondo is an adequate bandaid on the wound left by Rubio, the Cavs may look to upgrade at the trade deadline.
10. Philadelphia 76ers (20-16) ↔️ Last Week: 10
Resolution: Resolve the Ben Simmons saga
The Sixers are rolling right now, having won four in a row. However, former No. 1 overall pick Ben Simmons, one of the league's best defenders, has yet to set foot on an NBA court this year. Joel Embiid is once again playing at an incredibly high level. Wasting a healthy year of Embiid's prime would be a shame. Obviously, they don't want to take back cents on the dollar, but at some point, Philly has to figure this mess out and make the best out of an untenable situation.
11. Denver Nuggets (18-17) ↔️ Last Week: 11
Resolution: Get Jamal Murray back
Jamal Murray tore his left ACL back on April 12. While there is still no official timeline for his return to action, Murray engendered hope and optimism amongst the Denver faithful last week when he posted a video to Instagram of him throwing down a windmill dunk. With Nikola Jokic playing at an MVP level, Nuggets fans can't wait to see the dynamic duo of Murray and the Joker together on the floor once again.
12. Charlotte Hornets (19-19) ↔️ Last Week: 12
Resolution: Lock up Miles Bridges long term
Charlotte reportedly offered Miles Bridges a contract extension worth only $60 million over four years this past summer. With Bridges exploding this season (averaging 19.6 points, 7.3 rebounds and 3.7 assists), the Hornets' front office likely regrets that low-ball offer.
13. Los Angeles Lakers (19-19) ⬆️ Last Week: 16
Resolution: Limit LeBron's minutes
When the Lakers shockingly agreed to a five-team deal in early August, trading away Kentavious Caldwell-Pope, Montrezl Harrell and Kyle Kuzma to the Washington Wizards in exchange for Russell Westbrook, the hope was that Russ would help lighten the load LeBron has been forced to carry. However, the Lakers are getting crushed when King James is off the floor this season. Despite LeBron posting mind-boggling numbers, the Lakers are still at .500. If James continues to expend this much energy to ensure L.A. secures a top-six seed, will he have anything left to carry the Lakers on an extended playoff run?

14. Washington Wizards (19-18) ⬆️ Last Week: 15
Resolution: Keep Bradley Beal in DC
After a disappointing, slow start to the season, Bradley Beal has looked like himself as of late. Over his last six games, Beal is averaging 30.7 points, 8.7 assists (!!) and 4.7 rebounds. The Wizards will do everything they can between now and this summer to convince Beal to sign a supermax contract extension. If Beal opts out of his contract and leaves via free agency this summer, it will decimate the franchise.
15. Dallas Mavericks (19-18) ⬇️ Last Week: 14
Resolution: Convince Doncic to get in tip-top shape
Luka Doncic has the talent to become one of the best players in NBA history. There are very, very few young players you could say that about and not sound crazy. LeBron, Magic, Kobe, Wilt, Kareem. Luka's name belongs in that convo based on his mind-boggling production upon first entering the league. Look at the numbers the kid posted as a 20-year-old, when he averaged 29/9/9. Yet, Doncic has taken a step backward this season. Last month, he acknowledged his conditioning has "got to be better." If Luka prioritizes taking care of his body the way Lebron and Kobe did, the sky's the limit.
16. Los Angeles Clippers (19-19) ⬆️ Last Week: 17
Resolution: Hope PG-13 returns ASAP
On Christmas, the Clippers announced Paul George would miss at least 3-to-4 weeks due to a torn UCL. However, ESPN's Adrian Wojnarowski reported George could potentially be out for the season. "He's gonna be out for certainly a significant period of time, and there's no real sense of when, or if, he'll be back this year," Woj said. With a healthy Kawhi and PG-13, the Clippers are as talented as nearly any team in the NBA. Without either player, not so much.
17. Boston Celtics (18-19) ⬆️ Last Week: 20
Jaylen Brown was unreal tonight 🤯

50 PTS
19-29 FG
11 REB
4 AST pic.twitter.com/lgPlVNzOzR

— Bleacher Report (@BleacherReport) January 3, 2022
Resolution: Figure themselves out
The three games the C's played last week were a microcosm of their season. On Wednesday, they looked awful, shooting a historically bad 4 of 42 from downtown. Two nights later, they blew out the Suns for their most impressive victory of the season. Then, on Sunday, they were forced into overtime by the hapless Orlando Magic, only to be bailed out by a 50-burger from Jaylen Brown.
18. Toronto Raptors (16-17) ↔️ Last Week: 18
Resolution: Stay healthy
Sunday's victory over the New York Knicks was a glimpse at what the Raps can accomplish when they are at full strength. In their dominant home victory over the Knicks, Toronto had its eight most-used players available for the first time all season. They are poised to make a run up the Eastern Conference standings.
19. Minnesota Timberwolves (17-20) ⬇️ Last Week: 17
Resolution: Get KAT back
The Timberwolves snapped a three-game losing streak with an impressive road win over the Clippers on Sunday, thanks largely to 28 points from Anthony Edwards. Encouragingly, Karl-Anthony Towns and D'Angelo Russell are expected to clear health and safety protocols and rejoin Ant-Man in the rotation this week. Wolves coach Chris Finch said KAT and Russell might play Wednesday against the Thunder.
20. Atlanta Hawks (16-20) ⬆️ Last Week: 21
Resolution: Give Trae Young some help
Trae Young exploded for an NBA season-high and personal career-high 56 points, to go along with 14 assists, 7 three-pointers and 4 rebounds on Monday, but the Hawks still lost to the Portland Trail Blazers, 136-131. Atlanta is just 1-2 this season when Young scores more than 40 points.
21. New York Knicks (17-20) ⬇️ Last Week: 19
Resolution: Decide if they are buyers or sellers
If the Knicks are going to salvage their season, they have to start now. They play 8 of their next 10 games at home. And, of those 10 opponents, all but two have losing records. The other pair of teams (Hornets and Clippers) are sitting at .500. By early February, team president Leon Rose will have to decide if he wants to add pieces to make a playoff push or sell off some veterans and build toward the future.
22. Sacramento Kings (16-22) ⬆️ Last Week: 25
Resolution: Decide if Haliburton is the PG of the future
Trivia question for you guys: Who led the NBA in assists in December? Answer: Tyrese Haliburton, who dished out three more total dimes than Chris Paul. In addition, Haliburton was also one of three qualified players in the entire league to shoot over 47% from downtown. Over the Kings' last 16 games, he's averaging 16.0 points, 9.0 assists, 4.1 rebounds while slashing 50/47/86. Meanwhile, after inking a five-year max extension worth $163 million in the summer of 2020, De'Aaron Fox has seen his scoring (from 25.2 in 2020-21 to 20.3 PPG) and assist averages dip (from 7.2 to 5.1 APG). Might SacTown put Swipa on the block at some point in 2022?
​​
23. Portland Trail Blazers (14-22) ⬆️ Last Week: 24
Resolution: Break up the backcourt
The dynamic Blazers backcourt of Dame Lillard and CJ McCollum has been a foundational cornerstone since both were drafted. They reached their apex in 2019 when they advanced to the West Finals. However, things have been trending in the wrong direction ever since. Nearly halfway through the 2021-22 campaign, the Blazers are eight games under .500 and in genuine jeopardy of missing the playoffs altogether. It's time to shake things up in the great northwest.
24. Indiana Pacers (14-23) ⬇️ Last Week: 23
Resolution: Commit to Sabonis or Turner
It's been rumored nearly all season that the Pacers are willing to trade away either Domantas Sabonis or Myles Turner, as both are incredibly talented, but their skill sets haven't meshed. Turner said last month that he sees himself as far more than a "glorified role player." According to Kevin O'Connor of The Ringer, the Pacers will "listen to offers with a lot of draft picks, but the team's preference is to receive players who can help them regain playoff status… such as De'Aaron Fox, Ben Simmons, and Pascal Siakam—guys who are of near-equal value to Sabonis and Turner, or even upgrades."
25. San Antonio Spurs (14-21) ⬇️ Last Week: 22
Resolution: Enjoy watching Pop make history
Head coach Gregg Popovich is just 12 wins away from notching his 1,336th career victory, which would push him past Don Nelson on the NBA's all-time wins list. In what may well be Pop's last season patrolling the sidelines in San Antonio, Spurs fans will make sure this man gets his flowers.
26. Oklahoma City Thunder (13-23) ↔️ Last Week: 26
Resolution: Have SGA and Giddey build backcourt chemistry
Just thinking about Josh Giddey's 17-13-14 triple-double this morning.

What an absurd stat line for a 19 year old guard. pic.twitter.com/zRYXA9EqNa

— 𝙏𝙝𝙪𝙣𝙙𝙚𝙧 𝙁𝙞𝙡𝙢 𝙍𝙤𝙤𝙢 (@ThunderFilmRoom) January 4, 2022
The Thunder knows they have a future superstar in their hands in Shai Gilgeous-Alexander, as evidenced by the five-year, $172 million maximum rookie contract extension they signed him to last summer. And it appears they hit a home run in the 2021 draft with Josh Giddey, who became the youngest player to ever record a triple-double over the weekend when he racked up 17 points, 14 assists, 13 rebounds, 4 steals and just 3 turnovers vs. the Mavericks.
27. New Orleans Pelicans (13-24) ↔️ Last Week: 27
Resolution: Wait patiently for the return of Zion
In mid-December, ​​the Pelicans announced that Zion Williamson received an injection into the fracture site in his right foot to stimulate bone healing. Williamson "will be limited to low impact, partial weight-bearing activities for an extended period," and he would be re-evaluated in 4-6 weeks, the team said. Let's hope he can return later this season and build some confidence heading into the 2022-23 campaign.
28. Houston Rockets (10-28) ↔️ Last Week: 28
Resolution: Keep KPJ and C-Wood on track
The Rockets suspended Kevin Porter Jr. and Christian Wood for Monday's loss to the Sixers following a heated outburst at halftime of Saturday's loss to Denver. Porter's talent is undeniable, but his anger management problems have held him back throughout his career. Houston has a solid young core in place, but they need everybody pulling in the same direction.
29. Detroit Pistons (7-28) ⬆️ Last Week: 30
Resolution: Flip Jerami Grant
Grant has been a beast since signing in Detroit. Following his breakout season in 2020-21, Grant was a finalist for the NBA's Most Improved Player Award. However, he's not on the same timeline as Cade Cunningham, Killian Hayes, Isaiah Stewart and Saddiq Bey. In action, Bey has shined with Grant sidelined by injury. There will be plenty of interest league-wide once Detroit formally puts Grant on the block, and he should be able to fetch a trove of draft assets and/or young players.
30. Orlando Magic (7-31) ⬇️ Last Week: 29
Resolution: Let Franz Wagner work his magic
There haven't been many bright spots this season in Orlando, but the terrific play from Franz Wagner over the last five weeks has been incredibly encouraging. Dating back to the end of November, Wagner leads all rookies in points (127 more points than Cade Cunningham, who ranks second). And Wagner also ranks in the top three among all rookies in total rebounds, assists, steals, made free throws and made three-pointers during this current stretch.