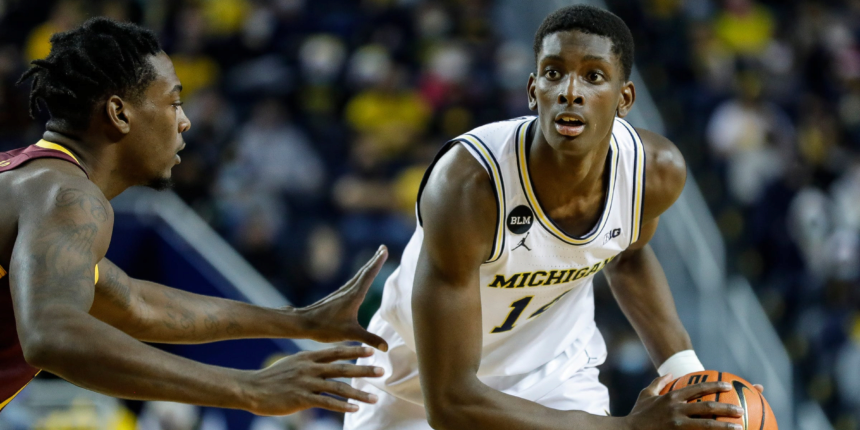 2022 NBA Draft: Michigan's Moussa Diabate is on the rise
When Michigan had Hunter Dickinson, a center, earn All-American honors as a freshman last season, finding another young big to pair with him was likely not in the mind of Wolverine fans. However, head coach Juwan Howard has brought in the most talented players irrespective of position.
That is seemingly the case with a consensus five-star recruit from IMG Academy, Moussa Diabate, who has become one of the biggest risers in scouting circles and is consistently climbing up analysts' draft boards this season.
So if you had your hopes up that your favorite NBA team could snag the 6-foot-11 center in the second round, you might want to begin tempering those expectations. Diabate is a long, surprisingly skilled big man with a 7-3 wingspan who has been on the radar of NBA scouts dating back to his time in France.
Of Malian and Guinean descent, Diabate was born in Paris, where he began his youth basketball career at 12. He quickly opted to come to the United States at 14, and he joined perhaps the most vaunted high school basketball program in the country, Montverde Academy. After one year at Montverde, Diabate spent time bouncing around prep schools before eventually landing in Bradenton, Florida with the prestigious IMG Academy.
The move to join the Ascenders came on the heels of a successful FIBA stint with France. As an underaged player at the 2019 European U18 championship tournament, Diabate averaged 13.1 points, 11.1 rebounds, and 2.1 blocks over seven games against the best players from Europe in his age group en route to a fifth-place finish.
Diabate's move to Bradenton helped reload a squad fresh off a championship at GEICO Nationals. During his junior season, Diabate found plenty of room to operate to the tune of over 14 points and 7 rebounds per game. This was in spite of playing with prominent big men Mark Williams (Duke), Brandon Huntley-Hatfield (Tennessee) and Zach Edey (Purdue). The Ascenders ran their way to a 19-7 record, and it looked like another GEICO national championship was on the horizon. That, however, would not come to fruition, as COVID-19 wiped out the season.
Headed into his senior season at IMG, Diabate penned his National Letter of Intent to head to Michigan, headlining the No.1 recruiting class in the country alongside fellow five-star recruit Caleb Houstan. Diabate chose the Wolverines over Kentucky, Arizona, Florida State and more. The Ascenders enjoyed another wildly successful season last year (21-3 overall) before falling to Sunrise Christian Academy (KS) in the semifinals of the GEICO Nationals. For his efforts, Diabate was named both a McDonald's All-American and Jordan Brand All-American, despite neither game being played due to COVID.
Along with perhaps the most heralded Michigan recruiting class since the "Fab Five," Diabate arrived in Ann Arbor to an NCAA preseason top-10 team that returned Dickinson, an All-American. With such an accomplished team staple entrenched in Diabate's natural position, playing time was hard to come by early in the season.
In his first five games, Diabate only crossed the 20-minute threshold once. Over his last seven games, however, Diabate has averaged 24.0 minutes per game despite only logging 7 minutes against San Diego State before getting injured. Diabate has shown just what makes him so intriguing during those six healthy games.
I spoke with our Sr. NBA Draft Analyst, Matt Babcock, to get his thoughts on what the French big man could bring to the next level.
"I watched Diabate last season when he was in high school at IMG Academy. I was most impressed by his physical profile, mobility and motor. This season, I've watched a lot of film, and had the opportunity to see Diabate in person when Michigan played at North Carolina. I still like everything about him that I did before. However, I've been pleasantly surprised, as he's shown me that he has more upside on the offensive end of the floor than I had initially thought. I think he has a chance to be a good NBA player."
Rim-running, shot-blocking prowess and overall defensive versatility make Diabate a compelling prospect. I was able to see Diabate up close in Michigan's loss to the UCF Knights, and he flashed more skill than I had expected. He hit a three-pointer and a mid-range fadeaway in the post, and defensively, he switched onto guards often.
Watching Diabate during warmups was also very insightful, as I was able to get a better idea of who he is as a person. Diabate seems highly outgoing just by watching him do his post-up routine. Speaking with some folks around the team, there was nothing but positive reviews for Diabate.
It has been a meteoric rise up draft boards thus far for the 19-year-old from Paris. Diabate is certainly a prospect for the scouting community to watch. We look forward to continuing to track his progress here at BasketballNews.com.
Moussa Diabate is currently ranked No. 22 on BasketballNews.com's 2022 NBA Draft Big Board.