The 2022 NBA Draft Lottery was last night, so we now have our top-14 picks!
Unfortunately, many of these teams — like the Sacramento Kings, Orlando Magic, Detroit Pistons and Charlotte Hornets — have grown accustomed to picking in the lottery year after year.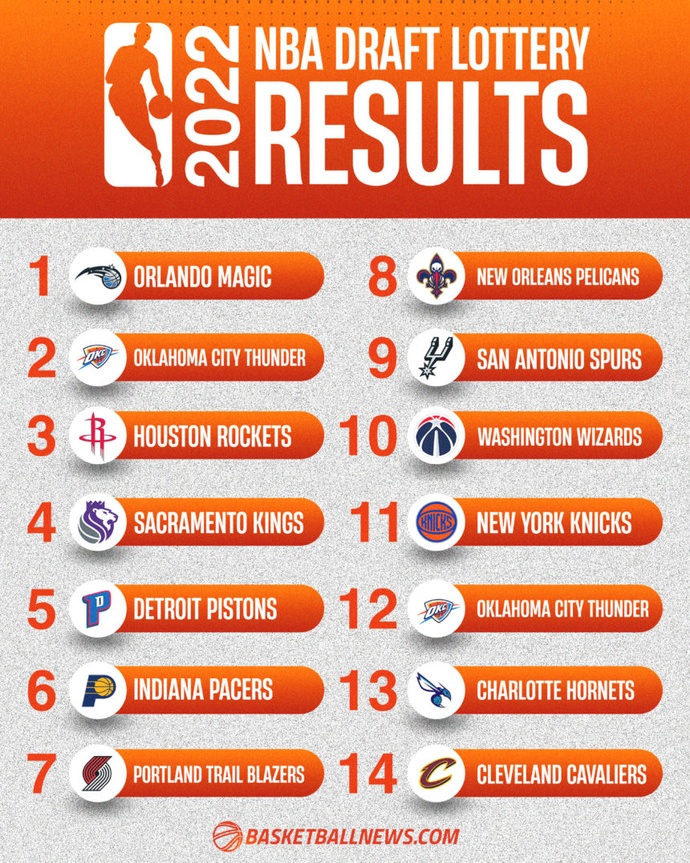 Of those top-14 teams, some should try to win now. And no, that doesn't necessarily mean they have to trade their first-round pick, especially after observing how Rookie-of-the-Year winner Scottie Barnes and runner-up Evan Mobley impacted winning this season. But, for some teams, you could say that if they were better at development, they wouldn't be in the lottery this often.
But we digress. Here are some teams who should strongly consider using their lottery pick in a win-now trade so that they're not back in the same position next season in an increasingly wide-open NBA.
(Did we include specific trade ideas? No, we aren't firing up the trade machine here. It's May, and what do you want? 2,500 words? On the Lottery? During the Conference Finals?)
Sacramento Kings
The Kings, who were the only team to jump in the lottery last night, have picks No. 4 and No. 37 in the upcoming draft, along with all of their pending first-rounders and many of their seconds.
Absolutely no team in the NBA needs to make the playoffs more than the Kings. The team was a perennial playoff participant from 1999 through 2006, which is hard to fathom since they haven't reached the postseason ever since. Their eight-straight playoff trips included four consecutive runs to at least the Western Conference Semifinals, with a Western Conference Finals trip in 2002. They have not made the playoffs since 2006; they've only finished above 10th place in the West once, in 2019, when they went 39-43 — their best record in 16 years, and one of only two seasons in which they've had more than 33 wins.
Last season, they made the now keystone Kings-Pacers trade, dealing Tyrese Haliburton, Buddy Hield and Tristian Thompson for Domantas Sabonis (who represented them at the lottery), Justin Holiday, Jeremy Lamb and a 2023 second-round pick. With the pairing of Sabonis (26 years old) and De'Aaron Fox (24 years old), it may make more sense to add a similarly aged starter who can help their 2022-23 presumed playoff push.
Also, expected on the roster next season is Davion Mitchell, who will enter his sophomore season but is already 23 years old and may earn an All-Rookie selection soon. Richaun Holmes saw his role take a hit once Sabonis arrived and missed much of the latter portion of the season dealing with a personal issue. Otherwise, for now, Holmes, Harrison Barnes and Mitchell are among the players under contract for next season.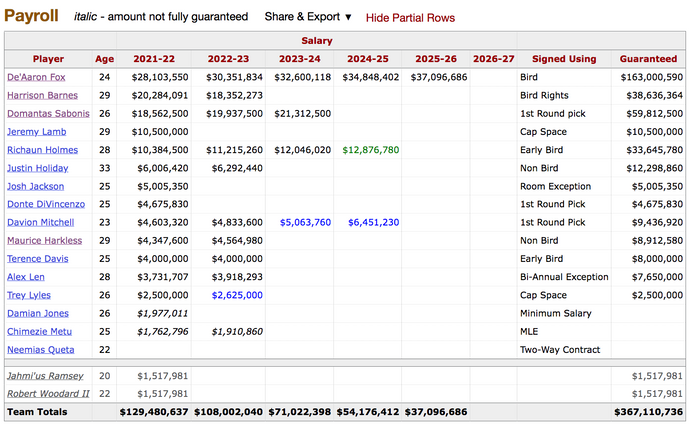 Dealing the No. 4 overall pick could land them a damn good player. John Collins, Gordon Hayward, Julius Randle, Jerami Grant and Christian Wood are among those who may find a new home this summer. Could the Utah Jazz look to move on from Donovan Mitchell or Rudy Gobert in the coming months?
The Kings will have to attach players to the No. 4 pick, but imagine if Sacramento could put another win-now piece alongside Fox and Sabonis? They should make some calls to see what a package built around the No. 4 pick could return.
Oklahoma City Thunder
Despite all of the draft picks the Thunder own, they simply can't draft everyone. In this year's draft, OKC owns No. 2, No. 12, No. 30 and No. 34. Over the next five years, they will have 17 first-round picks and 30 selections in total. This is something you do in NBA 2K when you plan on building a dynasty, but at some point, most virtual GMs realize that you need to start having actual players on your roster to win rather than just continually flipping players for picks while toiling at the bottom of the standings.
At some point, Oklahoma City needs to make its run. Shai Gilgeous-Alexander is about to enter the first season of his five-year, $172 million extension, which will see him earn just under $30 million next year. SGA turns 24 years old this summer and is a cornerstone for the franchise as their best player at the moment. Last year's No. 6 overall selection Josh Giddey looks like a keeper who almost certainly will be on an All-Rookie team this season. Lu Dort, Tre Mann, Kenrich Williams, Darius Bazley, Ty Jerome and Aleksej Pokusevski are all under contractual control for next season.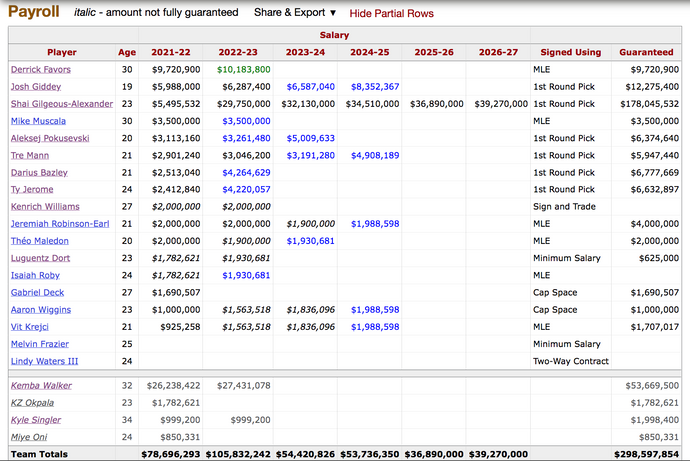 OKC could quickly assemble a package for a high-level starter or borderline star to join SGA and Giddey, particularly with whoever else is retained. They have more than enough draft capital and could probably get close to anyone they want as a result. In terms of their roster, they just need good two-way players who fit what they're trying to build culturally and schematically. Literally, anything goes here.
At some point, the Thunder will have to package some of these draft picks or prospects. We'll see when Sam Presti decides to flip that switch.
Portland Trail Blazers
The Blazers are in a tough spot with Damian Lillard, and what Lillard wants will factor in to their decision-making. He clearly wants to win but, by all accounts, he prefers to stay in Portland. It may be difficult to check both of those boxes with the Blazers as presently constructed. In the Lillard-CJ McCollum era, Portland made the playoffs every season and reached one Western Conference Finals in 2019. They were often failed by suboptimal roster construction around Lillard and McCollum, and then the elite backcourt would be unfairly blamed for the team's struggles.
With the No. 7 pick in the 2022 NBA Draft, and the assumption that Lillard remains, what's their next move as they once again attempt to win with their elite 6-foot-3 shot creator? Lillard is due over $42 million next season, the second season of a four-year supermax that will include a player option worth close to $49 million in 2024-25.
Eric Bledsoe's $19 million and Josh Hart's $12 million are the only other big salaries on the books for next season. A decision awaits on dynamic guard Anfernee Simons, who is reminiscent of the aforementioned McCollum, as he is up for an extension this summer as he enters restricted free agency. He reportedly wants to stay in Portland.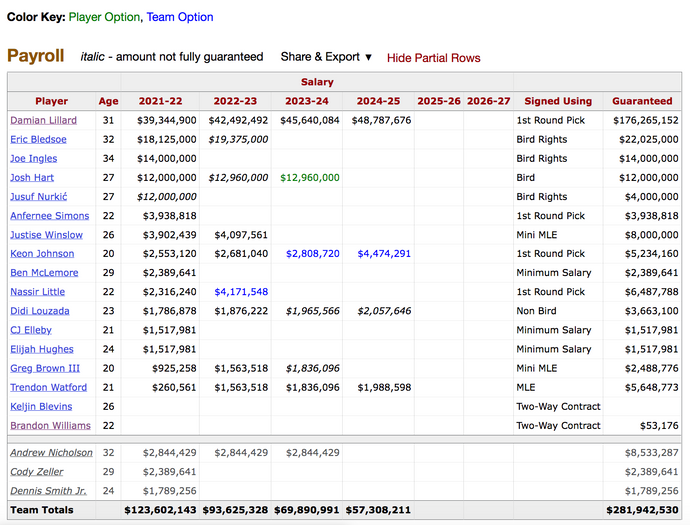 Ultimately, if the Blazers decide to package the No. 7 overall with some combination of players, could they look to include Simons via a sign-and-trade? It depends how aspirational a supposed deal could get and who they are getting in return. Only $3.9 million of Bledsoe's deal is fully guaranteed until June 29, making him a prime trade-and-waive candidate between now and the draft.
Here's the reality: Portland's roster requires a full rebuild, but if Lillard is going to remain, selecting a rookie at No. 7 might not be ideal. And given their history and Simons' fit alongside Lillard, you might want to look at a big.