Welcome to Basketball News' 10-part mini-series, Blazing the Trail, where Mat Issa breaks down the most revolutionary players of the 1990s and 2000s. Throughout this series, we'll examine how these players changed basketball and pioneered their respective skills.
In this final installment, Mat goes in-depth on the playmaking hub, Chris Webber. He explains how Webber's passing and decision-making skills unlocked the Sacramento Kings' revolutionary offense, with former coaches Elston Turner and Bob Staak and former teammate Jason Williams.

If you were given the words "Chris Webber" and "revolutionary" and told to configure them in a sentence, you would likely come up with something like this:
"Chris Webber was the main attraction of the revolutionary Fab Five."
That statement is true, but that isn't why he's the final subject of Blazing the Trail.
Like many basketball pioneers, after his legendary run at the University of Michigan, Webber continued his transcendence in the NBA.
However, this time, he did it a different way; not as a cultural revolutionary, but as a schematic one.
When Webber donned the purple and black in Sacramento, not only did he become the franchise's most accomplished star, he also played an essential role in the re-imagination of NBA offense.
WHAT MADE WEBBER SPECIAL
Somewhat paradoxically, the trailblazing Webber's scoring game was an ode to the great bigs of the 1990s. He greatly admired the likes of Hakeem Olajuwon, Karl Malone and Charles Barkley. And he even admitted to borrowing parts of their games during different portions of his appearance on the Knuckleheads podcast.
In his bag, he had Olajuwon's jump hook, Malone's pick-and-pop jumper and Barkley's tendency to jostle for deep position in the post:
While his scoring was a bit old school, his passing and playmaking at his gargantuan size were well ahead of his time.
His exploits in the former were matched by only a few of his contemporaries. In 2002-03 (the year he likely peaked as a passer), Webber ranked first among all All-Star power forwards and centers in Ben Taylor's Passer Rating metric (an estimate of a player's passing ability on an 'approximately' 1-10 scale):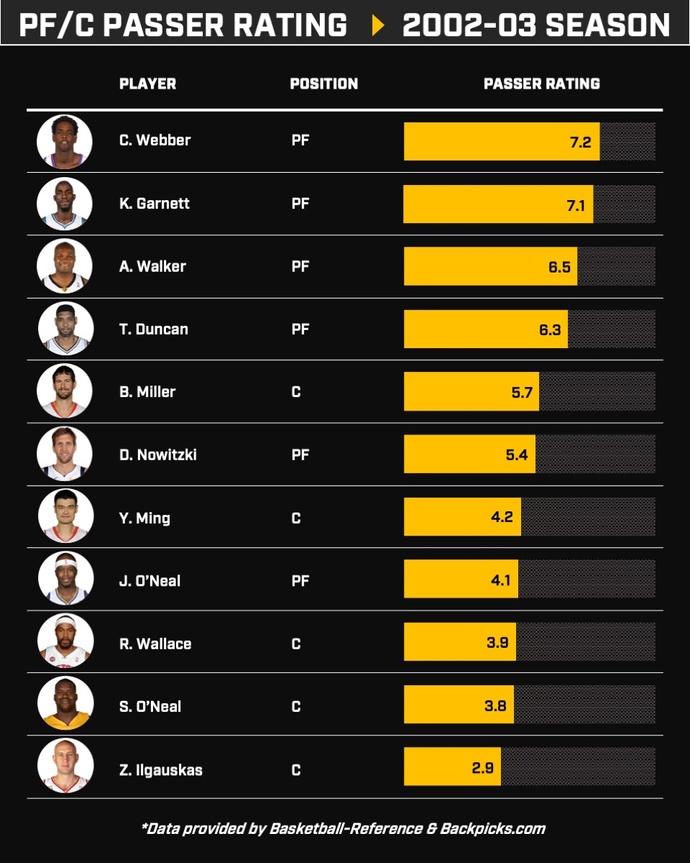 Visual Provided by Sports Aptitude
Nearly every pass available to bigs at the time was within Webber's reach, and he flashed that entire arsenal during his seven-year tenure with the Kings.
His former teammate Jason Williams — one of the most creative passers in NBA history — told Basketball News that Webber "saw the game as well as anyone [he] had ever played with."
Webber needed all of his playmaking powers to survive within the offensive ecosystem of legendary offensive coach Pete Carril.
"You must be skillful," the late, great Carril explained in a 2010 interview with BBallBreakdown.
What the former college and professional coach was referring to is the Princeton Offense he is often credited with popularizing. The offense was a motion-heavy scheme primarily predicated on constant passing and cutting. (To learn more about the inner workings of the scheme, check out this video by Jordan Sperber).
"The minute you have the ball in your hand, you are the point guard," Carril continued. "And if you can't pass or see anyone to pass it to, you're stuck."