This week, I had a very special guest on my podcast "The Rematch" - a former No. 1 overall pick, NBA Rookie of the Year, five-time All-Star, five-time All-NBA selection and someone who finished top-10 in MVP voting on five different occasions: the great Chris Webber.
We touched on many different topics. We discussed the Fab Five and when they realized they were being exploited. Chris also drew a connection to the current NCAA climate and, in particular, their handling of COVID-19. We talked about his upcoming documentary, his new book (By God's Grace) whether the Fab Five would've defeated UNLV and much more.
However, one of the topics that stuck out to me the most was the fact that he is open to the possibility of a Fab Five reunion.
For me, the Fab Five were cultural icons. Growing up in Tulsa, OK, they changed the way I looked at everything. I remember reading their book in high school, and my entire team at Booker T. Washington High School was immediately impacted. In fact, we copied their entire persona and wanted to be just like the Fab Five. We told our coach, Nate Harris, that we wanted baggy shorts, and we wore black shoes with black socks. We adopted the confidence, the trash-talking and the fancy dunks. We were hyping each other up after every play, screaming and staring down the opposition after dunking on them or blocking their shot. We played with the same excitement and joy and, in our minds, we were the Fab Five.
We even started calling our point guard, Marcus Hill, "Jalen" after Jalen Rose. Ryan Humphrey was our Chris Webber. I was our Juwan Howard with the jump hooks. Daniel Hishaw was our Ray Jackson. BJ Tiger was our sharp shooter, our Jimmy King.
We emulated the Fab Five as we became back-to-back state champions. We also mimicked their us-against-the-world mentality. It felt like nobody liked us (because, honestly, they didn't). Rival schools - Jenks, Memorial, Owasso and Bishop Kelly - didn't like us for the same reasons that a lot of mainstream America didn't like the Fab Five: They thought we were arrogant, brash and cocky, and we reveled in it the same way the Fab Five did.
So, of course, it hurt my heart when I started seeing reports that Jalen Rose and Chris Webber had beef. I remember thinking, "How can they have beef? It's them against the world! They gotta stick together through everything."
But the more interviews I saw, the more it became apparent that there was tension in the group, most notably between Chris and Jalen.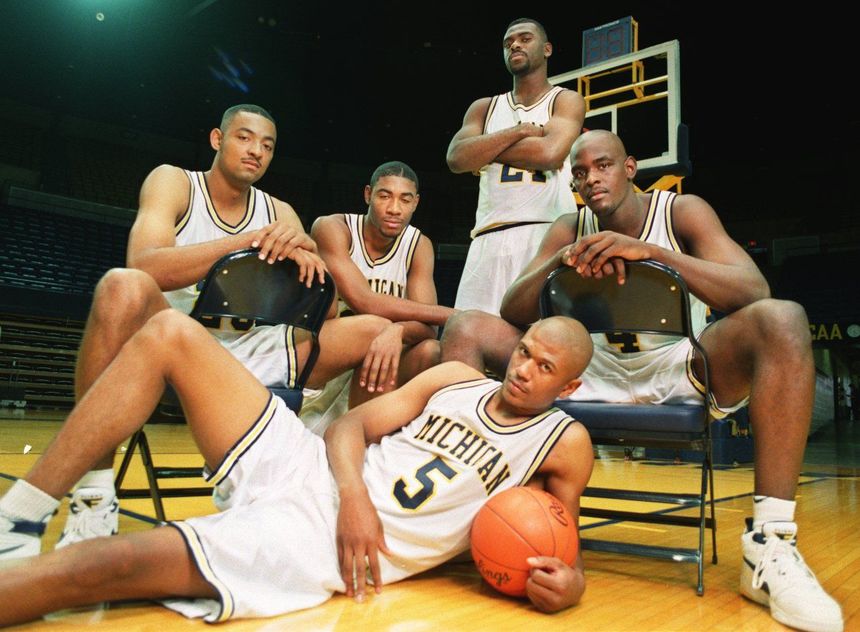 Throughout my career, I have interacted with all of the members of the Fab Five in some capacity. I interviewed Chris, Juwan, Jimmy and Ray Jackson for my book "We Matter: Athletes And Activism." I wanted to speak with Jalen too, but we couldn't connect in time. I have nothing but love and respect for all of them. To be honest, I don't even care about the details or why they have beef; I just want to see them get back together.
I brought this up to Webber, asking: "Is there a chance that sometime in the future, we'll see the whole Fab Five together on stage or doing a program or something together?"
He responded without any hesitation.
"I'm sure," Webber said. "I talk to Ray and Juwan all the time. I'm very sure of that. So, definitely. Definitely, yes; all I could say is definitely."
He added, "I've been blessed to be a part of the Fab Five."
He talked to me about envisioning all of the Fab Five members on a stage together with their children and his son getting "anointed" with the greatness of the Fab Five and being able to soak in what they had. As he was picturing this, he had a huge smile on his face. It seems that this is something he has thought about over the years.
I know media members like to fan the flames whenever there's beef, especially with athletes, but I would like to see them back together at some point. I think before that could happen, Chris and Jalen should do a sit down - similar to what Magic Johnson and Isiah Thomas did, and what Shaq and Kobe did. I would love to see that happen. I think the entire country would love to see that. I'll even volunteer to moderate it!
The Fab Five meant a lot to an entire generation of hoopers. The youngsters today may not know, but my generation sure does. We remember how they "shocked the world," as Juwan declared while doing the cabbage patch. We remember the bald heads and fashion statements that gave us confidence to be ourselves in the face of a society that wanted us to conform to their "acceptable" standards. We remember the confidence that allowed many of us to walk with our heads held high because we were special and magnificent, even if society told us we were thugs and a menace to society.
It's deeper than just being fans of them because of how many games they won or the fact that they led their team to back-to-back national championship games. It doesn't matter that they lost; that wasn't even the point. What they meant to us mattered far more than a win or a loss. And I would love to see them together as one again.