Welcome to Basketball News' 10-part mini-series, Blazing the Trail, where Mat Issa breaks down the most revolutionary players of the 1990s and 2000s. Throughout this series, we'll examine how these players changed basketball and pioneered their respective skills.
In this first installment, Mat goes in-depth on Hall-of-Fame point guard Steve Nash and his incredible effect on the point guard position, with insight from Mike D'Antoni, Raja Bell and more.

When Steve Nash earned back-to-back NBA MVP awards in the mid-2000s, some circles viewed his achievements as a horrid oversight on the part of voters.
How is it possible that — in a world featuring the likes of Kobe Bryant and Shaquille O'Neal — the league's most prestigious regular-season honor could be awarded to someone averaging less than 20 points per game? The nerds are ruining our sport!
But what if I told you the so-called "nerds" got this one right? What if Nash really was the most valuable player in the world? And what if he was a pioneer who blazed the trail for a generation of All-Star floor generals?
Let's find out.
What Made Nash Special
To understand Nash as a quarterback, we first need pick the brain of his offensive coordinator that season: then-Phoenix Suns head coach Mike D'Antoni.
D'Antoni is a well-traveled basketball mind with an ideology morphed during his playing days at the University of Marshall, a brief stint in the NBA and his legendary career in Italy. At his core, he believed in efficiency, creativity and enabling players with the freedom to express themselves.
"Basketball is an art," D'Antoni told Basketball News via Zoom. "Everybody could be Picasso if you had rules. [In basketball], there are no rules."
Raja Bell, a two-time All-NBA defender and Nash's former running mate, explained D'Antoni's philosophy in detail.
"Taking the reins all the way off — that's what D'Antoni essentially did for players, and that's why most people have so much success with him offensively," Bell explained to Basketball News. "[With him], there are no bad shots. Every time you toe that line, and you're open, he wants you to let it go. [With] other coaches, you miss one, they might get you out of there or talk to you about driving the ball. Mike never did that."
D'Antoni's greatest contribution to the game was, without question, his implementation of the spread pick-and-roll offense.
For those unfamiliar with the scheme, Orlando Magic assistant Dylan Murphy (better known by some as the author of the invaluable Basketball Dictionary) defined the concept in layman's terms.
"It's just the basic idea of putting guys around the three, running pick-and-roll and making [the defense] pick between protecting against the roll, protecting against the ball-handler getting to the rim or protecting the three-point line," Murphy said.
To visualize how the Suns utilized this pick-and-roll variation, here's an example.
In Nash, D'Antoni obtained the conduit who could bring his pace-and-space vision to fruition. As D'Antoni puts it, Nash wielded four attributes that made him the ideal spread pick-and-roll conductor: great shooting, playmaking, decision-making and finishing.
D'Antoni called Nash one of the greatest shooters ever, and like one of Steve's jumpers, he was right on the money. According to Cleaning the Glass, Nash placed in the 90th percentile or higher in three-point and mid-range shooting every season from 2004 to 2010. Nash's proficiency from long range made drop coverage and going under screens a moot point for defenses.
His playmaking and decision-making exist in the same rarified air. The ultimate on-court Marxist, Nash had every high-value delivery method in the book at his disposal. From 2000 to 2012, he placed in the 97th percentile or higher in Ben Taylor's Box Creation stat (a metric that estimates playmaking), leading the league in that category seven times during that span.
Lastly, the Canadian floor general boasted a reliable finishing profile thanks to his dexterity and footwork that were groomed by years of soccer and jump-roping. His training as a finisher made him a master of dribble penetration, something that separated him from Utah Jazz great John Stockton. Nash constantly got two feet in the paint, which allowed him to hypnotize defenses and pick them apart accordingly.
On-Court Production
Despite facing a great deal of criticism for their offensive-orientated approach, the Suns demonstrated a championship-caliber recipe nearly a decade before The Splash Brothers hung a banner at Oracle Arena.
Historically, teams that make the Finals either have a great deal of balance on both ends of the court or are outlier-level elite at one end of the floor.
Under Nash, Phoenix finished top-two in the league in Offensive Rating every season from 2004 to 2010. For reference, the only other all-time primary ball-handler to accomplish this feat was Magic Johnson (1984-90), and it's safe to say that those offensively-slanted Los Angeles Lakers teams were indeed championship-caliber.
Individually, Nash put together the best offensive profile of any of the other MVP contenders of his time (not to mention that his team had the best record in the league that year):
2004-05 MVP Candidates: Offensive Stats (By Percentile)*
| | | | | | | |
| --- | --- | --- | --- | --- | --- | --- |
| Player | Scoring Volume | Scoring Efficiency | Passing | Playmaking | Spacing | Off. BPM |
| Duncan | 93rd | 56th | 61st | 64th | 12th | 87th |
| Iverson | 99th | 47th | 81st | 99th | 64th | 87th |
| Nash | 55th | 97th | 100th | 100th | 97th | 100th |
| Nowitzki | 96th | 84th | 69th | 78th | 99th | 98th |
| O'Neal | 97th | 89th | 62nd | 72nd | 1st | 95th |
*Data Provided by Backpicks.com (scroll right to view full table on mobile)

And while guards typically have a limited impact on the defensive side of the ball, Nash did enough on that end (by way of charge-drawing and off-ball intellect) to help propel the Suns to around average on defense from 2004 to 2010.
So why didn't the Suns make the NBA Finals?
Luck and shooting variance are two obvious, uncontrollable factors. However, Nash and D'Antoni have both admitted that they wished they doubled down more on what made them so special: zagging when others continued to zig.
"You got all the criticism. You got all the people [criticizing you]. And you do sometimes back off when you should double down on it," D'Antoni said.
"At the time, Mike was so ahead of most of the NBA. There probably was some pressure — even within his own camp — to do things he might not have in his gut wanted to do, and given the time that's passed, wouldn't do now," Bell added. "You could see that manifest itself in the way Mike coached with Houston, where he essentially said, 'F*** everything else. This is what we're going to do.'"
To understand what "doubling down" essentially entails, let's take a look at a play from the Suns' infamous clash with the San Antonio Spurs in 2007.
In this clip, Nash forces the legendary Tim Duncan out to the perimeter in a manner analogous to how Stephen Curry forced Robert Williams III and Al Horford to the three-point line in the 2022 Finals.
Unfortunately for Phoenix, instances like that were few and far between. After Duncan strummed their defense to the tune of 33 points in Game 1, the Suns scrapped their original starting lineup that featured Amar'e Stoudemire at center, and instead turned to a more conventional rotation with Kurt Thomas playing the 5. The two teams were playing chicken, and the Suns were the ones to duck first.
The following year, Phoenix acquired an aging Shaquille O'Neal as a last-ditch effort to battle with Duncan. But all this countermeasure amounted to was a gentleman's sweep at the hands of the Spurs in the 2008 postseason.
"The way we beat them was not gonna be to match up to their better bigs," Bell said. "It was going to be to make them match down to, in theory, our better smalls."
Rather than try to outbid the best big in the Western Conference, Phoenix should have forced San Antonio to keep pace with its superior spacing.
"I should have made Steve shoot more," D'Antoni reflected. "He should have shot more threes. He's one of the best shooters ever."
Weaving the Thread
The dirty little secret about our series is that basketball has existed for far too long for there to be any true pioneers in the 1990s and 2000s. Each of these trailblazers was influenced in some way or another by the players who came before them.
For Nash, that player was Isiah Thomas.
"My hero growing up was Isiah Thomas," Nash stated on the All the Smoke podcast in May 2020. "He had everything, but he wasn't jumping over people, so I was like, 'Okay, there is someone I can try and emulate.' He was quick, but other than that, he used his skill level, his creativity [and] his competitive nature. The fight in him was incredible."
Like Nash, Thomas was adept at knifing his way into the paint and making mincemeat of his adversaries once he got there (like this).
However, Nash wasn't a mere copycat. He expanded on his idol's dribble penetration. Before him, a ball-handler's entry into the paint signified one of four outcomes: a shot, a pass, a foul or a turnover. Nash's odyssey to stardom birthed a new wrinkle to basketball's dark arts — the perpetual dribble probe.
Better known today as "Nashing."
"Just because Steve was driving to the basket, didn't mean that he was going to finish right there," D'Antoni explained.
Akin to how a hockey player may continuously cycle the puck around the ice to tire out an opponent, Nash would often maintain his dribble in the paint to extend the period in which he commanded the defense's gaze, which created more opportunities for teammates to spring free.
"With Nash, he popularized it, where he would keep his dribble alive past the basket," Sporting News writer Steph Noh explained to Basketball News. "He would go along the baseline and circle around the lane. And by extending his dribble like that, it would extend the time where teammates could get open, [and] it would give defenses the opportunity to make a mistake and let their guard down.
"And you've seen that pretty much every small point guard that isn't a freak has found how effective that technique is and incorporated it into their own game — across all levels."
D'Antoni believes Nash owns original patent rights on the technique.
"I think he was the first one that started doing that," D'Antoni said.
Impact on Today's Game
When asked who in today's game most resembles the former two-time MVP, Bell immediately suggested the reigning Finals MVP, Stephen Curry.
"Steph Curry reminds me a lot of Nash. They're great athletes, don't get me wrong. But they're not put-your-elbow-in-the-rim type athletes." Bell said. "These are athletes that people could see themselves in.
"They both have really great hand-eye coordination, really good pace, great handle — like, they have it on a string. Even if it doesn't look like the AND1 mixtape all the time, I think they use it efficiently and effectively. They both have a great ability to be in the pocket [and] under control. [Both] have great vision. They are very similar."
Along with Curry, another All-NBA guard who warrants comparison to the Phoenix legend is Trae Young. Young even publicly stated that he picked up one of his most recognizable dribble moves — his hesitation dribble — from studying Nash.
Nash's legacy doesn't end there. Young guards like Fred VanVleet have earned All-Star nominations by following the pathway Nash carved out for them when he was dealing in the mid-2000s.
"He kind of made it okay to dribble the air out the ball a little bit, keeping looking, because you knew he wasn't being selfish about it," VanVleet said in an March 2018 interview with SportsNet.
There's no question that Nash's environmental footprint on the league is intense. And when you combine those innovative tactics with progressive coaching and elite scoring efficiency and playmaking, you get something more than just a great player.
You get an MVP, a Hall-of-Famer and, most importantly for us — you get a revolutionary.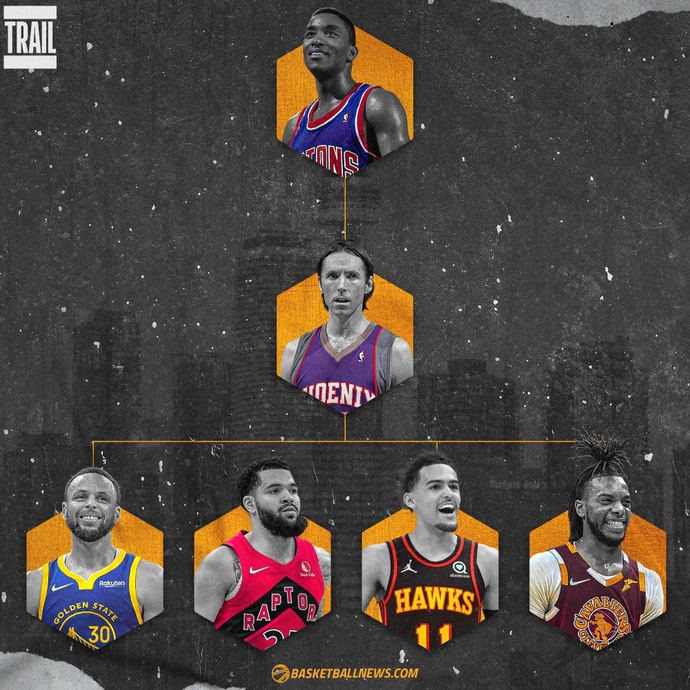 Tune in next week for Part 2 of Blazing the Trail, which focuses on Rashard Lewis — the pioneer of the modern-day stretch 4.