With the regular season set to tip off on Dec. 22, let's take a look at where each team in the Northwest Division stands. We'll break down what's to like and dislike, a lineup to watch and a reasonable range for them to finish in the standings.
If you missed it, read our previews on the Atlantic, Central, and Southeast Divisions.
Denver Nuggets
WHAT TO LIKE: OFFENSIVE FIREPOWER
Bold prediction: the Nuggets are going to score a ton of points this season.
Jokic is the NBA's premiere offensive center, a three-level threat that doubles as one of the five best passers in the sport. Everything revolves around his skill set; he's the handoff merchant above the break, a pick-and-pop partner, an elbow hub and a post threat all in one doughy-but-not-so-doughy-anymore package.
If Murray's postseason heel turn was legit, maybe not in terms of the three-point accuracy (45.3 percent) but in volume (7.2 attempts), he'll be able to break defenses in new and devastating ways. The threat of his pull-up should continue to unlock his underrated passing ability, which bodes well for his teammates.
Michael Porter Jr.'s offensive upside is limitless. Guys his size aren't supposed to be able to move, handle or shoot that well. The return of Will Barton should inject the Nuggets with more playmaking, slashing and shooting.
It's a fun group.
OTHER LIKES
- The JaMychal Green addition is a good one. Solid blend of positional defense and shooting in the frontcourt, and will give the Nuggets the flexibility to go small if Jokic can't hang in certain situations.
- BOL BOL, JUST WAITING TO BE UNLEASHED.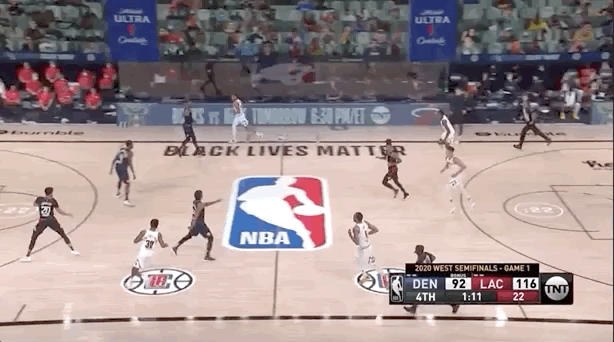 - There's reason to be concerned about Denver's defense (more on that shortly), but hopefully getting more Gary Harris means better production at the point of attack. He still gets after it.
- Locking up Monte Morris, one of the best backup point guards in the league, was a smart move. Doing it for 3 years/$27 million is a freaking steal from where I'm standing.
WHAT TO DISLIKE: WING STOPPERS (OR LACK THEREOF)
The Nuggets' best options on power wings -- your LeBrons, your Kawhis -- last season were, in some order: Jerami Grant, Torrey Craig and Paul Millsap.
The first two are on new teams, and the third is 47 years old.
(Okay, he's not 47 and he remains smart and strong, but come on.)
More frustrating, the Nuggets did virtually nothing to address this need. Barton was a sneaky good defender last season. Getting him back will help; that won't solve the issue, though. A signing or trade is needed before the deadline if the Nuggets are serious about competing late in the postseason.
OTHER DISLIKES
- To that effect, can someone explain the Zeke Nnaji or R.J. Hampton picks like I'm five? There was a need on the wing, and Desmond Bane (now in Memphis) was there for the taking.
LINEUP TO WATCH: Murray-Harris-Barton-Porter Jr.-Jokic
Here are the six-minute stats for this lineup last season: 171.4 offensive rating, 92.9 defensive rating, 78.3 True Shooting percentage.
Will those numbers hold over a larger sample size? Absolutely not.
Am I intrigued by Denver having its two best players, two best perimeter defenders and their best prospect in his most natural position on the floor at the same time? Of course I am.
BEST CASE: 2nd Seed
The formula is pretty simple. Jokic is a superstar, and Murray made a star claim last postseason. There's enough depth and continuity to help the Nuggets keep the ball rolling during the regular season, headlined by the returns of Barton (injury) and Millsap (re-signing). A legitimate leap from Porter could help them break away from the rest of the 2-through-6 pack.
WORST CASE: 6th Seed
Any more slippage from Millsap on the defensive end could make an already-shaky Nuggets defense even more unreliable. Jokic pacing himself, or Murray regressing from his postseason goodness could also bring the Nuggets back to the pack in the regular season.
Minnesota Timberwolves
WHAT TO LIKE: SHOT CREATION
The "we don't talk enough about X" talking point is usually overdone, but we really don't talk enough about how special of an offensive talent Karl-Anthony Towns is.
The list of centers to knock down 40 percent of their threes on modest volume, let's say four attempts per contest, is a growing-yet-smallish group of players. The list of centers to double that volume (yes, I'm rounding up 7.9 to 8.0, sue me) is virtually non-existent.
KAT did that last year in a variety of contexts. Classic spot-ups. Pick-and-pops. He even came off curls and flares.
That's not even all; KAT gets busy on the block (73rd percentile, passes included, via Synergy) and even looked comfortable initiating pick-and-rolls.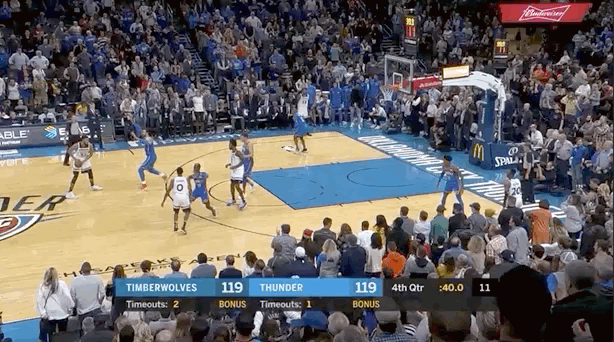 Speaking of pick-and-rolls, the Wolves are adding the creative passing of Ricky Rubio back into the fray. D'Angelo Russell remains a smooth operator in high ball screens, combining a twitchy handle with a quick pull-up trigger.
OTHER LIKES
- Malik Beasley is a transition demon and an absolute sniper from beyond the arc. It'll be nice to see if his post-trade surge is sustainable.
- It might take some time, but I do like the Anthony Edwards fit in theory. Someone has to have some downhill equity; Russell mostly doesn't despite some marginal improvement, and Rubio's never been a real scoring threat. Edwards projects as a guy that can capitalize on the space afforded to him from others.
- I'm still a Rondae Hollis-Jefferson truther for whatever reason; it's hard to think of a better frontcourt partner for his shoulder-first drives than KAT.
WHAT TO DISLIKE: KAT's 2020
If I can step away from basketball for a moment...I'm really worried about him.
The pandemic has had an effect on all of us in some way, but it's been especially brutal for KAT. He's lost multiple family members to the virus, including his mother. The man broke down during pre-game introductions before the Wolves' first preseason game. The clip is out there; I'm not sharing or linking it.
I can't imagine playing basketball through all he's dealt with this year. Bless him for trying, and bless him if -- and I mean if -- he decides he can't at any point.
OTHER DISLIKES
- Even with some RHJ love, the defensive personnel just isn't great. Or to be more specific, there's a real lack of two-way talent on the roster. Josh Okogie can defend his butt off, but provides next to nothing outside of blindside cuts right now. RHJ has never been a plus-shooter.
- This already feels like a make-or-break season for Jarrett Culver, which is wholly unfair. The shot does have to come, though.
LINEUP TO WATCH: Russell-Edwards-Layman-Okogie-Towns
If Okogie is serious about occasionally being KAT's frontcourt partner, I want to see it. It would be at least a little interesting to watch this group switch 1-through-4, not that I'd expect it to work particularly well.
The real intrigue lies offensively, where this could be the best set-up for Edwards to drive and kick. High pick-and-roll with KAT while Russell and Layman space, and Okogie hangs in the dunker spot.
BEST CASE: Play-In Tournament
If this team is going to push for a playoff spot, it'll be off the strength of their offense. There's sneaky potential for the Wolves to have three players flirt with 20 or more points per game this season due to dynamic shooting (KAT, Russell, Beasley), while guys like Edwards and Rubio can fill the gaps elsewhere (rim pressure, playmaking).
WORST CASE: Bottom of the West
But boy is this team going to be baaaaad defensively. A Russell-KAT pairing gives teams a matchup to exploit for nearly 3/4 of the game. Being in the West is a tough enough proposition; being behind the 8-ball in terms of defensive personnel makes a potential playoff push that much harder.
Oklahoma City Thunder
WHAT TO LIKE: ASSETS
If you want a good laugh (or a headache), just go here and look at how many first-round picks the Thunder have coming in through 2026. Just take a gander.
The Thunder have the picks necessary to swing for just about anyone that comes available. Disgruntled stars, draft targets if they want to move up, you name it.
On the court, the Thunder have a fun mix of young pieces headlined by Shai Gilgeous-Alexander. Theo Maledon already navigates ball screens like a veteran; Aleksej Pokusevski is a seven-foot lightpost that can handle and shoot. If he isn't bullied by literally everyone on the block, he could wind up being a steal from this draft class.
OTHER LIKES
- I'm always going to root for a guy that can defend like Luguentz Dort.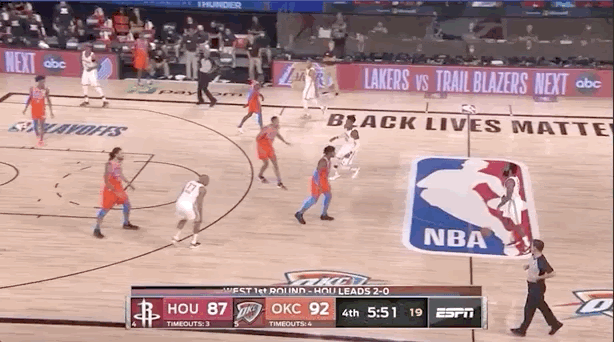 - If you're going to have a bunch of young guys on the roster, it's nice to have veterans like George Hill and Al Horford there to provide some know-how on both ends of the floor. And shooting, definitely shooting.
- Darius Bazley doing more stuff with the ball intrigues me. There's some on-the-move passing there.
WHAT TO DISLIKE: EVERYTHING ELSE
Okay, maybe that's harsh. This team is going to be awful, though.
I love SGA. He'll likely be good for 20 and 6 a night. With that said, he just doesn't have the pull-up shooting or passing chops to be a true number one. That's perfectly okay -- I honestly think he'll get there -- but this season projects to be a clunky one. Beyond him, I'm not sure where the offense comes from.
(Put your hand down, Frank Jackson.)
There's no Chris Paul. There's no Dennis Schroder to provide a spark off the bench. There's only so much high-post operating Horford can do.
OTHER DISLIKES
- I, for one, find it hilarious that the one (1) wing that can shoot on this roster is Trevor Ariza, and it's likely he won't even look at a Thunder jersey, much less wear one in a game.
LINEUP TO WATCH: Maledon-SGA-Bazley-Pokusevski-Horford
If you squint hard enough, there's a fun group in here. Downhill funkiness from SGA and Bazley; pick-and-roll chops and shooting ability from Maledon. Poku has already shown flashes of the movement shooting that made him one of the more intriguing upside swings of the draft. All four players have solid length for their positions. Throw in Old Man Horford to call out stuff on both ends and you may have something to work with.
BEST CASE: Bottom of the West, Young Guys Shine
The Thunder are going to be bad, but there are young pieces to be excited about. Making sure they're put in positions to succeed will be paramount. Toss them out there in lineups that make sense, and you'll see internal growth and rack up enough losses to put yourself in the Cade Cunningham sweepstakes.
WORST CASE: 11th Seed
No. Don't be annoying. Let the vets (Hill, Horford) help the young guys for half a season, and see if contenders come calling for trade help.
Portland Trail Blazers
WHAT TO LIKE: NEWFOUND FLEXIBILITY
Outside of the Los Angeles Lakers, was there a team that had a better offseason than the Blazers?
Landing Robert Covington is the shot in the arm their defense needed. He has the body type to match-up with star wings; more importantly, he has the off-ball IQ and switchability needed to work in more aggressive defensive schemes. The Blazers have firmly been a "Drop" team under head coach Terry Stotts; adding Covington gives them the flexibility to get more aggressive.
Along with Covington, the Blazers added Derrick Jones Jr. to juice their defense and transition attack. The Blazers didn't just add bigs, they added different types of bigs. Enes Kanter is back for change-of-pace scoring and offensive rebounding. Harry Giles adds athleticism and high post passing.
This is a team that can do a lot of different things on both ends of the floor now, and it didn't take a CJ McCollum trade to do it.
OTHER LIKES
- Well, Damian Lillard is on this team. He's the best long-range bomber this side of Stephen Curry, and has solved traps in a way that truly makes him unguardable when he has it rolling.
- Healthy Jusuf Nurkic is always a good thing. Bone-crushing screens, nifty passing, glass-cleaning and rim protection. He's good, folks.
- Give me all of the Gary Trent Jr. stock. That man isn't scared of anything; not a shot, not a defensive assignment.
WHAT TO DISLIKE: GUARD DEPTH
I like the idea of Anfernee Simons. He has fantastic size for a lead guard, a nice first step, and he just looks silky out there when he's in a rhythm. There's a level of dynamism to be excited about.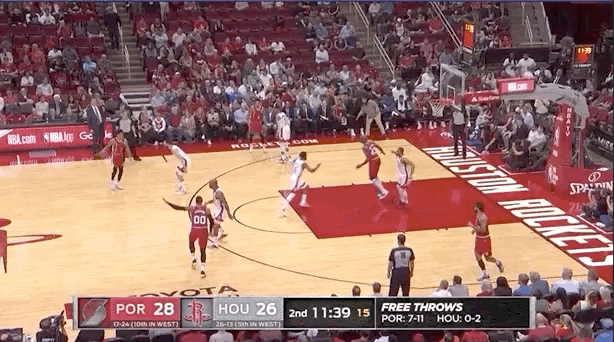 He's also incredibly young and still learning the ropes of the position. He's also the only other point guard on the roster aside from Lillard. Stotts will keep one of Lillard or McCollum on the floor at all times so it won't be a huge deal...unless one of those guys get hurt.
OTHER DISLIKES
- It still feels like the Blazers are a two-way wing short. I like the DJJ-Covington combo, but there are some serious questions surrounding Jones Jr. in a half-court setting. Rodney Hood is...adequate defensively, but not someone you want stashed on one of Kawhi Leonard or Paul George in a Clippers matchup, for example.
- Another Nurkic injury could be a major issue. As maligned as Hassan Whiteside is, and rightfully so for the most part, he did provide a brand of rebounding and rim protection that none of the non-Nurkic bigs on the current roster do. Kanter and Giles are both liabilities on that end, and the jury is out on Zach Collins -- whenever he's healthy enough to play.
LINEUP TO WATCH: Lillard-Trent Jr-Covington-Jones Jr.-Nurkic
The first-sub lineup is one I'm going to be interested in. Staggering the Lillard-McCollum pairing has been key to the Blazers keeping the offense humming for 48 minutes. Swapping McCollum out for Trent Jr. gives the Blazers a major boost in perimeter defense, while still having enough shooting (Trent Jr, Covington) and passing (Nurkic) to keep things moving on the other end.
BEST CASE: 2nd Seed
Lillard is an offense onto himself, and you know what McCollum brings to the table as a second option. The Blazers were intentional about boosting their perimeter defense and big man depth this offseason. They now have the complementary pieces to diversify their attack on both ends, something that should bode well for them this season.
WORST CASE: 7th Seed
Simons is a major wildcard as the third ball-handler, and it seems like the injury bug has hit the Blazers hard in every season since, well, you get the point. An injury to Lillard or McCollum could derail things pretty quickly, even if you are high on their overall depth.
Utah Jazz
WHAT TO LIKE: RETURN OF BOJAN BOGDANOVIC
Did you know that the Utah Jazz led the league in three-point accuracy (38 percent) last season?
Bojan Bogdanovic was the driver of that stat, leading the Jazz in both attempts (7.3) and efficiency (41.4 percent).
An argument could be made that Bogdanovic is Utah's most complete -- not best, but complete -- scorer. He's a three-point sniper; stationary or on the move, on or off the ball. He can stop-and-pop from mid-range, and also has the size and skill to maneuver on the low block.
The Jazz missed having that sort of security blanket. With Mike Conley running pretty hot and cold last season, the offensive burden for Donovan Mitchell became a heavy one once Bogdanovic went down. Adding him back to the fray should help balance the lineup and set the hierarchy in a way that helps everyone.
OTHER LIKES
- The Jazz may want to commit to Donovan Mitchell as the full-time point guard sooner rather than later (more on that shortly)
- #JoeInglesForever
- I like bringing Derrick Favors back, even if I was a little surprised at him getting the full MLE. He's not as bad as he looked in the bubble. He remains a smart positional defender and finisher at the rim, even if the vertical pop isn't there like it used to be.
- Nerdy thing, but the Jazz are always a fun watch for me in the half-court. I'm not sure if there's a team in the league that uses more decoy action or screens to set up other screens.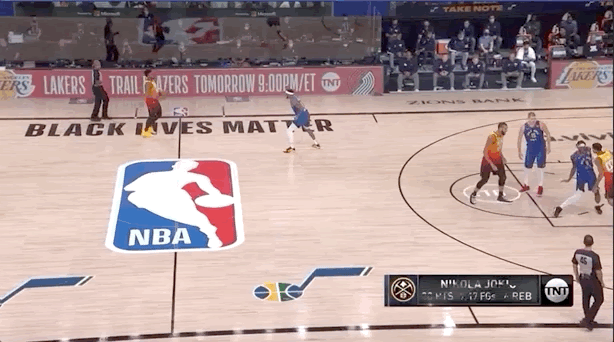 WHAT TO DISLIKE: UNCERTAINTY FROM THE MONEY MAKERS
The Conley situation is one to monitor. He flat-out failed to live up to expectations in his first season with the Jazz. The shot went and later came, but you could see him struggling to establish a rhythm amidst a new offense and personnel.
Conley is getting older (turned 33 in October), is expensive and very quietly overlaps with Mitchell at point guard. It's odd to say someone with Conley's resume has a prove-it year coming up, but he...kinda does.
Onto bigger matters, literally: we have heard next to nothing about Rudy Gobert's extension talks. He's eligible for a supermax, and while he's been one of the most impactful players in the league over the past few seasons, it's really hard to justify giving that kind of commitment to Gobert.
I'm of the belief that Gobert is mostly underrated, particularly on offense. It's easy to laugh at the screen assist push on social media, but he does provide legit value as a screener and vertical spacer. At the end of the day though, he's still a play-finisher. A very good one, sure, but legitimate on-ball value is necessary for that kind of deal.
OTHER DISLIKES
- Considering the Jazz committed so much to bring Favors back, I'm a little "meh" on the Udoka Azubuike selection. Well, unless they view him as Gobert insurance moving forward. Even then, I would've preferred a swing on a wing (I'm going to keep banging the Desmond Bane drum, darn it!)
LINEUP TO WATCH: Conley-Mitchell-Ingles-Favors-Gobert
The Jazz surveyed the landscape, watched the Lakers bludgeon teams with their collective size and length last season and decided to bring back Favors in for reinforcements. The Mitchell-Ingles-Favors-Gobert quartet appeared in over 1200 minutes together between 2017 and 2019, and posted a plus-9.2 net rating in those minutes. If the perimeter guys shoot well enough, it wouldn't be a shock if this unit ends up being a favorite of Quin Snyder's.
BEST CASE: 2nd Seed
The foundation is here. Mitchell is a stud. Gobert basically guarantees your team a top-notch defense, and he now has a reliable back-up center to keep things afloat when he sits. The complementary pieces, notably the return of Bogdanovic, all fit nicely together. If the Jazz are healthy, they can rack up regular season wins pretty easily.
WORST CASE: Play-in Tournament
The low end for this team would be the offense not coming together. By that, I mostly mean Mitchell's bubble showing not being sustained, and Conley still failing to regain his Memphis form. That, combined with the (expected) strength of the West, could have them fighting for their playoff lives.