With the regular season set to tip off on December 22, let's take a look at where each team in the Southeast Division stands. We'll break down what's to like and dislike, a lineup to watch and a reasonable range for them to finish in the standings.
If you missed it, read our previews on the Atlantic and Central divisions.
Atlanta Hawks
WHAT TO LIKE: OFFENSIVE DIVERSIFICATION
The good thing about having Trae Young as your best player is that he can be your offense. He's that deadly as a shooter from the moment he crosses half court. Any misstep from a defense against a Young-led ball screen can be sliced apart with pocket passes, skips and lobs.
The bad thing about Young being the Hawks' best player, at least last year, is that he had to be the offense.
Nobody else on the roster came close to being good enough to credibly relieve him. John Collins, his trusty number two, missed nearly a third of the season due to suspension. Even when available, Collins is strictly a play-finisher. Kevin Huerter dealt with injuries, and doesn't puncture defenses consistently enough to be trusted as more than a secondary ball-handler. Cam Reddish was arguably the worst player in the league before completely flipping the script in 2020.
The Hawks looked at all of this and decided to get Young some help. Enter Danilo Gallinari, one of the most skilled scorers in the league. Bucks legend Bogdan Bogdanovic now joins a talented backcourt room. Rajon Rondo can spearhead a second unit with his playmaking. We may actually get to see Young utilized off the ball; there's no telling how much untapped potential he has there.
OTHER LIKES
- I wrote about it more in-depth here, but the Hawks are going to somehow get even more mileage out of Double Drag this season.
- I'm a fan of the Onyeka Okongwu pick in a vacuum. For my money, he was the safest pick in the draft, and one that should provide tremendous two-way value over the course of his career.
- Sign me up for 18 minutes a night of Kris Dunn absolutely hounding dudes.
- I root so hard for Lloyd Pierce, man. Even beyond the "one-of-the-few-black-head-coaches-in-the-league" thing, he did such important work during the election. Give that man his flowers.
WHAT TO DISLIKE: FRONTCOURT ROTATION
There are good players in the frontcourt: Collins, Clint Capela and Okongwu. Gallinari will play a ton of 4; DeAndre Hunter can slide down to the 4. I just have no idea how Lloyd Pierce is going to dole out those minutes.
Finding the balance between having enough rim protection and shooting on the floor is well above my pay grade. I wish Mr. Pierce the best of luck.
OTHER DISLIKES
- Young will get more opportunity to work off ball, particularly as a screener. It may end up being fruitful with more reps, but the early tape on Young as a screener is #not #great #bob.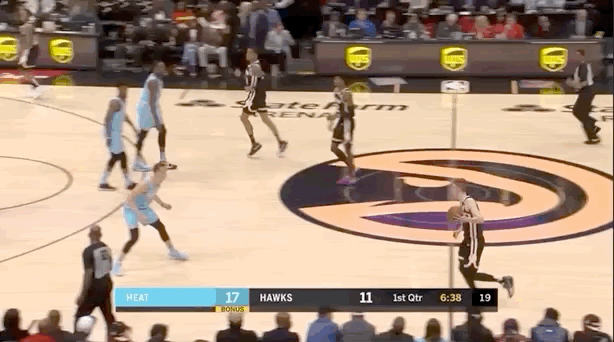 - As much as the signing of Rondo has been lauded for what he'll provide to Young as a mentor, can anyone pinpoint the last time Rondo was a positive impact player in the regular season? It's been a few seasons. The idea of Playoff Rondo is cool and all, but he'll need to bring it during the regular season if the Hawks hope to make the playoffs.
- I'm, uh, just noting that as of today (Dec. 12) we've heard nothing on Collins' contract extension. That could mean nothing, probably means nothing. But it should be noted. There's been a lot of frontcourt acquisitions for the Hawks this offseason and you'd think the Collins domino would be the first to fall.
- I'm still irrationally sad that DeAndre' Bembry isn't on this squad.
LINEUP TO WATCH: Young-Reddish-Hunter-Gallinari-Collins
This may end up being Atlanta's closing lineup. Young, their two best wing defenders, the scoring versatility of Gallinari, and Collins popping or rolling teams to death. They'll likely bleed points, but good luck garnering stops in crunch time against this unit.
BEST CASE: 6th Seed
I would say that this could be the year that Young is introduced to the national consciousness, but apparently the league disagreed with that assessment given Atlanta's lack of nationally televised games. At any rate, Young is a star, and there's plenty of talent up and down the roster. A top-eight offense and a playoff spot is a reasonable ceiling.
WORST CASE: Play-In Tournament
Maybe a defense that will employ Young and Collins (and Bogdanovic and Gallinari and Huerter) for big minutes won't be very good. Lloyd Pierce has his work cut out for him with this rotation. Finding the balance of having enough shooting and playmaking on the court without bleeding too many points could prove to be a challenge.
Charlotte Hornets
WHAT TO LIKE: PJ WASHINGTON
It's a darn shame that Washington didn't make the All-Rookie First Team last season, because that young man is good.
He's basically everything you want in a modern big. First and foremost, he can shoot the pill. Washington drilled 37.4 percent of his threes on solid enough volume (4.0 attempts), and can knock down middies in pick-and-pop situations. He also has the ball skills to attack from the perimeter; guys his size aren't supposed to be as fluid as he is.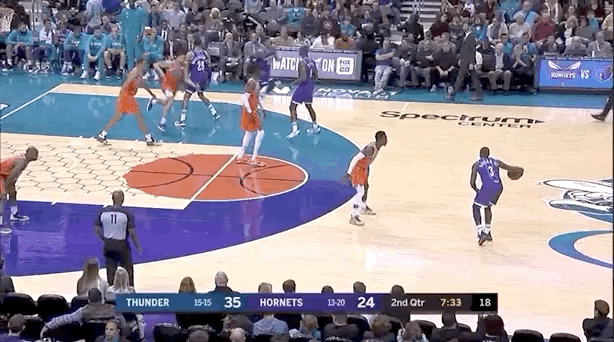 Passing chops are present, from stationary sets and on the move. He can post up smaller cats and beat double teams with on-time skips.
There's room for improvement, of course. He has to get stronger, which should help him convert at the rim at a higher rate. But Washington is pretty well-rounded right now, and he should get even more opportunities to thrive with more playmaking around him.

OTHER LIKES:
- I still can't believe Grant Riller slid to the freaking 50s. Arguably the best slasher in this year's draft class sliding to a team that needs more rim pressure… seems like a good fit to me.
- Oh, right, I'm burying the lede. LaMelo Ball is a Hornet. Watching Ball in the open floor is going to be must-watch TV -- or at least as much as League Pass allows us to with their shoddy app.
WHAT TO DISLIKE: PERIMETER DEFENSE
If we're to assume Devonte' Graham and Terry Rozier will start in the backcourt, that is an incredibly small pairing that will get picked on. Behind them is Ball, who has flashed off-ball instincts when he bothers to try on that end, but is pretty weak on the ball to this point. Riller isn't much bigger than Graham, even if he plays above his weight.
In short, yuck.
Play the guard/wing scorers on your fantasy team if the Hornets are on the schedule.
OTHER DISLIKES
- There's no need to rehash it too much since I've written about it, but man, that Hayward contract.
- With the Hornets adding as much perimeter talent as they did during the draft and free agency, it's hard to see a pathway for Malik Monk to have his much-anticipated breakout. It's been a career of flashes and no sustainment for the Kentucky product; it may be time to pull the plug there.
LINEUP TO WATCH: Graham-Ball-Hayward-Bridges-Washington
Head coach James Borrego made waves last week when he declared that Washington will be getting plenty of center minutes this season.
If they're going to go that route, it may not look better than this: four players between 6'7 and 6'9, and the pull-up shooting of Devonte' Graham to boot. Hayward can score in all three levels; Bridges is comfortable slashing against sloppy close-outs. A Ball-Washington pick-and-roll would be fun, as will the Graham-Washington partnership.
This could get ugly defensively, though. Bridges and especially Hayward have experience guarding up a position, but there are some serious question marks surrounding the other three players. Graham is tiny, Ball has to prove he actually wants to defend (and will be strong enough to defend wings), and Washington has footwork issues to work out in space.
BEST CASE: Play-In Tournament
There are things to like about the roster, particularly on the perimeter. A healthy Hayward campaign and Ball coming along could put the Hornets in playoff range.
WORST CASE: Bottom of the East
There isn't much talent on the defensive end, which could be a problem. Offensively, outside of Hayward and Riller (who knows how much PT he'll get), who gets to the basket on a consistent basis on this roster? Rozier? Any sort of pull-up regression from Graham could leave the Hornets a bit lacking in movement shooting as well.
Miami Heat
WHAT TO LIKE: CONTINUITY
The Heat are fresh off a surprising Finals run and are returning nine of their top 10 players based on postseason minutes played. Jimmy Butler firmly established himself as a top-10 player, and did so in the midst of the worst jump-shooting season of his career. Bam Adebayo is a bonafide star with more upside on both ends of the floor.
It's hard not to be excited about the creation potential of Tyler Herro, even if that's starting to shift into hyperbolic range. It's fine, though: as a rookie, he showed legitimate pull-up ability and passing chops, and that he isn't afraid of anything. That should bode well for his future.
Duncan Robinson is one of the deadliest shooters in the sport, and started to flash some reactive passing against traps as the year went on. The offensive and defensive foundation of this team is set; and we just saw what the high end of that can lead to.
OTHER LIKES
- The biggest flaw for the Heat defensively last year was an inability to slow down shifty guards. Teams routinely picked on Kendrick Nunn, Goran Dragic and others at the point of attack, putting the rest of the defense in rotation and generating a bunch of threes. Adding Avery Bradley to the mix should mitigate most of that issue. If there's one thing Bradley can do defensively, it's defend point guards.
- With a team this deep, head coach Erik Spoelstra is going to be able mix and match lineups in ways that simply weren't possible last year.
-I wouldn't expect Andre Iguodala to have a big role during the regular season; that could open up some playing time for Mystery Man KZ Okpala. The former Stanford wing has bulked up, and flashed some defensive playmaking in his short spurts last season.
WHAT TO DISLIKE: HALF-COURT COUNTERS
When the Heat's offense hums, it looks like poetry in motion. A handoff with Robinson and Adebayo forces the defense to trap; Robinson slips a quick one to a rolling Adebayo, who then has the ability to dunk on someone or fling a pass across the lot.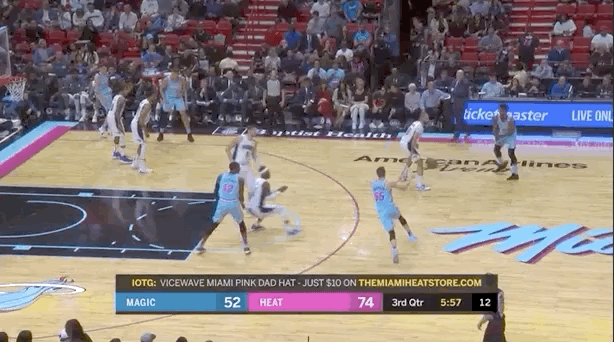 Miami's halfcourt offense was a whirlwind of cuts, screens and handoffs. It was dizzying to watch and infuriating to defend -- well, unless you had the personnel to switch.
And that's where the Heat's lack of isolation juice hurt them at points last season. When they were successful -- when Butler jostled his way into free throw attempts, when Dragic spun and elbowed (allegedly!) his way into shots at the rim -- they had to work so darn hard.
Dragic is a year older; it may not be fair to rely on him to be the late-game failsafe on nights Butler doesn't have the jumper going or has his gear stuck in facilitator mode. While there's room to be optimistic about Adebayo as a face-up nightmare (hello, Game 6 vs. Boston), the jury is still out on if he's ready to be that kind of threat on a nightly basis. He struggled posting up smaller players last season, something that has to improve in order to dissuade opponents from switching handoffs or ball screens involving him.
This is a postseason problem to monitor more than a regular-season one, but it's the one hole that can prevent the Heat from getting where they want to be.
OTHER DISLIKES
- The Heat will miss Jae Crowder a little bit. Asking Mo Harkless or Meyers Leonard to replicate Crowder's three-point volume could be a tall task based on the historical precedent set by those two.
- This is a crowded guard room. More specifically, I have no idea where Kendrick Nunn fits in at this point. A consolidation move by the deadline would not surprise me.
- Speaking of the guard room -- boy, are we overthinking the James Harden rumors or what? If the Heat have the opportunity to land, conservatively, one of the seven or so best players in the sport and one of the best offensive players ever, you do it. Period. Point blank. You give up Herro, you give up Robinson. You just do it, man. Trust Erik Spoelstra, one of the best coaches ever. Trust the #culture, if you truly believe it's as strong as you say it is.
LINEUP TO WATCH: Bradley-Herro-Robinson-Butler-Adebayo
I was tempted to go with Miami's top five, swapping out Bradley for Dragic, but that unit is way too light on perimeter defense. That unit only saw the light of day for 15 minutes last season, per PBP Stats, and was an utter disaster.
With this group, you get three plus-defenders in Bradley, Butler, and Adebayo. There's plenty of shooting with Herro and Robinson, while Bradley has some value as a relocator and movement shooter as well. In the event that Harkless doesn't shoot well or often enough, Butler could wind up being Miami's best option at the 4 late in games.
BEST CASE: 2nd Seed
The Heat are bringing back virtually the same roster from last season, a roster that just made the NBA Finals. The defense should improve due to their offseason additions; the offense should certainly improve if you account from internal growth from Adebayo and Herro. There's enough high-end talent and depth for this team to hum during the regular season.
WORST CASE: 5th Seed
Due to the short turnaround, the Heat may lean on their depth to keep their stars fresh. Butler and Adebayo missing games would certainly hurt the regular-season win total. It's also fair to acknowledge that all progress isn't linear for young guys; not getting leaps from Herro or Robinson (or Adebayo, for that matter) could knock the Heat down a tier with other teams in the conference getting better.
Orlando Magic
WHAT TO LIKE: AARON GORDON AT HIS NATURAL POSITION
Injuries stink. They especially stink when they rob young talent of opportunities to grow.
Jonathan Isaac, arguably the Magic's best long-term prospect, is expected to miss the year due to an ACL tear. That's a major blow to him and the Magic's playoff hopes.
If you're looking for a silver lining, it means Aaron Gordon is scheduled to get a majority of his playing time at the 4. He's been miscast as a 3 among a cramped floor for years now; making him the primary frontcourt partner to Nikola Vucevic should bring the best out of him.
The Magic outscored opponents with one of Gordon or Isaac on the floor with Vucevic, but were outscored when all three shared the floor last season. The split-them-up theme was also held during the 2018-19 season.
Here's hoping we get a career year out of Gordon.
OTHER LIKES
- Even with Isaac out, it won't be a shock if the Magic flirt with a top-10 defense again. Markelle Fultz is dynamic at the point of attack. There's a solid stable of wing/forward defenders in Gordon, Al-Farouq Aminu, James Ennis III, newbie Chuma Okeke and Gary Clark. Steve Clifford teams routinely pack the paint and keep teams off the free throw line; there's still enough personnel to hold true to those principles.
- If Clifford isn't blowing smoke and Fultz's jumper is looking better, sign me up for all remaining Fultz stock. Even without the jumper, Fultz has showcased legit manipulation skills in pick-and-roll.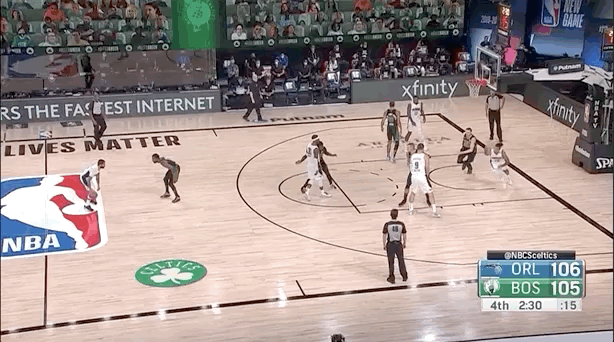 WHAT TO DISLIKE: HALF-COURT CREATION, AGAIN
This changes a bit if Fultz's jumper proves to be the real deal. For now, though, the offense doesn't look to have a particularly high ceiling. Behind Fultz is Cole Anthony, a fearless scorer but one with questions concerning his ability to get to the rack.
Evan Fournier is fine, but he does his best work coming off screens. Ditto for Terrence Ross, who's currently dealing with a toe injury. The onus, once again, will fall on Vucevic to carry the offense with pick-and-pop jumpers and post-ups.
OTHER DISLIKES:
- It's hard to be optimistic about Mo Bamba right now. He's been caught up in Orlando's jumbled frontcourt, suffered from the lack of spacing and dynamic ball handling around him, dealt with injuries and, most recently, has fought through COVID-19. The context has been awful for him. There are things to like -- his shot-blocking prowess and improving jumper -- but it's hard to see him realizing his potential in this setup.
LINEUP TO WATCH: Anthony-Fultz-Fournier-Gordon-Vucevic
I'm intrigued. Gordon as a diver in pick-and-roll, Vucevic as a popper. Movement shooting with Fournier (and maybe Anthony), constant rim pressure with Fultz. It's a little light on defense, but you have to hope the weakside help ability of Gordon and the quiet versatility from Fultz can cover for the others.
BEST CASE: Bottom of the East
Take the Isaac injury as a sign, Orlando. Blow this sucker up. Trade Gordon. Trade Vucevic. See what you have in the Anthony-Fultz backcourt. See what you have in Mo Bamba if he's available. Give yourself the best chance to land Cade Cunningham.
WORST CASE: Play-In Tournament
A Steve Clifford team just isn't going to tank. They're going to pack the paint defensively and annoy your offense. They're going to control the ball like a run-heavy offense in football, grind out games and, all of a sudden, they're the 9th seed. Of all the years for that Magic Mental Mettle to backfire, it would be this one.
Washington Wizards
WHAT TO LIKE: OFFENSIVE FIREPOWER
This team is going to run, they're going to shoot, and they're going to score a lot of points.
Bradley Beal is among the most talented offensive players in the league, a true three-level threat with the passing chops to operate as a primary hub. The Wizards use him in a multitude of ways: flying off screens, flowing out of dribble handoffs, high-ball screens and even the occasional mid-post iso.
Now, for the first time in nearly three years, he'll have a legit running mate to take pressure off of him.
Russell Westbrook has his flaws, but he's fresh off an All-NBA Second-Team campaign. He remains one of the NBA's most prolific drivers, able to puncture defenses with or without a screen. This is the most space he's ever operated in, a terrifying thought for defenses that attempt to contain him.
The Wizards pushed the pace quite a bit last season, ranking fourth in transition possessions per game (22.0) via Synergy. They were middle-of-the-pack in terms of efficiency, something bound to improve with the grab-and-go nature of Westbrook's game.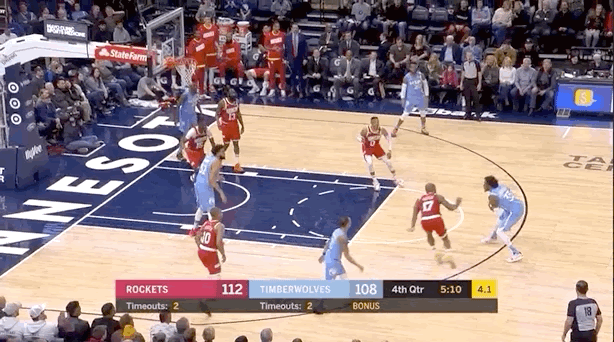 Those two, plus the unlimited range of Davis Bertans and the pick-and-pop proficiency of Thomas Bryant give the Wizards a fearsome foursome of bucket-getters.
OTHER LIKES
- There are some gap-fillers poised for solid seasons. BasketballNews.com's own Troy Brown Jr. is a solid ball mover, and should have more opportunities attacking bent defenses. New draftee Deni Avdija is also a plus-passer, able to run secondary pick-and-rolls and find open teammates.
- I think Cassius Winston is going to end up being a steal for Washington. He's a dynamic pick-and-roll guard with personnel perfectly suited to get the best out of him.
- For a team with young bigs still trying to learn the ropes of pick-and-roll defense, adding Robin Lopez was a smart signing. He'll give the Wizards good minutes.
WHAT TO DISLIKE: DEFENSIVE PERSONNEL
Quickly: who is the Wizards' best defender?
I'll give you time to think about it.
Go on.
Mhm.
Who did you settle on, Lopez? One of the young toolsy wings that are better in theory than in practice right now? Are you that high on Avdija's off-ball instincts? If you are, isn't that a massive indictment on the rest of the roster?
I do not see the pathway for this being a good unit. Bryant is improving, but is still a bit of a mess in terms of positioning and discipline. The Westbrook Experience changes game to game, sometimes quarter to quarter. Beal can defend, but hasn't committed to that end in years. It's hard to give him the benefit of the doubt until we see it again.
This team may be able to score 120 on any given night, but so will the other team.
OTHER DISLIKES:
- Rui Hachimura was both better than I expected last year, and still doesn't seem like a clean fit at either forward spot. I'm curious to see how the addition of Avdija affects his role, if at all. At any rate, and either position, the three-ball has to show up this year.
LINEUP TO WATCH: Westbrook-Beal-Brown Jr.-Bertans-Bryant
Go ahead and pencil this lineup in as one that'll eclipse a 115 offensive rating in their minutes together. You'll have Westbrook flying around a spread floor, running pick-and-pops with two stretch bigs. Or it can be Beal spearheading the action, with potential traps giving Westbrook advantage situations to attack.
The defense, however … yeah, we'll see.
BEST CASE: 6th Seed
The Westbrook-Beal duo is going to combine for, what, 55-15-15 every night? The offense is going to be absurd. And honestly, with that kind of star power, that could be enough to nab a playoff spot at the bottom of the East.
WORST CASE: Play-In Tournament
There is the possibility that the defense will be that bad. The backcourt depth is a bit thin; any injury to Westbrook or Beal that keeps them out a while could curtail their efforts.