With the regular season set to tip off on December 22nd, let's take a look at where each team in the Central Division stands. We'll break down what's to like and dislike, a lineup to watch and a reasonable range for them to finish in the standings.
If you missed it, read our Atlantic-Division preview here.
Chicago Bulls
WHAT TO LIKE: NEW DIRECTION
There's a new front office in town, headlined by former Denver Nuggets general manager Arturas Karnisovas. There's a new head coach in town; gone is the ridiculousness of Jim Boylen, in comes Billy Donovan fresh off a playoff-filled stretch in Oklahoma City.
These moves have been needed for a while now. #GarPax is a phrase that lives on in infamy in Chicago due to questionable-at-best moves, and the job security they were able to maintain despite of it. Fans and media alike have wondered when their frustrating reign would end. It's here now, and it is glorious.
OTHER LIKES
- I'm quite excited for what this all means for Wendell Carter Jr. Known mostly for his defense, there is so much untapped potential for him on the other end. He may genuinely be the Bulls' best passer; it was odd, to be kind, to see him so mismanaged in half-court situations last season. Encourage him to shoot. Let him make decisions. Prosper. In that order. Some short-roll goodness for the ride home: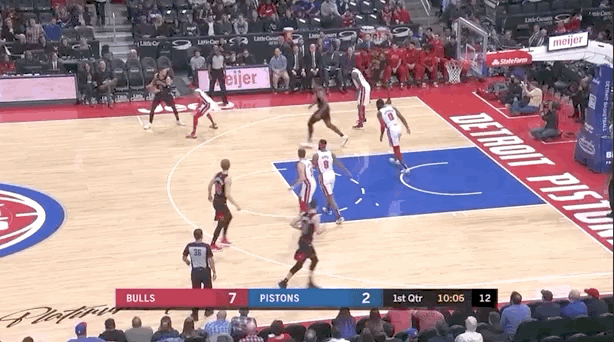 - Being that Chicago 1) has a young frontcourt stable and 2) is still in the middle of a rebuild, it'll be fun tracking the duality of Thaddeus Young's value. He's a great mentor for guys like Carter Jr. or draftee Patrick Williams, he can still defend and he can fill gaps offensively with cuts and connecting passes. As long as he's healthy, I imagine he'll be a popular name around the trade deadline, if not earlier.
WHAT TO DISLIKE: FRONTCOURT QUESTIONS
There's plenty of opportunity for Carter Jr. now, but he'll need to capitalize. Despite his length and touch, he wasn't a great finisher last season. Synergy pegs him as a subpar post threat (42nd percentile) and slightly above-average half-court converter around the rim (58 percent, 55th percentile). There's a level of force he'll need to recapture -- or outright develop -- to help complement the snazzier parts of his game.
I honestly have no idea of what to make of Lauri Markkanen at this point. We know he can shoot, but how well he can shoot is very much in the air (35.6 percent on 6.2 attempts for his career is... fine?).
There's an element of mismanagement at play; there's some untapped potential for him flying off of screens. But he has to solidify that he has a BURNER from deep, because the rest of his game -- post play, passing, perimeter and interior defense -- is lacking.
Markkanen is best used as a 4 at this point, which could make him expendable if he doesn't step up. He's potentially blocking Young, who may just be better right now, and Williams, who may be a better long-term prospect. Things need to get sorted out, and fast.
OTHER DISLIKES
- Both Zach LaVine and Coby White showed some improvement as passers as the year went on last season, but, man, are the Bulls lacking in the create-for-others department. The "Carter Jr. may be their best passer" thing is a double-edged sword; it's an indictment on the backcourt.
- Someone needs to explain Denzel Valentine over Kris Dunn to me like I'm 5 years old, especially once you consider the deal Dunn eventually signed in Atlanta. Seems like a lot of faith in Ryan Arcidiacono as a third guard, but I guess.
LINEUP TO WATCH: Satoransky-White-LaVine-Porter Jr.-Carter Jr.
This group played one minute together last season, per PBP Stats, and I'm not sure why. In theory, you have a little bit of everything you want: perimeter shot creation (LaVine, White), shooting (LaVine, Otto Porter Jr., White), connectors (Satoransky, Carter Jr.). The defense is a little thin, but you have the rim protection of Carter Jr., and Satoransky and Porter Jr. are both fine team defenders. It's worth a look.
BEST CASE: Play-in Tournament
The Donovan addition should pay immediate dividends for the roster. Heck, anyone not named Jim Boylen was probably going to be an upgrade. But seriously, having a coach that won't be afraid to utilize his bigs as hubs should be huge for the offense as a whole. A more balanced attack, with a roster that has quality young players and vets, is the recipe for a team to outperform their preseason projections.
WORST CASE: Bottom of the East
This could very well end up being an empty calories group. There's a level of perimeter playmaking that is missing; neither LaVine or White really provide that in spades. If Carter Jr.'s jumper (or offensive confidence) is gone, Chicago may really have a problem on their hands. This is a prove-it year for Lauri Markkanen, as is for Porter Jr. to a lesser extent (please stay healthy). Year 1 of organizational transformation could be tough, especially in a season like this one. It's fine.
Cleveland Cavaliers
WHAT TO LIKE: PERIMETER SHOT CREATION
Add me to the "Collin Sexton is actually good" camp.
Sexton absolutely gets after it. It's a cliche thing to say in regards to his mentality, but that also permeates his game. He's a fearless driver, and he started to parlay that aggression into free throw attempts (5.8 attempts over his last 12 games before the shutdown). The jumper is real. He ranked in the 74th percentile on spot-up attempts, via Synergy, and graded in the 96th percentile on uncontested looks. There's clear on and off-ball value, even if the playmaking still leaves a ton to be desired.
The Cavs hope that void can be filled by Darius Garland, a slithery guard who uses his handle to generate passing windows out of thin air. He still leans score-first, but he's a bit more reactive and willing to give up the rock than Sexton is at this point.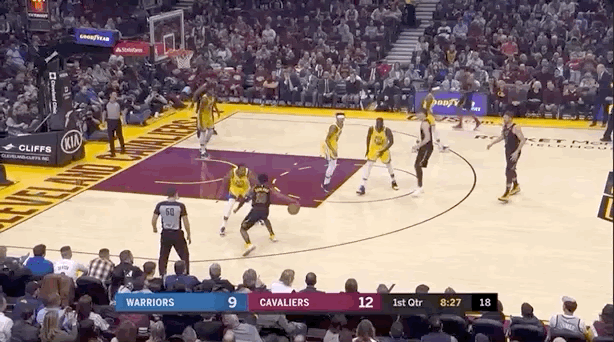 Those two are going to be fun to watch together, offensively, as long as they remain backcourt mates.
OTHER LIKES:
- I'm not sure we give Larry Nance Jr. his due. He's your classic gap-filler: screens well, rolls hard, passes well on the move or from stationary sets, has added a somewhat reliable spot-up jumper, and can defend multiple positions. He's also a fantastic podcast guest, if you're into that kind of thing.
- As long as he's healthy, Kevin Love is going to make life so much easier for his guards. Having a big man with that kind of shooting and passing ability bends defenses in a way that simplifies reads for everyone involved.
- Thank goodness for the Isaac Okoro pick; somebody has to defend somebody on the wing. Speaking of which...
WHAT TO DISLIKE: DEFENSIVE PERSONNEL
Nance Jr. is a good defender. Okoro projects to be a darn good wing defender. Andre Drummond can rebound and cause events with his abnormally quick hands. Matthew Dellavedova is back, for whatever that means to you.
That might conclude the "not bad at defense" list for the Cavs.
Kevin Love generally knows where to be, but struggles to get there. Garland is SMOL and has a ways to go in terms of screen navigation. Sexton fights on that end, but is better equipped to hound off-guards than primaries. JaVale McGee will be able to swat shots until he's 70, but he's a mess in space.
The Cavs just posted the league's worst defensive rating and I don't have much reason to believe they'll be substantially better on that end.
OTHER DISLIKES
- It's a "duh" thing, on and off the floor, but the Cavs are really going to miss Tristan Thompson. Even for an awful defense, Thompson covered up a bunch of warts with his IQ and mobility. They may miss him more offensively. According to a source with access to Second Spectrum tracking data, the Cedi Osman-Thompson and Garland-Thompson dribble handoffs were the 7th and 10th most efficient pairings in the league among duos that hooked up for at least 100 handoffs, hovering around 1.10 points per direct handoff.
- I'm actually pretty high on Garland as a creator for others moving forward, but it would've been nice to see Cleveland add a veteran floor general to help show him the ropes. Unless that's what you want to call Del-ahahahahaha.
- No, seriously: why is Andre Drummond here? Does anybody want this?
LINEUP TO WATCH: Sexton-Garland-Nance Jr.-Love-Drummond
I just need to know if the jumbo frontcourt can actually be a thing. Nance Jr. at the 3 sounds like a ridiculous idea on the surface, but it actually worked in spurts last season. The Cavs had a 130.2 offensive rating and a 96.6 defensive rating when Nance Jr., Love and Drummond were on the court at the same time, per PBP Stats. That trio had the sample size of a 90s sitcom, so it could just be a blip in the radar.
But hey, the team is bad. Get funky with it.
BEST CASE: Right Outside of the Play-In Tournament
I can't get past the defense enough to put the Cavs in play-in territory, but this should be a sneaky-good League Pass team.
Garland should be more comfortable with the speed and physicality of the league after a year, which hopefully means his passing chops will really start to pop for a team that needs it. Sexton is fun, as is Porter Jr. if he's available. Okoro should hound dudes defensively and fill gaps on the other end. The Love-Drummond fit makes on-paper sense, at least, assuming one or both players aren't moved. Nance Jr. is one of the most underrated players in the sport.
WORST CASE: Bottom of the East
This defense is going to be so, so, so, so, so bad. I truly can't stress this enough.
Detroit Pistons
WHAT TO LIKE: YOUNG FOUNDATION
Killian Hayes was one of my favorite picks in this draft class. He's a smooth operator in pick-and-roll with a cadence and vision beyond his years. He isn't an elite athlete, but he's able to manipulate angles in a way that allows him to generate looks for others or slither his way into favorable spots for his own juice.
Sekou Doumbouya is mostly a ball of clay right now. He has shown some interesting flashes worth exploring, particularly off the catch. There is some Pascal Siakam in him in terms of his method of attack: loves getting his defender off balance with a slight hang before spinning away. There are kinks to work out, but the coordination and feel being there this early is a good sign.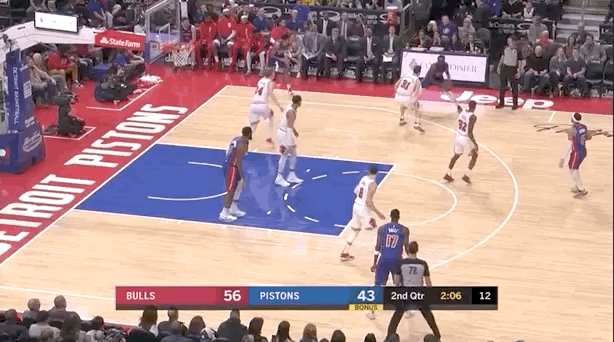 The Saddiq Bey pick was a fine one. He can shoot the leather off the ball and has enough ball skills to beat bent defenses or post smaller dudes in a pinch. Bey was trusted to defend different player types at Villanova; he does have the physical profile to defend two, maybe even three positions.
OTHER LIKES
- Snagging Delon Wright out of Dallas is a reasonable gamble to make. He has some pick-and-roll chops, and can defend either guard spot. He has to become a better and more willing shooter, something he's alluded to, but a solid season could help him regain some value -- or at the very least, make Derrick Rose expendable for a contender looking to bolster their bench.
- Not sure how much playing time Wayne Ellington will get, but his movement shooting could be pretty valuable in half-court settings.
WHAT TO DISLIKE: OFFSEASON SPENDING
That was a lot of money for Jerami Grant. If you feel like there's untapped potential with him, is this roster set up for him to realize it? I can't say that's the case, on paper anyway. That was also a lot of money for Mason Plumee, even if he does have a clear-cut role (roll, amirite) on the roster. What exactly is Jahlil Okafor's purpose on this roster?
Just a ton of movement 3-through-5 for a team that wants to develop Sekou Doumbouya (3 or 4), just drafted Saddiq Bey (3) and Isaiah Stewart (5), flipped arguably their best on-ball defender (Bruce Brown) for the scoring upside of Dzanan Musa (3 or 4) while also taking a flier on Josh Jackson (3).
I guess, man.
OTHER DISLIKES
- The Stewart pick didn't make much sense at the time, and it really doesn't make sense now after basically giving up on Christian Wood and signing a bunch of frontcourt players.
- [whispers] I can't say I'm a huge fan of Blake Griffin on this roster. It feels like he's the big domino to fall at some point, as talented as he is when he's upright. He just hasn't been upright. I've thought too long about a Mike-Conley-plus-stuff-for-Blake deal.
LINEUP TO WATCH: Hayes-Mykhailiuk-Doumbouya-Grant-Griffin
This may be the way to get the best out of the young pieces that matter right now. Hayes will be able to run some variation of Double Drag with Grant and Griffin. There's spacing present with Svi Mykhailiuk, fresh off a season where he shot north of 40 percent from deep on over five attempts per contest. If you're getting penetration with Hayes, there's room for Doumbouya to attack against bent defenses.
The defense is going to be awful with that lineup, but you have to start somewhere.
BEST CASE: Bottom of the East, trending upwards
Dwane Casey is going to have his hands full trying to navigate this rotation. If he can press the right buttons, there are some interesting combinations that can highlight the young guys on the roster. Giving Hayes his on-ball reps, expanding Doumbouya's toolkit, having Bey fill gaps and seeing what Grant can do should be the top priorities for this group.
WORST CASE: Bottom of the East, jumbled mess
There is just a lot going on with the Pistons. The frontcourt does seem a bit jumbled. The offseason signaled a teardown until it didn't; now there are vets and high-paid free agency acquisitions potentially blocking their recent draftees. There is a world where Pistons Twitter spends the majority of the season complaining about Prospect X not being put in positions to succeed.
Indiana Pacers
WHAT TO LIKE: MULTI-DIMENSIONAL ATTACK
The Pacers may not have a superstar creator, but they have the personnel to hit you in a bunch of different ways. Malcolm Brogdon's herky-jerky drives to the basket produce goodness more often than not. Domantas Sabonis is a high-post hub unto himself, able to spring others free in handoff actions, post up weaker defenders, or face up bigs that are (somehow) slower than he is.
Just watch him work.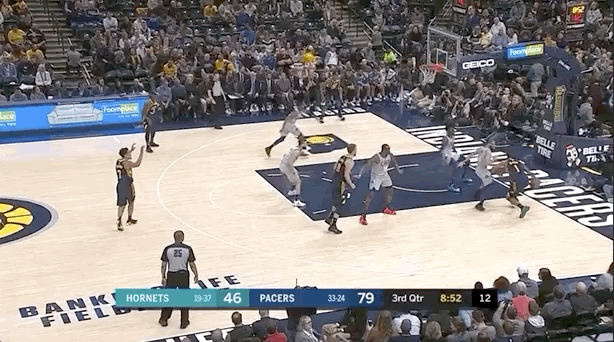 TJ Warren hit a new level last season, posting career highs in scoring (19.8) and efficiency (61.0 TS). Warren posed mismatch issues on just about every possession -- too strong for weaker 3s or 4s, too quick for true bigs. The intersection of rim scoring, intermediate touch (whew, that floater), and a newfound flamethrower from deep made him a difficult equation to solve.
Even off the bench, the Pacers have the off-ball activity of the Holidays, the catch-and-go nature of Jeremy Lamb and Doug McDermott flying off screens and handoffs. New head coach Nate Bjorkgren has a lot of toys to play with.
OTHER LIKES
- For what feels like the 15th year in a row, I like the idea of Myles Turner. One of the best rim protectors in the league, also shoots an easy ball. In this league, 3-and-D 5s are insanely valuable. Turner, in theory, should be one of them.
- If there's going to be some staggering around Warren-at-the-4 lineups, you're likely going to see Turner hit the bench. The Warren-Sabonis pairing was nearly three points per 100 possessions better than the Warren-Turner one, with that difference almost completely coming on the offensive end.
- A new head coach plus potential roster turnover means we're going to be blessed with more Pacers content from Caitlin Cooper. Follow her and her work if you aren't already.
WHAT TO DISLIKE: THE VICTOR OLADIPO SITUATION
I've joked about it on Twitter, but I'm not sure Oladipo could make it any more clear that he wants out of Indiana. You can quibble about this being a money play or a better-market play, but this seems to be trending toward a split. The smoke has been out there, from mild reports to him wanting to move on, to more blatant "come get me" pleas.
Oladipo has recently settled into the "I-want-to-help-bring-a-title-to-[insert city here]" trope, but nobody's buying that. It may be best for both parties to seek out a trade. The draft has passed so some of the offers I wrote about aren't completely valid, but good teams -- hello, Miami and Dallas -- should still be willing to take a flier, assuming it doesn't cost a blue chipper to do so.
OTHER DISLIKES
- For what feels like the 15th year in a row, I dislike Myles Turner in practice. Despite his physical gifts, he's never been a true force on the glass. His post game isn't very forceful or efficient, and I will pry my eyes out with a butterknife if I see him screen for a guard and pop out to 20 ½ feet instead of getting behind the three-point line. Please. Take an extra step back. Run ball screen actions higher so it forces Turner to end up behind the line. Something. Anything. Please. I beg.
- Edmond Sumner is fun, but it just feels like he's not going to get a real chance to showcase his talent until the Oladipo situation is dealt with. The backcourt is crowded, buddy.
LINEUP TO WATCH: Brogdon-Oladipo-Warren-Sabonis-Turner
Unless (or until) there's a trade made, this will likely be the starting unit for the Pacers. They posted a plus-9.4 net rating last season, though an 86-minute sample size isn't much to draw from.
BEST CASE: 4th Seed
The Pacers dealt with a ton of injuries, including blows to three of their five best players at different points of the season, and still landed a top-four seed. In theory, this team should be better if their top guys are more available. If Bjorkgren does add some variety to both ends of the floor, the ceiling of this team could be a little higher than they're being given credit for.
WORST CASE: Play-In Tournament
Of course, the Oladipo situation could come to a head. Maybe chemistry issues ensue; there's a non-zero chance that Warren isn't the second coming of Kevin Durant in terms of three-level efficiency. Some regression there could hurt an offense that doesn't have a clear-cut number one option. A transition period, potential roster turnover and a shortened offseason could all throw the Pacers off.
Milwaukee Bucks
WHAT TO LIKE: TOP END TALENT
The three-man unit of Eric Bledsoe, Khris Middleton and Giannis Antetokounmpo had a net rating of 18.5 in nearly 700 regular-season minutes together last season, per PBP Stats. While that's absurd in its own right, there's a non-zero chance that replacing Bledsoe with Jrue Holiday, a former All-Star, will push that figure even higher.
What's left to say about Giannis at this point? He's the most dominant paint presence we've seen since Shaquille O'Neal, and should be a frontrunner for what could be his third consecutive MVP award.
Middleton was arguably the league's most complete scorer last season, averaging a shade under 21 points per contest while boasting elite efficiency in literally every area of the floor. That's not hyperbole.
Adding Holiday to the mix gives the Bucks an elite point-of-attack defender while more positional flexibility. Bledsoe may be an elite defender in his own right, but he's not someone you could throw on a wing like you can with Holiday.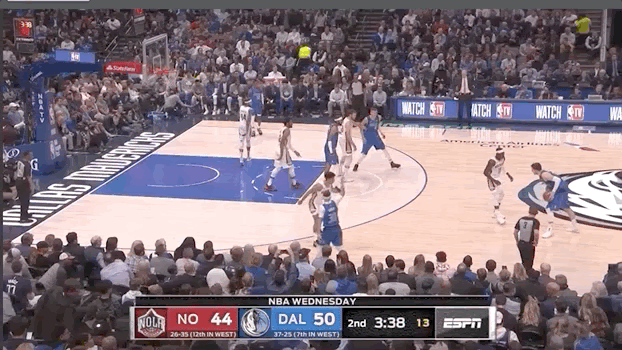 Offensively, Holiday gives you the downhill aggression of Bledsoe, but with better passing vision. There's also more off-ball value; Per Second Spectrum tracking data, Holiday has made 37.5 percent of his catch-and-shoot threes over the past three seasons, while Bledsoe has knocked down 34.2 percent of his.
OTHER LIKES
- If you're going to lose George Hill, signing DJ Augustin is a reasonable substitute. He's a good shooter, can run some pick-and-rolls for you, and isn't afraid to take and make big shots if those opportunities arise. The defense could be an issue, but you have to trust the defensive infrastructure in place to help him in that regard.
- Calling my shot: the Holiday/Donte DiVincenzo/Middleton/Giannis/Brook Lopez (starting) lineup posts a defensive rating under 95 for the year. That group, but with Bledsoe instead of Holiday, posted a 97.7 defensive rating in 40 minutes last season. The added size and versatility should help.
WHAT TO DISLIKE: COACHING
I mean, yeah. We have to see something, Mr. Budenholzer.
He has done a tremendous job of establishing the systems on both ends that have made the Bucks a powerhouse. The Bucks are legitimately title contenders -- they have been for going on three years now -- and that's in large part to Budenholzer's realignment.
His refusal to adjust said-systems on the fly, as well as some questionable rotation decisions (Pat Connaughton over Wesley Matthews in games that matter, huh?) have contributed to their early exits in each of the past two postseasons.
This is arguably the most important season in Bucks history. As of Dec. 9, Giannis hasn't signed his super-max extension, so there's no telling what his long-term status with the team is. If he doesn't sign it before the season, this immediately becomes a Finals-or-bust year. Budenholzer has proven he knows what buttons to press in the regular season; he needs to show that same ability in the playoffs, or he'll likely be out of a job.
OTHER DISLIKES:
- Budenholzer is on the hot seat, but Giannis can't be left out of this either. He has to enter the postseason with a reliable half-court counter. It can be a post fade, a pull-up middy. A catch-and-shoot three, above the break or from the corner. Heck, if he processes the floor a little bit faster on the move, he can beat traps or digs with quicker kick-out passes. It's wild to say that a back-to-back MVP has to be better, but, well, he has to be better.
-The frontcourt depth is a little meh. I get the intrigue of Bobby Portis if he proves willing to slot primarily into a catch-and-shoot role. Honestly, there's no real reason we shouldn't get a real dose of DJ Wilson minutes off the bench. He may be useful! Use him!
-The Connaughton contract is just… did he have to be brought back? It technically doesn't work this way -- you never know what price points for different teams were -- but a guy like Garrett Temple (1-year, $4.7 million) would've made so much more sense for this roster.
LINEUP TO WATCH: Forbes-Holiday-DiVincenzo-Middleton-Giannis
Giannis-at-the-5 lineups will mostly be postseason endeavors, but I'm still curious to see how often we get this group. Giannis is a destroyer of worlds on both ends; Holiday, DiVincenzo and Middleton provide on-ball deterrence and switchability. In theory, there's enough defensive talent there to cover for Forbes' lack of punch at the point of attack.
Offensively, the fit is clear. Forbes provides the spot-up and movement shooting while some combination of the Holiday/Middleton/Giannis triumvirate pick and also roll teams to death.
BEST CASE: Top Seed
Back-to-back MVP. An All-Star wing with three-level scoring chops. Another former All-Star who can get you 20 and 7. An absurd defense. A plug-and-play offensive system that will have at least one of those three All-Star talents on the floor at all times. Honestly, it'll be a massive upset if the Bucks don't win more regular-season games than anyone this year.
WORST CASE: 3rd Seed
Maybe the catch-and-shoot numbers for Holiday don't fully carry over. Maybe the Bucks are intentional about giving Giannis some rest days, hopefully in preparation for taking the minutes leash off in the postseason. Maybe there's no leap from a guy like DiVincenzo, or Lopez has another less-than-stellar shooting season.
Those things, combined with some stellar play from the East's other top teams -- I mentioned Boston having a shot at the top seed if Tatum makes a leap -- could provide a path for the Bucks to slip in the standings. It still wouldn't be particularly steep, though.