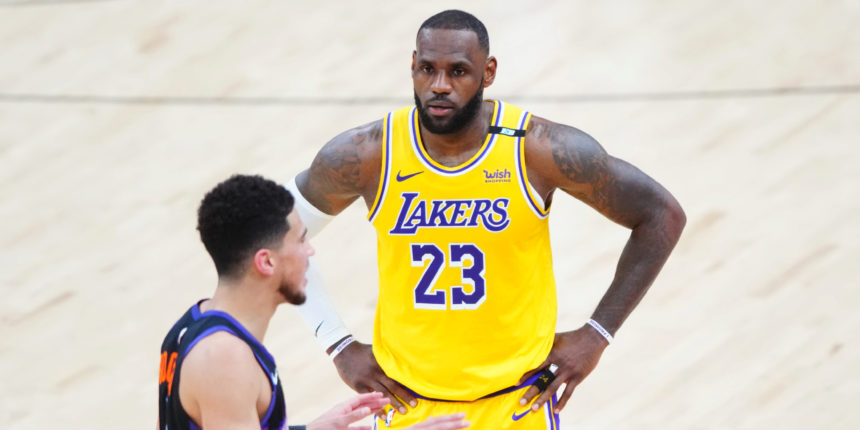 5 under-the-radar NBA MVP candidates for the 2021-22 season
The 2021-22 NBA season is right around the corner, and the hottest names in the Most-Valuable-Player discussion are there for good reason: Reigning MVP Nikola Jokic, Giannis Antetokounmpo, Joel Embiid, Kevin Durant and Luka Doncic, who's expected to take yet another leap.
However, with all of the elite talent throughout the NBA, there are a number of names that aren't currently in the top-tier of discussions who should also be mentioned.
Here are five under-the-radar players who could eventually be crowned the 2021-22 NBA MVP.
LEBRON JAMES
With a new superstar on board in Hollywood, the Lakers' new Big Three featuring LeBron James, Anthony Davis and Russell Westbrook is expected to help the purple and gold soar back to the top of the Western Conference standings. If the Lakers get back to their winning ways, the "Washed King" narrative is going to die off quickly as it relates to LeBron. Although James is entering his age-37 season, he's undoubtedly still one of the best players in the Association.
Averaging 25.0 points, 7.8 assists and 7.7 rebounds per game last season, James was slowed down by a hamstring injury that caused the Lakers to slip into the No. 7 seed come playoff time — ultimately leading to the King's first defeat in an opening-round playoff series versus the Phoenix Suns. Now, with Westbrook onboard, the creation duties will substantially subside for LeBron. James can focus on bullying teams as a three-level scorer, conserving energy for attacking the basket with his well-known ferocity. This isn't prime LeBron, but he's not far away from those years.
From a narrative vantage point, no NBA player has ever won MVP above his age-35 season, let alone a couple of years later at 37. If James were to put up similar numbers as last season, maybe with a slight uptick in points per game, there's a legitimate argument to be made for James to be a top MVP candidate if the Lakers climb back to being the No. 1 seed in the West.
DEVIN BOOKER
Booker has become a superstar following the Suns' miraculous run to the 2021 NBA Finals, falling to the Milwaukee Bucks after taking a 2-0 lead. The soon-to-be 25-year-old is not a player to count out, though. Every single season of his professional career, Booker has taken a leap forward by improving weaknesses in his game.
Over the last three seasons, Booker has averaged at least 25.0 points per game while continuing to round-out his overall two-way profile. During the Suns' first playoff appearance in 11 years, Booker displayed a newfound tenacity on the defensive end. And it carried over to the Olympics, which helped Team USA win the gold medal once again. Add in Booker's underrated playmaking and three-point shooting, and he could be one of the best dark-horse bets to make in the MVP race.
The Suns are going to be very good, even better than they were last season. Thanks to an easy start to their schedule, there's a real opportunity for Phoenix to be atop the West standings around Thanksgiving and Christmas. An early-season buzz surrounding the Suns would only help Booker's case further, as Chris Paul is expected to rest some nights following the re-signing of Cameron Payne and Elfrid Payton's addition on a one-year deal.
As Paul continues to age like fine wine, Booker will take back more of the scoring burden as the other young-core pieces in Phoenix continue to develop further. Booker has proven time and time again that he's ready for the big stage, and his seventh NBA season figures to be no different.
If the Suns end up winning close to 60 games, which I think is a strong possibility, Booker showcasing his game on a national stage (34 nationally televised primetime games) will push his stardom to even higher levels.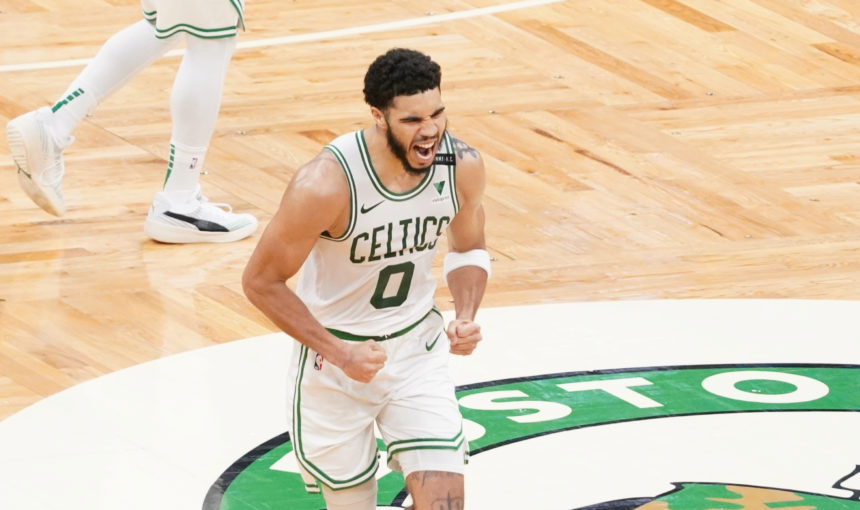 JAYSON TATUM
From March 1 and on, Tatum averaged 29.0 points, 7.9 rebounds and 4.3 assists while shooting 39.7% on three-pointers. Tatum is quickly climbing the ladder as one of the best three-level scorers in the entire league.
With the Celtics not making many splashes this offseason — outside of taking away a high-usage scoring option in Kemba Walker — it opens up even more opportunities for Tatum to score. He's a potential threat to lead the NBA in points per game next season.
When I noticed Tatum's MVP odds on DraftKings were at +2500, I did a double-take. Boston is likely to finish in the middle of the pack in an improved Eastern Conference, where many teams are pushing their chips all-in. But what if the Celtics overachieve with new head coach Ime Udoka? If they eclipse 50 wins, Tatum is going to receive sleeper MVP buzz due to his scoring binges. There's a plausible reality where Tatum averages 30-plus points per game next season. The Celtics have constructed a roster tailor-made for what Tatum does best — score the bucket relentlessly.
Keep an eye on Tatum, because those odds are way too good to pass up. Tatum is already a star, but the superstar jump should be expected from the former Duke Blue Devil in 2021-22.
PAUL GEORGE
The Clippers will be without Kawhi Leonard all of next season, or at least potentially not until the playoffs, due to a partially torn ACL. However, in Kawhi's absence late in the postseason, Paul George went supernova, putting the team on his back on the way to pushing Phoenix in the West Finals. At certain points, George was unconscious as a scorer, once again flexing his muscles that he can be a No. 1 scoring option whenever is necessary.
Well, the 2021-22 season is when the Indiana version of George is primed for a return. Now, with more seasoning under his belt as an improved three-level scoring engine, George is poised to become an -contender once more. If George returns to averaging 28 points per game as he did during his last season in Oklahoma City alongside Russell Westbrook, the Clippers are going to be comfortably in the playoff picture.
George's offensive game is silky smooth, and his defense also has continued to be a mainstay calling card for him. If George taps back into the MVP discussions three years later, it will be one of the most impressive runs of any player next season.
Los Angeles has copious amounts of depth going over 10-deep, but George will be their Batman and Robin simultaneously carrying them up the proverbial mountaintop without Leonard around. That's a perfect recipe to generate noise around a potential MVP push.
ZION WILLIAMSON
The 2019 No. 1 overall pick is only entering his third season in the NBA, but it seems his brilliance at this stage of his career is truly flying under the radar. During his age-20 season, Williamson averaged 27.0 points, 7.2 rebounds and 3.7 assists while carrying a ridiculously efficient 64.9% True Shooting percentage. And as Zion's sophomore season progressed, New Orleans felt more comfortable putting the ball in his hands more frequently as a point-forward creating everything for the Pelicans' offensive attack.
After adding more perimeter shooting to space the floor — Devonte' Graham, Tomas Satoransky and Trey Murphy III — plus the addition of Jonas Valanciunas in place of Steven Adams, Williamson will have more room to bully through defenses with regularity. Add in Brandon Ingram's star equity, and the Pelicans are cooking with gas to finally break through as a playoff team next season.
Don't underrate the addition of Willie Green either. The former Phoenix Suns lead assistant coach was instrumental in player development and defensive improvement. Green is one of the best young coaches in the Association, and his ability to mesh well with players will do wonders for Williamson and Ingram.
Although the Pelicans' offseason has been questioned by some, it accomplished on the margins what needed to be done to make things easier on Williamson as a scorer. If Williamson was able to average close to 30 points per game with a clogged paint, imagine the possibilities for him when there's ample outside shooting gravity allowing him to make magic happen around the basket.
Williamson is a real threat to be near the top of the league in scoring next season, which is a scary thought for other organizations. If everything clicks into place for Williamson with a more polished roster around him, New Orleans will be a playoff team, which only strengthens an underdog case for the super-athlete big to make waves in the MVP discussion.