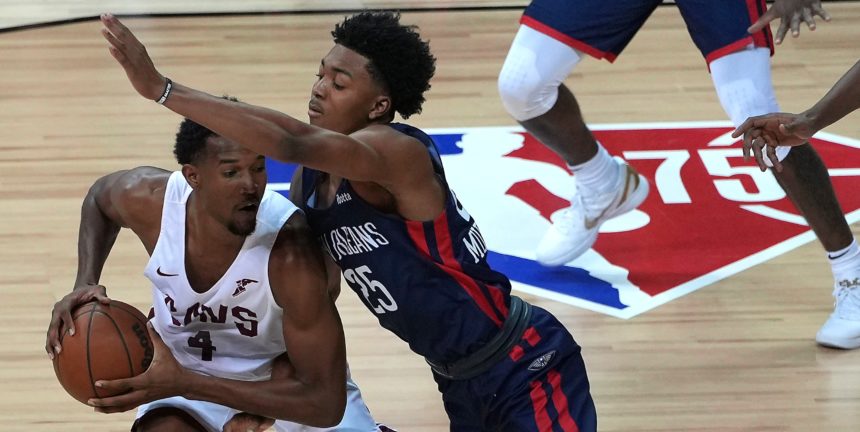 Trey Murphy III is showing why he's a perfect fit for the Pelicans
Prior to the 2021 NBA Draft, I wrote the following about Trey Murphy III: "A sniper as a shooter and an effective defender, Trey Murphy III has come into his own at Virginia after transferring from Rice. He doesn't excel in creating for himself, but as a movement and spot-up shooter, he can be incredibly valuable to just about any NBA offense. Considering his size, length, mobility, defense, and ability to stretch the floor, Murphy will be a viable option for teams selecting in the first round."
In our final 2021 NBA mock draft, we projected Murphy as the 17th pick to the New Orleans Pelicans, which is where he ended up being selected.
Not only did we project the pick correctly, it's looking like the Pelicans made the right call too.
Through four games at the NBA Summer League in Las Vegas, Murphy is averaging an impressive 16.3 points, 7.0 rebounds, 2.8 assists, 1.8 steals and 1.3 blocks per game. He's also shooting 55.8% from the field, 44.0% from three-point range, and he hasn't missed a free throw in six attempts.
Oh, by the way, the Pelicans have won all of those games.
In Murphy's summer-league debut versus the Chicago Bulls, he scored 26 points, shooting 6-9 from three-point range while also grabbing 9 rebounds. Following the game, he and his dad recognized one of my colleagues and stopped him in the concourse of the arena. They told him that they were very thankful for all of the coverage we put together on him leading up to the draft.
That was a classy move, and not something that happens often.
We initially labeled Murphy as a "sniper" and he has not disappointed in that area throughout summer league, as he has shot the ball extremely well. He has also been consistent on the defensive end, even matching up against top talents like Patrick Williams of the Chicago Bulls (the No. 4 pick in the 2020 NBA Draft), Evan Mobley of the Cleveland Cavaliers (the No. 3 pick in the 2021 NBA Draft) and Jonathan Kuminga of the Golden State Warriors (the No. 7 pick in the 2021 NBA Draft).
On the offensive end, Murphy should prove to be a valuable asset for the Pelicans since he will be able to serve as a hybrid forward who can shoot the lights out while also providing some finishing and slashing abilities. Every team can use additional floor spacing, especially teams built around a guy like Zion Williamson, whose game is predicated on getting to the bucket.
Although it seems as though Murphy has made some progress with his physical development, he would benefit from gaining additional weight and strength. Early on, his lack of strength could cause some limitations in regards to specific matchups. However, overall, he should be able to provide the Pelicans a lot of flexibility on the defensive end, as he is a very good team defender and on-ball defender. Once he gets stronger, watch out; he could be special on that end of the floor.
"Playing against grown men is something that you can't really replicate in college, so [I'm] making sure I live in that weight room," Murphy told our Spencer Davies prior to the draft. "But not getting overly strong and losing out on my athletic ability will be important... Overall, just continuing to develop. That's something that's super important to me because I want to [have] a really long career and eventually become an All-Star."
In recent years, the Pelicans have added a number of big, versatile wings with well-rounded skill sets, including Brandon Ingram, Naji Marshall, and now Murphy and Herb Jones, whom the Pelicans selected No. 35 overall in the 2021 NBA Draft. They are clearly valuing lineup flexibility and overall versatility. I don't think Murphy could fit those concepts any better.
"As anybody would see, my shooting is what really stands out. I shoot the ball at a really high level, and I defend at a high level as well," Murphy told BasketballNews.com. "Those two things right there are gonna be at a premium... I feel like I separate myself because I'm a really high IQ player, and then my athleticism and length is something that is pretty special, too. And I feel like I have a lot of untapped potential in that my best years in basketball are years down the road. So just being able to show what I can do in my limited role at first will be helpful, so I can expand my game later on in my career."
I'm hesitant to put conclusive grades on draft picks so quickly, as I'm of the belief that players usually need a couple of full NBA seasons to get their footing properly before we can adequately judge them. With that said, I'm just so impressed by Trey Murphy III on-and-off the court. I believe that he has a skillset that translates well and is mature enough to step into the NBA and be a productive player right away. Needless to say, I think the Pelicans made a terrific pick.
As I look to cover the 2021 rookie class this upcoming season, I'll surely be tracking Murphy.
The New Orleans Pelicans wrap up their NBA Summer League schedule on Tuesday night versus the Minnesota Timberwolves. While they won't be competing in the championship game (due to their margin of victory), they can leave Las Vegas undefeated if they beat the Wolves.