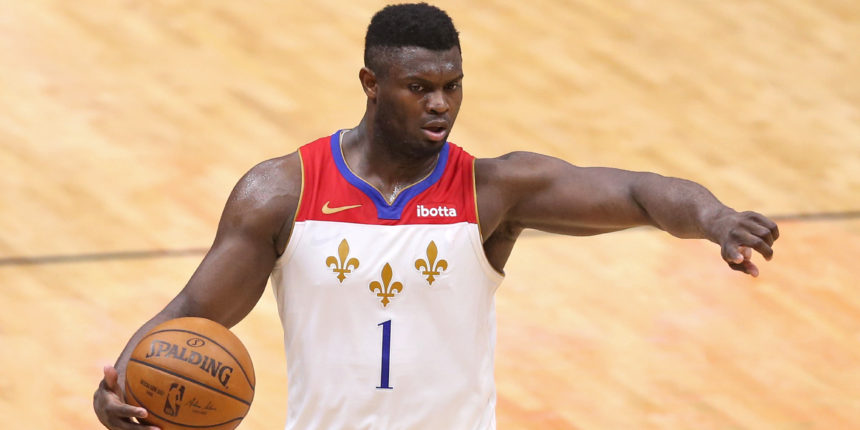 Zion Williamson is breaking basketball
Life is supposed to be hard as a non-shooter.
Players without real pull-up equity get walled off with conservative coverages. If you don't provide a spacing threat off the ball, defenses are fine turning games into 4-on-5 affairs in the half-court.
There are workarounds -- passing, screening, timely cuts -- but the margin for error is incredibly thin. For role players -- your Tony Allens or Andre Robersons, for earlier-but-relevant examples -- it's become darn-near impossible to exist in closing lineups. In recent postseasons, we've seen it become difficult for (super)stars -- your Giannis Antetokounmpos or Russell Westbrooks -- to thrive to their usual level.
Zion Williamson is looking to change the math on this equation, and it's something we should be paying more attention to.
The "why" has always been easy to see with Zion in regards to his dominance. He is an athletic marvel, a defensive end with a "Pro 2" dribbling package and rockets in his calves. The "what" is also pretty straightforward. It's not that he can finish over the top of you -- he will finish over the top of you. Double-clutch layups, nifty scoops under the arms of taller-but-helpless defenders, high-flying slams and skyscraping lob finishes pollute his highlight tape.
It's time we examine the "how" of his recent success, because we're witnessing an inevitability that could shift the way we think about defense.
OFF-BALL VALUE
Zion isn't a real shooting threat. His career 37.8% clip from deep may surprise you if you view his player page, but that's offset by a lack of volume (37 attempts in 68 career games). More importantly, teams defend him like a non-shooter. You won't see aggressive closeouts if he receives a kick-out, and teams are more than willing to help off of him to junk up other actions.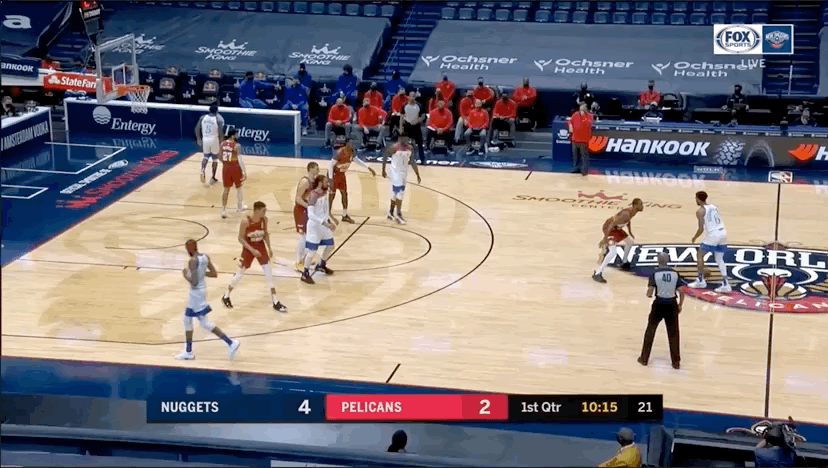 The Pelicans flow out of HORNS here. Denver hedges hard, per their screen coverage, to prevent Nickeil Alexander-Walker from turning the corner. Behind that, Paul Millsap drops to pick up Steven Adams on the roll, while Jamal Murray helps off of Eric Bledsoe to "tag" Adams. Murray rotates and recovers; Millsap takes his sweet time turning his attention back to Zion because, ultimately, a jumper from him is a win for the defense.
There are two counters to involve Zion without the ball. He's deadly as a cutter, either filling space as the defense scrambles, or more designed looks from the slot. Zion is a frequent benefactor of Blade or Maggette cuts -- lifting from the corner and jetting inside following a pick-and-roll.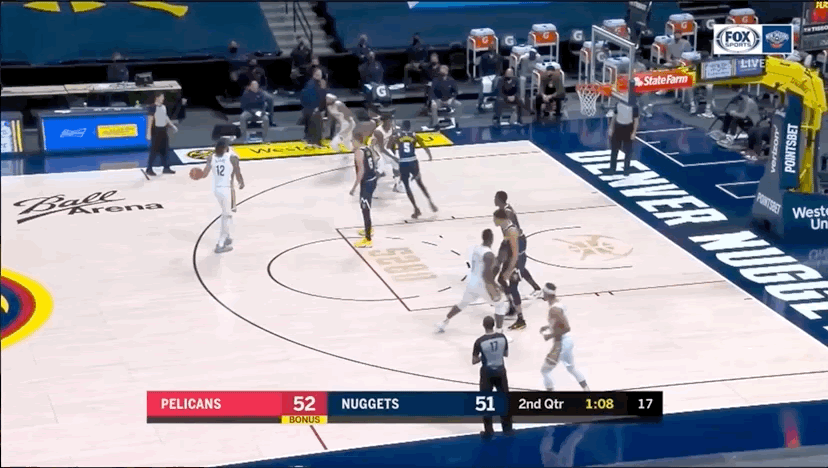 Zion as a screener in pick-and-roll has been just as deadly. He ranks in the 81st percentile as a scorer, per Synergy, but even that sells him short as a threat. There's an inherent "who do we guard him with, and how?" problem he poses.
Teams across the league are becoming more comfortable switching their 4s. The prospect of switching a guard or a weaker wing onto Zion is an unfavorable one; he'll simply seal and score -- he ranks in the 63rd percentile on post-ups, by the way -- or force a double team.
The new-age 4 is essentially an old-school 3; asking them to hold up in drop coverage is a pretty tough task. Like, what more is Robert Covington supposed to do with this?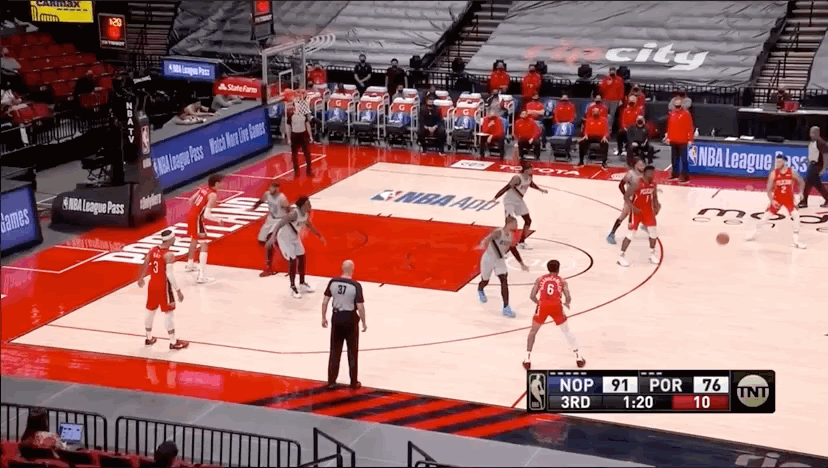 Stashing your center on Zion seems like a natural counter to that problem, but it simply opens another one. Unless your center is switchable, you're leaving yourself open to handoffs on the perimeter, or pull-up jumpers from the likes of Brandon Ingram.
Even if you're operating with a true two-big alignment, placing your bigger player onto Zion means a weaker one is banging with Steven Adams on the glass. Per NBA.com, the Pelicans' offensive rating and offensive rebound rate skyrocket with Zion and Adams on the court. That isn't a coincidence, even with the lack of shooting gravity between those two.
ON-BALL USAGE
This has been the more fun development as of late. Zion has been an elite garbage man in the early stages of his career. Hunting out space for cuts, screening and rolling, abusing the offensive glass with his Super Mario-esque double jumps.
Now, the Pelicans are letting him dictate the action instead of reacting to it. His pick-and-roll usage is up, but that's obvious to see. What's more important to note is how teams have defended him in pick-and-roll.
Against ball-handlers without reputable pull-up jumpers, the general rule is to either duck under screens against them, or switch the action. It's an invitation of sorts, with defenses yelling, "You can have this pull-up jumper if you'd like!"
Against upper-echelon talents -- think Westbrook or Giannis again -- it's a security blanket against rim attacks. The pick-ducking becomes more exaggerated, as does the help defense. The Milwaukee Bucks have altered their offensive framework, from 5-out to 4-out, 1-in, in part to eliminate the "wall" that has been built against Giannis in each of the past two postseasons.
What happens when defenses are faced with the speed and dexterity of a Westbrook, as well as the power of Giannis… at the same time? This is the Zion Problem that nobody has solved yet.
Teams have attempted your basic conservative methods. They duck under picks, but it hasn't worked. Per Synergy, Zion has converted 75% of his shots when attacking against "under" coverage. Switching has been a more frequent counter, especially when Zion has run 4-5 pick-and-rolls, but he's roasting traditional 5s.
In higher ball-screens, he chews up space at a rate that leaves big men in their tracks. Even in lower ones, Zion has a level of short-area burst and ball-handling that a guy like Giannis simply doesn't.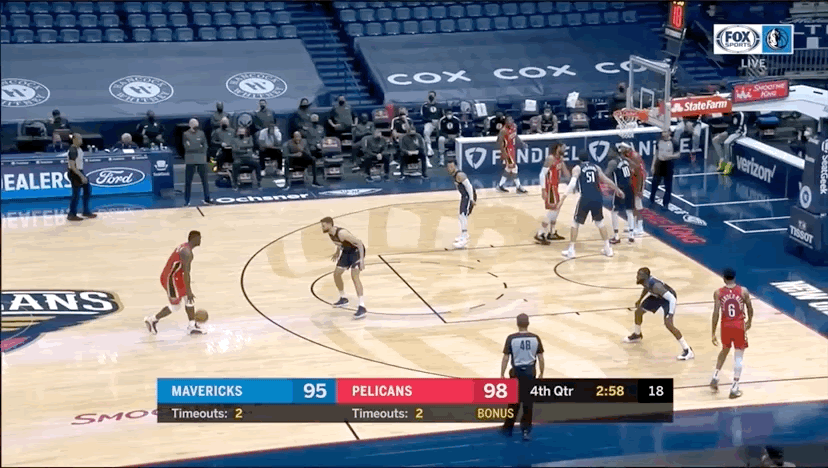 Here's the slowed down version so you can see the effectiveness of Zion's in-and-out dribble, and how quickly he gains inside leverage on Boban Marjanovic because of it.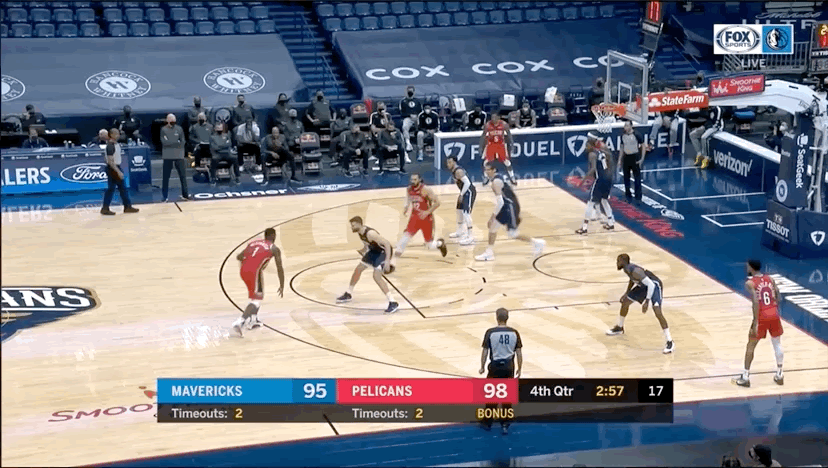 That's an example of him attacking the players who should have the size to deter him. Inverted pick-and-rolls have been even more difficult to stop. Zion is simply too strong and, at times, too quick for guards to handle if he's able to get downhill. You can't even do the normal hedge-and-recover because he can turn on the jets, or flat-out reverse course on the fly.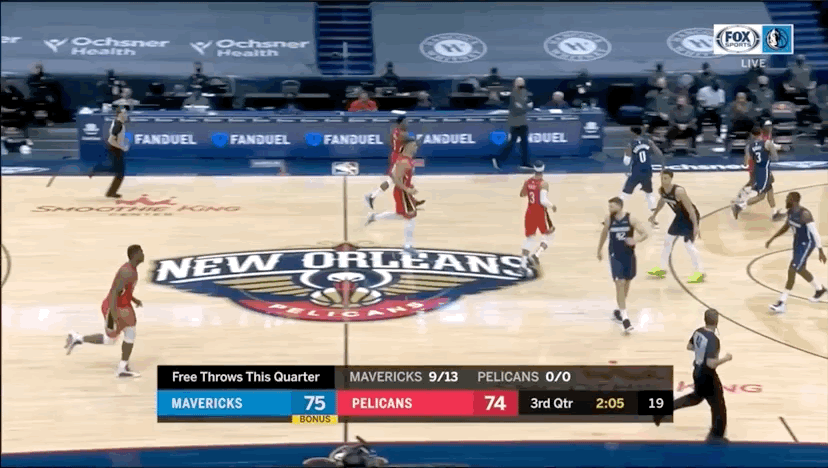 Zion's recent game against the Mavericks was a fun one -- unless you're a Mavericks fan, of course. They tried just about everything. They went under. They switched. They even attempted to trap, all to no avail.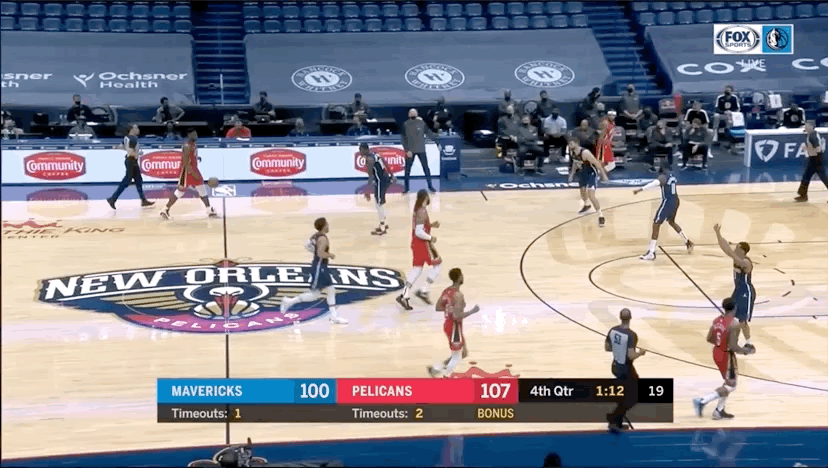 That's the other part that makes Zion impossible: you can't completely sell out to stop him. He's a good passer, particularly on the move. Despite leading the NBA in rim attempts by a wide margin, he's only been called for 18 charge violations and has committed 26 "bad pass" turnovers, per PBP Stats. By comparison, Giannis has racked up 22 and 39 respectively.
Zion is one of three players averaging at least 25 points while shooting 55% or better from the field (along with Nikola Jokic and Giannis). He's the only one converting at least 60% of his shots. Over his past 10 games, Zion is averaging 29 points while shooting 65.7% from the field (69.9 TS%).
Those numbers aren't empty, either. As the Pelicans have shifted more on-ball usage to Zion, they've won four of their past five games behind an offensive rating that tops 122 with him on the floor.
Teams don't have a safe coverage to play against Zion at this point, and that's with him sharing the majority of his minutes with a center (Adams, Jaxson Hayes) and a guard (Eric Bledsoe) that teams don't treat as a shooting threat. What happens when he's consistently attacking with a spread floor?
Points and pain.