Life is supposed to be hard as a non-shooter.
Players without real pull-up equity get walled off with conservative coverages. If you don't provide a spacing threat off the ball, defenses are fine turning games into 4-on-5 affairs in the half-court.
There are workarounds -- passing, screening, timely cuts -- but the margin for error is incredibly thin. For role players -- your Tony Allens or Andre Robersons, for earlier-but-relevant examples -- it's become darn-near impossible to exist in closing lineups. In recent postseasons, we've seen it become difficult for (super)stars -- your Giannis Antetokounmpos or Russell Westbrooks -- to thrive to their usual level.
Zion Williamson is looking to change the math on this equation, and it's something we should be paying more attention to.
The "why" has always been easy to see with Zion in regards to his dominance. He is an athletic marvel, a defensive end with a "Pro 2" dribbling package and rockets in his calves. The "what" is also pretty straightforward. It's not that he can finish over the top of you -- he will finish over the top of you. Double-clutch layups, nifty scoops under the arms of taller-but-helpless defenders, high-flying slams and skyscraping lob finishes pollute his highlight tape.
It's time we examine the "how" of his recent success, because we're witnessing an inevitability that could shift the way we think about defense.
OFF-BALL VALUE
Zion isn't a real shooting threat. His career 37.8% clip from deep may surprise you if you view his player page, but that's offset by a lack of volume (37 attempts in 68 career games). More importantly, teams defend him like a non-shooter. You won't see aggressive closeouts if he receives a kick-out, and teams are more than willing to help off of him to junk up other actions.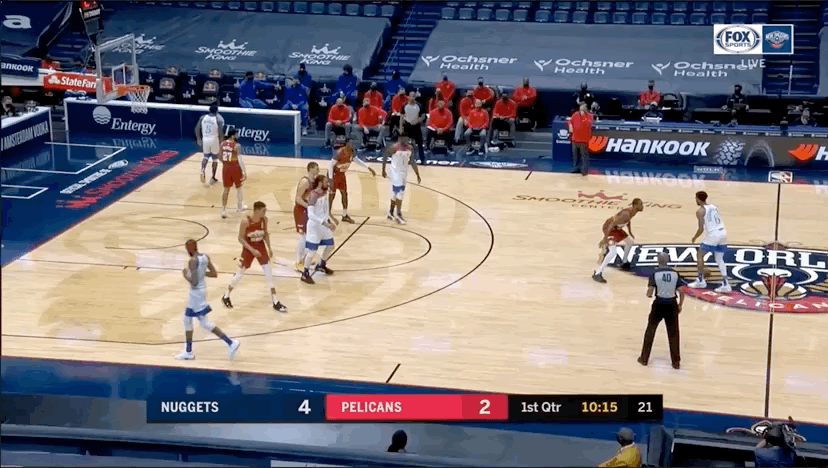 The Pelicans flow out of HORNS here. Denver hedges hard, per their screen coverage, to prevent Nickeil Alexander-Walker from turning the corner. Behind that, Paul Millsap drops to pick up Steven Adams on the roll, while Jamal Murray helps off of Eric Bledsoe to "tag" Adams. Murray rotates and recovers; Millsap takes his sweet time turning his attention back to Zion because, ultimately, a jumper from him is a win for the defense.
There are two counters to involve Zion without the ball. He's deadly as a cutter, either filling space as the defense scrambles, or more designed looks from the slot. Zion is a frequent benefactor of Blade or Maggette cuts -- lifting from the corner and jetting inside following a pick-and-roll.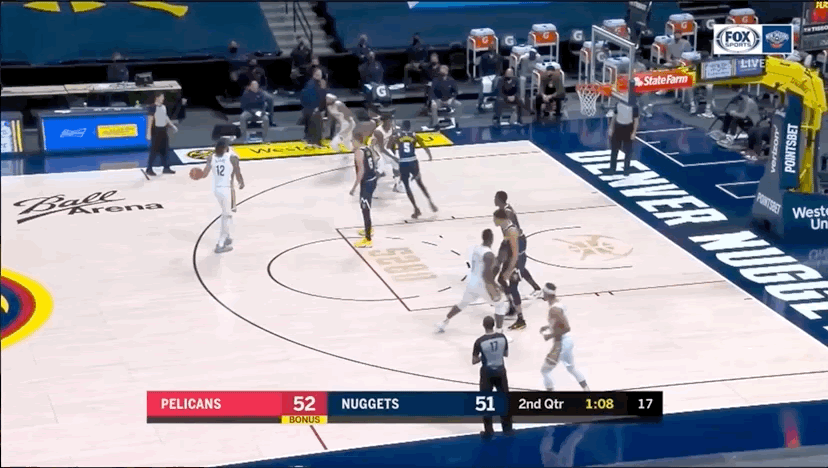 Zion as a screener in pick-and-roll has been just as deadly. He ranks in the 81st percentile as a scorer, per Synergy, but even that sells him short as a threat. There's an inherent "who do we guard him with, and how?" problem he poses.
Teams across the league are becoming more comfortable switching their 4s. The prospect of switching a guard or a weaker wing onto Zion is an unfavorable one; he'll simply seal and score -- he ranks in the 63rd percentile on post-ups, by the way -- or force a double team.
The new-age 4 is essentially an old-school 3; asking them to hold up in drop coverage is a pretty tough task. Like, what more is Robert Covington supposed to do with this?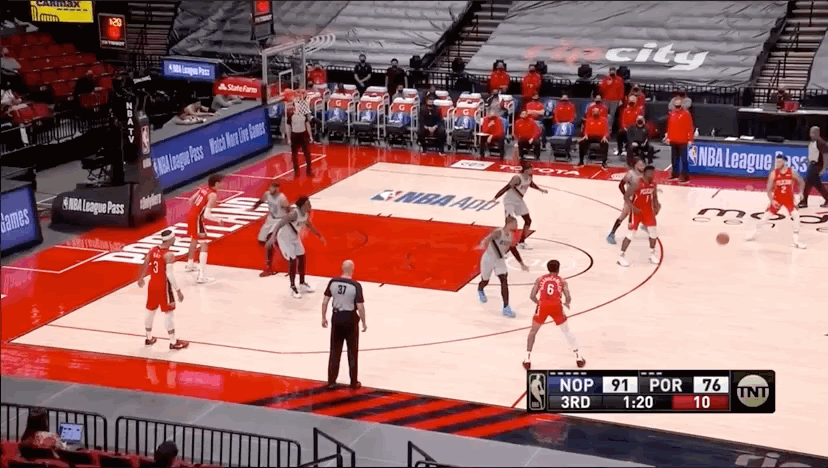 Stashing your center on Zion seems like a natural counter to that problem, but it simply opens another one. Unless your center is switchable, you're leaving yourself open to handoffs on the perimeter, or pull-up jumpers from the likes of Brandon Ingram.
Even if you're operating with a true two-big alignment, placing your bigger player onto Zion means a weaker one is banging with Steven Adams on the glass. Per NBA.com, the Pelicans' offensive rating and offensive rebound rate skyrocket with Zion and Adams on the court. That isn't a coincidence, even with the lack of shooting gravity between those two.