Cameron Payne signed a three-year, $19 million deal with the Phoenix Suns last month. The 27-year-old point guard confirmed that he could have received more money from a different team, but he never seriously considered leaving Phoenix.
The Suns gave him an opportunity when it seemed like his days as a professional basketball player were numbered, so he wanted to remain loyal to them.
"It got me back into the NBA. I feel like I gotta pay the favor back, even though I don't have to," Payne told Arizona Sports 98.7. "Man, it changed my life. And it's only right for me to just ride it out with Phoenix as well. Monty [Williams], a great coach, he been coaching me up this last year and in the Bubble. I just love it, I love it out there. I just had to stay, I had to.
"I want to be a Valley boy."
The New York Knicks were among the teams to express interest in Payne, who reportedly could've earned around $10-12 million annually had he decided to test the market.
Payne was one of the feel-good stories of the 2021 NBA Finals, emerging as a significant contributor for Phoenix on the biggest stage just one year after being out of the NBA.
Looking back at Payne's career, he's had a unique journey with plenty of ups and downs.
After two outstanding seasons at Murray State – including a sophomore year in which he averaged 20.2 points, 6.0 assists, 3.7 rebounds, 2.4 threes and 1.9 steals – Payne was the No. 14 pick in the 2015 NBA Draft by the Oklahoma City Thunder. Despite being a lottery pick, he had a limited role in OKC since he was behind Russell Westbrook on the depth chart and the team was in win-now mode, advancing to the Western Conference Finals during his rookie year.
After two seasons, the Thunder dealt Payne to the Chicago Bulls in a five-player trade (which brought Taj Gibson, Doug McDermott and a 2018 second-round pick to the Thunder). Payne split time between the Bulls and their G League affiliate for two years, and he struggled.
In 2017, a Bulls source famously told the Chicago Sun-Times: "We knew the second practice [after he was acquired] that he couldn't play at [the NBA] level. The only reason it took two practices was because we thought maybe it was nerves in the first one. Any coach who says differently is lying."
Payne was still on Chicago's roster when a team source made those comments, and he would stick around for another year-and-a-half after that article was published. Bulls fans were heavily critical of Payne too, nicknaming him the "Tank Commander."
Why?
"Because fans think he might be the worst player in the league. Fans couldn't wait till Payne made his return [from injury], because then the team would lose more games because of him," wrote Daniel Greenberg of the blog Pippen Ain't Easy.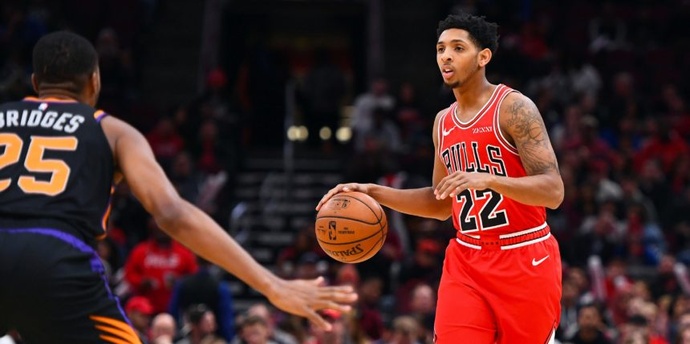 In January of 2019, the Bulls waived Payne. He ended up inking a pair of 10-day contracts with the Cleveland Cavaliers. He went from earning $3,263,294 from his rookie-scale contract to making just $177,062 from the Cavaliers' 10-day deal. After his second 10-day contract expired, Cleveland decided not to sign him for the remainder of the season. The Toronto Raptors briefly signed Payne, but then they waived him 11 days later after just one preseason appearance.
When the 2019-20 NBA season started, Payne remained unsigned.
At this point, Payne signed with the Shanxi Loongs of the Chinese Basketball Association. However, after two months with the team, he had played in just two games (averaging 22.5 points, 7.5 assists, 6.0 rebounds and 4.5 steals). And he only appeared in those two games because one of his American teammates, Jamaal Franklin, got hurt. Payne was riding the bench with Shanxi due to CBA rules that restrict American players. The Loongs ultimately replaced Payne with Franklin once he got healthy, ending his stint in China.
This was rock bottom for Payne. Even in China, he was viewed as a reserve and ultimately got cut. He was only 25 years old, but he started to wonder if his professional-basketball career was nearing an end.
"I just always thought, like, 'Is it time? Is it over for me? Is basketball over for me? Already?'" Payne admitted. "And then I'm like, 'Nah, I work too hard. I work too hard.'"