With the NBA regular season set to tip off on Oct.18, let's take a look at where each team in the Southwest Division stands. We'll break down what to like, what to be concerned about, a lineup to watch and a reasonable range for them to finish in the standings. (If you missed them, read our season previews for the Atlantic Division, Northwest Division, Central Division, Pacific Division, and Southeast Division.)
And for deeper thoughts on the Southwest Division, you can listen to the latest episode of The Dunker Spot:
Dallas Mavericks
WHAT TO LIKE: LUKA DONCIC
The man is barely old enough to drink legally and he's arguably a top-five player in the league already.
There are maybe a handful of players in NBA history with Luka Doncic's intersection of size, playmaking and shot creation. The "offense-unto-himself" moniker is starting to get passed out too loosely, but it legitimately applies to Doncic.
(Don't read this next part, Phoenix fans.)
I'm ready to watch him dissect elite defenses again.
OTHER LIKES
- I'm excited to see Christian Wood and Doncic operate in ball screens together. Doncic hasn't had a partner this good at rolling and popping. The fact that Wood can mash switches should, in theory, take the easy option (switching) off the table — or at least teams won't feel good about it.
- Dorian Finney-Smith is the second-best player on this team. You can view that as a problem within the "are the Mavs contenders?" lens if you'd like, but it should mostly serve as a testament to how much Finney-Smith has improved during his stint in Dallas. He is a borderline elite defender, has shot 39% from three on roughly five attempts over the past three seasons, and has made strides as a driver and connective passer last season. He's good, man.
- I can't say I'm comfortable with the idea of Frank Ntilikina or Josh Green as third ball-handlers on a good team, but, man, am I endlessly intrigued with both of them. That's a lot of juice on the perimeter defensively.
BIGGEST QUESTION MARK: CHRISTIAN WOOD'S DEFENSIVE FIT
I'm not sure anyone had the Mavericks as an elite defensive team on their bingo cards last year. They did so with an almost annoying brand of competence: pinch in early, help each other on the back end, close out hard and under control and force teams to take middies over length.
Enter Wood, who has struggled — or outright refused — to do those things consistently.
There's no question about his talent offensively. And quietly, he's mobile enough to work as a cog in a switch system. But he's had some ugly lapses off the ball, and even uglier examples of no-show effort throughout his NBA career.
The Mavericks are gambling that those issues are 1) correctable and 2) have been the product of Wood's non-winning environments to this point.
We'll just have to see.
OTHER CONCERNS
- Spencer Dinwiddie isn't an overqualified bonus to the guard room; he has to serve as the secondary playmaker on this team. He shot the ball incredibly well with the Mavs last season, but his previous history points to him being shaky in that regard. The burst and rim pressure has to be fully back in order for this to work.
- I'm a little concerned about the overall shooting talent on the roster. For a team that creates and takes a lot of threes, they're likely to rely on a good bit of high-variance shooters.
LINEUP TO WATCH: Doncic-Dinwiddie-DFS-Wood-Kleber
The Doncic-Dinwiddie-DFS-Kleber quartet outscored opponents by 50 points in their 219 minutes together last season. Adding Wood as a fifth should boost the offense tremendously. There's enough size across the board that they could lean into more switching while shrinking the floor. Finding that balance defensively will be key to making that lineup work.
BEST CASE: No. 3 Seed
It's an easy case to make. Luka is MVP-good again, Dinwiddie replicates most of the production from Jalen Brunson and the defense remains solid.
WORST CASE: Play-In Tournament
I'd keep an eye on the defense slipping. They were a surprise top-10 unit that quietly ranked in the bottom-10 in field goal percentage allowed at the rim. If Wood can't fit in, that number may wind up worse. With the strength of the conference, I'm not sure the Mavs can afford the annual slow start from Luka.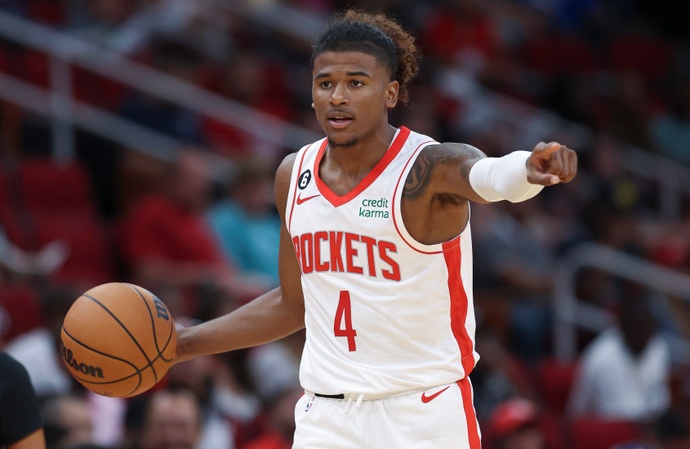 Houston Rockets
WHAT TO LIKE: JALEN GREEN'S ASCENSION
Jalen Green is violently smooth.
He'll give you Anthony Edwards vibes with sudden changes of direction, capped off with aggressive drives.
He'll give you Zach LaVine vibes with the way he can drift across the court and flow into an array of off-the-dribble jumpers.
Ultimately, though: he'll give you buckets.
Green exploded after the Rockets finally stopped starting two centers. As the game slowed down for him, he got more comfortable making decisions in the half-court. You always have to be cautious with post-All-Star-break samples, but his 22-4-3 on roughly 59% True Shooting felt pretty sustainable.
OTHER LIKES
- Can't talk about fun bucket-getting without talking about Kevin Porter Jr. Filthy isolation package, filthy handle. He's a joy to watch when he gets rolling.
- This is, and likely always will be, a Jae'Sean Tate fan account. Dude gets after it defensively and fills in every non-shooting gap you can think of. He's a winning player, frankly.
- I've seen enough: I'm all in on Tari Eason. He's "the-ball-finds-energy" personified with enough ball skills to keep an eye on if the Rockets indulge him in any way. I'm preemptively annoyed by him being snubbed on the All-Rookie Second Team this year.