With the regular season set to tip off on Oct.18, let's take a look at where each team in the Southeast Division stands. We'll break down what to like, what to be concerned about, a lineup to watch and a reasonable range for them to finish in the standings. (If you've missed them, read our season previews for the Atlantic Division, Northwest Division, Central Division and Pacific Division.)
And for deeper thoughts on the Southeast Division, you can listen to the latest episode of The Dunker Spot.
Atlanta Hawks
WHAT TO LIKE: STAR BACKCOURT
Aside from Steph Curry, is there a point guard (not you, Luka) you'd rather build an offense around than Trae Young?
His blend of pull-up shooting, intermediate scoring, foul-drawing and playmaking is virtually unheard of. He became the first player since Nate "Tiny" Archibald to lead the NBA in total points and assists in the same season. You don't really stop Young more than you hope his teammates mess up when he doesn't have the ball.
And that's what makes the trade for Dejounte Murray so exciting.
Young doesn't have to be the offense anymore; he can just be the leader of it. Murray can also shoulder a heavy offensive burden thanks to his playmaking, downhill guile and budding pull-up chops — inside the arc, anyway.
In Murray, the Hawks finally have a second player who can consistently get two feet in the paint. That should open up catch-and-shoot opportunities for Young, a rarity over the past couple of seasons.
OTHER LIKES
- He can't keep himself out of trade rumors, but John Collins is very good at basketball. He's one of the most dynamic screening partners in the league — a violent above-the-rim threat and a dude who has drained over 40% of his above-the-break threes in two of the past three seasons.
- Big, big fan of Onyeka Okongwu. Quietly, he and Young torched teams in ball screens; the Hawks generated over 1.10 points per possession (PPP) on trips featuring a Young-Okongwu PnR, the seventh-best mark among 107 duos with at least 300 picks. Add in his ability to defend in space, and it shouldn't be a surprise that I'm all in.
- I am here for Jalen Johnson minutes at the 4. Don't rob me of this, Nate!
BIGGEST QUESTION MARK: SPACING & LINEUP BALANCE
The Hawks have done their best to surround Young with the kind of defensive talent he needs. A stout rim protector in Clint Capela, a power-wing defender in De'Andre Hunter, a guard-hounding menace in Murray. The problem is that defenses don't treat any of them as real shooting threats. They're in a weird spot where it feels like they have two-way talent, but not enough 3-and-D pieces.
Finding the combinations that'll help unlock their star guards without bleeding points will be Nate McMillan's toughest challenge.
OTHER CONCERNS
- It didn't seem like much of an issue during the preseason, but it's worth keeping an eye on the Young-Murray dynamic. Where Murray is spaced when he doesn't have the ball — and how he counters teams gapping him — will drive a good bit of the Hawks' half-court success against good defenses.
- Is this the year that Collins can comfortably hold down the 5? He's made strides every season, but the Hawks are still leaky — and an overall minus — when he's the only big on the floor.
- On a similar note, is this the year that Okongwu is fully ready to anchor lineups at the 5? I'm not sure yet. It would certainly be helpful if he is; that would mitigate some of my "what-if-Capela-goes-down-again" concerns.
LINEUP TO WATCH: Young-Murray-Bogdanovic-Hunter-Collins
This could end up being the closing group if Collins takes another step defensively. In theory, the Hawks can be in spread pick-and-roll heaven with Collins at the 5. Young or Murray should feast in that setup, and even Bogdan Bogdanovic could get busy.
BEST CASE: No. 4 Seed
This is a talented group, headlined by an All-NBA-caliber guard and a ball-hawking All-Star in his own right. With good health from Capela and Hunter, there's room for the defense to get to average this year. With Young being an offense onto himself, that formula could be enough for the Hawks to rack up regular-season wins.
WORST CASE: Play-In Tournament
Injury woes aside, there are enough spacing and defensive concerns for the Hawks to fall right back into the 7-10 range. Add in the injury woes, and a top-six finish doesn't seem likely.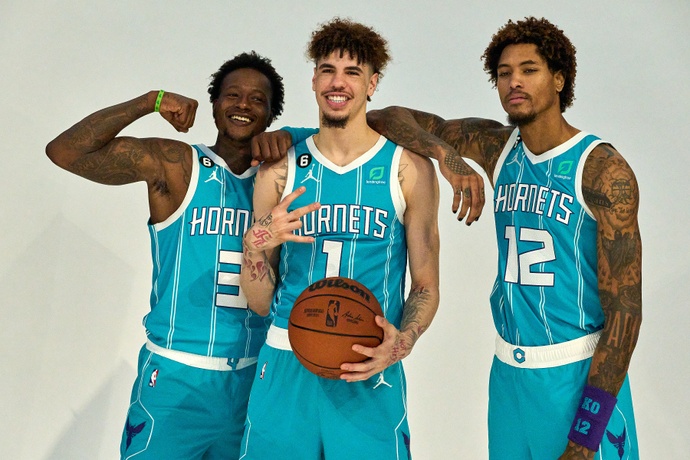 Charlotte Hornets
WHAT TO LIKE: LAMELO BALL & ERIC COLLINS
There are maybe five players who are more electric, more exciting than LaMelo Ball. He's an inventive passer, willing to throw 45-foot lobs, 80-foot underhanded scoops, and no-look darts to cutters or waiting shooters. Oh, and he'll pull-up from 30 on you and do so with a smile.
Frankly, there isn't a more energetic announcer than Eric Collins. When there's a thunderous dunk or gives-them-the-lead triple, Collins punctuates the moment with child-like splendor.
Together, they pretty much break the joy meter whenever something cool occurs. We need more joy in this sport, and I'm glad we have those two. It's a match made in heaven, TV volume permitting.
OTHER LIKES
- PJ Washington is one of the most underrated players in the NBA. I was shocked when his name popped up in trade rumors last season. He's a skilled 4 with shooting chops, ball skills and enough of a post game to punish smaller defenders when he gets them. Add in a healthy dose of switchability, and you have a pretty fun player.
- Quick hat tip to Cody Martin for securing a bag this offseason (four years, $32 million). He emerged as the Hornets' best perimeter defender, knocked down shots at a solid clip (38.4% from three) and kept the chains moving as a drive-and-kick piece.
- Cheers to another year of Terry Rozier shot-making! He's probably been overburdened as the shot-maker in the half-court for Charlotte, but he's on one of the best shooting runs you haven't heard of. A 38.8% clip from deep on 7.7 attempts — a blistering 42.1% on spot-ups — over the last three seasons is nothing to sneeze at.
BIGGEST QUESTION MARK: THE DEFENSE
I've said it over the past few seasons with Royce O'Neale in Utah, and I'll offer a similar sentiment here.
Martin is a good wing defender. But your team has a problem if he's your best wing defender.
Zooming out, I struggle with the personnel. Mason Plumlee is mobile and positionally sound, which should give Charlotte a level of scheme versatility. It's just hard to trust the secondary rim protection behind him if the Hornets ramp things up, and it's really difficult to trust the screen navigation in front of him if they put him in a drop — and that's in addition to Plumlee not being feared at the rim.
The Hornets were awful defensively under James Borrego last season, but that wasn't from a lack of effort. We saw drop, saw the bigs at the level, saw switching, saw some trapping (hi, late-season Hawks game) and, boy, did they run a ton of zone. None of it worked well or for very long.