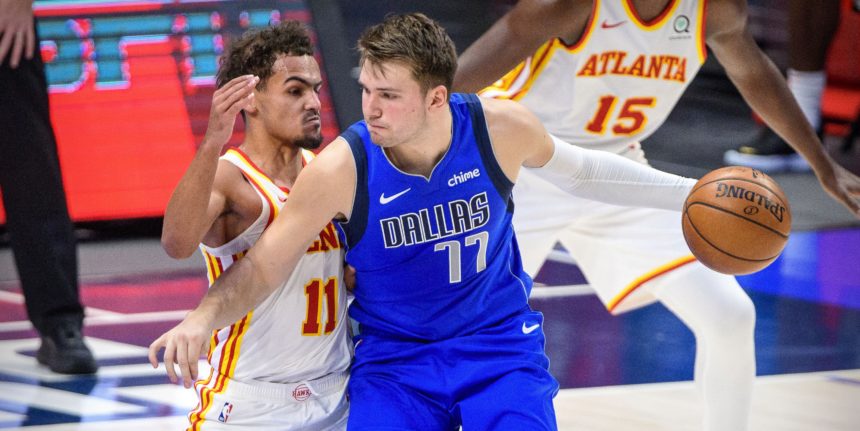 Ranking the top-10 players under age-25 for the 2021-22 season
The NBA is already in wonderful hands, with the next generation of young stars ready to take the baton very soon. Each year, so many incredible talents join the Association and various franchises help develop them into full-fledged gems. At this point, who are the top-10 players under 25 years old?
Below is a ranking of players under age-25 based on their current standing in the league. This list doesn't factor in their upside or long-term potential, just their current contributions. If you're wondering where players like Devin Booker, Jamal Murray and Donovan Mitchell are, I excluded players who will turn 25 years old during the upcoming NBA campaign.
Without further ado, let's dive into the list of franchise-changing stars.
LUKA DONCIC, DALLAS MAVERICKS
Doncic is the favorite to win this season's NBA MVP award for good reason. He's already established himself as one of the best players in the league with an effortless, beautiful brand of basketball that allows him to fill the stat sheet. Each year, Doncic has significantly improved various aspects of his game. We haven't seen a prospect get off to this kind of start in the NBA since LeBron James, which puts Doncic on a generational path.
Doncic has already reached a level where he can carry his Dallas Mavericks to a playoff berth, and potentially to a top-four seed in 2021-22 with another leap. Next, he'll try to help the Mavs win their first playoff series since their championship run in 2011. The Slovenian phenom has next, and he certainly seems poised to take over the league. And while this ranking is solely based on each player's current contributions, it's wild to think that Doncic is still only 22 years old (meaning he's younger than some of the incoming rookies, including Davion Mitchell and Chris Duarte).
TRAE YOUNG, ATLANTA HAWKS
After an Eastern Conference Finals appearance, Young has reached league-wide superstardom. Everything clicked together for the Hawks when Nate McMillan took over for Lloyd Pierce as head coach. Atlanta rode this momentum while Young took a leap and became one of the best point guards in the Association.
Young can go off for 30-to-40 points whenever he pleases, and his playmaking ability is reminiscent of a young Steve Nash. Young's trajectory is to the moon, and Atlanta gaining postseason experience with last year's deep playoff run should only help Young. This season, it'll be interesting to see how Young adjusts to the NBA's new rules against unnatural foul-baiting (which were added in large part due to him).
JAYSON TATUM, BOSTON CELTICS
Tatum is one of my favorite NBA betting dark-horse options to win MVP. Boston has built a team around Tatum that allows him to continuously produce buckets. Once the calendar hit March, Tatum averaged nearly 30 points per game with an impressive efficiency clip. Alongside Jaylen Brown, who turns 25 years old next month, Boston's dynamic wing duo could vault the Celtics into the Eastern Conference's second tier of contenders.
Among the young wings in the league, I'm riding with Tatum to be the most valuable in 2021-22 and beyond. He's just now realizing how special of a scorer he can become in Boston.
ZION WILLIAMSON, NEW ORLEANS PELICANS
Williamson has already seen immense organizational turnover around him in the Bayou State. Through it all, he's still showcasing superstar potential on a nightly basis. Williamson just averaged 27.0 points in his age-20 season. And with the Pelicans building a more competent rotation to space the floor, Williamson could average 30-plus points per game in 2021-22.
Williamson is a titan in the paint, and he should continue to establish his dominance throughout his career. Soon enough, New Orleans is going to become a force to be reckoned with thanks to Williamson and the rest of their young core.
BAM ADEBAYO, MIAMI HEAT
It's hard to name an NBA big man who's more versatile than Adebayo. Not only can Bam score effectively around the rim with an improving range, he can also run the offense and protect the rim with the best of 'em. Adebayo already plays such a pivotal role for the Heat, and he's going to be a critical piece this season as they hope to make an NBA Finals run.
If Adebayo continues to develop into a more well-rounded scorer throughout his prime, he will quickly become one of the best overall bigs in the NBA. Having Kyle Lowry as his point guard will do wonders for him immediately as well.
BRANDON INGRAM, NEW ORLEANS PELICANS
Ingram is flying under the radar right now, and he shouldn't anymore. After his first All-Star appearance in 2019-20, Ingram still flashed jaw-dropping scoring capabilities as a perfect sidekick alongside Zion Williamson.
Ingram can score from all three levels while also drawing fouls at a star-like rate. Once everything clicks together – and he if shows improved defensive acumen – he could crack the top-five of this list next season.
SHAI GILGEOUS-ALEXANDER, OKLAHOMA CITY THUNDER
Oklahoma City nabbing SGA in the Paul George trade was a franchise-altering moment for the organization. Sure, the Thunder are continuing their tanking efforts by stockpiling copious amounts of draft picks throughout the 2020s, but Gilgeous-Alexander has quickly emerged as one of the most promising young players in the NBA.
Somehow, the Thunder were floating around .500 near last year's All-Star break thanks in large part to Gilgeous-Alexander's brilliance. Last season, SGA averaged 23.7 points, 5.9 assists and 4.7 rebounds while posting a 62.3 True Shooting percentage.
Gilgeous-Alexander plays a unique brand of basketball and he should only continue to improve as the Thunder's No. 1 option moving forward. SGA has earned his place as the face of the franchise in Oklahoma City. Now, let's hope the Thunder can use their draft picks and assets to surround him with talent during his prime years.
JA MORANT, MEMPHIS GRIZZLIES
Morant is so much fun to watch. The modern-day version of prime Derrick Rose, Morant's explosive scoring components bring endless amounts of energy to this new era of Memphis Grizzlies basketball. In his second season, Morant helped push Memphis to the No. 8 seed in the Western Conference and gave their young core some much-needed playoff experience. He can already create endless match-up problems in transition and isolation situations, and he should continue to improve as a perimeter scorer.
Morant has yet to average at least 20.0 points per game in his career, but that leap should happen in 2021-22. If the Grizzlies improve upon their impressive finish to last season, it will be in large part due to Morant taking the next step in his development.
DE'AARON FOX, SACRAMENTO KINGS
It's a shame the Kings have yet to make real progress throughout Fox's career, because he continues to add more tricks to his bag. Last season, Fox averaged a career-high 25.2 points on a 56.5 True Shooting percentage. With some impressive draft picks in the last two years (Tyrese Haliburton and Davion Mitchell), maybe we'll finally see the Kings break their 15-year long playoff drought sometime soon.
Fox will climb this list if he works on his three-point shooting and free-throw efficiency. Thus far, Fox has shot a pedestrian 32.6% on three-pointers plus 71.8% on free throw attempts over the course of his four-year career. Even if those percentages don't significantly improve, Fox is already a blur in transition who continues to put up impressive outings on a nightly basis.
DEANDRE AYTON, PHOENIX SUNS
If Ayton could create for himself as a scorer, he would be much higher on this list. Although Ayton won't pop as a 20-plus-point-per-game big just yet, his career development is taking an interesting turn following the Suns' improbable NBA Finals run. Playing the No. 3 role behind Devin Booker and Chris Paul, Ayton embraced doing all the dirty work — hard screens, dominating the glass, protecting the rim while staying out of foul trouble, etc.
Ayton is becoming a more valuable big in playoff situations than Rudy Gobert. Yes, that might seem like a hot take right now, but the exponential growth we saw from Ayton as a defensive anchor has changed his trajectory entirely. As one of the most efficient paint scorers to go along with elite-level defense with versatility to guard ball-handlers on switches, Ayton is the perfect center for playoff situations.
Ayton should eventually jump back into the primary No. 2 role alongside Booker as Paul ages gracefully into his new four-year, $120 million extension. In the meantime, Ayton has already thrived on the biggest stage, proving how valuable his skill set is in today's NBA. This season, Ayton will be one of the most intriguing players to follow for this very reason. And if takes a step forward with his self-creation, that would change the game again for the Bahamian big.