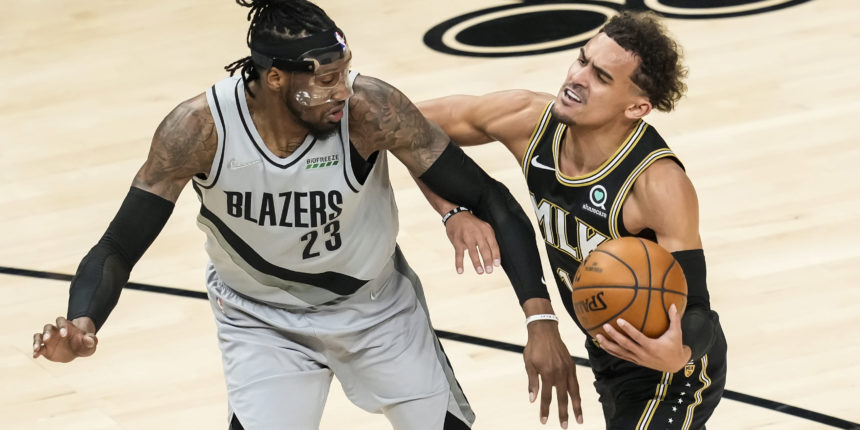 How the NBA is trying to eliminate unnatural foul-baiting
Throughout NBA history, there many examples of players identifying and exploiting competitive advantages and the league implementing new rules. This is a constant back-and-forth since players, coaches and executives are always trying to find the slightest edge over their peers.
For example, defenses cannot intentionally foul players without the ball in the final two minutes of quarters and offensive players cannot kick out their legs to initiate contact. In each of these cases, the NBA created a new rule.
Sometimes, the NBA will make more subtle tweaks by deliberately enforcing rules that previously existed. Allen Iverson drew criticism for allegedly carrying the ball prior to executing his crossover, which led to the NBA closely policing how players initiate crossovers. More recently, in the mid-2010s, the NBA cracked down on swing-throughs by disallowing free throws for shot attempts that began unnaturally on the opposite side of the body, swinging the shot attempt directly through a defender's hand or body, calling it a common foul instead.
And in 2021, here we are again, at another inflection point in the cat-and-mouse game between offenses and defenses. As all of us who watched the 2021 NBA Playoffs know, many players have taken to hunting for shooting fouls. This isn't an entirely new concept; but historically, players baited defenders into fouling them on actual shot attempts. More recently, offensive players have begun tricking referees into calling fouls based on technicalities – but in doing so, these players often commit offensive fouls themselves, jumping backwards into defenders and/or initiating contact with the shooting hand in an unnatural motion.
This play has been gaining traction among NBA players for a few seasons, but it was perfected and popularized by Trae Young this past season, as he masterfully initiated contact using unnatural shooting movements time and time again. Young's unnatural shot attempts regularly resulted in collisions; he would swing his arm or jump backward into a defender during a shot attempt, putting tremendous pressure on officials to make a call.
Young benefited more than other players who do this given his small stature makes falls and collisions more believable – and in real-time, it really does look like as though Young is fouled on virtually every contested shot attempt, but it's not just Young. Luka Doncic does it brilliantly. James Harden and Chris Paul, too. So do many others.
We can't blame the players, who benefit from exploiting these competitive loopholes. If it works, why wouldn't players add this to their offensive arsenal?
Fortunately, the NBA has weighed in.
The NBA's competition committee met in June to explore rule changes that will restrict these unnatural shooting motions. They didn't waste any time implementing these restrictions, as they started calling these fouls during this year's NBA Summer League. The NBA's officiating account (@NBAOfficial) tweeted that starting in Summer League and continuing into the 2021-22 season, officials would look to eliminate the following situations:
When a shooter leans into or jumps into a defender in an unnatural way.
When an offensive player abruptly veers sideways into a defender, or simply stops in front of him, giving the defender nowhere to go so they run into the shooter.
When a shooter kicks their legs up or sideways in an unnatural way to initiate contact with a defender.
When an offensive player uses his non-shooting arm to hook a defender.
The NBA also shared video clips from the 2020-21 season to exemplify situations it would deem offensive fouls. The league is taking action to ensure the sanctity of the game.
An offensive foul should be called on this play, as the offensive player uses his right shoulder and hip to dislodge the defender and the offensive player lands outside his normal floor position. (5/7) pic.twitter.com/w0Fc9z3p13

— NBA Official (@NBAOfficial) August 8, 2021
Following this announcement, Trae Young facetiously tweeted that he's honored to have inspired a rule change, but time will tell how he really feels about it.
The fact of the matter is that Young and others who exploit this loophole turn basketball into a strategic game of chicken in which the offense baits the defense. And if they're good enough at it, the offense is nearly guaranteed foul calls or they buy themselves extra space because defenders are worried about the inevitable foul calls.
It's brilliant and an art form, but it's also bad for basketball. The play further delegitimizes defenses, preventing defenders from remaining connected to a play. There is a fine line between drawing fouls through basketball plays and unfairly drawing fouls based strictly on the appearance of contact, especially when said contact is initiated by the offense.
Without a rule change, the NBA would take another step in making professional basketball an offensive paradise and a defensive hell. Also, if the league didn't address this, games would end up taking longer since players would seek out these situations more frequently and shoot additional free throws.
The NBA made the right call, but the hard part remains as its officials will have the tall task of enforcing the new rule in real-time.
Expectant fans excitedly await the return of basketball, and many will specifically look at how these plays are refereed and how the players react and adapt. But with the first pre-season games tipping off in approximately one month, we won't have to wait long for answers.
BasketballNews.com will revisit this topic once the 2021-22 season begins, with input from various players and coaches.