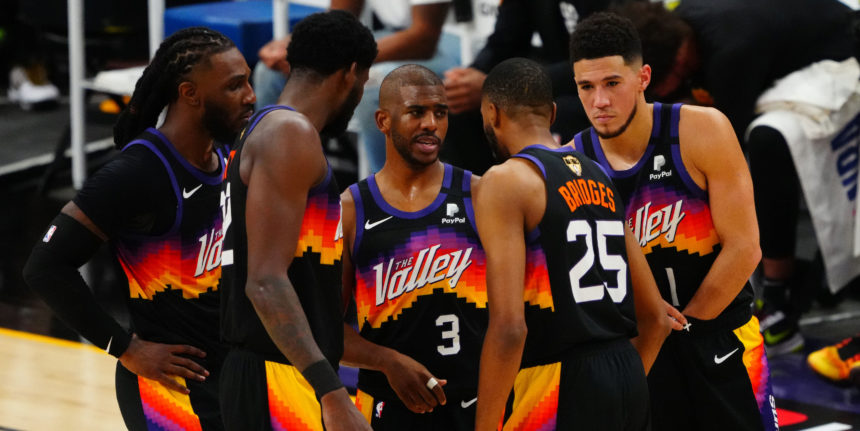 Suns credit Finals run to tough conversations, constructive criticism
The Phoenix Suns are in the NBA Finals for the first time since 1993, and they have a chance to win their first championship in franchise history.
Six months ago, it seemed highly unlikely that the team would be in this position.
The Suns started the season 8-8, including losses to the Detroit Pistons, Oklahoma City Thunder, Sacramento Kings and Washington Wizards. About one month into the campaign, Phoenix's starting lineup had a negative point differential (-6.5 points per 100 possessions).
Suns head coach Monty Williams was frustrated and met with his starters: Chris Paul, Devin Booker, Mikal Bridges, Jae Crowder and Deandre Ayton. He told them that, statistically, they were the worst starting lineup in the NBA.
"Coach met with us and said we had the worst starting five in the league. Remember that?! We had the worst starting five in the league [in] plus/minus," Paul recalled. "That hurt. That hurt. I ain't never been on a minus side or any of that stuff. We knew that we had to figure it out. Like, if we wanted to get where we are now, we knew we had to figure it out. So, we did it."
The starters met and had a candid conversation with each other.
"We sat down... it was the whole starting five," Booker said. "We were just really honest with each other. I always say we hang our hat on the defensive end, and that's where most of the conversation was. 'We obviously have to figure out chemistry on the offensive end and how we're going to move and what pace we're going to move at, but if we're not going to be scoring, the other team can't be scoring either.'"
Implementing a new focal point is always difficult, but it was particularly challenging during the 2020-21 season since there were very few practices because of the condensed schedule and limited opportunities for off-court bonding due to the NBA's COVID-19 rules.
"Being here and in Phoenix a whole season, I ain't been to about two different places and that's the practice facility and the arena, with all the restrictions that we have," Paul said. "We haven't been able to go bowling, go do these different things that you would normally do as a team. So, you have to build that [chemistry] in practice and on the road, build that trust in wins and on bus rides and plane rides. I think that's what our team has done a great job of, making sure that we come to practice to work, but at the same time, making sure that we have fun and actually enjoy being around each other."
As the season went on, this Suns team developed that chemistry and became a tight-knit group. By mid-April, when Phoenix went on their East road trip (which included games against the Milwaukee Bucks, Philadelphia 76ers and Brooklyn Nets), Booker said that the team "came together more than ever at that time," and realized that "we're all going to have to sacrifice something."
"I've always felt a really good vibe around our team, a really good vibe around our staff, a really good vibe around our players," Cam Johnson added. "Sometimes going into the league, you hear that it's a little bit tougher to get along with people. You know, it's a job. Everybody looks at it as a job. But I really feel like this is a real team — a real team with guys who have each other's back, who sacrifice for each other, and I felt that since I got here… I think we have a really good culture."
"It's never like, 'Okay, let's be together.' It's known that we're together and we show it," Mikal Bridges added. "We don't fake it. We don't 'try' to be together. It's just natural every time we see each other. We're a family. I love these guys."
Because the Suns are so close, they have no problem holding each other accountable. They don't shy away from having tough conversations and offering constructive criticism.
"We all got on each other and had candid conversations where we had to adjust," Ayton said. "But candid conversations lead to wins, and it started to be great communication and constructive criticism and we just all take it [and turn it] into a positive."
"Everybody's holding each other accountable," Cameron Payne said. "If someone's messing up, 1 through 15 has the right to say something to you because we know each other off the court, so no one ever takes it the wrong way. Honestly, I feel like that's how we got here — accountability all the way down the line, being able to take criticism from your teammates. That's one of the biggest things of building a championship team, being able to take criticism from your co-workers."
Ayton said that his teammates and coaches give him constructive criticism "probably every day," and that "everybody is on each other."
"Book always has something to say — in a good way — just to get me going," Ayton added. "They are always giving constructive criticism, and I take the best of it."
"It's been a lot," Paul said of the team's tough conversations. "It was some tough ones. DA couldn't have said it better. Sometimes people take it as arguing or whatnot, but I think it was all constructive. Talking about pace, they have been on me about getting the ball up the court faster. Talking to DA about the angles of the screens, and you see as the season goes on how much that stuff is important. Hitting the bottom, getting out, making yourself open. I could show you play after play where it helped [in Game 1]."
Paul and Booker admit that they are tough on Ayton. Recently, Paul pulled Booker aside and whispered, "We have been on his ass." They are proud of the way he's listened to their feedback and elevated his game during this postseason run.
"Sometimes... Chris will be talking to him, and I'll be waiting right there, 'You done, Chris? All right, let me go tell him something.' So we're all in his ear," Booker said of Ayton. "We're all on him. And for him to retain all that information and come perform at the level that he's been performing, it's hard to put words to it. Because we have been tough on him. And he has gone through his phases in his NBA career, but since this playoffs has started, you've seen his maturity and his growth grow to a whole 'nother level, and he's continuing to get better. Now, instead of me coming up to him, he might come to me and be like, 'So, what should I do when this happens?' Just little things like that. And he still has even more in the tank that he's going to show soon."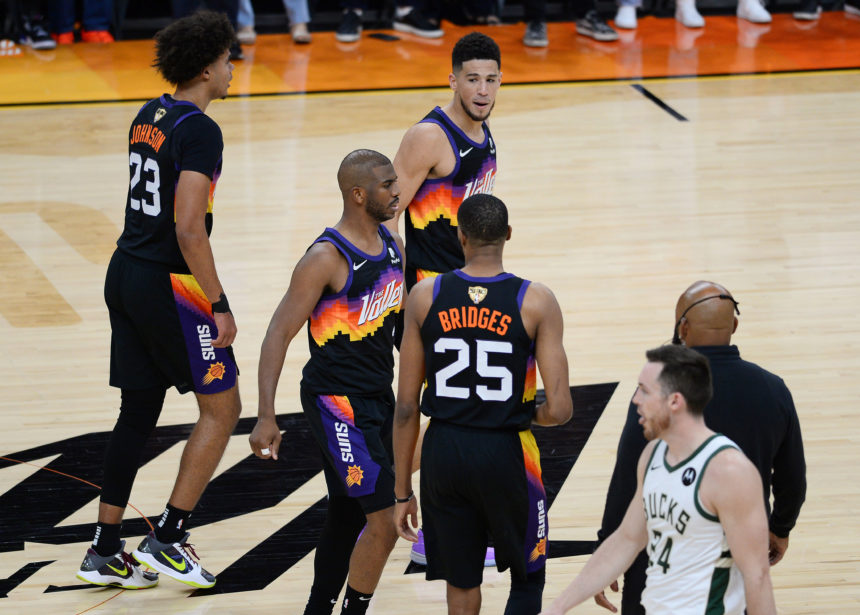 Booker, Ayton, Bridges and Johnson are all key contributors who had never been in the playoffs prior to this year, but they've leaned on their veteran teammates.
"[They've] been willing to just accept advice and apply it on a daily basis," Jae Crowder said. "That has been great to be a part of and to see our younger players grow."
Clearly, the Suns' approach has worked. Developing strong bonds made it easier to have those difficult conversations and hold each other accountable.
"Earlier in the year, there was some gray areas as to how to help those guys play together," Phoenix head coach Monty Williams recalled. "I think those three deserve a lot of credit for the time that they spent after practice talking about certain environments. I would love to tell you that I orchestrated it all, but we have given them a system and then those guys talk about the angles of the screens and different ways to run plays that we have so that they can be effective. I just think it's a lot of intentional conversations between those three and all of our guys."
BACK TO SCHOOL
During Game 1, the broadcast mentioned that Suns forward Cam Johnson is playing a key role on an NBA contender while pursuing his master's degree at the same time. When asked about this after Phoenix's most-recent practice, Johnson offered some clarification.
"I am going to be completely candid with you: It's been on hold. It's been on hold for a while. I'm halfway through it," Johnson said. "I have proposed it and I'm getting ready to do data collection, but I've been getting ready to do data collection for a while. Life in the league, it's a little busy! (laughs) I will finish it, though. My mom gets on me about it, my grandma gets on me about it. They are like, 'When are you going to finish it? When are you going to finish it?' I'm like, 'Guys, I'll finish it.' It's definitely going to get done, but it is on hold right now. It's not like I finish the game and go home and open up my laptop and get to typing. But it's definitely something that I will go on record and say I'm going to finish it this offseason."
Even when you're three wins away from an NBA championship, your parents still nag you about finishing your homework.
"It's just like that, 'What about your thesis, though?'" Johnson said with a grin. "It's the same thesis from when I was in grad school at [North] Carolina. It's the same program, finishing that up. I remember I was going somewhere two summers ago or last summer and my mom was like, 'You shouldn't be going there. You haven't finished your thesis yet.' So, it's like I'm not allowed to go see my friends before I finish my homework or something like that. (laughs)
"But I give my parents a ton of credit for staying on me and my brothers academically, making sure that was always emphasized and they never really let us slack off. My older brother was a really good role model for me academically. He was valedictorian of his high school class and a really successful student, so it was always something for me to try to compete with and catch up to."
Johnson isn't the only Suns player who is pursuing a degree. Chris Paul is currently taking college courses as well.
"I'm enrolled at Winston-Salem State," Paul said. "I'm a student, studying communications… I [also] have a class right now at North Carolina A&T, a class with Ms. Anita Elberse."