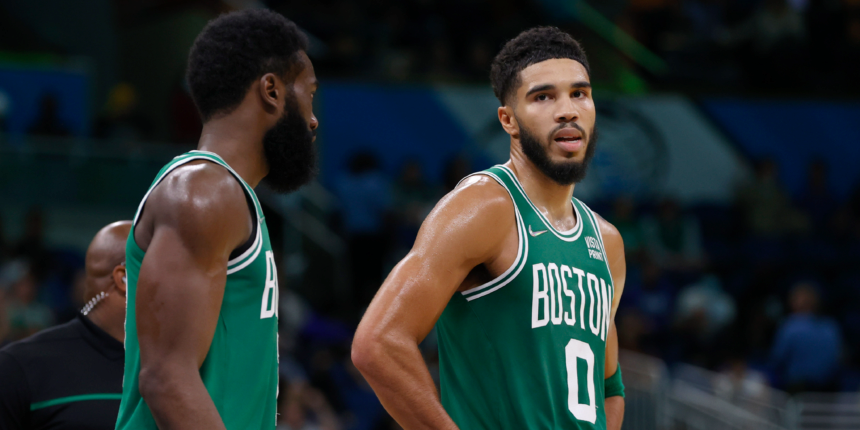 The case against, and for, Boston splitting Jayson Tatum, Jaylen Brown
Bostonians need to breathe before reading this.
Things look bleaker than the ending of the Last Of Us II for some, but in totality, it's not really that bad.
The Boston Celtics are 21-21 halfway through the season and tied for 10th in the Eastern Conference with 40 games left. Even so, they're just three games behind the Philadelphia 76ers for the No. 5 seed. In this league currently, a two-week run could have you anywhere from eye-emojiing that conference championship or deciding to blow it up altogether. Just ask the Cleveland Cavaliers and Atlanta Hawks.
That brings us to the Celtics, who have two All-Star caliber wings in Jayson Tatum and Jaylen Brown.
With the same tandem many anointed as next in line, the Celtics lost in Game 7 to the LeBron James-led Cavs in the 2018 Eastern Conference Finals. (IBoston missing a sidelined Kyrie Irving didn't help either.)
Since then, the Celtics have imploded in the 2019 Eastern Conference semifinals with Irving healthy, fallen to the Miami Heat in the East Finals in Kemba Walker's last All-Star season, and needed the Play-In Tournament to solidify their standing in the 2021 playoffs, where they were nearly swept by the Brooklyn Nets in the opening round.
If you combine Boston's records following its 2020 East Finals run, the team is 57-57. So as a result, y'all are trying to break up Tatum and Brown, who are still just 23 and 25, respectively.
Does that need to happen for the Celtics figure this out? Let's talk about it.
The Case To Keep
The case to keep is getting tougher to construct by the day because of public opinion and underwhelming results. Still, it's hard to have two All-Stars on your roster at 25 years or younger and to want to split them up, even if they could be offensively redundant. But let's compare this to Damian Lillard and CJ McCollum's situation out in Portland, as a guide.
Lillard and McCollum are both 6-foot-3, score-first guards who are on the other side of 30 years old. Each rely heavily on creating with the ball in isolation or high screen-and-roll situations to generate offense, and generally occupy the same real estate on that side of the ball. Neither are defensive stoppers... at all... and both are on huge contracts through at least 2024. Lillard will make $39 to $49 million annually between now and 2024-25, whereas McCollum will bank $31 million, $33 and $36 million between now and 2023-24. Each deal will take them into their mid-30s.
Tatum and Brown are both on rookie extensions. Tatum could opt out of the fifth year of his, but even so, it's $37 million in 2025-26 — less than Lillard makes this year. Brown's number is $24.8 million this season, and he's only signed through 2023-24 — same as McCollum — where he'll see $28.6 million. Tatum and Brown are also wings between 6-foot-6 and 6-foot-8, and have shown more defensive upside, while Lillard and McCollum are smaller guards who have dealt with more injuries in recent seasons than they had previously, for whatever that's worth.
A Tatum-Brown tandem is so damn hard to find and develop that it almost never happens, and — given where the projections stood after a quick turnaround from sending Kevin Garnett, Paul Pierce and Jason Terry to Brooklyn — it's why people poke fun at the Celtics for being where they are. That's how Tatum and Brown got there in the first place.
But if you go the "keep both and make it work" route as Boston will reportedly choose, you have to build it differently. If you want to keep the Jays together, a legitimate point guard should be there to run the show, not a dude who just plays the position; that would help Robert Williams significantly too. The problem is, the way guys are being encouraged to run the 1-spot now isn't conducive to that, so it's challenging. But hell, all of this is. Only four teams make a conference finals, and the Celtics have been to two in the last four seasons, so you could definitely talk yourself into keeping this going.
The Case to Split
We don't definitively know what they are, but we've heard rumors about friction and supposed off-the-court issues seemingly since these two became teammates. Not necessarily between them, but around them. This season alone, there was that time Brown and Al Horford didn't agree about whether or not the team needed to look in the mirror following a loss to the Minnesota Timberwolves. Less than two months earlier, Marcus Smart called out Tatum and Brown regarding their apparent selfishness offensively. We could go on, but you get the point.
On the surface, you'd just figure you'd get more wins. It's easier said than done, especially knowing how much the league — the East, in particular — has improved since 2017. While Tatum and Brown have also become All-Stars in that time, we still have questions.
This also ties back into the redundancy on the court, which is discernable. There's something to be said for choosing one and dealing the other for a point guard with actual floor-general tendencies — or just better parts to fit around whoever's left — but given the level of whichever player is dealt, you'd rather have the the former.
There's Ben Simmons smoke, and he'd make sense with either on the court. Off? Who the hell knows. Everyone's a wildcard in this hypothetical.
Shai Gilgeous-Alexander would be fascinating, though I think Oklahoma City should keep him.
John Collins is interesting, particularly because he may be available and could conceivably play next to Time Lord down low; however, there's a world where that's clunkier than what Collins is already dealing with by sharing the floor with Clint Capela in Atlanta.
And there's Dejounte Murray, who would be the most appealing fit next to either if you're point guard hunting. A Brown for Murray framework, for example, works for both the Celtics and San Antonio Spurs on paper, at least. But, if I'm the Spurs, it's a no from me dawg. For now, at least.
The Verdict
Honestly, the East is too good for Boston this year, barring something more improbable than you out-trash-talking Dillon Brooks. There's something to be said for making a minor move to improve the roster a bit. Still, this appears to be a one-and-done playoff team on the surface, with a deep evaluation of its future coming in a few months.
A trade wouldn't change your fortune a good deal either, so thugging it out until the summer is probably best for now, unless the locker room morale is worse than we know. In that case, it would be time for a meaningful shake-up.