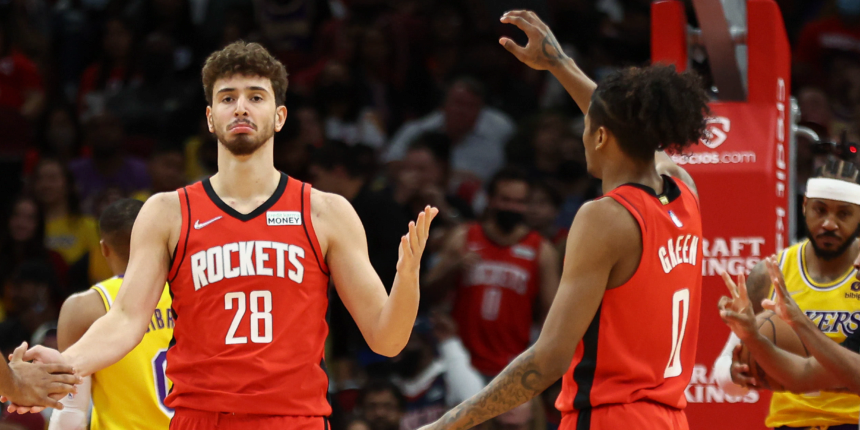 Rocket Revival: Evaluating Houston's promising young core — Part II
After a dismal 1-16 start followed by a 9-4 stretch — sandwiched with rumors of cutting loose head coach Stephen Silas midseason — the Rockets have gone awry yet again. They're sporting a 2-10 mark since then. Houston is young, they're certainly imperfect, and they're in store for significant change during the season if they maintain their current trajectory.
To stop and take stock of the youth movement during the first full rebuilding year post-James Harden, Mat Issa and I teamed up to gauge the development and future of the young players on the roster.
Jae'Sean Tate
There are few players in the NBA I enjoy watching more than Tate. At 26, it's hard to necessarily consider him part of the young core and rebuild, but complementary role players are an absolute must in developing high usage players.
Tate possesses stellar defensive versatility and efficacy — many players can do a lot of things, but doing a lot of things well is where Tate manifests his value on both ends, whether it be:
Playing the passing lanes.
Holding his own in isolation.
Rotating in help.
Or hounding ball-handlers at the point of attack.
Tate is on the shortlist of players who are in a "when" not "if" category when looking to future All-Defensive team ballots. He can still clean up his off-ball defense, and he overshoots at times on switches, but many of these issues can be linked to communication — which this Houston team strongly lacks.
His offense requires more digging, as his box score doesn't leap off the page and understates his impact. He's one of only four Houston players that rates as a positive in Offensive Estimated Plus Minus, and the only Rocket who rates positive in both offensive and defensive EPM.
Tate is a solid finisher, but a poor shooter on low volume. He derives the majority of his positive play on offense through his decision-making and court vision. The Rockets at times take advantage of his frame and ability to bully smaller guards in the post, in order to create passing opportunities or easy scoring looks if he doesn't draw a double team.
He's excellent when grabbing and going, with timely kick-ahead passes and pacing to jumpstart the break. He's a really solid screener, which opens up intriguing small-small ball-screen actions that allow him to operate as a dribble-handoff facilitator and occasional roll man.
Was going back through my notes and realized I forgot to clip this. One of my favorite little plays from the week

Jae'Sean Tate's been awesome pic.twitter.com/FIdwDa28US

— Mark Schindler (@MSchindlerNBA) December 23, 2021
He just does everything to an extent.
His lack of shooting does hold him back from becoming one of the truly elite role-players in the league, but make no mistake, finding Tate last season has proven a vital building block for the Rockets.
Kenyon Martin Jr.
KJ Martin was another pleasant surprise for the Rockets last year, far outplaying his draft value and contributing at a relatively high level much earlier than expected as a professional. That's what made his start to the season all the more perplexing. He started the year mostly out of the rotation and accruing a DNP before being reinserted to the regular rotation, albeit in a smaller role than last season (non-coincidentally, that fact can be linked with Houston's first losing streak). Fortunately, his minutes have evened back out (23 minutes per game in January) and he's played productively.
KJ has shown the foundation to become an elite play-finisher, part of what makes him so tantalizing alongside the burgeoning high usage creators on the team. He's 6'6, but one of the best leapers in the NBA — his verticality has boosted his gravity as a roller and cutter.
He has solid counters already around the rim, with some touch on his hook shots. He's a quality passer on the roll already and makes quality decisions, although I'd even like to see him attempt some more risky passes.
To make the most of himself as a margins-based prospect, he'll need to improve as a screener and get a little stronger, but that describes almost any young player.
He's still coming along as a shooter (34.9% on threes for his career) and that's perhaps the biggest area for his improvement. If he was more willing to take his open shots, and some contested ones as well, he'd be able to flex with more opportunities as a ball-handler from the perimeter. He's not yet comfortable coming off of screens or operating with much movement, and has room to improve his footwork and shot preparation overall.
Part of what's so difficult in evaluating KJ is trying to perceive the upside he has. He's had some bright flashes as a ball-handler, primarily off of cuts where he gets room to gather himself, or attacking close-outs, but the results have been fairly mixed. His handle is quite clunky right now, but if he's able to make some real improvement there — along with his shot — he'll be cooking with grease.
KJ has some creases to work out defensively, but offers legit weakside rim protection and makes quality vertical plays at the rim — he's already a solid rotational defender with room for improvement that would be bolstered by additional strength and reps. I love his game and can't wait to see what the future holds for him, he just does good things on court!
Alperen Sengun
I cannot say enough positive things about Alperen Sengun's rookie season. I saw it with him offensively during the draft cycle, but I have been quite impressed with how he's adapted to the NBA game defensively already — and in a way I wasn't sure he'd be able to.
He's shown himself capable of playing more aggressive coverages, utilizing his wingspan and solid lateral quickness in ICE coverages to prevent drives, and using quick hands to stifle them altogether and force steals. His hands around the rim are extremely active, and in spite of some of his back-foot leaping limitations, he has a knack for tips and deflections in the paint. I absolutely love his ability to use his hips to force defenders into his contests as well. He certainly has limitations, but his ability to toe the line and expand on the margins has been tremendous to see.
Playing straight-up drop pick-and-roll defense or more in centerfield has given him some issues, if he's not able to force the defender to gather or hesitate. Straight-line bursts can hurt him due to his hip fluidity. However, that just doesn't matter very much to me. He's already shown some coverage versatility and his offensive abilities make playing a more aggressive defense worth trying.
Where do I even begin with Sengun as an offensive player, man.
Quite frankly, I've felt that Sengun is underutilized by the Rockets. I need him to start expeditiously! He's currently out with an ankle injury, so just getting back to playing at all will be a win, but the point remains: start Alperen Sengun, I beg of you.
The Rockets lack a true primary ball-handler. Kevin Porter Jr., Starting Point Guard, has been rough. Jalen Green is ideally an off-ball creator who flows into actions with his movement skills (more on that later). Sengun is pretty easily the best passer on the Houston Rockets who isn't currently sidelined by the organization (I just want to see John Wall play somewhere please).
Like I wrote about with Trevion Williams recently, playing five-out doesn't really mean that you are getting guarded five-out. So often, Sengun is spaced to the slot or above the break, and while he has shown flashes as a shooter and has indicators to hint at future growth there, he is not guarded like a floor-spacer the majority of the time he's tasked with being one in Houston's offense.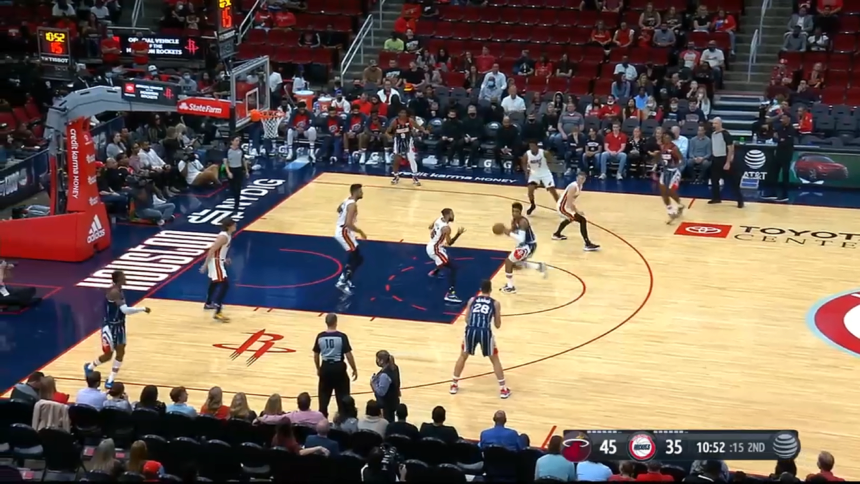 I'm not saying those need to be cut out entirely, as he's intrigued me with his loping drives off the catch.
Sengun is so fun man. He's had some really impressive moments this season pic.twitter.com/WiCAG1KbAlf

— Mark Schindler (@MSchindlerNBA) November 15, 2021
What he could be if he opens up his game as a shooter and from the perimeter is part of his intrigue. However, he could be better optimized if used more often in the middle of the floor, or more regularly being tasked with running dribble-handoffs.
He's shown dynamic ability as a stout screener and as a roller. Affording him more opportunities where the offense flows through him could open up even easier scoring avenues for Jalen Green and Kevin Porter Jr. Screening and handoffs are a form of creation, even if they're not often considered as such, due to the levels one has to hit as a screener and passer to actually make them viable forms of self-creation. Sengun surpasses the marks required to create in those areas, and making him a larger part of the offense is something I really hope to see once he returns from injury.
Sengun does have limitations as a finisher that currently hinder his upside as a scorer — and therefore his gravity — but his craft shown in the post and on touch shots in the paint but outside the restricted area are encouraging. I'm not sure what the ceiling is for him, but his improvements as a finisher and eventually a shooter are essential to maximizing his potential.
Jalen Green
Jalen Green had a very rough start to his rookie season, understandable given his environment and the woes of the Rockets early on. However, his efficiency from the floor has greatly improved after a 14-game absence due to a hamstring injury: 49.8% True Shooting in his first 18 games, compared to 58.2% across his last 10, a remarkable uptick.
He's starting to get a better grasp on the finer aspects of becoming a higher usage offensive player, going through the growing pains of on-ball development. I particularly have enjoyed some of the subtleties he's started to develop in pick-and-roll.
Green stares down the oncoming screen from Christian Wood and rejects it as soon as Russ shifts ever so slightly onto his right foot in anticipation. Jalen's downhill burst and first step were second to none in the 2021 draft class, and this play is a showcase.
He hasn't yet consistently unearthed some of the low hanging fruit, like using his handle in conjunction with the screen to lull his man into it, or to set up a dribble-drive that opens him an even wider lane. He uses slight screen set-up and devastating power to draw a quick foul here (4.9 FTA per game over his last 10, that's good folks!). Imagining what he'll be able to do to the rim and opposing defenses as he starts to develop more on-ball counters and craft is ridiculous to think about.
Finding easier buckets as he develops counters at the rim and on drives would be beneficial as well. Green has the essential tools that allow him to get there, but his frame and relative lack of craft around the rim has been an issue thus far. While he's shooting pretty well at the rim this season (60% per Cleaning the Glass), he's only shooting 34.8% on layups per InStat, and has really struggled when tasked with converting against good rim protectors — and against contact and length in general.
That's partially why I want to see even more with Jalen flowing off the ball. His gravity largely comes from his athleticism and ability to leverage it. Optimizing him more in a Bradley Beal mold (think from prior years before the mid-30s usage you see today), coming off pindowns, floppy actions, staggered screens, Iversons, etc. to get the most out of his quickness, and then work his way into easier isolations or secondary pick-and-rolls, would do him wonders. Especially for younger ball-handlers, making things easier — to simplify reads and what's required of them to create offense — is ideal.
Working in tandem with Sengun's gravity from the middle of the floor could get the most out of Green as a cutter and allow the gravitational pull between the two to warp defenses. He still has a great deal to learn as a passer — honing his vision, his progressions through reads, as well as ball placement.
The Rockets aren't in a great place this season, but their outlook moving forward is full of intrigue due to the young talent on the roster. I'm not sure how it all fits together yet, or if it does at all. Nevertheless I'm greatly encouraged by the individual players who comprise their core and what their development has looked like even in a sub-optimal situation. I'm cautiously optimistic about the future in South Texas and what it could hold for Rockets fans moving forward.
Read Part 1 of Rocket Revival, where Mat Issa broke down the rest of Houston's young core.