As we near the end of the NCAA regular season, let's take a dive into college basketball's Power Five conference standings, remaining matchups and teams to watch as we come down the stretch.
Tuesday, we addressed the ACC. For this article, we'll dive into the Big Ten.
Here are the current Big Ten standings, with conference wins and losses to the left and overall record to the right (table via CBB Sports-Reference):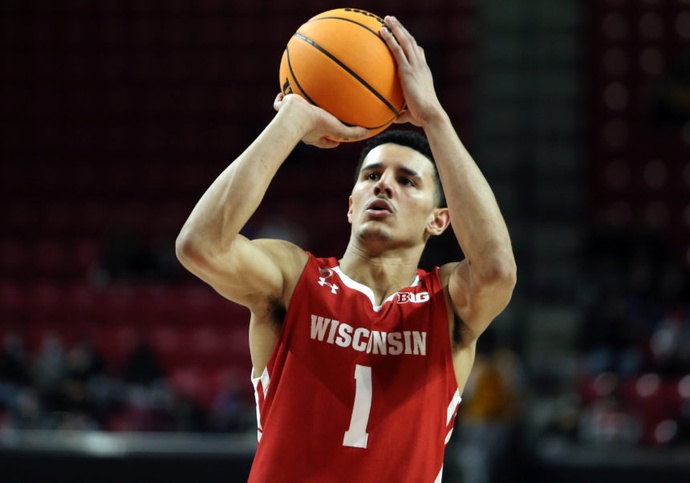 FRONTRUNNERS: PURDUE, ILLINOIS, WISCONSIN
The Big Ten is positioned to have SEVEN teams in the NCAA Tournament, with Illinois (No. 4 seed), Wisconsin (No. 4 seed), and Purdue (No. 1 seed) leading the charge. The third-ranked Boilermakers are one of the best teams in America and considered a favorite by many to make the Final Four in April. Jaden Ivey is in position to contend as a top-three selection in this year's NBA Draft, and Zach Edey and Trevion Williams are highly effective in the frontcourt, playing a significant hand in a a huge victory Tuesday night against Illinois.
Wisconsin's Johnny Davis is scoring more than 20 points per game, and continues to make his case as a top-10 pick in 2022. The Badgers have played well against mid-tier teams, but have recent losses against the stronger programs of Michigan State and Illinois. Wisconsin secured a big-time win on Tuesday night over the Spartans, so the Purdue matchup on March 1 looms large as the season concludes.
Illinois is ranked No. 13 nationally and third in the Big Ten standings. Kofi Cockburn continues to dominate the interior, while Trent Frazier has been one of the best guards in the country. After losing to Purdue on Tuesday night, the Illini slide to the back end of a three-way tie for the lead. They get a soft spot in the schedule next week and will need to capitalize.
Notable games remaining:
ILL: Mitchigan State (Feb. 19), Ohio State (Feb. 24)
WIS: Indiana (Feb. 15), Purdue (March 1)
PUR: Michigan State (Feb. 26), Wisconsin (March 1)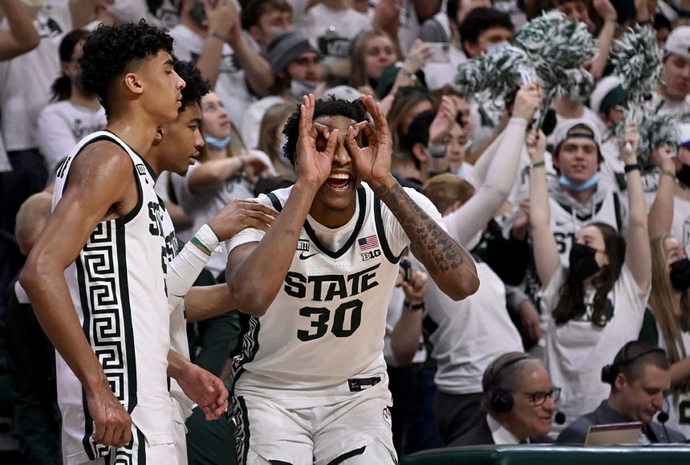 ON THE HEELS: OHIO STATE, MICHIGAN STATE

The Spartans are coming off a win against Wisconsin, and have positioned themselves as a real threat to the teams ahead of them. Gabe Brown, Marcus Bingham Jr., and potential first-round pick Max Christie continue to propel Michigan State forward. If there's something we all know, it's that nobody wants a part of a Tom Izzo team in March. Watch out for the Spartans as they gain momentum.
E.J. Liddell and the Buckeyes are only one-and-a-half games behind the trifecta of leaders up top. Liddell and Malaki Branham continue to get better as the season rolls on, and they will be a force to be reckoned with down the stretch. They are coming up on a soft spot in the schedule, but will run into Illinois and Michigan State near the end as their fate is determined.
Notable games remaining:
MSU: Illinois (Feb. 19), Purdue (Feb. 26), Ohio State (March 3)
OSU: Michigan (Feb. 12, March 6), Illinois (Feb. 24), Michigan State (March 3)
SLEEPERS: INDIANA, RUTGERS, MICHIGAN, IOWA

Notable games remaining:
IU: Michigan State (Feb. 12), Wisconsin (Feb. 15), Purdue (March 5)
RU: Ohio State (Feb. 9), Wisconsin (Feb. 12, Feb. 26), Purdue (Feb. 20)
MICH: Purdue (Feb. 10), Ohio State (Feb. 12), Illinois (Feb. 27)
IOWA: Michigan State (Feb. 22), Illinois (March 6)
THE REST:
Penn State, Northwestern, Maryland, Minnesota, Nebraska
2022 NBA DRAFT PROSPECTS TO WATCH
Kofi Cockburn, Illinois
Zach Edey, Purdue
Trayce Jackon-Davis, Indiana
Gabe Brown, Michigan State
Looking to go to the hottest concerts, sports, theater & family shows near you? Get 100% guaranteed tickets to more than 125,000 live events from TicketSmarter, the official ticket marketplace of BasketballNews.com. Order online now!