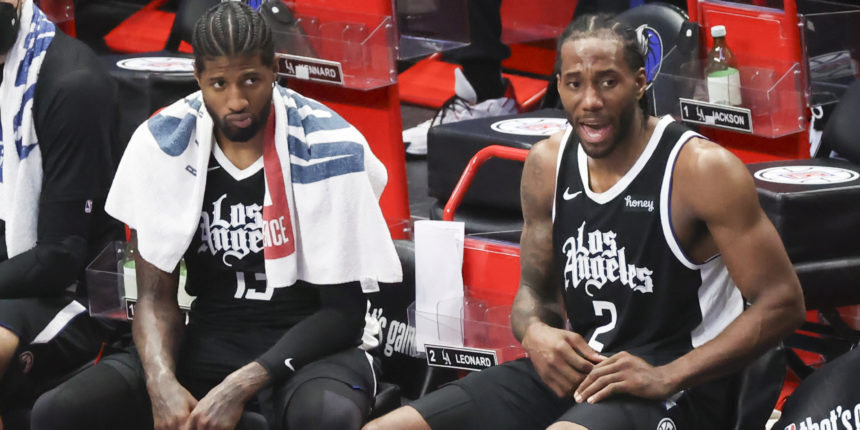 Reacting to a wild NBA news day: Kawhi, CP3, firings, LaMelo
Wednesday was one of the wildest NBA news days in recent memory.
Before noon Eastern Time, we learned that two All-NBA players will be out indefinitely, two head coaches and a general manager have been fired, plus there was an award annoucement.
If you missed it, here's a recap of today's breaking-news stories (plus reactions from our BasketballNews.com staff).
CHRIS PAUL TESTS POSITIVE FOR COVID-19
Phoenix Suns star Chris Paul has tested positive for COVID-19 and is out indefinitely while he's in the NBA's health-and-safety protocol, according to John Gambadoro of ArizonaSports.com.
It remains to be seen if Paul will be available for the Suns at any point during the Western Conference Finals. Fortunately, Paul was vaccinated in February (as reported by Gambadoro and confirmed by ESPN's Jalen Rose), so hopefully he doesn't have many symptoms and can return sooner than later.
The 36-year-old has been a huge reason for the Suns' first Western Conference Finals run since 2010. This postseason, Paul is averaging 15.7 points, 8.7 assists, 4.1 rebounds, 1.2 steals and 1.4 turnovers on 50.9/44.4/91.2 shooting splits.
If Paul does miss time, Cam Payne will need to step up, as he did in the first round against the Los Angeles Lakers (when Paul injured his shoulder). In that series, Payne averaged 12.5 points, 3.3 assists, 3.0 rebounds, 1.2 steals and 1.0 block while shooting 42.3% from three.
Here's how our staff reacted to the CP3 news:
Moke Hamilton: I'd spent the past couple weeks telling everyone that would listen that the Phoenix Suns were going to win the championship, and with such a dominant performance by Chris Paul in their four-game sweep of the Denver Nuggets, I think many others were beginning to buy in. The news of Paul testing positive for COVID-19 just sucks, and there's no other way to put it. Without him running the show, Phoenix is obviously a much different team. The silver lining is that Paul was reportedly vaccinated. While being vaccinated doesn't prevent one from contracting COVID-19, it should, in theory, equip them with the tools necessary to defeat the virus sooner. Fortunately for the Suns, the Western Conference Finals won't begin any earlier than June 20. If Paul is able to beat the virus relatively quickly, he could return soon. Personally, I'd be surprised if he ends up missing more than the first two games of the Conference Finals since he's been vaccinated, though I would certainly be concerned about his conditioning and whether the virus negatively impacts his ability to perform. Things could be worse for the Suns (look at Kawhi Leonard and the Clippers, for example), but for a team that has emerged as a credible threat to win the whole thing, their MVP contracting COVID-19 is a gut punch, especially as NBA arenas are nearly at full capacity and we have, in many ways, begun to emotionally "move on" from the virus.
Alex Kennedy: This news came out of nowhere, which is why it's so surprising. The NBA's health-and-safety protocols caused many players to miss time throughout the regular season, but we hadn't seen COVID-19 impact the playoffs very much. Now, just when the Suns were rolling and looking like a legitimate contender to win it all, they may be without arguably their most important player for at least part of the Western Conference Finals. Paul has the worst luck when it comes to his health in the playoffs, and I hope he's alright.
KAWHI LEONARD HURTS ACL, OUT INDEFINITELY
Kawhi Leonard has been ruled out for Game 5 tonight and the Los Angeles Clippers fear he has suffered an ACL injury, according to Shams Charania of The Athletic.
If that's the case, not only would Leonard likely miss the remainder of the Clippers-Jazz series, he'd likely be sidelined for quite some time. He's currently listed as out indefinitely and there's no timetable for him to return.
The All-NBA First-Team selection suffered the injury in the fourth quarter of the Clippers' 118-104 win over the Jazz, and while he played on for a bit, Leonard did not finish the game.
Leonard has been outstanding this postseason, averaging 30.4 points, 7.7 rebounds, 4.4 assists, 2.1 steals and 2.2 threes on 57.3/39.3/88.0 shooting splits. This series is currently tied at 2-2 after Los Angeles won both of their home games.
Here's how our staff reacted to the Kawhi news:
Nekias Duncan: The Kawhi news absolutely stinks. I think we all felt the Clippers were being precautionary by keeping him out toward the end of Game 4, so for him to potentially have an ACL injury of some sort just adds to the frustration of this injury-riddled season. Call me a fool, but I don't think the injury is a death sentence for the Clippers in this series. They still have Paul George, who has a strong argument for the "Best-Player-in-the-Series" title that Kawhi no longer holds. The Clippers still have the personnel to switch and trap the way that they have been. The Jazz do not have the personnel to switch or downsize like the Clippers can, so there will still be pockets for the Clippers to attack from a scheme perspective. It also helps, from the Clippers side, that Mike Conley has once again been ruled out with his hamstring injury. I'm interested to see how George and the crew respond.
Spencer Davies: To me, the most shocking news of the day was learning about Kawhi Leonard's ACL injury. The momentum of that series had drastically changed when the Los Angeles Clippers returned to Staples Center, especially with Donovan Mitchell hobbled and Mike Conley still out. Now, the onus is on Paul George to become the No. 1 option, and Marcus Morris will have to increase his production to have a shot at winning this matchup and getting to the Western Conference Finals. And with Chris Paul shockingly out due to COVID protocols, the Phoenix Suns are in their own world of hurt. The league's champion, at this rate, will be the last men standing.
Ethan Fuller: The developing news surrounding Kawhi Leonard's knee injury could be foreshadowing serious concerns for the NBA in the short- and long-term. Yes, this is a devastating blow for the Clippers when they feel close to breaking through to at least the Western Conference Finals. But beyond that -- with Shams Charania reporting fears of an ACL injury -- this becomes yet another serious injury suffered in the playoffs after a short offseason. Think about this upcoming offseason: it's only 18 days longer than 2020, and precedes what's likely to be a normal 82-game schedule. If we're concerned about injuries right now, who knows where the league's general health could be by next spring?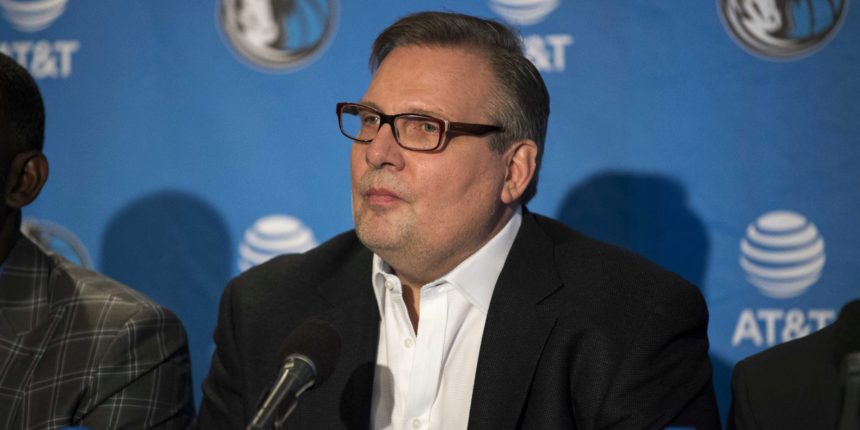 MAVERICKS, GM DONNIE NELSON PART WAYS
The Dallas Mavericks and general manager Donnie Nelson have decided to part ways, according to Shams Charania of The Athletic.
According to Tim MacMahon of ESPN, this decision was made Sunday, prior to The Athletic's shocking article about dysfunction in the Mavericks' front office and Haralabos Voulgaris serving as a "shadow GM" (and rubbing people the wrong way). Still, this timing feels odd.
Nelson had been with the Mavericks for 23 years. According to Marc Stein of The New York Times, the Mavs have hired a search firm to help them find a new head of basketball operations.
Nelson drafted Dirk Nowitzki, acquired Luka Doncic, and made many other big moves over the years. He also built the Mavericks' 2010-11 title team, which took down the heavily favored Miami Heat in six games. At 58 years old, it's unclear if Nelson will join a different team's front office.
Here's how our staff reacted to this news:
Chris Sheridan: The news on Donnie Nelson, Stan Van Gundy and Scott Brooks was all incredibly shocking. Donnie has been a fixture in that organization for a very long time, and he is not quite ready yet to retire to Hawaii with his dad (Don Nelson) to play cards with Willie Nelson, Woody Harrelson and Owen Wilson. My jumping off thought is that the Mavs' leadership is in the hands of Mark Cuban, Rick Carlisle and Bob Voulgaris, in that order. Somebody always takes the fall in this business.
PELICANS FIRE STAN VAN GUNDY
The New Orleans Pelicans have fired head coach Stan Van Gundy after just one year with the team. The Pelicans missed the playoffs this season, finishing with a disappointing 31-41 record.
Brandon Ingram and Van Gundy had a "strained" relationship, and some players seemed to "tune out" SVG, according to a report from Christian Clark of the New Orleans Advocate. This lines up with a recent report from Sam Amick of The Athletic that Van Gundy and some players were "not vibing." Van Gundy is very demanding, which sometimes rubs players the wrong way.
The Pelicans struggled on the defensive end for much of the season, giving up the sixth-most points per game to opponents. They allowed 111.6 points per 100 possessions, which ranked 23rd in the NBA.
Over the course of his 13 seasons as an NBA head coach, Van Gundy has a 554-425 record (.566) in the regular season. In the playoffs, his teams are 48-43 (.527). The last time one of his teams made the playoffs was 2015-16 with the Detroit Pistons (who were swept in the first round by the Cleveland Cavaliers).
Pelicans player development coach Corey Brewer recently wrote a piece for BasketballNews.com about working as an assistant under Van Gundy and detailing his work with Ingram, Zion Williamson, Lonzo Ball and the rest of the team's young core.
Here's how our staff reacted to the SVG news:
Chris Sheridan: Stan Van Gundy's team underperformed, and there will always be a place on TV for him. But there also comes a point where you have worked your way around the league and people expect the worst instead of the best, and Stan is straddling that line... The bottom line is this: There are a bunch of very savvy, very experienced front office and coaching candidates who are now available.
Sharon "Shy" Brown: The most shocking news to me was the firing of Stan Van Gundy after just one season. Zion Williamson will have had three coaches in three seasons. It's not a good look for the franchise at all. I don't know if this will affect the likelihood of Zion reupping with the Pelicans after his rookie contract is up, but it's worth monitoring. Who will the Pelicans hire as their next coach? I honestly think Pelicans assistant coach Teresa Weatherspoon should be hired from within to shake things up. Her motivational video from a few months back was awesome. I believe she would be able to get the players to buy-in to whatever she wants. (Also, I feel really bad for Chris Paul, and I hope he has a chance to compete in the Western Conference Finals. Plus, I wish Kawhi Leonard a speedy recovery).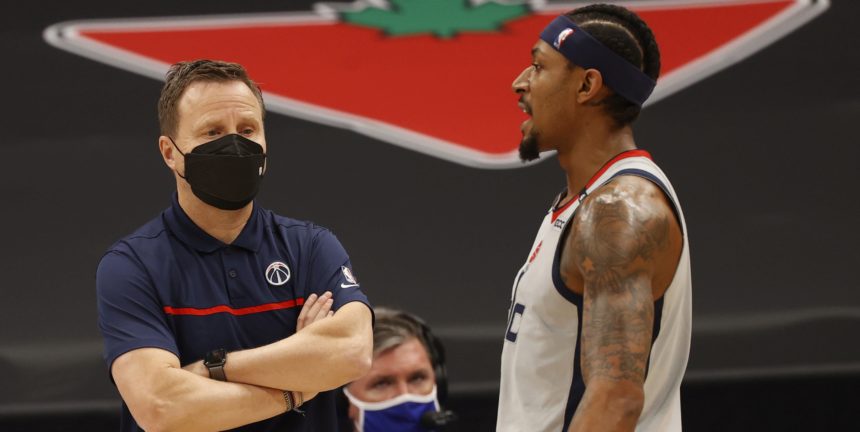 WIZARDS, SCOTT BROOKS DECIDE TO PART WAYS
Scott Brooks' contract with the Washington Wizards expired after the team was eliminated from the playoffs, and the two sides weren't able to agree on a new deal, according to Adrian Wojnarowski of ESPN.
Brooks was the Wizards' head coach for five seasons, making the playoffs three times in that span. This season, Washington went 34-38 before advancing to the first round through the play-in tournament, where they subsequently lost to the Philadelphia 76ers in five games.
Brooks went 182-207 during the regular season across his five years in Washington, and the Wizards were 10-14 in the postseason under his control.
For his career, Brooks' teams are 521-414 (.557) in the regular season and 49-48 (.505) in the postseason. Here's how our staff reacted to the Brooks news:
Chris Sheridan: In regards to Scott Brooks, he coached as best as he could with the hand he was dealt. He is one of the most pleasant people in the business and will not be lacking for work down the road.
LAMELO BALL WINS ROOKIE OF THE YEAR
Charlotte Hornets guard LaMelo Ball has won the Rookie of the Year award, according to Adrian Wojnarowski of ESPN. An official announcement is expected soon.
Ball was considered a lock to take home the award for much of the season, as he averaged 15.7 points, 6.1 assists, 5.9 rebounds and 1.6 steals on 43.6/35.2/75.8 shooting splits. A wrist injury in March opened the door for Minnesota Timberwolves' No. 1 pick Anthony Edwards, who got better as the season progressed.
However, Ball was able to return late in the year and solidified himself as the ROY. In February, shortly before the injury, Ball was dominating to the tune of 20.1 points, 6.7 assists and 6.2 rebounds per game.
Nekias Duncan wrote a terrific article examining Ball's impact on the Hornets and breaking down film from his superb rookie season.
JAZZ RULE OUT MIKE CONLEY FOR GAME 5
Mike Conley was ruled out for Game 5 between the Utah Jazz and L.A. Clippers due to the same hamstring injury that has kept him sidelined for the entire series.
The 33-year-old was previously listed as "questionable" for the game. Conley has not played since the first round, when he exited Game 5 against Memphis Grizzlies after feeling a "little tug" in his hamstring.
Conley is still hoping to return at some point during this series. Today, during his media session, he told reporters: "I had been pushing really hard to play earlier in the series [and] had a small setback related to the hammy during that process. This is why it's been extended a little bit longer than I know we all would like. Obviously, if I could play, I would."
Conley missed 21 games during the season, mainly due to his hamstring issue. The All-Star averaged 16.2 points, 6.0 assists and 3.5 rebounds per game during the regular season for the top-seeded Jazz.
This series is currently even at 2-2, and both teams are now missing a key piece (since the Clippers are without Kawhi Leonard).
Here's how our staff reacted to the Conley news:
Jannelle Moore: "Today's flurry of breaking news has been shocking in terms of both the nature of the news and the frequency. The hits, one after another, were endless. To me, I'm interested in the Kawhi Leonard injury because now Utah likely has some confidence that they will not lose two games to the Clippers without Kawhi. Also, Utah is holding out Mike Conley as he continues to battle his hamstring issues. There's no need to play Conley if they don't have to."