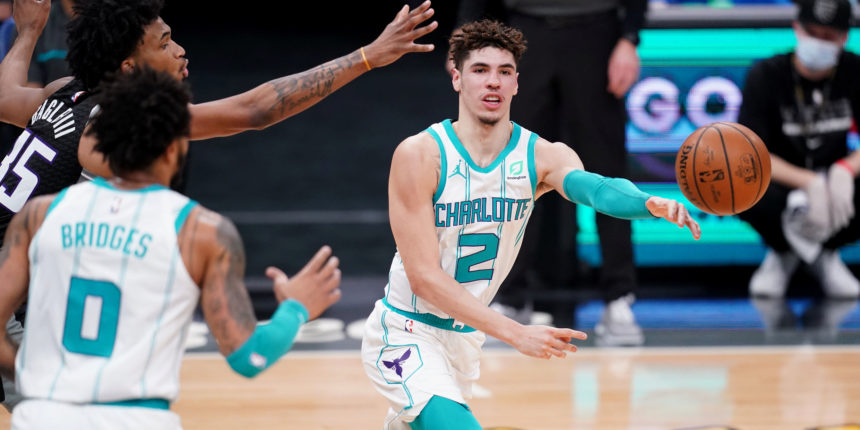 Examining LaMelo Ball's impact on the Charlotte Hornets
There was a collective sigh among the NBA community on March 20. In a season mired with frustration -- about injuries, about COVID, about [insert reason here] -- we all looked for joy anywhere we could find it.
You'd find plenty in Charlotte Hornets games. Miles Bridges dunks; pull-up artistry from Devonte' Graham and Terry Rozier; Eric Collins bringing kind-hearted hysteria to your living rooms.
And there was the rookster LaMelo Ball, bringing it all together with his blend of playmaking and shooting. So when he went down with a wrist injury against the Los Angeles Clippers on March 20, we didn't just lose a talented rookie. The Hornets didn't just lose, conservatively, one of their top-four players. We lost a bright spot in what has otherwise been a dim season.
There were questions to be asked about how the Hornets would fare. Losing that much production from Ball would hurt; doing so while also navigating absences from Gordon Hayward, Graham, and Rozier at different points would present an even tougher challenge.
However, they were been able to hold their own, hovering around .500 (10-11) to maintain their place in the Eastern Conference playoff race. Now, Ball is back and the Hornets are in the play-in tournament. Here's what they've been missing.
PLAYMAKING CHOPS
From a skill perspective, there isn't a pass that Ball can't make. Corner skips with either hand. Pocket passes. Lobs. Lay-downs. Overhead hooks -- in close quarters, or further out -- to either side of the floor. No-looks. Touchdown passes.
It's worth noting the slight-but-important difference between being a great passer and a great playmaker. Decision making and opportunity factor into the latter. It isn't enough to say he can make every pass in the book; LaMelo -- by proxy of his ball-handling, his size, his general IQ and his scoring gravity (more on that a little later) -- has the right mix of tools to make every pass in his bag available to him.
With each pass being an option he can cycle through at any time, defenses are left helpless trying to decide what to take away. He combines a versatile skill-set with well-beyond-his-years processing speed to make himself one of the NBA's most dangerous initiators. No "rookie" caveat needed.
It starts in transition, where he is able to map out the floor before defenders can even begin to decide how to match-up on the fly. LaMelo averages a shade under two assists in transition per Synergy, a top-10 mark in the NBA. More impressively, his 78 transition assists places him 14th in the league -- tied with Ricky Rubio, sandwiched between Kyle Lowry (79) and Draymond Green (76) -- despite missing 21 games.
He can get the ball out early, playing his version of "Hot Potato" when he senses an inkling of scoring potential.
If the long ball isn't available, LaMelo flies down court and plays the numbers game. 4-on-3s are death; increase his odds -- 4-on-2, 3-on-1, 2-on-1 -- and you might as well get ready to play offense. He's too smart not to make the best play, and too cool not to make it look sexy.
LaMelo's passing goodness is easier to access in transition, but it's impressive (and important) that it also translates in half-court settings.
High-ball screens allow LaMelo to map things out near half-court. He's beyond reading his defender or the big at this point; he knows how to manipulate his man into screens, and has a firm handle on how the big will react in the 2-on-1 dance.
LaMelo thinks a step ahead, reading the third defender instead. If that guy cheats in to "tag" the roller, he's going to fire a dart to the perimeter. Quickly.
If the tag doesn't come, then, well, it's fun time. You're allowing LaMelo to toy with a big man on an island. It almost doesn't matter how good you are at that point.
Please take the time to appreciate how layered that possession is from LaMelo. He comes off the ball screen, then "snakes" to his left to cut off his defender's recovery angle. That move puts Derrick Favors in a 2-on-1. A hesi-and-go gives LaMelo a path to the basket, drawing the attention of Favors. The literal second Favors commits to the shot, LaMelo fits in a wrap-around to Bismack Biyombo.
LaMelo doesn't simply win in these situations; he makes defenses lose. It's a subtle (yet important) distinction, one that separates your secondary ball-handlers from primaries.
BUDDING SCORING GRAVITY
All of the passing ability in the world can be diminished if teams know it's coming. Even players that lean pass-first have to threaten defenses in some way. It can be downhill juice, it can be pull-up shooting. Preferably it's both, but you have to have something.
For now, deep shooting is LaMelo's something. He's shooting 37.5% from three on solid volume (5.3 attempts) overall, though it's important to note how effective he's been off the bounce.
His spot-up vs off-the-dribble split isn't that stark; you'll take 39.8% on spot-ups, and you'll certainly take the 36.5% clip on triples off the bounce.
He isn't flowing into forward-momentum shots as fluidly as your Stephs or Dames, but he has laid the foundation of making "under" coverage unplayable. His footwork (which was highly criticized coming into the league) has gotten noticeably better. It's more balanced, more consistent. The results are proof of a still-improving process. Add in a willingness to dance against bigs on an island and stepback, and you get a mix of possessions like this.
Very quitely, LaMelo was grading out as an elite isolation threat (95th percentile, 1.19 PPP per Synergy) before the injury. There are obvious caveats to that, the biggest being the lack of high volume (57 possessions). He did look comfortable getting to his jumper, particularly against bigs; his driving resume was more of a mixed bag.
The next evolution of LaMelo's game will come as a driver. He has the chops to bend defenses in pick-and-roll. His deeper paint touches may not necessarily be a problem, but it is the part of his game that currently lacks the most.
He's boasting a 77-of-150 (51.3%) clip at the rim in half-court situations, placing him in the 32nd percentile, per Syngery. He's been more effective on runners (45.6% on 57 attempts, 62nd percentile, 0.91 PPP), though his footwork on those shots is a work in progress.
Let's dig in on the more traditional rim attempts, though. There's a lack of high-level burst at the rim for LaMelo. That can be alleviated some by his length and craft, but it's admittedly a tough bet to win as a rookie.
He's predictably gone through growing pains trying to finish through, around, and over NBA defenders. A lack of strength makes it easier for defenders to dislodge him; there are some pretty awkward flip shots in his early-season film.
But alas, the encouraging part is that LaMelo's ugliest stretches come in his early-season film. He was learning. Improving. Shockingly fast, I'd say. He started picking up foul-drawing tricks almost on the fly. Those results may still be mixed, but he's at least dictating the terms of engagement more often.
That 51.3% clip on half-court rim shots isn't great, nor is his 3.0 free throw attempts per game. Him converting north of 57% of those same looks, and getting to the line 4.8 times (including games with 6, 8, and 10 free throws) in the 10 games prior to his injury? It's welcomed progress.
DEFENSIVE ACTIVITY
LaMelo is no lockdown defender. He doesn't possess elite lateral quickness. Despite his size, he can be bullied on occasion. He's very much growing into his body.
With that out of the way, it's hard not to argue that he's been much better on that end than mostly anyone could've expected. Aside from his physical limitations coming into the season, the rap on LaMelo was that he flat-out didn't care on that end of the floor.
Fortunately, effort hasn't been an issue for him. In fact, I'd argue that he's established himself as a neutral defender off the ball. That's a win for him.
The Hornets go a bit multiple in terms of their defense. They switch a ton. Not only will they mix in zone; they'll transition from zone, to man, back to zone, and end up in man within a matter of seconds. It's a lot to navigate, but LaMelo hasn't looked completely out of place.
The same floor-mapping that makes LaMelo a dangerous passer is what allows him to succeed off the ball. He senses when to dig-and-recover; he can feel a skip pass coming his way. He's quite reactive in those scenarios, a pleasant surprise this early into his career.
Those clips may be a bit boring -- I could've easily made a comp of some pick-sixes he's had this season -- but those subtle instances are what save or break a defense. Being able to put those type of possessions together on a consistent basis matters a lot more than the steals.
He still has work to do. There are instances of late help, failed gambles, and a lack of physicality when tasked with being the low-man. But on balance, getting back a 6-foot-6 guy with even a basic understanding of how to use his arms is a positive development for Charlotte.