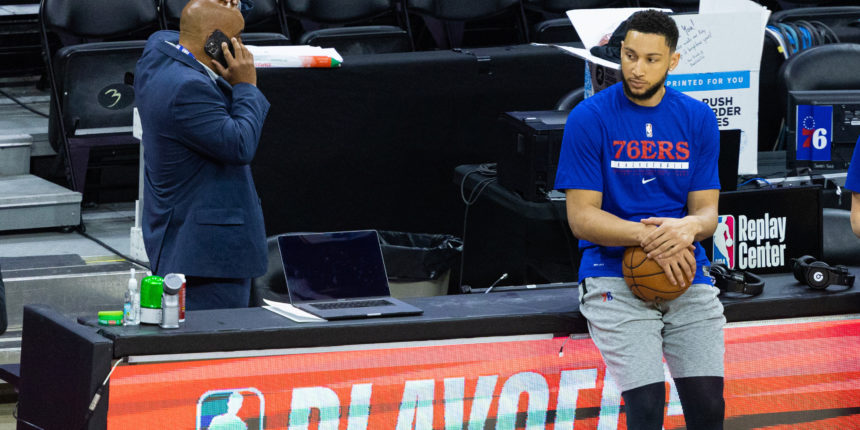 Sixers trade seems certain, but we haven't heard last of Ben Simmons
Humility, oftentimes, is the best motivator.
With Danilo Gallinari on his hip, Ben Simmons spun to his left to find Trae Young standing between him and a game-tying layup.
By that point in the series, Simmons had long become allergic to the rim, and everyone knows what happened next.
He'd decided he would rather assist Matisse Thybulle on the most important basket of the Philadelphia 76ers' season than dunk on Trae Young's head.
Simmons' partnership with Joel Embiid ended the moment in which the big man — truthful as it may have been — cited and pinpointed that play when asked when he felt things unraveled for the Sixers.
It's been three months since the events of June 20, and yet somehow, Simmons and the Sixers are exactly where they were when Philadelphia's Wells Fargo Center went dark that night.
True humility, perhaps never having been introduced to Simmons prior to that point, has become his bosom buddy. And together, they'll roll into the unknown with only one certainty — there's no more love left in the city.
As a class, certain generalizations can be made about the different castes of NBA players, and many of them will hold true.
But one's true motivation — that's always difficult to ascertain.
Some players pick up the ball merely because they're tall. Others begin practicing post moves in their driveway because they've been inspired. Many develop a natural love for the game for other reasons, and along the long, treacherous route from prep player to NBA star, their mettle and resolve are tested.
And some find themselves in their darkest hours. That's where Simmons has resided for the past three months. How he'll emerge is just as good a question as to where.
Those who've spent a few moons around the NBA will attest to the fact that there's not always a consensus top pick heading into each draft. In 2016, though, there was.
Drawing comparisons to Magic Johnson and LeBron James, Simmons was lauded as the next great point forward. His rare combination of size and speed with his nimbleness and agility captured the imagination of everyone who had an opportunity to see him play. And after four years in the league, those attributes have already proven to have not been a fluke.
He probably doesn't possess the ability to be a 30-point-per-game scorer in the NBA, but he can help any team deliver wins, just like he has in Philadelphia. As a rookie, he joined forces with Embiid to help the Sixers improve from 28-54 the year prior to 52-30.
Each year since then, the expectations grew, eventually leaving Simmons' own offensive development in its dust.
Defensively, the three-time All-Star's defense has been better than advertised. But the same, obviously, cannot be said for his offensive repertoire.
In spite of that, one fact remains: Even after four years Simmons is a hell of a player with quite a bit of untapped potential. "Potential," however, is really just a nice way of pointing out that you haven't done something yet.
For many, a fresh start, a new beginning and a chip on the shoulder can be exactly the nudge that's needed to turn potential energy into kinetic. And maybe, just maybe, that's the fate that will await Simmons in San Antonio, Cleveland, Sacramento or whichever NBA city ends up ponying up and offering Daryl Morey the king's ransom he desires.
Particularly with first overall picks, for many years, there can be a lack of accountability and an unwillingness to compromise their beliefs for the greater good of a team. A player like Simmons — a consensus No. 1 prospect — has heard so much good about himself for so long that he becomes self-inflated. Sometimes, it takes getting knocked off one's high horse to burst his bubble, and Simmons just spent an entire summer getting reacquainted with reality.
He has work to do. He knows it, and some team in the NBA is going to benefit.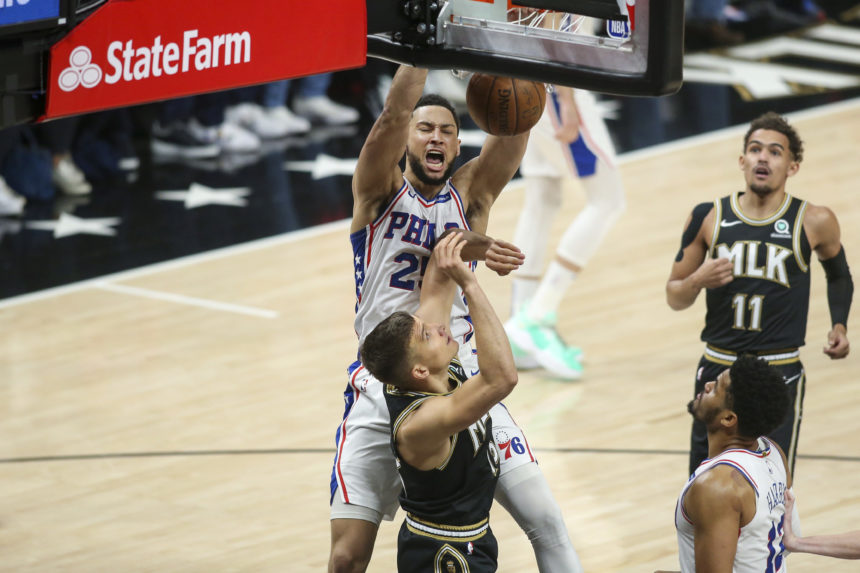 The great irony in all of it is this: Players whose front offices believe in them often have other players cycled in and out to fit their alpha. As head coach, we saw Mike D'Antoni relegate two-time NBA champion Pau Gasol and turn him into a three-point-shooting reserve big man. The minute poor Pau got away from D'Antoni, he became an All-Star again.
We've seen entire teams and rotations built around LeBron James to give him the pick-and-roll players he needed to become successful, while the Denver Nuggets did what they had to do to clear the logjam that existed up front because Nikola Jokic needed space (and reps) to thrive.
The same never happened for Simmons in Philadelphia, so one can only wonder what a team built specifically in his mold would look like, and whether he could push them further than he was able to with Embiid serving as the anchor.
With Danilo Gallinari left in his wake, Simmons came upon the rim. In that situation, and in that moment, his fateful pass was perhaps representative of something bigger — for whatever reason, in Philadelphia, the desire just wasn't there.
In all walks of life, breakups are tough. But both Simmons and the Sixers knew that their marriage had run its course.
Life can be quite cyclical. A rookie again, the 25-year-old Australian All-Star will find that a new franchise is in the palm of his hand.
Perhaps this time, he'll work as hard as he needs to in order to ensure himself a different fate.