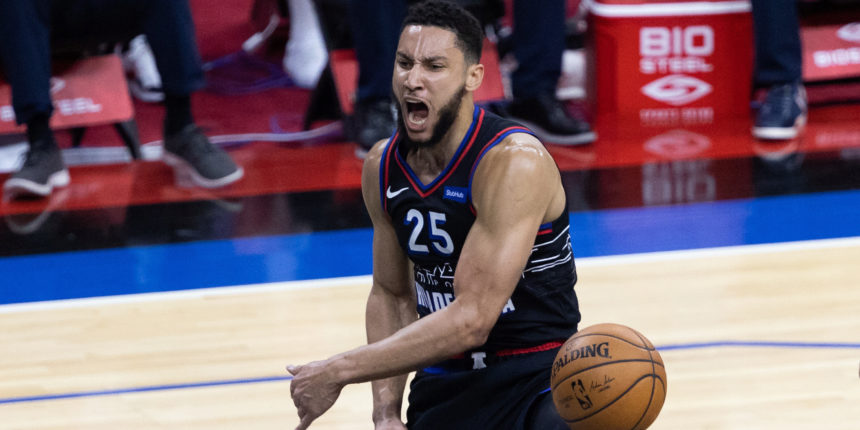 Ben Simmons, Sixers destined for a rare win-win breakup
Ben Simmons and the Philadelphia 76ers need to come to a realization: they are better off separated. Rather than trying to force a square peg into a round hole, a trade would benefit both parties. Simmons needs to spread his wings elsewhere, while the Sixers need to find a better running mate alongside superstar Joel Embiid.
Once Embiid and head coach Doc Rivers seemingly threw Simmons under the bus after he passed up a wide-open dunk opportunity in the Eastern Conference Semifinals against the Atlanta Hawks, the long-term relationship between Simmons and Philadelphia officially splintered.
The 25-year-old All-NBA player with fruitful playmaking and defensive upside has reportedly been avoiding contact with Sixers management, and recently Simmons' agency Klutch Sports officially requested a trade. Simmons isn't planning to attend training camp, but Sixers GM Daryl Morey seems to have dug his heels into the sand even further on his asking price for Simmons in any potential trade scenario.
We're heading down the tracks of an explosive and rather ugly ending between Simmons and the team who drafted him No. 1 overall in 2016. With seemingly no ending in sight, at least from the Sixers' standpoint, how will this situation play out? There are plenty of potential scenarios, but here's one resolution that could make sense for both Simmons and the Sixers.
If Philadelphia is holding out hope that Damian Lillard or Bradley Beal will ask for a trade and delays a Simmons deal until midseason, you're playing a dangerous game. That could create a chaotic locker-room environment for several months until February's trade deadline. Even then, it's a risky gamble that could even sour someone like Embiid, who certainly doesn't want to deal with that headache for three months of the season. Even if Simmons stays away from the team while the front office holds out for a better trade, it would be an awkward period for the players and hang over the upcoming season.
What's the best return that Philadelphia can hope for in a Simmons blockbuster? Right now, there are still teams out there who could provide Morey and Co. with exactly what they need to make life easier for Embiid. How about C.J. McCollum from Portland? Malcolm Brogdon and/or T.J. Warren from Indiana? D'Angelo Russell from Minnesota? Maybe Sacramento eventually changes their tune on De'Aaron Fox's availability?
There are potential resolutions just waiting to be discussed on a deeper, realistic level. The question is, will Morey be the one to back off his asking price before Simmons eventually shows up and this becomes a James Harden-esque situation in Houston?
On the other hand, Simmons also needs to have a realization of his own. Being reluctant to add more offensive pizzazz to his unique player profile, it boxes him in to his potential high-end outcomes. Already a Defensive-Player-of-the-Year finalist who offers unicorn-like attributes as a playmaker and transition threat, Simmons will never be able to reach those superstar-like outcomes in the City of Brotherly Love. It's fairly simple.
Simmons is Draymond Green, not Magic Johnson. Will Simmons ever embrace that, though? That's the $100-plus million dollar question. Simmons is a more athletic, lengthier version of a prime Draymond. Remember how Green was the glue to the Warriors teams that ran roughshod throughout the Association, causing a league-wide change and influencing the modern era? It's an idea Simmons should embrace full-on. Simmons can become a better version of prime Green, which is why interested organizations should be giddy about getting him aboard as soon as possible.
Imagine Simmons alongside Karl-Anthony Towns in the Timberwolves' frontcourt? What about Simmons functioning as the fulcrum of a Kings core alongside Tyrese Haliburton and Davion Mitchell? What if Simmons is the missing piece to keeping Lillard happy in the Pacific Northwest? Those are really enticing scenarios to envision, and the 25-year-old point-forward still has endless amounts of untapped potential ahead in his young career.
When looking over Simmons' numbers compared to Green in his prime (2014-2018), the similarities are uncanny. Simmons averages 15.9 points, 8.1 rebounds, 7.7 assists and 1.7 steals on 57.9 True Shooting Percentage, while Green averaged 11.7 points, 8.3 rebounds, 6.4 assists and 1.6 steals on 55.1 True Shooting Percentage.
Simmons as the super-charged version of Green is a future-Hall-of-Fame player. In the right environment, Simmons could be the missing piece who vaults a playoff hopeful into a truly sustainable contender.
Simmons has elements of his game that haven't been utilized enough in Philadelphia. As a passer in short-roll situations, Simmons has a fantastic knack for hitting those reads perfectly. In the pick-and-roll, Simmons' gravity as a drive threat opens up the corner threes, sucking in defenders to create one of the most efficient shots in basketball with regularity. Running lineups with Simmons as the primary big, similar to what Golden State has employed over the years with Green, would be very effective. It creates pick-your-poison scenarios where Simmons can operate out of the post, deciding between hitting the the cutter or spaced-out shooter. Simmons' aggressive-scoring nature also allows him to punish slow-footed defenders on explosive moves to the basket. Although Simmons may never provide optimum spacing for others, he can still destroy defenses when utilized in a Green-esque manner with even more upside.
Philadelphia and Simmons are heading toward a divorce after five years. However, the grass certainly seems to be greener on the other side for both parties. In a return for Simmons, Philadelphia should be able to further cement Embiid as one of the NBA's most dominant bigs while extending their championship window. Meanwhile, Simmons should begin to explore a new career-altering path that would further utilize his unique talents. It's a win-win scenario where both sides come out on top at the end of a potentially drawn-out process.
It's a realization that is coming down the highway at full speed. Now, as the 2021-22 season approaches, it remains to be seen how long this situation will play out.