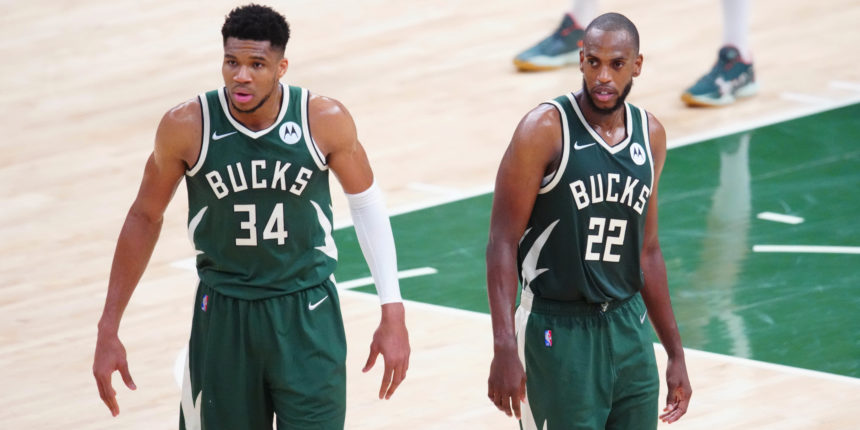 NBA Roundtable: Which team is better than its record indicates?
One month into the 2021-22 NBA season, there's been no shortage of surprises. The Washington Wizards and Charlotte Hornets are top-five teams in the Eastern Conference, while the Milwaukee Bucks, Los Angeles Lakers and Atlanta Hawks currently find themselves outside of the playoff picture.
While it's still very early, we asked our BasketballNews.com writers:
Which NBA team is better than its record currently indicates?
Alex Kennedy: The Milwaukee Bucks are the obvious answer since the defending champs currently sit at 10th in the East with an 8-8 record. Injuries are largely to blame for Milwaukee's early struggles; several Bucks have missed multiple games including Khris Middleton (COVID-19), Jrue Holiday (ankle), Bobby Portis (hamstring), Brook Lopez (back), Donte DiVincenzo (ankle) and Rodney Hood (foot). Now that Milwaukee is healthy, I'm confident that they'll climb back up the standings. I think the Toronto Raptors are better than their 8-9 record too. They were without their best player, Pascal Siakam, for the first few weeks of the season as he recovered from shoulder surgery. Now, he's back and beginning to look like himself again. I like Toronto's balanced attack, which features five players who average at least 16.0 points: OG Anunoby (20.1), Fred VanVleet (19.4), Siakam (17.0), Scottie Barnes (16.3) and Gary Trent Jr. (16.1). Don't be surprised if they are able to right this ship and make the playoffs.
Nekias Duncan: The Bucks are the easy one. It feels like their Big Three hasn't played since opening night. As they get healthier, they'll look like the title contenders that they are.
Spencer Davies: After the thrashing they put on the Los Angeles Lakers on Wednesday and their beatdown in Brooklyn on opening night, the Milwaukee Bucks have to be the answer. We can't just forget about Giannis Antetokounmpo because of this team's difficult, injury-riddled stretch; he's certainly given us every reason not to. Khris Middleton just got back on the court after missing eight games in the NBA's health-and-safety protocols, Jrue Holiday missed the first two weeks of the season essentially with a bum ankle and Brook Lopez hasn't suited up for a whole month in dealing with a bad back. Oh, and Donte DiVincenzo is still on the mend recovering from ankle surgery. These are explanations more than excuses, so don't be surprised if the Bucks go on a huge midseason run when the band gets back together.
Moke Hamilton: There are a few teams here that you could go with, and Milwaukee is probably most obvious. I'd probably take Atlanta, though. These guys are a solid ball club, but their 0-4 Western road trip really sank them in the standings. Although they'll be without De'Andre Hunter for the foreseeable future, I think they'll end up battling for a top-four seed in the conference.
Jesse Blancarte: The Los Angeles Lakers are currently 8-9 and had been struggling with LeBron James sidelined. The roster was almost completely revamped this offseason and the team is still figuring out its rotations and how to play cohesively. Miscommunication and too much isolation on offense have been a problem, which may be smoothed over as we get deeper into the season and now that LeBron is back on the court.
Ethan Fuller: The defending champion Milwaukee Bucks are 6-8, but a lot of that has to do with availability. Jrue Holiday only recently returned from injury, Brook Lopez and George Hill were both recently out with back injuries, and Khris Middleton was in the health-and-safety protocols. Milwaukee has gotten nice contributions from guys like Grayson Allen and Pat Connaughton, but they can only do so much. This team will be fine once they get healthy.
Evan Sidery: Atlanta, because they're too talented not to be a top-five or six seed in the Eastern Conference. They've gotten off to a slow start, plus De'Andre Hunter is injured, but Trae Young should be able to steer the ship in the right direction in short order. Atlanta's depth is abundant, so once it all clicks, they should rise up the rankings significantly.
Blake Hairston: The easy answer is the Milwaukee Bucks. I don't think many expected the reigning champion would start the season 6-8 after 14 games, but missing Khris Middleton for eight games, Jrue Holiday for six games and so on doesn't help. Let them get back to full strength and they'll be back in the mix for the top of the East.
Alexander Cohen: The Los Angeles Clippers sit at a 9-7 record, which isn't horrible, but it's not a representation of how good this Clippers team is, even without Kawhi Leonard. Paul George is having another terrific regular season thus far and he's surrounded by excellent role players including new acquisitions in Eric Bledsoe and Isaiah Hartenstein, who have both shined on their new team. The Clippers were finally having their great play reflected in the win column during their recent seven-game win streak, but then they dropped three of four games.
Drew Maresca: The Hawks and Bucks should both be much better than their respective records, but they're dealing with different situations. The Bucks have dealt with major injury woes. Through 14 games, Khris Middleton had missed eight games, Brook Lopez had missed 13, and Jrue Holiday had missed six — and that's not even all of their injuries. The Bucks will inevitably get healthy, and that should solve most of their problems. The Hawks, on the other hand, have simply faced a brutal schedule. They've played the league-leading Warriors once (0-1), the East-leading Wizards twice (1-1) and the championship-favorite Nets once (0-1). They've also had games against the Suns, Nuggets, Jazz and Bucks — and only four of their 15 games came against sub-.500 teams. Once their schedule eases up, the Hawks should be just fine too.
Jannelle Moore: To me, the Charlotte Hornets are a better team than their record currently indicates. This is a team that has wins over the Golden State Warriors, Brooklyn Nets and New York Knicks, plus they gave the Los Angeles Lakers a scare in overtime. They won those games thanks to an offense that can attack in different ways. They are a big away from making significant noise.
Check out our other roundtable discussions, where we asked our writers about which player has surprised them the most and which star will be able to shake off their slow start.