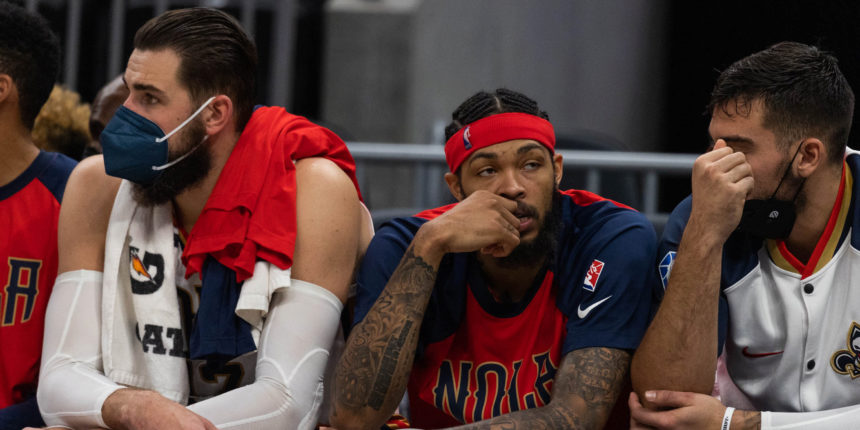 NBA Roundtable: Which team are you most concerned about?
A month is only a fraction of the NBA calendar, but it does set a tone for teams as they find their groove. Some franchises have burst out of the gate, while other have underwhelmed to start.
While it's still a small sample size, we asked our BasketballNews.com writers earlier this week:
One month into the season, which team are you most concerned about?
Alex Kennedy: It has to be the New Orleans Pelicans, right? The team is 3-15 and they rank in the bottom-five both offensively (26th) and defensively (29th). Zion Williamson will likely miss a few more weeks as he recovers from a fractured right foot; he'll be re-evaluated on Nov. 24 to determine whether he can start participating in full team workouts. Executive vice president of basketball operations David Griffin is reportedly on the hot seat due to the team's struggles. Things are ugly behind the scenes too, as Griffin and former Pelicans head coach Alvin Gentry recently got into an ugly altercation at Smoothie King Center and had to be physically separated. But wait, there's more! There are some big-picture concerns too: Back in June, The Athletic reported that some of Zion's family members "want Williamson on another team" and have "voiced their displeasure with the organization." Yikes.
Nekias Duncan: It has to be the Atlanta Hawks for me. They've looked disjointed on both sides of the floor, a troubling sign for a team fresh off a Conference Finals berth. The defense has fallen off a cliff; the offense doesn't generate enough paint touches. Lineups have fluctuated, and now De'Andre Hunter is expected to miss time with a wrist injury. Hopefully they'll find some semblance of rhythm soon.
Spencer Davies: Before the season, even before the Zion Williamson injury news, the New Orleans Pelicans were kind of trending downward for me. There just seems to be a disconnect somewhere from the top on down. Add in Brandon Ingram — who's having a career year, in spite of NOLA's issues — missing some time in early November, and this team has had to rely on a lot of Jonas Valanciunas and Devonte' Graham to push them forward. The former is having a great individual season statistically, but the Pels just can't seem to A) play with leads or B) keep games close. Two wins in 16 games is hardly going to do you any favors in the Western Conference. You have to feel for Willie Green, and it almost is reminiscent of what Stephen Silas went through (and is still going through) in Houston.
Ethan Fuller: The Atlanta Hawks have come out of the starting gate with one of the worst defenses in the NBA. Now they've lost De'Andre Hunter for two months due to a wrist injury. It also concerns me that, per Cleaning the Glass, Atlanta ranks 26th in rim frequency and 28th in three-point frequency but 2nd in mid-range frequency. It doesn't seem like the offense is maximizing its talent, and the defense is giving opponents an advantage.
Jannelle Moore: The Los Angeles Lakers, at this point, are the most concerning. Granted, LeBron James was out of the lineup for most of the start. But that doesn't explain their struggles on defense. They have AD and Russ; they shouldn't be struggling to this degree.
Moke Hamilton: Portland, without question. Personally, I feel like it's time for everyone to move on, including Damian Lillard. It looks like, many times, they're just going through the motions and don't really have the look of a team that believes it's actually playing for something. As much as I like Dame and have advocated for everyone to leave him alone, it's time to send him elsewhere, along with CJ McCollum.
Evan Sidery: New Orleans, not only because Zion Williamson's injury issues, but also because of the lack of depth. Brandon Ingram is an All-Star talent. Jonas Valanciunas is a solid starting center. Outside of that, there's not much else to bank on consistently. The Pelicans' slow start has put them into a deep hole that Zion likely won't be able to dig them out of. New Orleans is on the fast track to a top draft pick.
Blake Hairston: The Boston Celtics have been the team I've been concerned about for a few years now. Each season they're good but not good enough, and now the teams around them have gotten better. It just feels like each season we question what this team's ceiling is and this year that question got a little murkier.
Alexander Cohen: Despite Ja Morant picking up from where he left off in the playoffs, averaging a career-high 26 points per game, the Grizzlies are in trouble. They own the NBA's worst defensive rating and their offense isn't much better, ranked 20th. While Dillon Brooks returning from injury could help shore up their defense, it wasn't enough to prevent an embarrassing double-digit loss to 1-12 New Orleans Pelicans in his second game back. The Grizzlies are a young team, but they need to exhibit improvement in Ja Morant's third season after a massive Jaren Jackson Jr. extension, not take a step backwards.
Drew Maresca: Selfishly, the New York Knicks. As far as their record is concerned, New York is right where you'd expect. But there are a number of problems. Generally, the Knicks have the 18th-best defensive rating, down from third last season. That's worrisome. Even more alarming is their starting unit's defense, which had the worst defensive rating of any five-man rotation ever entering play last Monday night, according to StatMuse. Coach Tom Thibodeau is known for defense, so there is reason to believe this will right itself. But if it doesn't, it's going to get significantly uglier. The Knicks play the fourth-toughest remaining schedule, according to Tankathon.
Jesse Blancarte: The Bucks. Key players have been sidelined, but the reigning champs are struggling more than I would have imagined to start this season. There are several teams missing key players that are managing better than Milwaukee, but it's still only November. There is time for the Bucks to turn things around and climb their way up the Eastern Conference standings.
Check out our other roundtable discussions, where we asked our writers about which teams are better than their record shows, which player has surprised them the most and which star will be able to shake off their slow start.